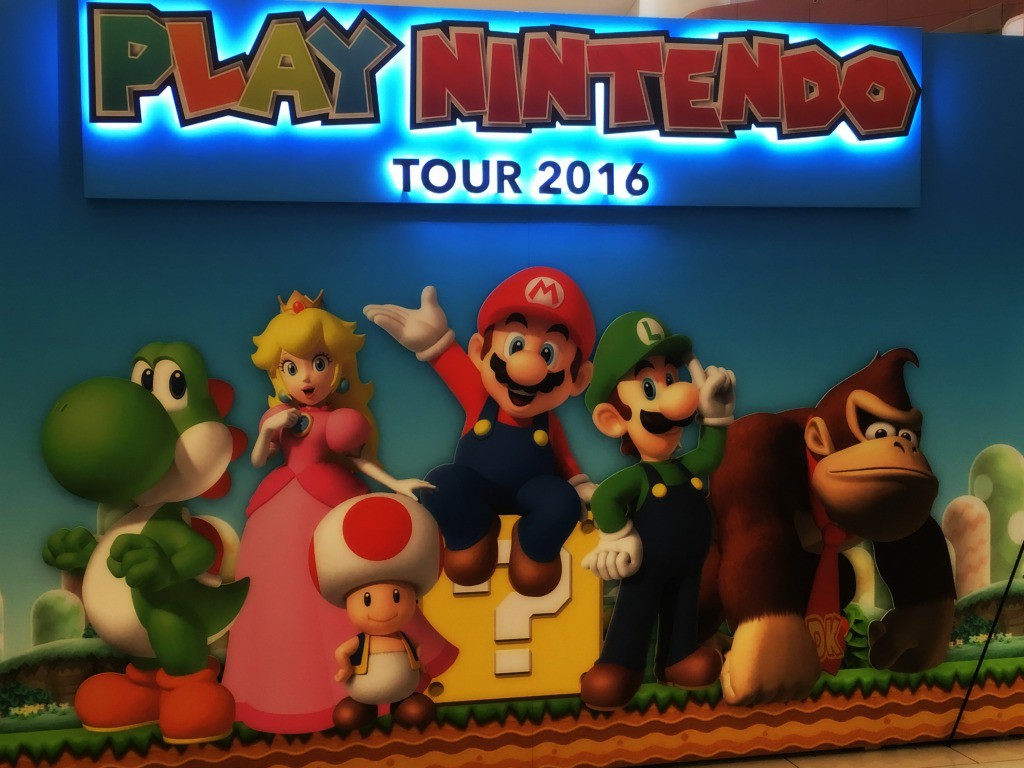 If your like me you remember the good ol' days of video games and among other brands, Nintendo was a big part of my youth.  My personal favorite was/is Bubble Bobble.  But whether you grew up on Donkey Kong, Donkey Kong Jr or now Donkey Kong Country Return 3D – you know the Nintendo name very well.  They are one of the biggest names in family gaming.
This summer Nintendo is kicking off their summer tour in 12 locations around the United States.  The summer tour focuses a lot on kid-friendly titles and the tours message is aimed at "Family Fun".  Each venue showcases a very unique staging area.   The biggest part is the giant Nintendo 3DS game show area where kids and us big kids can compete against other contestants to win prizes and of course show off the great games that are available on the 3DS.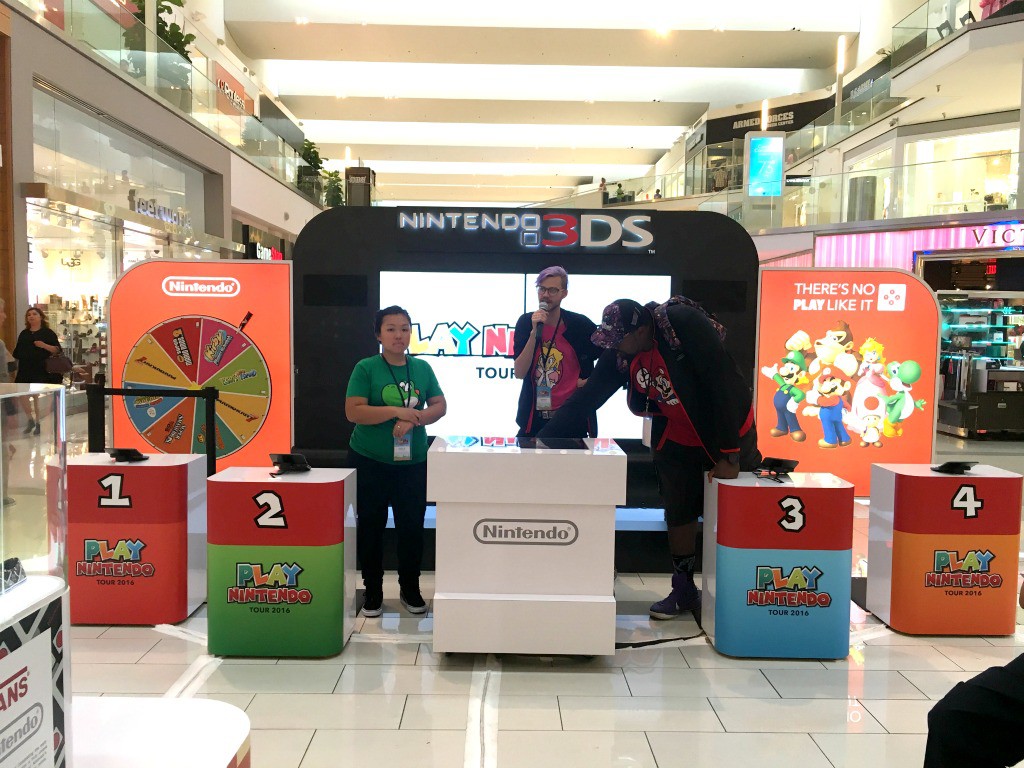 We all enjoyed the very creative setup.  The game themed areas have something for everyone. Come on out and feel free to give the humongous pink Kirby a hug or test out the new 3DS under a robo Tree while you help the armor-clad Kirby bust his way through Kirby:Planet Robobot.  Love Yoshi? (who couldn't he's so cute) Take a break on or in Yoshi egg chairs and start an adventure in Yoshi's New Island.  Feel like being fast and furious?  Then head over to the race car seats and take Mario Kart 7 for a ride.  If lounging in a banana chair is more your style, you can hang out and help Donkey Kong and his friends.  Or of course, you could always become a Pokémon Trainer, while you catch and train to battle the Pokémon against each other for sport.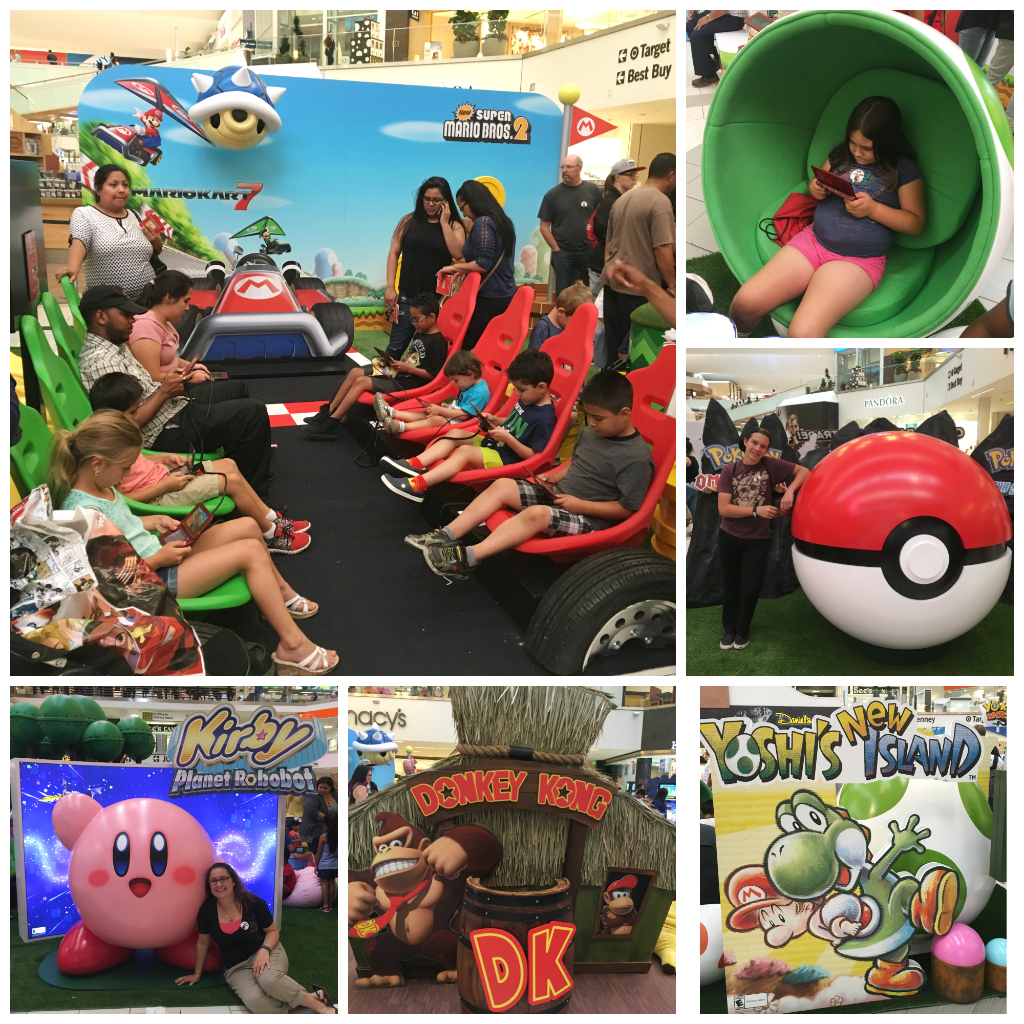 Whichever game grabs your fancy, you are sure to have a good time.  I was very impressed on the creativity, staff involvement and overall set up.  We stayed for about 2 1/2 hours, my kids (14 and 9) loved it.
The Play Nintendo Tour is scheduled to visit the following locations:
June 24-26: Arrowhead Towne Center – Glendale, Arizona
July 1-3: FlatIron Crossing – Broomfield, Colorado
July 8-10: Mall of America® – Bloomington, Minnesota
July 15-17: Bite of Seattle – Seattle
July 21-24: Marriott Marquis San Diego Marina – San Diego
July 29-31: Memorial City Mall – Houston
Aug. 5-7: Woodfield Mall – Schaumburg, Illinois
Aug. 12-14: Roosevelt Field – Garden City, New York
Aug. 19-21: South Shore Plaza – Braintree, Massachusetts
Aug. 26-28: Tysons Corner Center – Tysons Corner, Virginia
Sept. 2-5: North Point Mall – Alpharetta, Georgia
For more information on the tour go to: Play Nintendo Summer 2016 Tour
For more information on the great games I mentioned and others check out: Play Nintendo