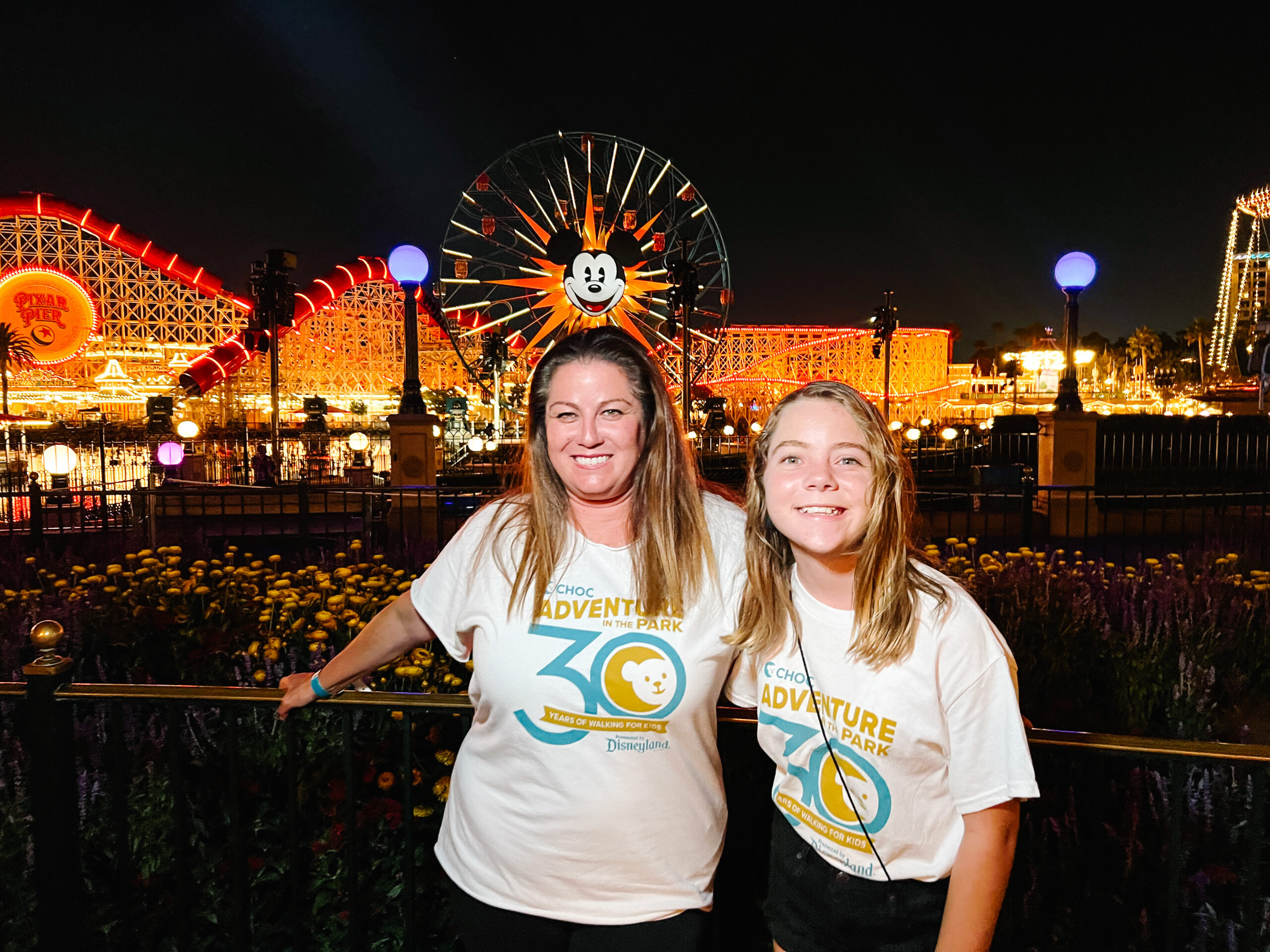 I got the most exciting news this month! I found out that for the first time since 2019, the popular fundraiser "CHOC Walk in the Park," presented by Disneyland Resort, is returning as an in-park 5K to raise funds for Children's Hospital of Orange County (CHOC), a pediatric healthcare system serving children and families in Orange County and beyond. This will be my  6th walk in a row! The event, now in its 33rd year, officially returns in the early morning hours of Sunday, August 20, 2023, when enthusiastic fundraisers will begin their approximate three-mile course, starting on Main Street, U.S.A. From there, they will continue through Disneyland Park and Disney California Adventure Park, encountering fun, delightful, and whimsical surprises along the way, all culminating in a festive finale before the parks open to the public.
The 5k walk is the most unique and magical pediatric fundraiser in the nation and brings the community together for one single goal – to raise funds for healthcare programs, education, and research benefitting Southern California children and families. Based on previous CHOC Walks, this year's event is estimated to feature around 350-400 teams, including participants from across the U.S., plus Canada, Mexico, Australia, and Japan. Monies raised will support CHOC programs and services in the greatest need.
"CHOC Walk in the Park is a beloved tradition for our community, and we're grateful to the Disneyland Resort and its Cast Members for creating such a unique experience for everyone who attends. It's heartwarming to see thousands of people join CHOC on our mission to advance pediatric healthcare. Together, we are literally taking steps to keep children happy and healthy," said CHOC President and CEO Kimberly Chavalas Cripe.
"We've been involved with 'CHOC Walk in the Park' for 33 years, and we are excited to bring it back as a magical 5K experience inside the parks," said Ken Potrock, president of Disneyland Resort. "Over the decades, we have helped raise $42 million to help CHOC support children and families in our community. We are proud to welcome back this highly anticipated event and to continue Walt Disney's legacy of being an active, supportive, and caring neighbor."
Who is the CHOC Walk Ambassador This Year?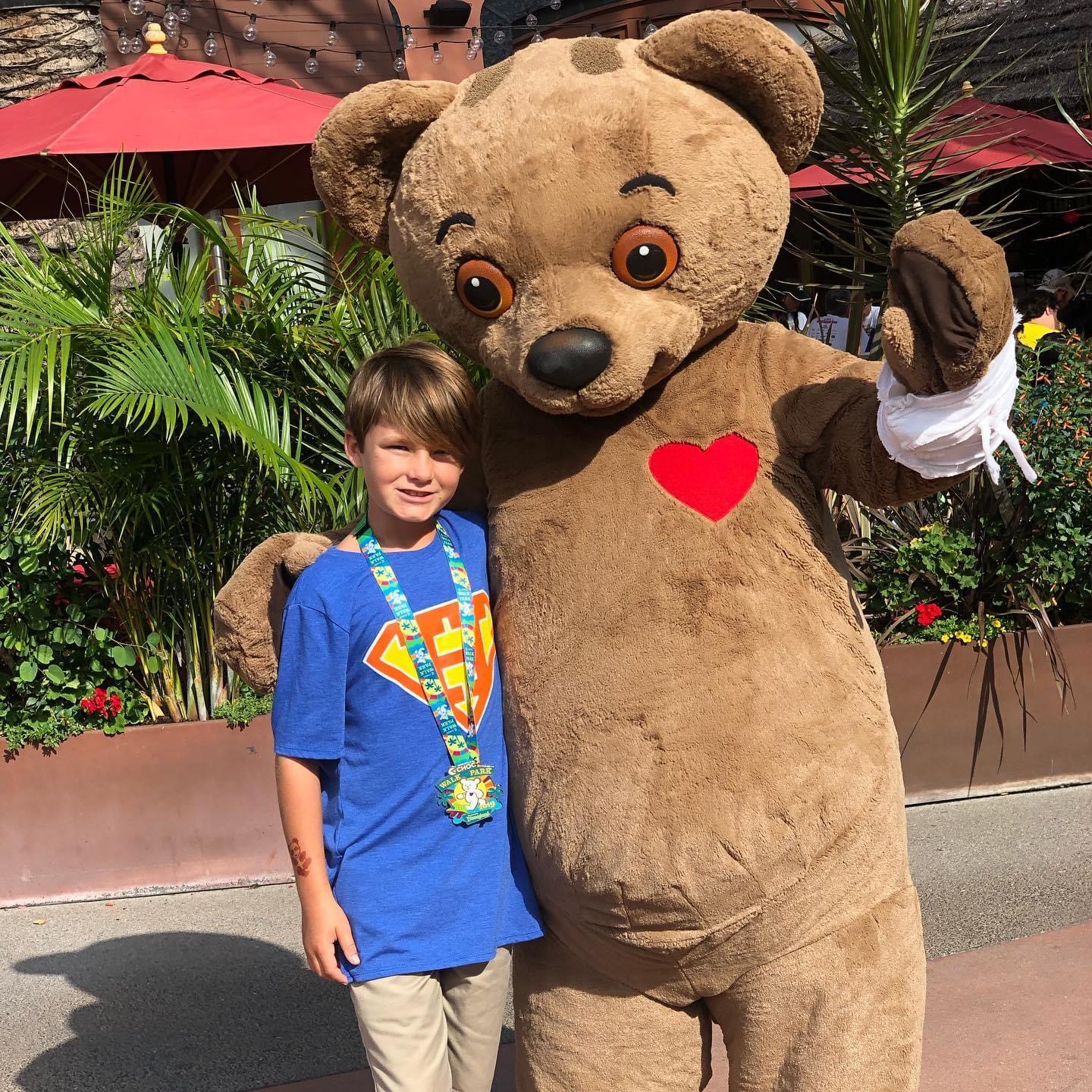 Hudson Kent is the new 2023 CHOC Walk Ambassador! Hudson and his family, along with their CHOC Walk team—Team HHK— will be leading our Walk community for an early morning stroll through Disneyland® park and Disney California Adventure® park on Sunday, August 20.
At just 15 months old, Hudson was diagnosed with kidney cancer; before age 3, he would undergo four surgeries and six months of chemotherapy. Yet throughout his entire cancer journey, CHOC offered kind, patient, understanding and ever-present care to Hudson; his parents, Eby and Mark; and his brothers, Troy and Cole.
"Even on the darkest days, there is a light. And for us, that was CHOC," says Eby, Hudson's mom.
Today, Hudson is 12 years cancer free! Because of his care experience at CHOC, Hudson has brought awareness about childhood illnesses to his community, friends and schoolmates—and continues to give back by proudly participating in CHOC Walk for the past 11 years. You can read more about Hudson here.
Event information, registration specifics, and information on joining or forming a team can be found at www.chocwalk.org. Real-time event information can also be found via "Choc Walk" on Facebook, Instagram, and YouTube. The social media hashtag is #chocwalk
Why We Walk
How to Fundraise
Here is a great tool kit that can help you through the fundraising process.
2019 CHOC Walk Fundraiser Tool Kit

Do you walk? I would love to hear all of the reasons you walk the choc walk. I love seeing all of the happy kids and parents and supporters that rally around them. It's inspiring, heart warming and makes you feel warm and tingly all over. Plus you get to see all of your favorite Disney characters. The cheerleaders also make the walk special as well. So what are you waiting for? Join us on the walk!
Tips for CHOC Walk Day
CHOC walk has a VERY early start time. Here are some tips to make your day go smoothly.