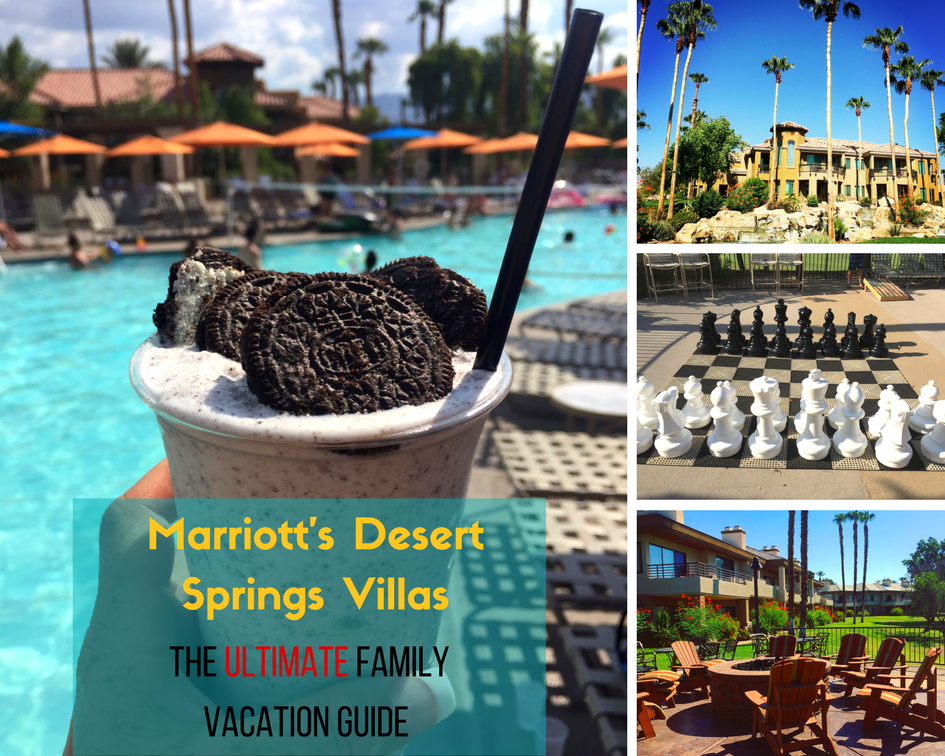 For over 15 years our family has enjoyed memorable vacations at Marriott properties all over the U.S. We are loyal Marriott fans due to their high standards, excellent guest relations, cleanliness and convenience of all of their hotels. My husband is also a Platinum Rewards Member and tries to stay at a Marriott's anytime he can for business.
Recently, we stayed at Marriott's Desert Springs Villas in Palm Desert and it was one of the best vacations we have ever taken. The kids start school in a week so we knew we wanted to go somewhere where we could unwind and have fun together as a family. The Villas provided us with all of that and more!
Comfortable and Spacious Suites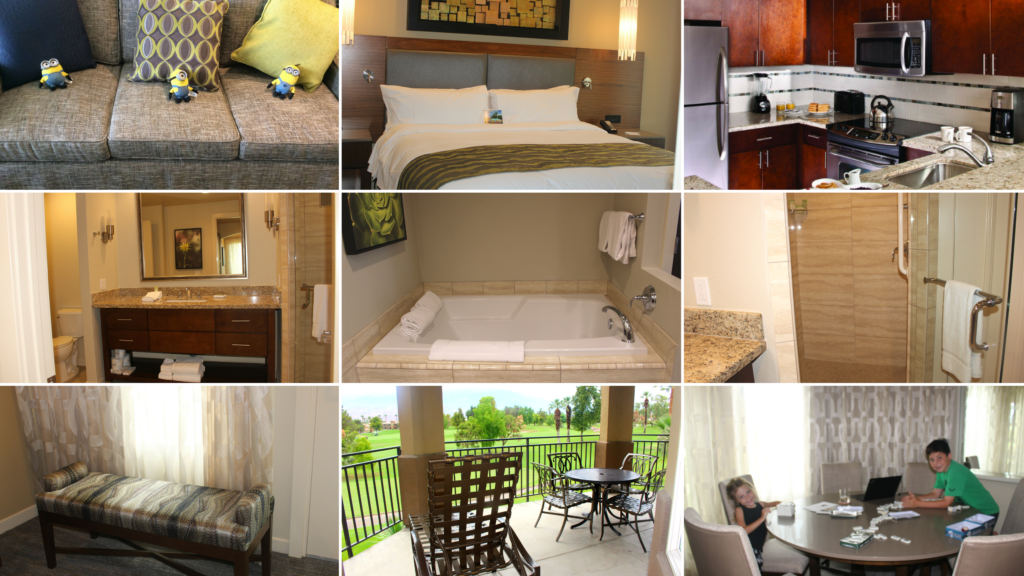 We had a 2-bedroom adjoining suite (1,404 square feet) and it was absolutely perfect because we could all spread out. Everyone had their own personal space and it didn't feel as if we were on top of one another. The multi bedroom villas and full kitchens are ideal for family reunions and larger families.  In fact, there was a recent study that showed that 89 percent of respondents who had a kitchen on their last vacation said it improved their vacation experience, and 87 percent said that having a separate living area also led to a better vacation. I have to say I completely concur!
The Kitchen was great and comes fully equipped with everything you need to cook. Pots, pans, dishes, glasses, silverware, coffee/tea maker and even a dishwasher! The freezer even had an ice maker. We cooked breakfast and lunch in our room every day and then ate out for dinner. One afternoon after a few hours at the pool we came back to our villa and made street tacos with some ground turkey. I loved looking at the golf course while I dined al fresco on the big patio.
Space is endless in these villas. I cannot tell you how much drawer/closet space there was. We put all of our suitcases and bags away in one closet and had tons of extra space to hang clothes and store coolers.
Tip #1: There are several grocery stores within driving distance and there are grills throughout the resort. We suggest bringing your own condiments to save time and money,.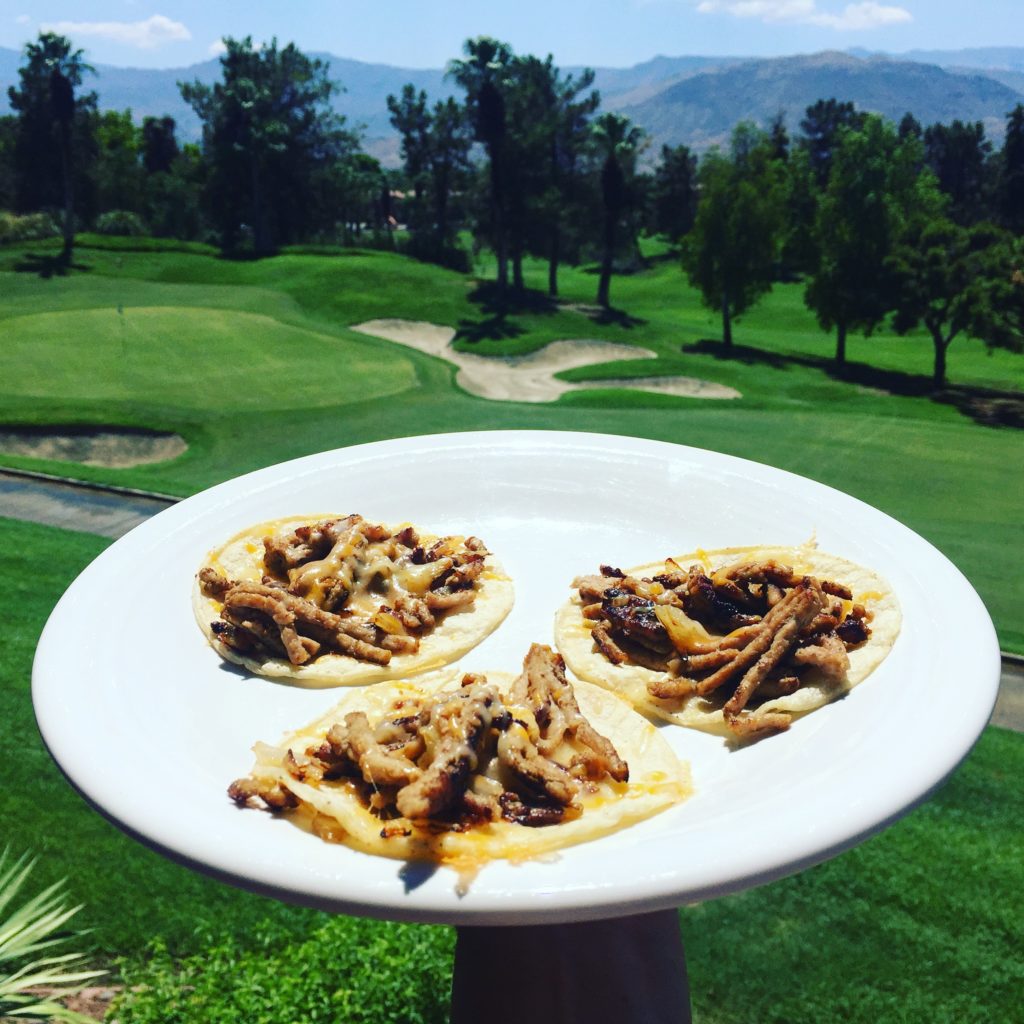 Take a Tour of a 2-bedroom Villa With Me
Activities For Kids
One of the luxuries when staying at the Villas at Desert Springs is all families have access to The Shade – An all age recreation center where you can find arts & crafts, bingo, dance lessons, movie nights, year-round kid, teen and adult activities. My kids (ages 11 and 6) loved it here and begged to go every day. On the days we visited my kids participated in a sushi making demo, a henna tattoo, pottery painting, minecraft, coloring, Mario Cart, watched Moana and loads more. **Additional fees for crafts and demos.
My 15 year old teenager enjoy "The Den" which is also located at The Shade. It's a great place for older kids to get away from their parents from 4 to 8 p.m. daily. The Den features a flat-screen TV, Wii, Xbox and iMac computers for connecting with friends back home. I guarantee you will never hear the words "I'm bored" while you are at the resort.
Below are just a few of the activities they have:
Pool Table
Foose Ball Table
Air Hockey Table
Ping Pong
Wii/Play Station/Xbox
Kitchen Demos
Rock Climbing Wall
Corn Hole
Bike Rentals
A 15-seat movie theater
Demonstration Kitchen
** Kids under 12 must be supervised by an adult. You don't necessarily need to be next to them at all times but you do have to be in the building.
A Playground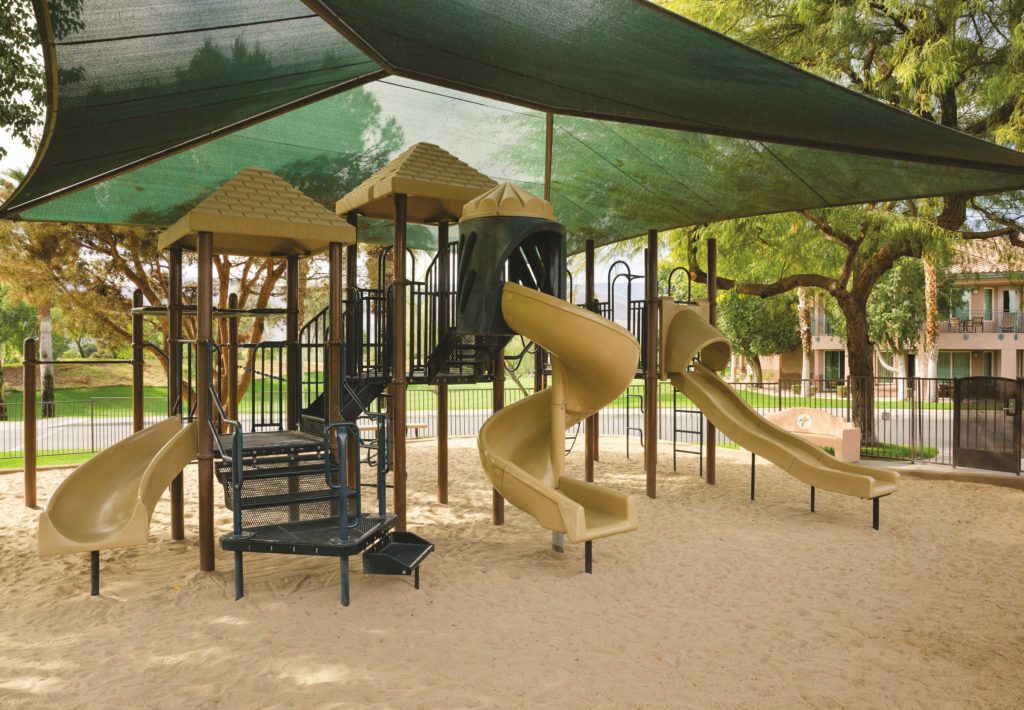 For the little monkeys who like to climb there is small playground on Bougainvillea Circle. It has plenty of shade and even a bench to sit on. My daughter had a blast going on the monkey bars and down the slides!
Bicycle Rentals
credit: Marriott
Bicycle rentals are available at the shade and can be used on the 2.5- and 3.5-mile trails available for biking and walking. Prices are as follows but are subject to change:
1 hour rental = $12 adults/$6 kids
4 hour rental = $25 adults/$12 kids
24 hour rental = $35 adults/ $17 kids
4-day rental $65 adults/ $33 kids
Pools At The Villas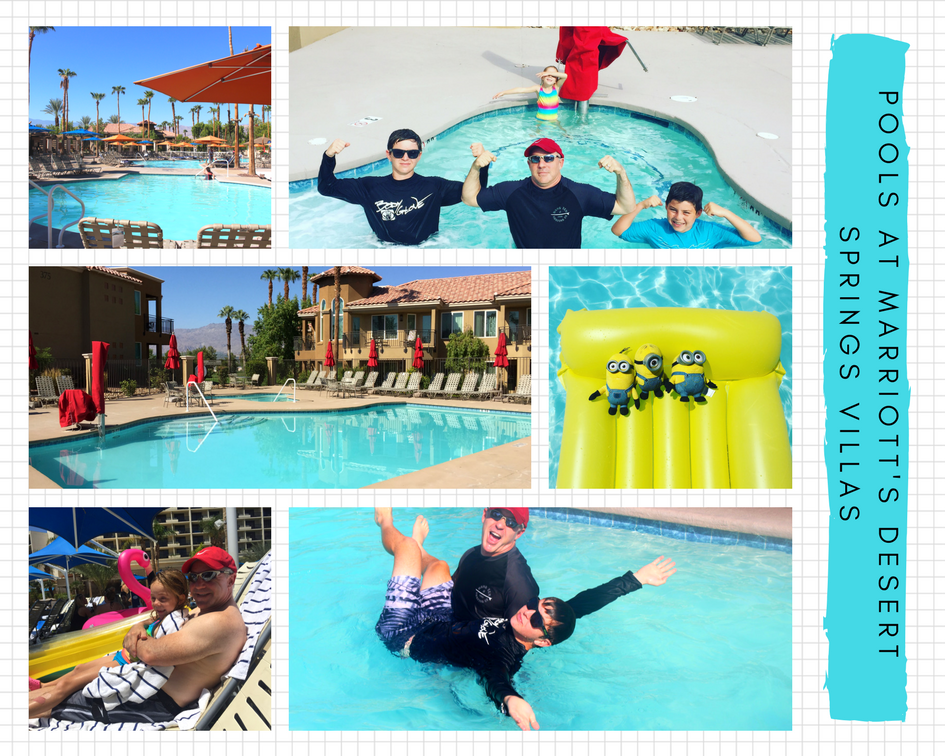 If you love to lounge then The Villas at Desert Springs is the place to do it! The resort offers seven pools, two of which are considered "quiet" pools (best suited for adults). The resort's main pool, Palmeras, offers two large pools, one temperature controlled to both heat and cool (for those hot summer days). It was about 110 degrees on the days we were there and the pool was was crisp and refreshing. I liked that it didn't feel like a bathtub.
There are also three hot tubs and a wading pool located at this pool center, making this the spot families like to hang out at throughout the day. However, the smaller pools are scattered about the resort and you might find one you like within steps of your suite.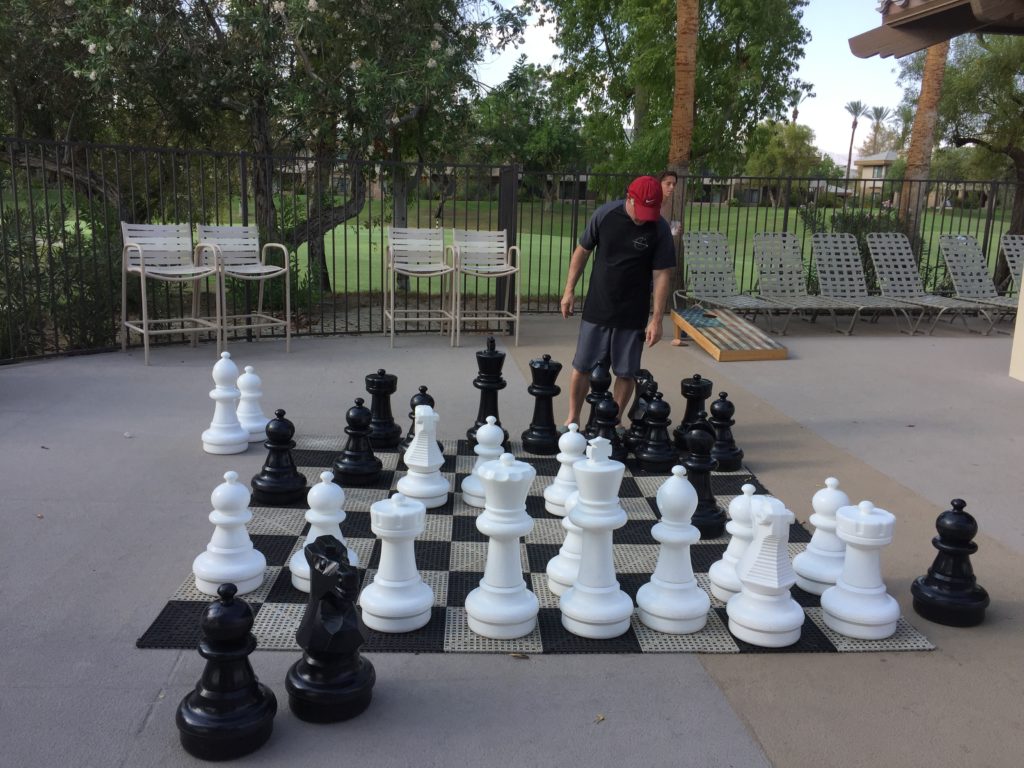 Tip #2: There is a Giant Chess Game and a cornhole game located at the Palmeras pool.
Tip #3: They WILL check your bag upon entry to this pool so don't bring any alcohol.
Pool Access At The JW Marriott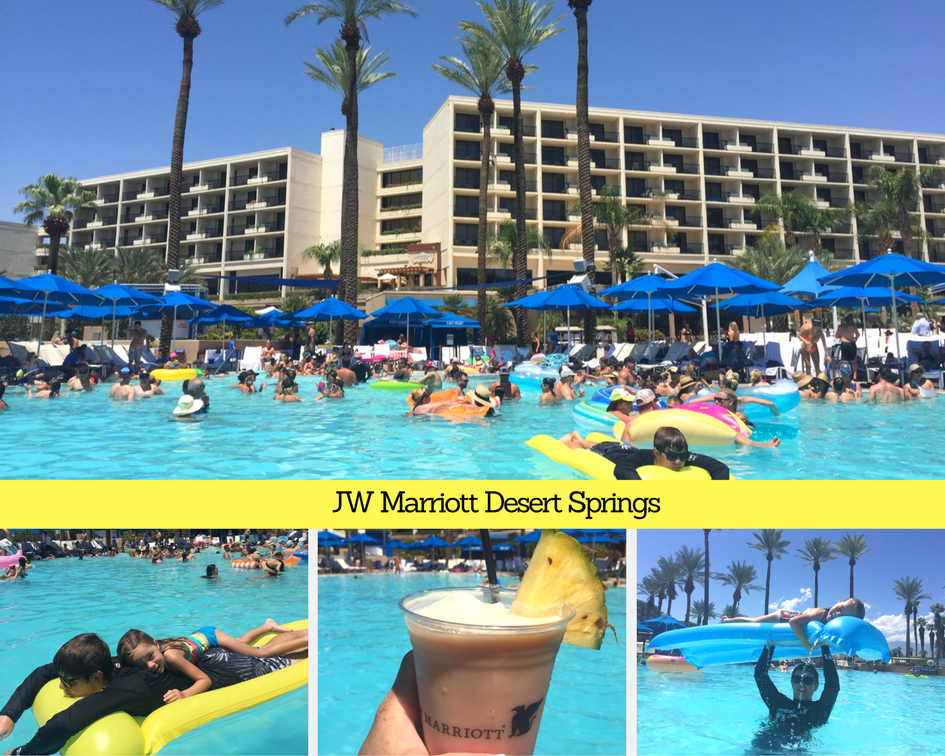 The Villas are located next door the larger JW Marriott and since Villas I was the first to create a connection with the JW Marriott Desert Springs they have special access to the pool there. Mondays through Fridays, guests of Villas I can enjoy the JW's expansive pool and tennis courts at no additional charge. Villas II guests can pay the following access fees:
$15 per person, per day Monday-Friday.
$20 per person, per day. Sa/Su
$25 per person, per day on Holidays.
**Access fee is waived for children under 12 when accompanied by an adult
Tip #4: You can buy floaties at "Oasis" the poolside restaurant at the JW. They even have an air pump and will blow them up for you.
Tennis Courts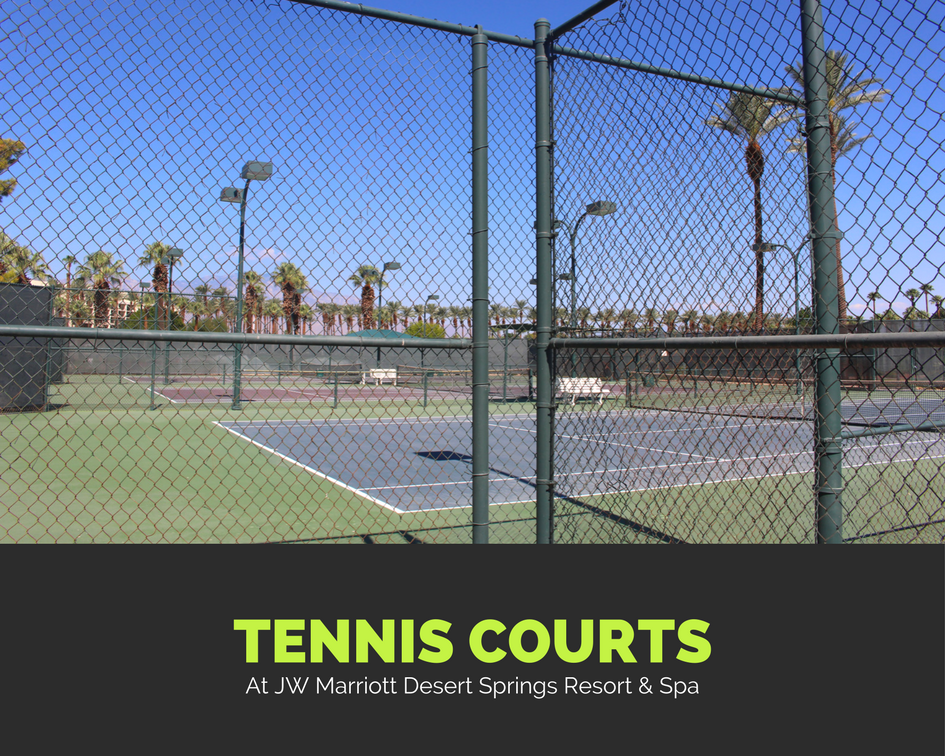 My husband and I do not play golf but we absolutely love to play Tennis. We even brought our raquets along with us. While we didn't have a chance to play I could tell that the courts were well maintained and in very good shape.
As for use, Marriott's Desert Springs Villas I guests may use the JW Marriott resort's tennis courts Monday through Friday at no charge (please note there may be black out times when the resort is to full capacity). There is a fee for use on Saturday and Sunday.
For guests of Desert Springs Villas II, one hour of tennis is complimentary Monday through Friday.
Fees For The Weekend and additional hours are as follows:                                                                          
Hard Court – $22 per hour ($12 per hour May – mid-October).
Clay Court – $27 per hour ($16 per hour May – mid-October).
Grass Court -$32 per hour ($20 per hour May – mid-October).
Sports Court
Our villa was right across from the sport court and my boys enjoyed playing a round of hoops in the evening after it cooled off. It's a full court and you can check out a basket ball at the front desk at "The Shade". Sometimes other people will show up and you can play a full game with them!
There is also a fitness center/gym at the main lobby. it has Cardiovascular equipment like treadmills and stairclimbers as well as free weights.
Fire Pit For S'mores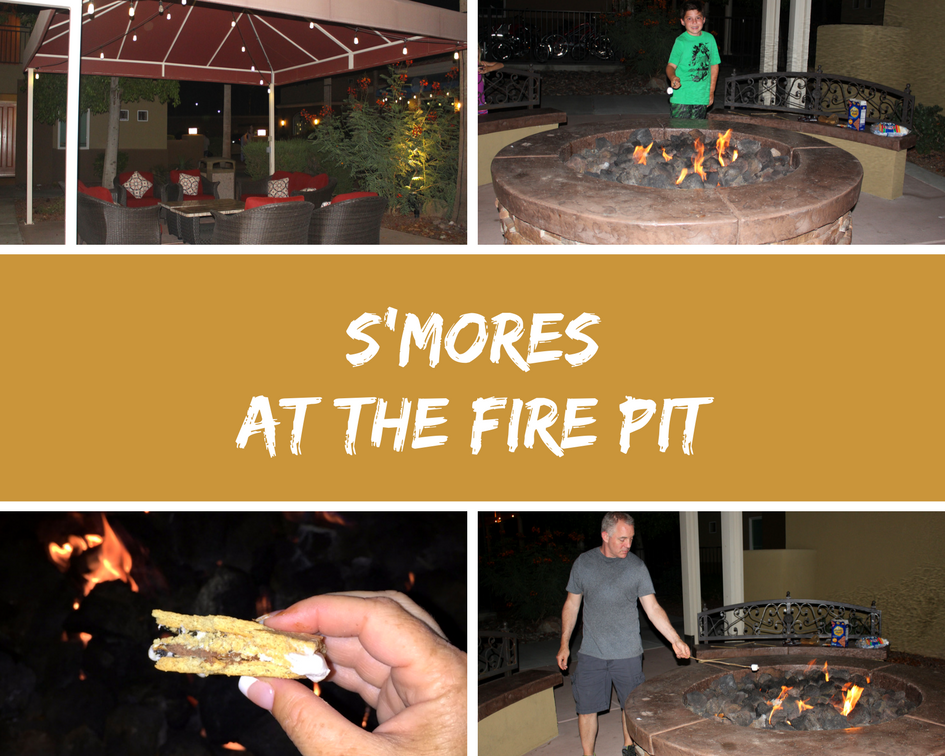 There are several fire pits throughout the resort at Marriott's Desert Springs Villas. The fire pit located near the resort's Clubhouse is a great place to spend a relaxing evening with friends or family. There is also a fire pit located at "The Shade" where they have two grills and a gazebo with lights and cushioned seating.  We made s'mores on our last night there and it was a great way to unwind before we packed up our room for our trip home the next day. Bring a bottle of wine and you are all set!
Tip # 5: You can buy s'mores kits for $4 at The Shade.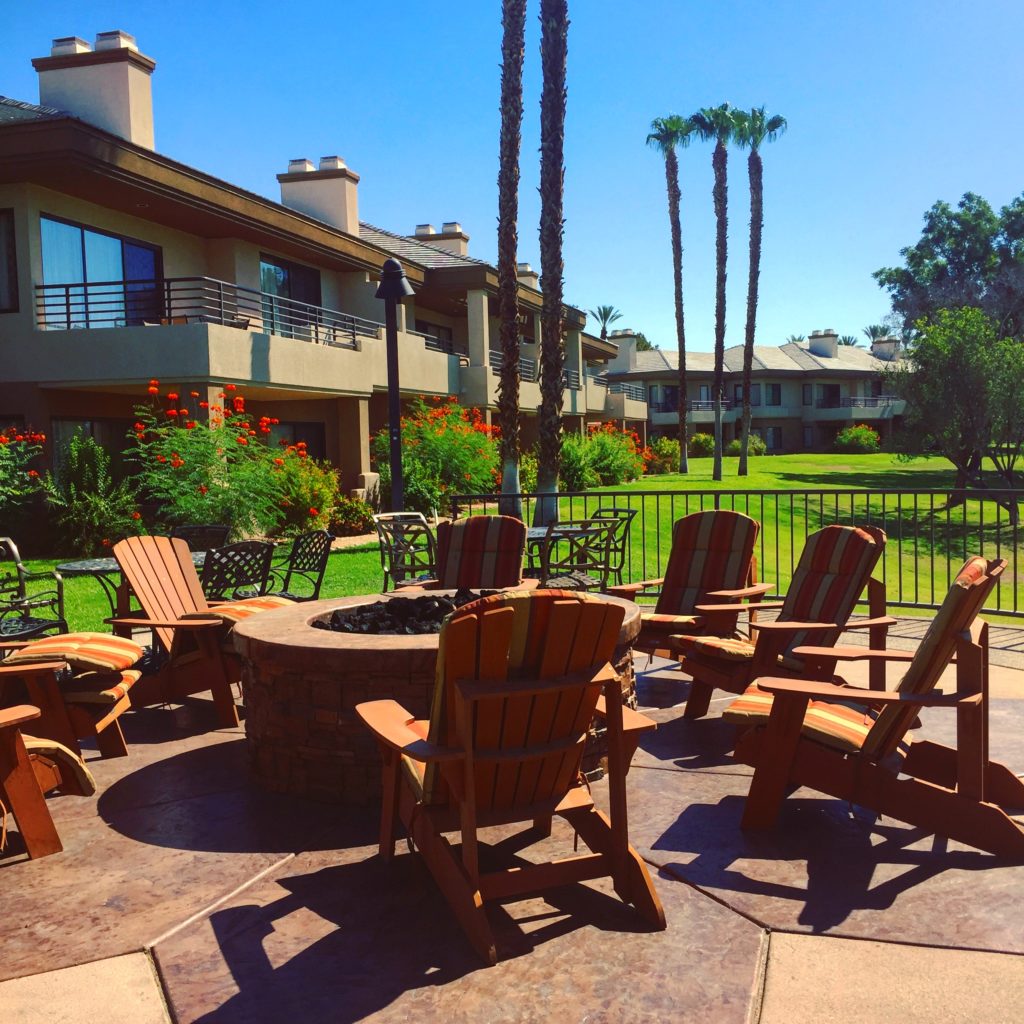 Vacation Ownership  Vs. Renting At The Marriott Desert Spring Villas
Vacation ownership at Marriott can be extremely rewarding. Marriott offers the ultimate in vacation flexibility with a deeded, point-based ownership program that includes more than 5,000 vacation options worldwide, from resort and hotels stays, to cruises, to guided group tours and more.
However, Did you know that all of the rooms and villas can also be rented or booked in the same way a hotel room is. Guests who book a villa have access to the same resort benefits  Owners do. You can book at Marriott.com.
FAQ's
How far Is the The JW Marriott from the Villas? The JW is less than 2 miles to the Desert Springs Villas, approximately a 5 minute drive or 22 minute walk. A complimentary shuttle is available throughout the day.
Are The spa and gym facilities at The JW available to guests? Guests of Villas 1 have complimentary use of JW spa Monday through Friday. Guests of Villas II can pay the following access fees: Spa access (including fitness room) is $35/person/day. Access fee is waived with purchase spa service. Fitness room only is $25/person/day. (Must be 18 or older)
Is Golf included in my stay? No, Standard rates apply. Check for special weekly golf membership pricing.
Are there access Black-out dates at JW? Yes Black out dates may apply during holidays or for specific business demands.  Changes to access are communicated at time of arrival or via a voice message. Please be aware that the JW has the authority to turn away DSV guest's due to high occupancy. Hours of operation and fees are subject to change.
Map Of Desert Springs Villas
[gview file="https://familyreviewguide.com/wp-content/uploads/2017/08/desertSpringsVillasResortMap.pdf"]
Family Guide To Dining and Activities in Palm Desert
Looking for places to eat and things to do while in Palm Desert? Check out our Family Guide to Dining and Activities! Just click on the picture and it will take you there!