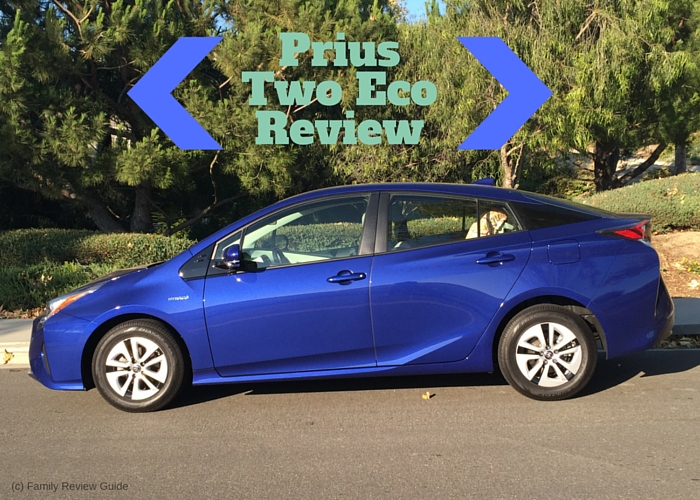 The Toyota Prius has been the leader in the Hybrid class for many years. Since I have never driven a hybrid before, I was eager to have the chance to test drive a Two Eco model for a week. My son is 14, so next year will be a big year for me when he gets his learners permit. This was a great way for me to get to know the Prius for when we decide to buy him a car.
The main question I was asking myself was would my son be happy driving this car? And, as his mom, would I be reassured with him behind the wheel of this car? The answer to both of these questions is YES! The Prius proved to be comfortable, quiet, safe, efficient and fun. Below is a picture of my son with his little sister. I felt 100% protected and secure driving my favorite people around the city for the week. Not to mention it was so enjoyable to zip around and get errands done during the day. Did I tell you what a breeze it is to park this thing? After driving a large SUV for the past few years, this was a piece.of.cake.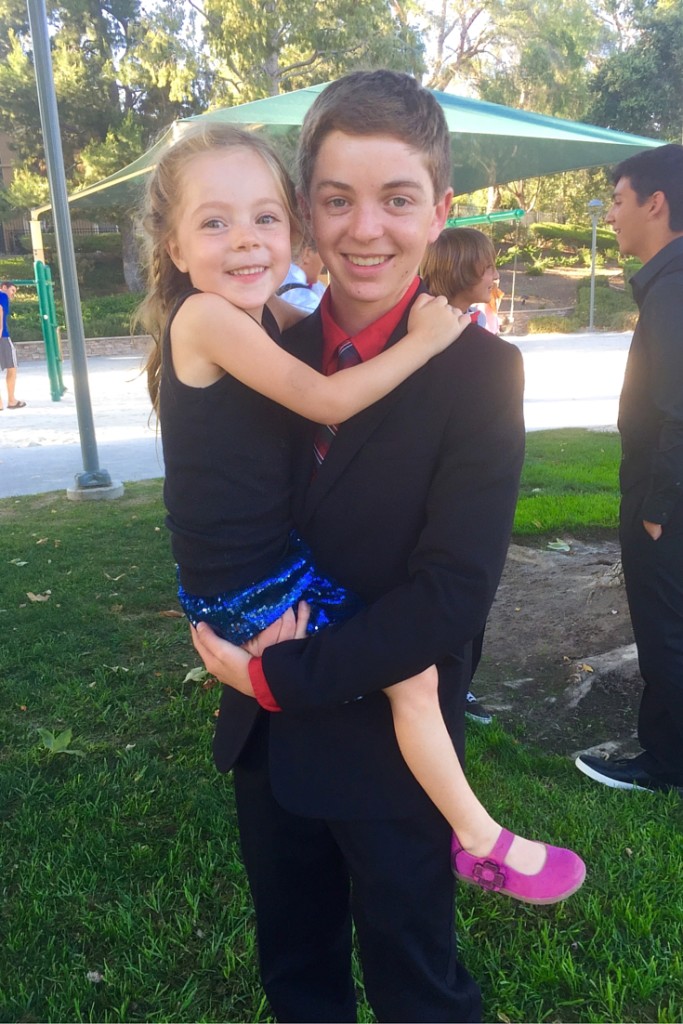 Features of The Prius Two Eco
I loved how stylish the 2016 model is. It was sleek, and had a striking new look. It had enhanced driving dynamics and impressive fuel economy. It comes in 7 different colors (see colors here) and 3 different choices of interior fabric. Some of the features the Prius Two Eco offers are:
Bi-LED Projector Low- and High-Beam Headlights With Auto On/Off Feature

Stylish and efficient projector beams help light the road ahead.

15-In. 5-Spoke Alloy Wheels With Two-Tone Wheel Covers 

With these two-tone wheels, good looks come standard.

Smart Key System

13

 on Three Doors With Push Button Start 

One-touch access to your door locks and ignition.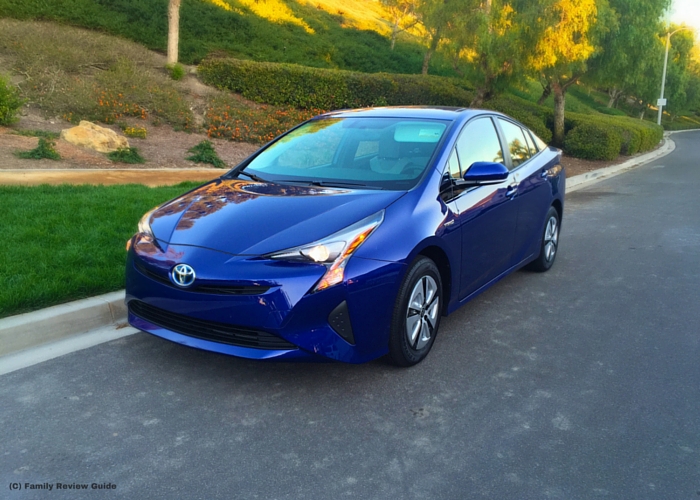 What shocked me most was the incredible amount of space in the trunk. I loved the hatchback feature because it was so accessable. One evening, we went to watch a movie on the lawn of a big hotel so we packed the Prius to the rim! Who knew it could hold a large wagon, four folding chairs, a huge comforter and several blankets? It wasn't even tight.
And check out the new design on the back of the Prius. The rear LED tail lights are shaped like a boomerang and are very distinctive at night. It also has a glass light in the rear hatch which enhances your vision through your rear view mirror.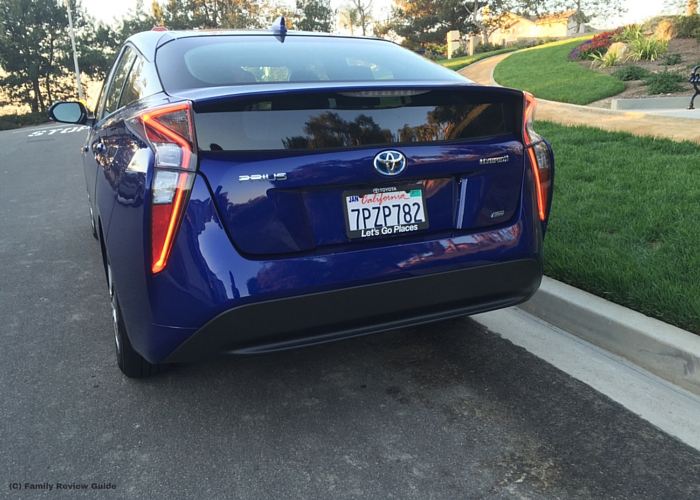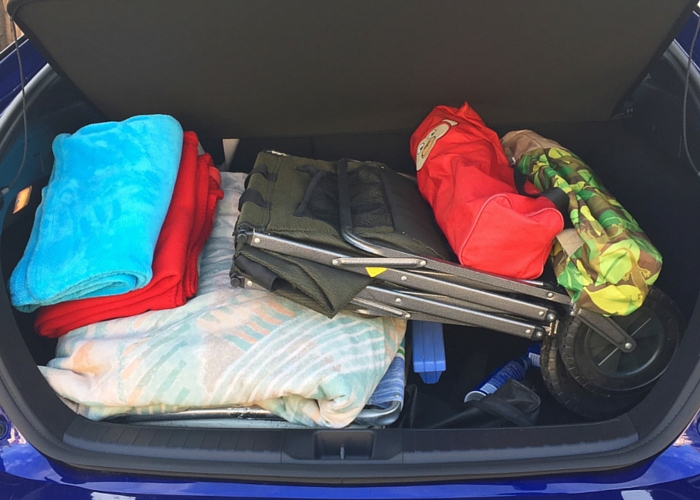 This was our view on the way to our destination. It is a canyon road with about 5 miles of wide open space. No signals or stop signs, just smooth driving that was a perfect way to enjoy the 1.8-Liter, 4-cylinder Aluminum DOHC 16-Valve engine with Variable Valve Timing.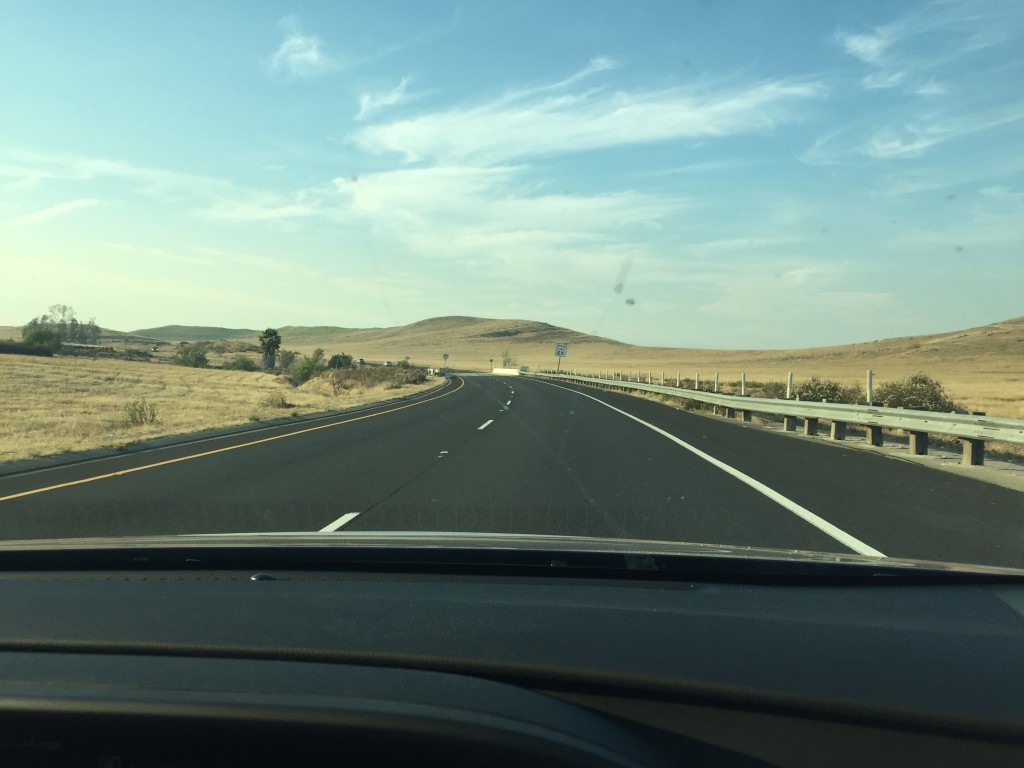 Interior of the Prius Two Eco
On the first day I drove the Prius, I couldn't help but notice the unusual shifter. At first I panicked a little because I couldn't figure out how to get into reverse, but after successfully backing out of the driveway I realized it was kind of neat to use the selector. Once I got to my destination, panic set in again because I couldn't find the "parking" gear. After a few minutes fidgeting with the selector I realized the parking gear was not an option and that perhaps the large "P" button  next to the shifter might do something. BINGO!
The Prius uses an electronic transmission mode selector, similar to a gear shift on a conventional car. Unlike a conventional vehicle with modes P R N D 2 1 (park, reverse, neutral, drive, 2nd gear, 1st gear) the Prius has a power button, a park button, and a selector for modes R N D and B (reverse, neutral, drive, and engine-Braking).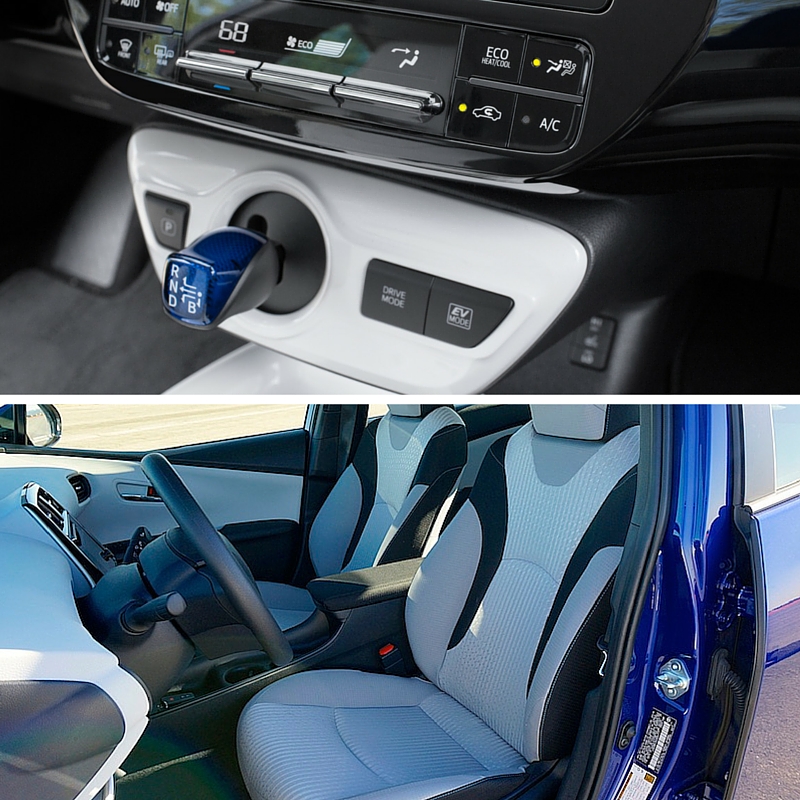 The interior was roomy and the cloth seats were so awesome to have because we had several days where the heat index rose above 100 degrees.
Another interesting feature of the prius is that the dashboard is very symmetrical. It is in the center of the car so that it is visible by both the driver and the passenger. The touch screen is very pleasing and it has your climate control, radio control as well as everything else. The center console even has space designated specifically for your cell phone.
Voice Recognition
One of the neatest features of the Toyota Prius is voice recognition. As a mom I feel good knowing that my son could control things with never having to take his hands off the wheel or avert his eyes.
Toyota Entune™ Plus Audio features voice recognition that controls many aspects of the audio and phone. Voice recognition commands power to Phone and Audio. So say for example, you are driving and want to make a blue tooth call. Just press the "speaking" button on the steering wheel.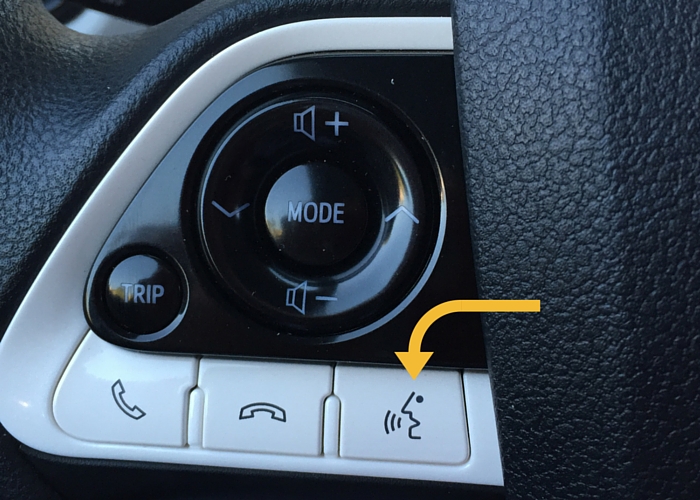 Say: "Call" or "Dial" number (You can also call from a name in your phonebook) and the voice prompt will ask you to choose a number selection to call.
Before you do that I suggest you train with the system first. Here is a video of me doing just that. The system will learn your voice and how you enunciate and more.
Video of Voice Training
What is the MPG and Price of The Prius Two Eco?
The reason this car has so much appeal is due to it's incredible MPG and starting MSRP, among many other things.
Mileage estimates (mpg city/highway/combined) are: 58/53/56. 
Starting MSRP is $24,700
Sounds like a win/win situation doesn't it? I drove this car all day every day for a week and I never even got down to half of a tank. Being a stay at home mom, this is extremely appealing to me. Less money as the gas pump means more money to do other fun stuff with my kids!
For more information on Toyota visit them on Facebook or on Twitter.