credit:bigbear.com
Located 100 miles northeast of Los Angeles and surrounded by the San Bernardino National Forest lies a beautiful mountain town called Big Bear, California. Altitude ranges from 6,750 to 9,000 feet and there are over 300 days of sunshine each year. Summer temperatures average around 80 degrees during the day, and 45 degrees at night. Winter brings about 100 inches of snowfall, and temperatures which average in the low 40's during the day, and mid 20's at night.  About 21,000 residents make their home in Big Bear full-time.
The beauty of living in Southern California means that a trip to this laid back mountain town is only about 2 hours away! You can go from the beach to the snow/mountains in the blink of an eye. We recently took a family trip to Big Bear over Thanksgiving and had an amazing time. Here are some of our top recommendations for a successful visit:
Book a cabin Using BigBearVacations.com
credit:bigbearvacations.com
After searching through various online companies to book a cabin we found that Big Bear Vacations had the easiest user interface and the best selection and reviews. They can assist you in finding the perfect cabin and set up your itinerary.  I also liked that they had an extremely friendly and knowledgeable staff and they were open 24/7. Have a look at the awesome cabin we got. We picked it literally 1 week before we left and it was absolutely a perfect fit.
They have a beautiful office right in the middle of the city where you pick up/drop off your keys and they give you complimentary spices.
Things To Do In Big Bear
Whether you visit in the winter, spring, summer or fall there is never a shortage of activities in Big Bear. Since we visited over Thanksgiving break, the weather was warm we did a good mixture of indoor and outdoor activities. Here are some of our favorites:
Alpine Slide Magic Mountain
This was my absolute favorite thing to do in Big Bear! The Alpine Slide at Magic Mountain is a super fun bobsled experience that is open year-round. Begin with a scenic chairlift ride to the top. From there, you navigate your own individually controlled sleds, each with teflon runners and ball bearing wheels, down your choice of two quarter-mile long cement tracks filled with high-banked turns and long straightways. There are a variety of attractions at the recreation area, which include year round operations of the go-karts and an 18-hole miniature golf course. The nine Cam-Am racers feature 5.5 horsepower Honda motors and the miniature golf course offers 18 exciting holes complete with breaking greens and water hazards. Parents can join in the fun or enjoy soaking up the sun on the spacious lawn and two sun decks. The double water slide operates  during the summer months, taking riders down  two twisting and turning flumes filled with  refreshing, cool water, before dumping them with a splash into the heated pool at the bottom.
Blogger Tip: Both slides are the exact same. The left slide is for faster more experienced riders so if you are a first time rider or don't like to go fast it is highly recommended to ride the right side of the track.  The people behind you will appreciate it.
There is also an arcade at the location as well as a mini grill and snack bar!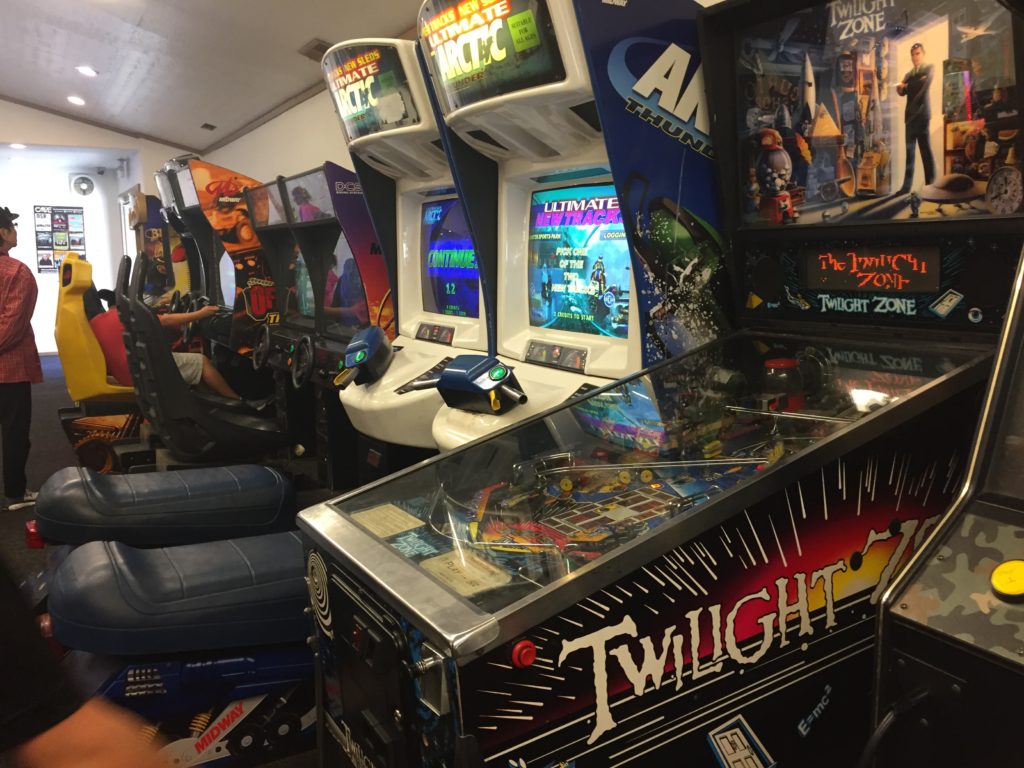 Big Bear Alpine Zoo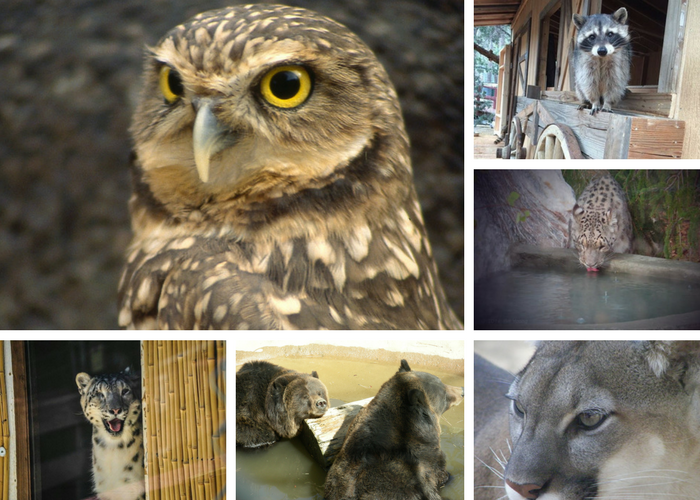 With so much wildlife around it would be a shame not to see some of it in person! The perfect place to do this  is at Big Bear Alpine Zoo. The Big Bear Alpine Zoo is a rehabilitation facility offering injured, orphaned and imprinted wild animals a safe haven; temporarily while they heal or permanently as they are unable to survive on their own.  90% of all the animals brought to them for rehabilitation are successfully released back into their native environment. Those that remain with them on exhibit are either too injured or have been imprinted by humans and cannot be released back into the wild to care for themselves.
What kind of animals are at the zoo?
American Badger , American Kestrel , Arctic Fox , Bald Eagle , Barn Owls , Black Bears , Bobcat , Burrowing Owl ,  Canada Goose , Chuckwalla , Coyotes , Fallow Deer , Golden Eagle , Great Horned Owl , Grey Fox , Grizzly Bears , Hedgehog , Mountain Lions , Mule Deer , Peregrine Falcon , Raccoon , Raven , Red Fox , Red Shouldered Hawk , Red Tailed Hawk , Red Tegu , Ringtail , San Joaquin Kit Fox , Sandhill Crane , Snow Leopard , Snowy Owl , Turkey Vulture , Wolf
Prices are as follows and subject to change: Adults (ages 11-up) ,$12.00 Seniors (age 60+) ,$9.00 Children (ages 3-10) , $9.00 Children (2 –under) Free
Blogger Tip: Parking is FREE at the zoo. If you have little ones with you plan to bring a stroller as there are no rentals at the zoo.
Big Bear Bowling Barn

credit: Bowling Barn
The Bowling Barn is a big red building shaped like a barn that houses 16-lanes of bowling. The facility is equipped with a state-of-the-art bowling scoring system so there is  no need to keep score. They also have a full service snack bar as well as The Alley Oops Sports Bar. It has the best prices in town for drinks, as well as high-definition televisions to watch your favorite sports and teams. Oh yeah, there is also billiards and darts at Alley Oops.
If you like video games there is a video game arcade that has some of the latest arcade games available for the kid or the kid at heart.
Places To Dine/Grocery Stores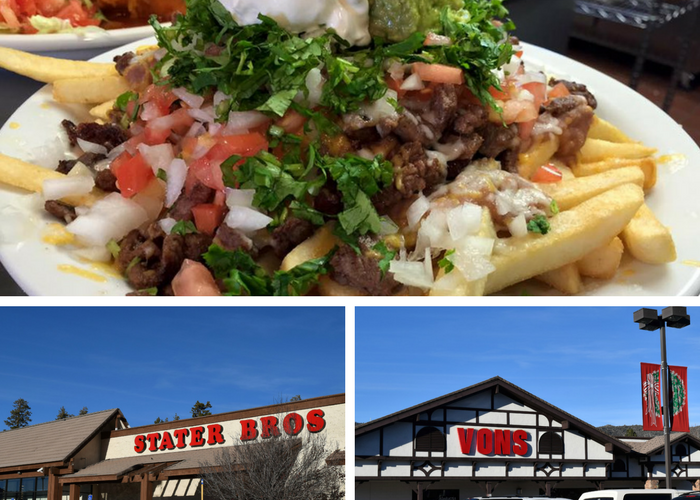 If you are staying in a cabin chances are that you will be cooking some meals at home. Vons and Stater Bros are the two most well-known stores in the vicinity and both have a very large selection of products to choose from. If you enjoy eating out there are several restaurants that can accommodate large parties and serve amazing food. Here are some of our favorites:
Laguna Grill – Extremely kid friendly and killer food! Plenty of outdoor seating it is also pet friendly!
Grizzly Manor Cafe – They have been serving delicious food to the community since 1975. Kids can get get creative with a note on the wall while they wait.
Bone- Side Down BBQ & Grill – Amazing Food, Excellent service, and a friendly staff that likes kids!
While the restaurants above are just suggestions, here is a full list of restaurants to choose from in the Big Bear Area.
Fall Events in Big Bear
Click here for a full list of events by month
September– Big Bear Kids Adventure Games, Bass Tournament championship, troutfest
October– Oktoberfest, Wine Walk, Fawnskin Fall Festival, Spartan Race, Halloween in The Village
November – Turkey Trot,  Santas Grand Entrance and Tree Lighting, Mountain Christmas Boutique
Driving To Big Bear
It is important to know that there are three Highways that come up to Big Bear.  Most people are familiar and use what the "front way" up to Big Bear.  This is the route up to Big Bear on Hwy. 330, which intersects Hwy. 18 in Running Springs and then up to Big Bear. It is a great route to take when there is no snow, however, during the winter this can be a difficult route to navigate if you are not experienced. Stay tuned for Winter in Big Bear Recommendations!
For more information see Visit Big Bear on Facebook and Twitter.