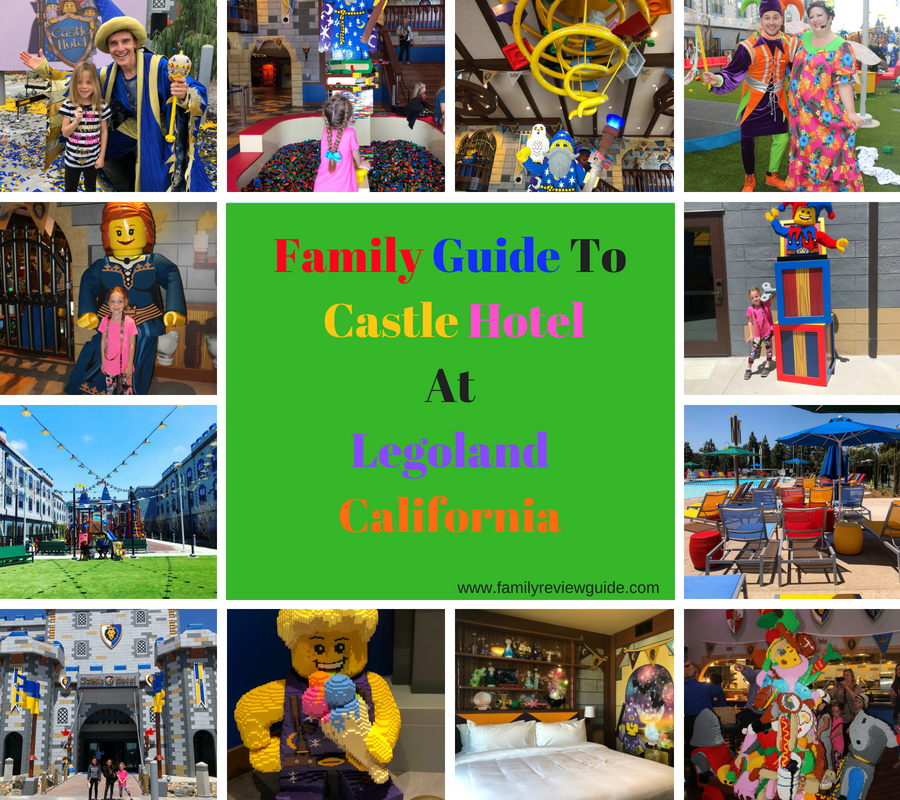 If you are looking for an unforgettable family vacation this summer, look no further. The Legoland Castle Hotel at Legoland California will surpass all of your expectations and more! We recently stayed at this bricktastic playground and we had a great experience. Upon entry it really does feel like you're entering a castle! The music, the drawstring bridge and the flags make it such a magical entrance.
Check In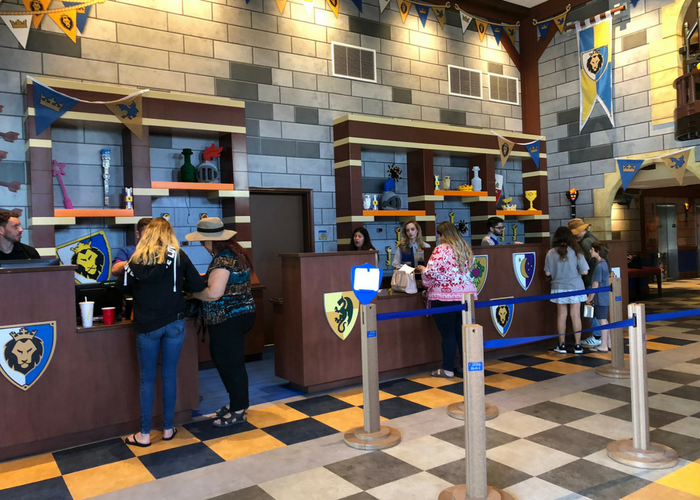 Check in is quick and easy and if you get there early they will send you a text once your room is ready. They have an awesome kids stay and play free promotional package now that includes the room, free parking, free breakfast buffet, free 2-Day Child LEGOLAND + SEA LIFE Hopper tickets, exclusive early access to LEGOLAND on both days  and a special welcome gift for the kids.
At first you might just be interested in booking the room, but the admission tickets are an added bonus! You have 10 days to go back and use the second day visit which is awesome! After you drop off your bags with the bellman you can walk to the park because it is literally next door. It is very easy and convenient! Go enjoy the park for a couple hours and then you will get a text that your room is ready!
The Lobby at Castle Hotel
One of the best things about the lobby in the new Castle Hotel is that there is a giant Lego play area filled with Lego's to build. A giant Wizard towers high above you with a surprise light show. This is great to keep the kids occupied while you are checking in. There is also a fun slide next to the stairs that will entertain the little ones countless times!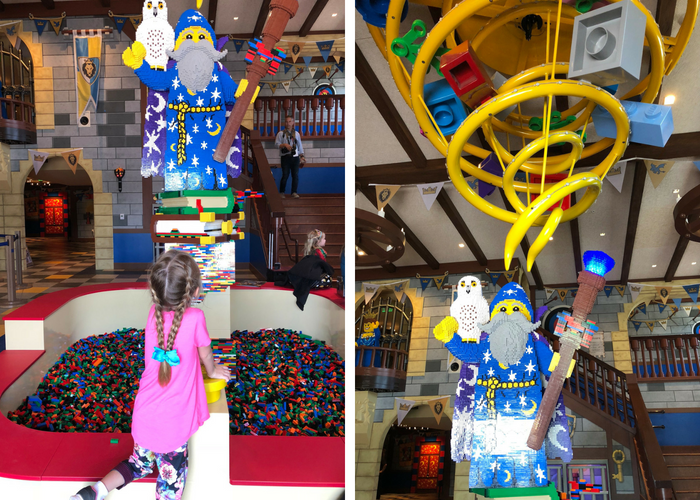 Before you head out to the park or check into your room, be sure to get some great photo opps inside the tiny jail cell (with a cute mouse holding the key) or the silly chair that makes funny comments. There is also a knock-knock wall that tells ridiculous jokes that get stuck in your head for the day.
The Courtyard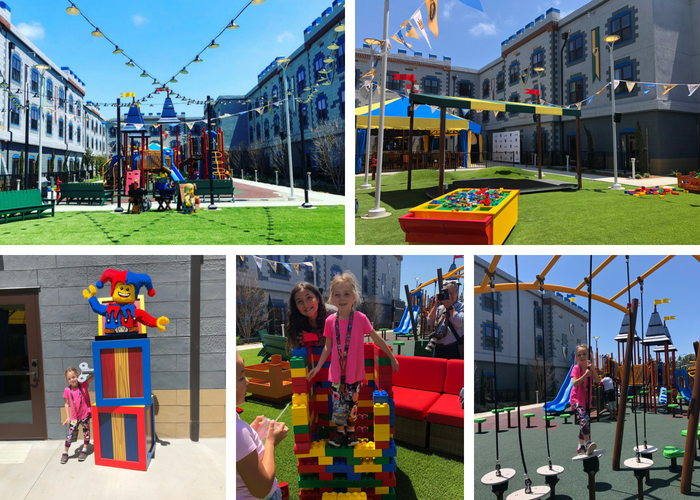 I think the courtyard is my favorite place in the hotel. It's basically a giant playground with Lego's, music, live entertainment. There is a ton of seating for adults and you can basically sit and watch your child play while listening to squire music. The ground is made of a soft squishy material and the rest of the area is made of Astroturf. I watched my kid  enjoy herself for hours out here.
Video of Courtyard
The Rooms At Legoland Castle Hotel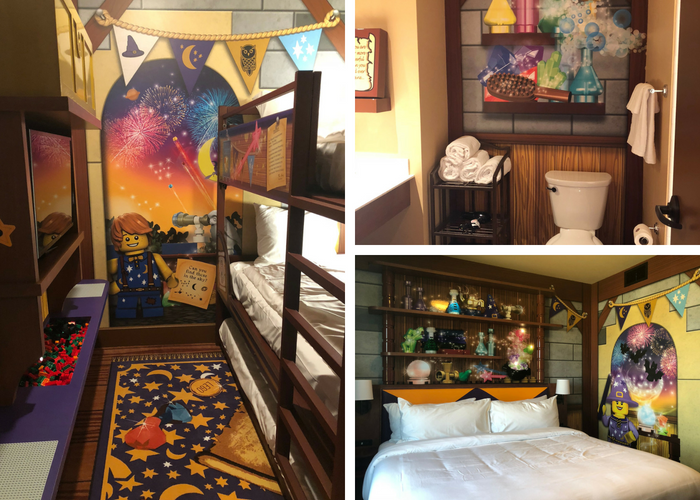 There are 3 types of themed rooms you can choose from: Nights & Dragons, Royal Princes and Magic Wizards!  Each themed room tells a story!
Knights and Dragons Room: Guests will defend the King's Castle and help protect the King's treasure from the approaching bad Dragon Knights and their fire-breathing dragons!
Royal Princess Room: The Princess is no damsel in distress and she uses the help of the jester to prepare to sneak into the tournament and compete with the knights
Magic Wizard: Full of curious potions, spell books, wands and magic mirrors, kids can use their imagination to believe their help is needed to protect these treasures and keep them safe from any bad Wizards or Dragon Knights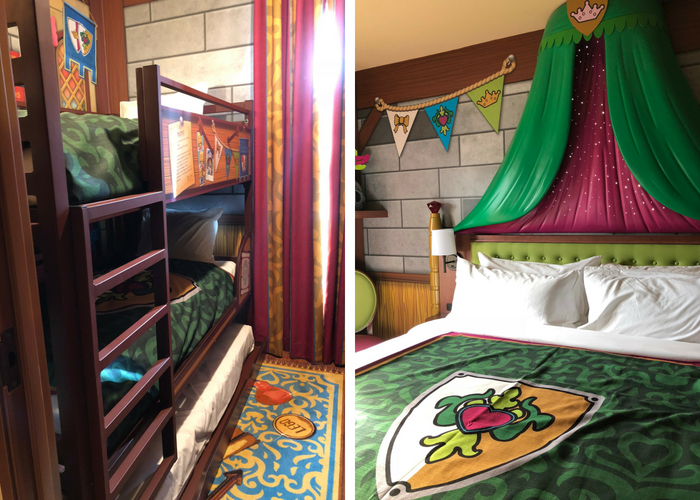 Our room was the Magic Wizards and the room did not disappoint! The best part is kids have their own little room AND tv! It's a bunk bed with additional trundle…perfect if you have 3 kids! There is even a Lego play area in there filled with legos! The bathroom was a nice size with extra touches for little ones like a step stool for the sink and kid size toilet seat. There is a nice little kitchen area with fridge and complimentary water and juice boxes for the kids. There is even a keurig coffee machine with hot chocolate pods. The main room has very large king bed and big tv After a long day it's nice to have your own area away from the kids to relax and unwind.
Suites At Legoland Castle Hotel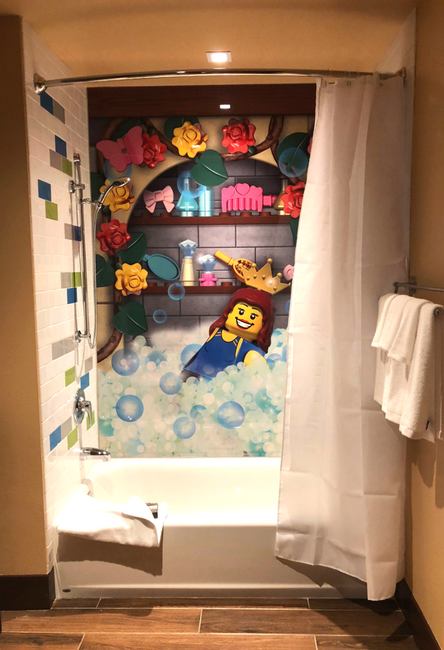 There are 20 family suites at the Legoland Hotel and the suites are roughly one and a half times larger than the standard rooms. Each suite sleeps up to seven people and includes a lounge area with sofa bed, children's sleeping area with a bunk bed and trundle and a king-sized bed for the adults.
The bathrooms feature two sinks plus a separate bath and shower. The children's sleeping area and the adult's sleeping area both have closing doors
Video of Rooms
Dragons Den Restaurant
The Dragons Den Restaurant and Bar is  LEGOLAND California Resort's full-service sit down restaurant where you'll find something for the entire family! It has an open kitchen design which allows guests to watch chefs preparing their locally sourced food. While kids are waiting for their food they can enjoy entertainers, LEGO models, listen to a self-playing piano, enjoy game-topped dining tables, sit on one of many "audible" chairs.
Kids can choose from a kids menu and adults can order tasty seafood, pasta and steak options.
Did you know? Breakfast is included with each guest's stay and includes made-to-order items and buffet.
See What is Included in Buffet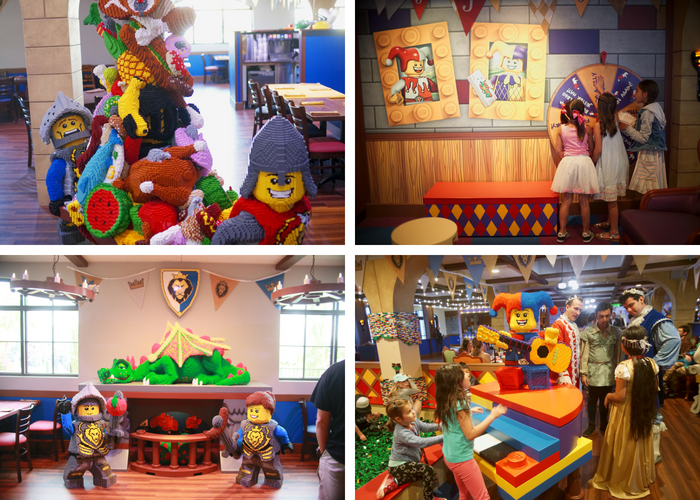 The Enhanced Pool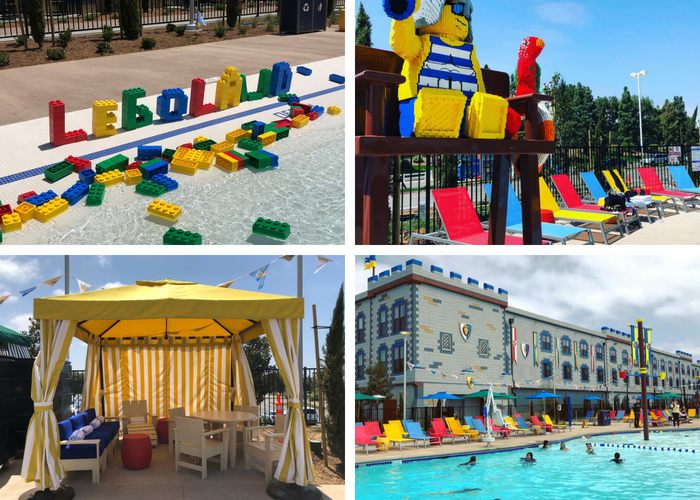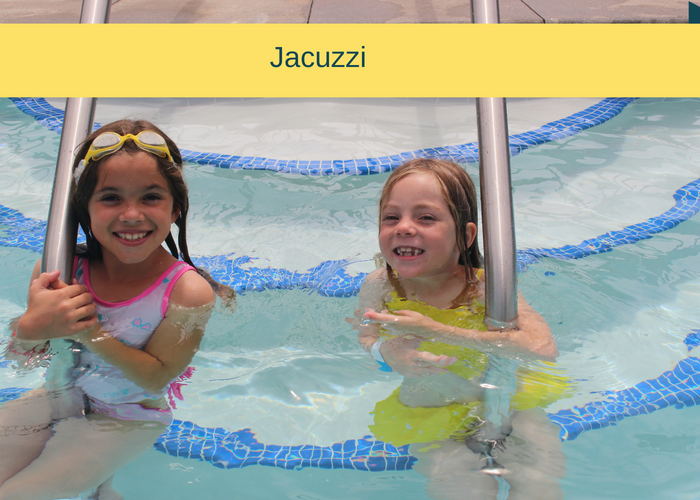 We loved the Pool at Legoland castle Hotel. It's a Zero entry pool featuring interactive water play features and a hot tub. Guests can also rent cabanas that come with table and chairs, waitstaff and a mini fridge. Here is a list of everything that is included. You can find cabana rental prices here. 
For those that like to dine by the pool, Castle Pool Bar & Grille will offer smoothies, sandwiches and salads prepared fresh to order.
Things to know:
Children under 48 inches are required to wear a life vest no matter how strong of a swimmer they are. 

An adult must be present in the jacuzzi area. It also must be the adult of the child. An adult of a friend will not be sufficient.
Children's Entertainment
Out in the courtyard there is a stage where children's performers will entertain with bubbles, stories and games. There are also meet and greets with a Princess costume character, a Knight costume character, and Wizard costume character. After an exciting day in the Park, families can come explore the Courtyard where they can see an original play or musical on the Castle Courtyard Stage, experience shows at the pool featuring the "Lady of the Lake" or watch a movie on our outdoor screen. Music stays on until 10:00pm.
Opening Ceremony

We attended the opening ceremony for the hotel and got spoiled by an incredible performance. They had knights and real live horses, a falcon and confetti like you have never seen. Here is a cool fact about the Lego Royal statue at the hotel:
A team of Master Model Builders spent 1,243 hours creating this statue that represents all of the key figures of LEGOLAND Castle Hotel in one monument: A Wizard, Princess, Jester, Knight, King and Queen. The LEGO model is created from 251,565 LEGO pieces, weighs 1,563 pounds and took 750 hours to develop and build.
Video Of Opening Ceremony
Blogger Tips
Request a room on the 3rd floor facing the front if you like a quieter room.
Take advantage of the 30min early access to the park for hotel guests.
Go to the breakfast buffet before 8am or expect long lines.
Look for the starry night light switch in the kids room.
Don't forget to do the scavenger for the code to access the safe in your room for a fun surprise!!!
Don't forget to take your key out of the light slot.
For more information visit Legoland castle Hotel on Facebook and on Twitter.