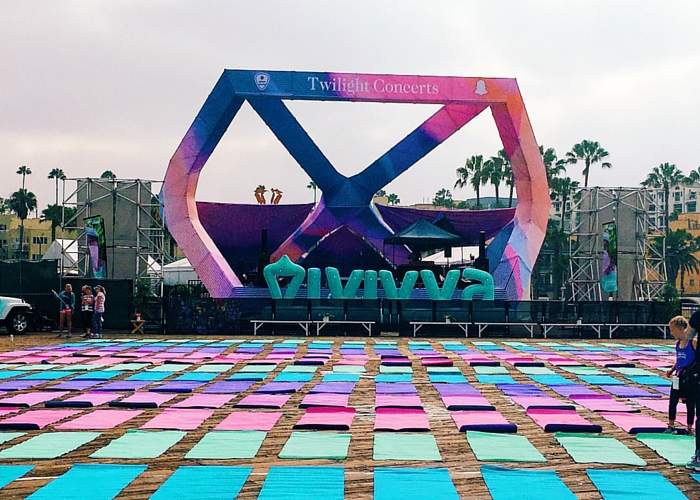 The summer of 2016 is bringing young girls from all over together to show their girl power with the ivivva Coast to Coast Festival.  The past weekend a few hundred girls from 6-15 gathered on the Santa Monica Pier for one reason – to get active.
ivivva planned an amazing day for those girls.  Each girl has tons of opportunities to get the most out of the day.  They began the day checking in (this is a drop off event) and making name tags for themselves with one goal they have for themselves and they date they want to accomplish it by.  The check in and security for the event was impressive.  I loved seeing all the girls really thinking about the goals they were setting.
The main event was the yoga with, former elite-level gymnast Cristi Christensen and dance time.  Each girl had their own yoga mat to use and were encourage to participate, even if it was their first time.  The ivivva event staff was wonderful.  They walked around helping the girls, encouraging them to press through the hard parts and having fun with them.
After the yoga session the girls were treated to a small pep talk where they were told that they were valuable, special, beautiful and so much more.  They were encourage to envision their dream and goals, where they will be in 10 years, who they will be with, what makes them happy and though I was not next to my daughter I could read her lips and her answers made my tear up.  The girls got to pair up and talk about their best qualities and what others have said about them that they did not agree with.  They were in courage to share and listen.  This special event left my little one invigorated and confident.
This fun summer day included tribal marker artists, photo booths, music, a flash mob with the appearance of the Laker Girls and ended the day with a small concert from singer/songwriter Koda Corvette.
ivivva set out to connect these girls through movement and inspire them to dream big and I'd say MISSION ACCOMPLISHED.