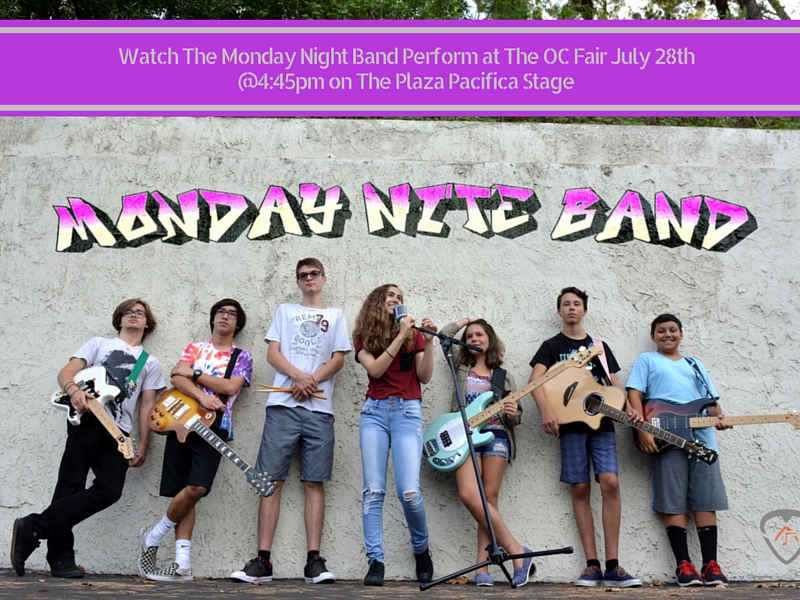 Don't Miss The Monday Night Band At The OC Fair!
Have you been to the OC Fair yet? They have some pretty awesome free entertainment like The Monday Night Band. The band is a group of kids from The Music Vault Academy, Orange County's #1 music school for kids and adults. They are taught by the prestigious Jimmy Packs, who has played guitar for Ozzy Osbourne, Guns N Roses, Never the Bride, Faith No More, David Lee Roth, 21 Guns and others .
The Monday Night Band will be performing on Thursday, July 28th at 4:45pm on the Plaza Pacifica Stage and will play the following songs:
Don't Stop
Walk
Everybody Talks
All of me
Zombie
Jar of hearts
Your song
Santaria
Holiday
Thursday Deals
Here are some deals happening at the OC Fair on Thursday the 28th. The unlimited wristband is an awesome deal. Don't miss out!
Kids Day: Children 12 and younger receive free admission all day. (Children 5 & younger are free everyday)
$2 Taste of Fair Food: Foodies can taste their way through the Fair for only $2 a sample. Most Fair food vendors will feature a $2 taste on their menu every Thursday from Noon-4 p.m. Fair admission required. (New Day for 2016)
Unlimited Ride Wristbands: All you can ride for $30 plus two free games. Wristbands are sold until 5 p.m. and valid until 8 p.m.
For more information visit The Music Vault Academy on Facebook and on Twitter.