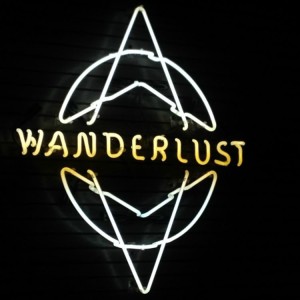 This week I was invited to experience the Wanderlust Hollywood, a new multi-level community center and social club in Los Angeles. If you are not familiar with Wanderlust, they are the producers of the largest Yoga Lifestyle Events in the World and they now have a center in Hollywood. The center will offer expertly led Yoga and meditation classes, a full-service organic and local Café, retail space, special programming and membership offerings.
As I walked up to the center I was greeted by the most beautiful sculpture of what I think was Ganesha. From my research, Ganesha (also known by many other names) is a god that symbolizes many ideals like generosity, total acceptance and remover of obstacles. The sign directed us to "Write your intentions for this space and Place your offering on the third floor". What was my "intention" for this space? This night?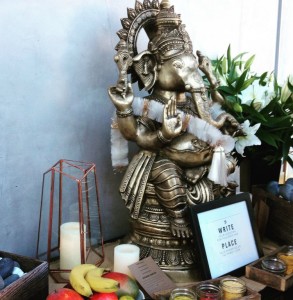 Originally, I would have said my intentions were to cover the story and present the facts and info. However, as I walked up to the space my intentions changed to not be there as someone getting a story, but as a visitor, open and ready for whatever happens. This was one of the best choices I've made. The center is beautiful and even though it was crowded that night, I still felt relaxed, happy and excited too.
The first part of the center you enter is the outside patio.  That night it served as an area for a bar and small bite appetizers.  The food was, to my happiness, gluten free, healthy and delicious.  The kale salad and the watermelon tomato gazpacho were delectable.  I honestly could have drank a pitcher of the gazpacho.  Hats off to Chef Seamus Mullen and he staff.  I will surely be back for at least lunch, if not for more.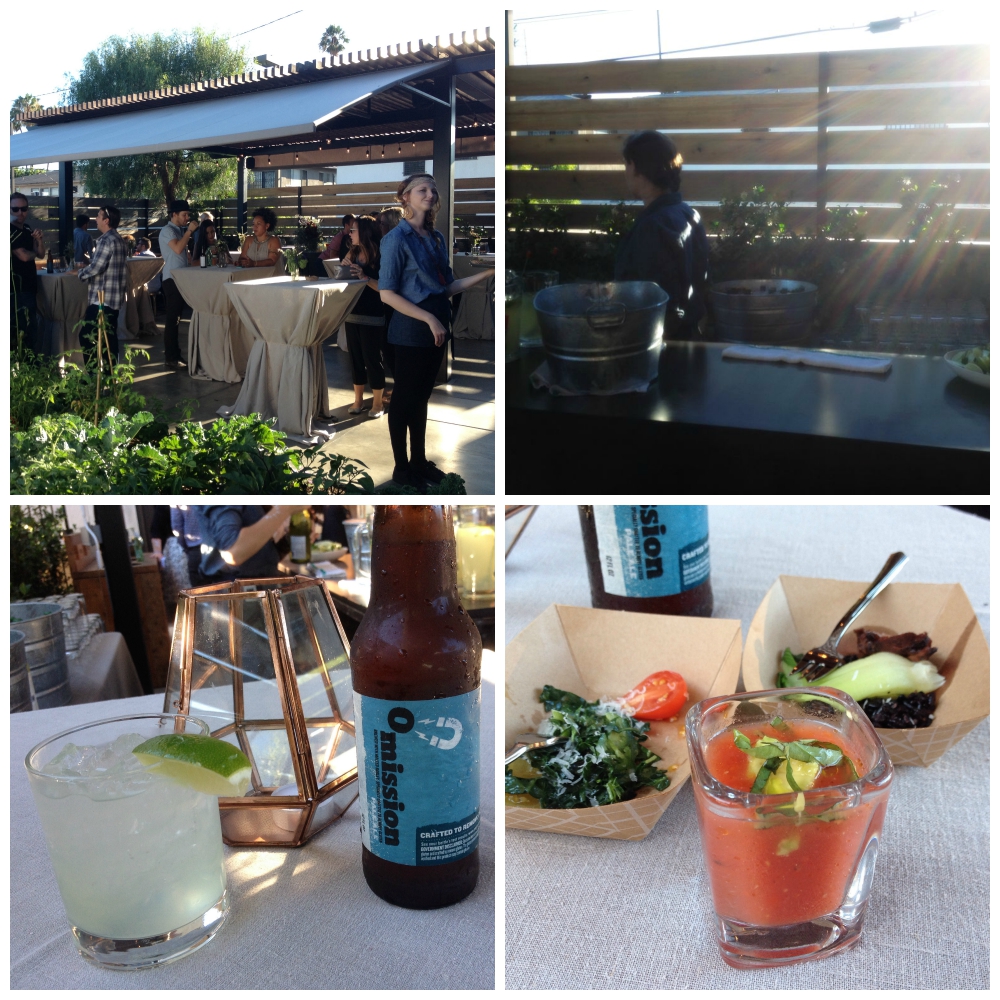 When you walk into the center, you enter the cafe area.  I met with the interior designer that night, by accident, and she told me that the cafe has a very clean and open look.  Since this was an opening event the cafe was not set up for sitting.  Within the cafe space you will also find the retail store.  Here you can purchase most any gear you may need, music, books  as well as accessories from local and craft vendors.  You'll have to trust me that the this space was very clean looking with light colored natural wood and plenty of lighting.  I unfortunately could not get a good picture of the space due to the number of people around.  The entire center is 10,000 square-foot, and three-levels.  The main yoga studio is on the first floor and it was breath taking.  I'm  not sure if they seating areas are always in the room but they were so relaxing, I contemplated taking a nap.  Ok, not really, but you could have.  On the second level you will find "The Library," a members-only lounge where you can sip wine, read a book or just relax.  You will also find full male and female locker rooms and showers.  Sadly we were unable to part take in what I hear is an amazing rooftop deck with breathtaking and stunning views of Hollywood.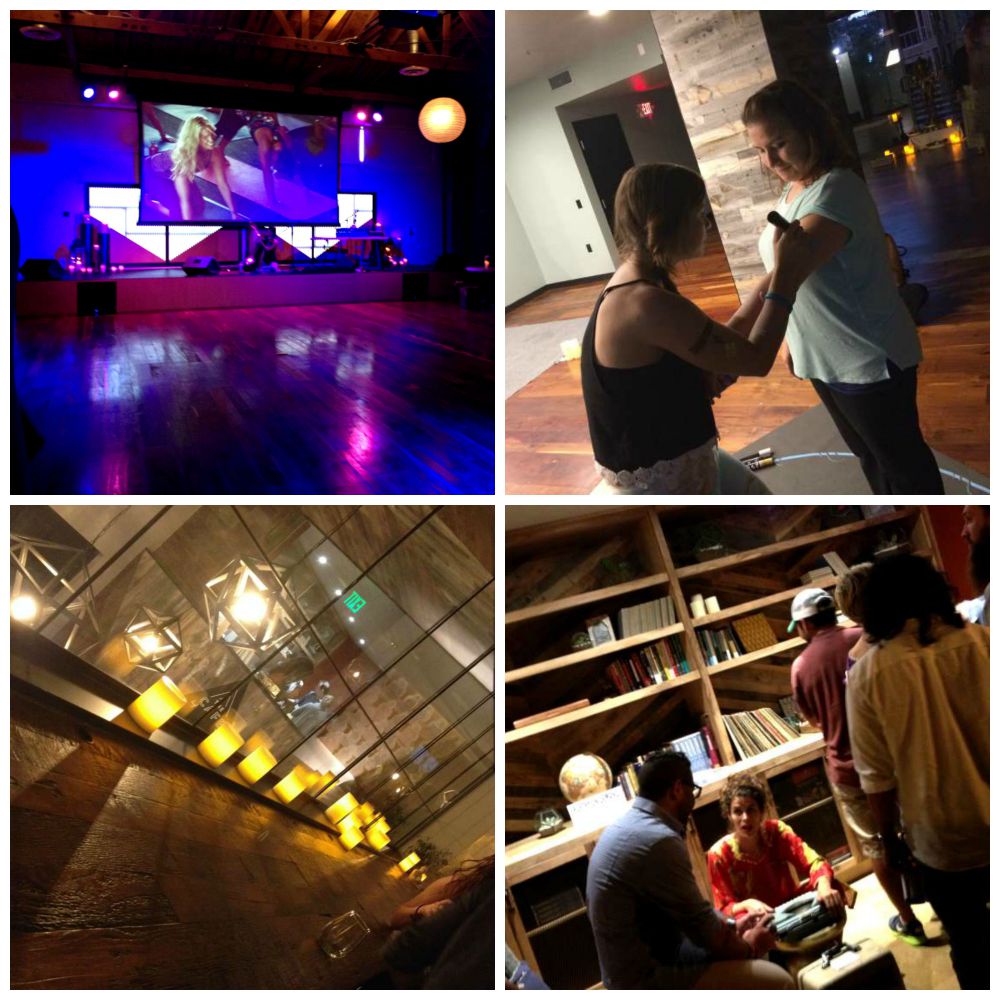 The Wanderlust Hollywood is a relaxing and refreshing environment located in the not so relaxed and always busy city of Hollywood.   They hope to make the center into a place to practice, listen, taste, learn and gather.  As the night ended, though I am not a person that practices yoga or lives the lifestyle, I realized that I could use some time to just unwind and relax.  Sometime to breath, and worry about my needs even it if was only for a couple hours before I had to return home.
About Wanderlust:
Wanderlust Festival, LLC is a producer of large-scale lifestyle festival events focusing on yoga, music and wellness. The company encompasses Wanderlust Festival, the largest multi-day yoga and music festivals in the world; Wanderlust 108, a one-day "mindful triathlon" taking place in urban parks across the US; Wanderlust Yoga, a reimagination of the yoga studio experience; and the Wanderlust Teacher Training, a yoga teacher training program inspired by the Wanderlust festival experience. In 2015, Wanderlust will produce 20 events across the world centered around its core mission: creating community around mindful living. The company was founded in 2009 as a joint venture between Velour Music Group, C3 Presents and Starr Hill Presents.
Become a fan of Wanderlust at:
Facebook: www.facebook.com/wanderlust
Twitter: www.twitter.com/wanderlustfest
Instagram: http://instagram.com/wanderlustfest
YouTube: http://www.youtube.com/user/WanderlustFestival