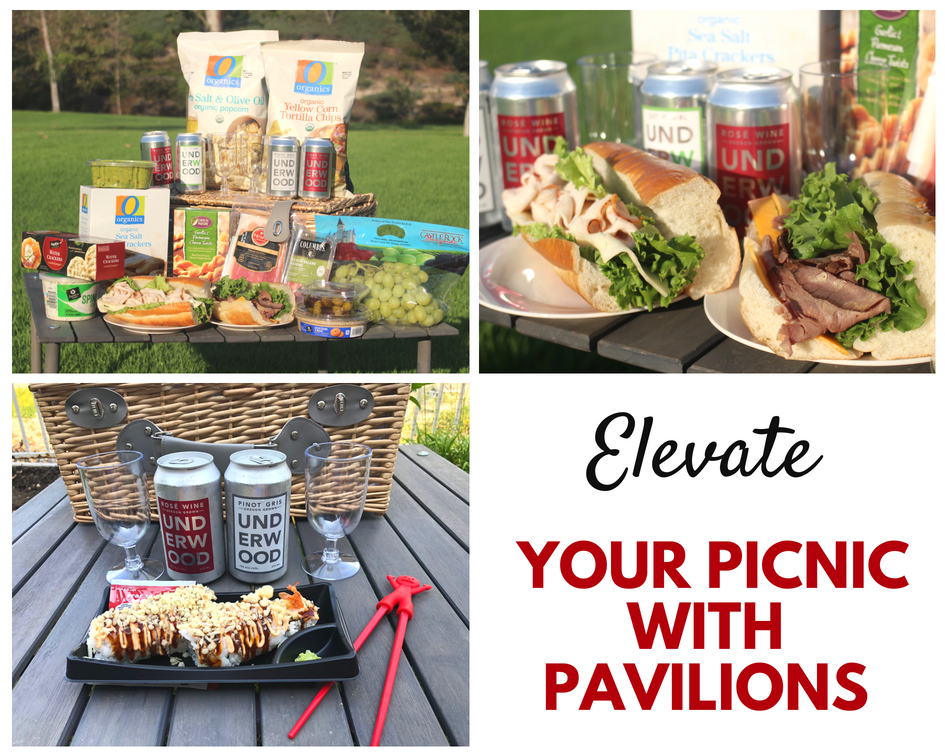 Summer in Orange County is a great time to enjoy a delicious picnic with family and friends. There are so many fun events taking place like outdoor movie nights, concerts in the park, music festivals and in Laguna Beach, Festival of the Arts and Pageant of The Masters.
Picnics not only create quality time with good friends and family, but they are also a great stress buster as it helps reduce the stress and anxiety related to work and home. Eating outdoors is a natural mood booster with added vitamin D. There's something about fresh air, sunshine, or a nice breeze that just puts you in good mood. It can also save you money since it is cheaper than dining at a restaurant.
Pavilions- The Picnic Headquarters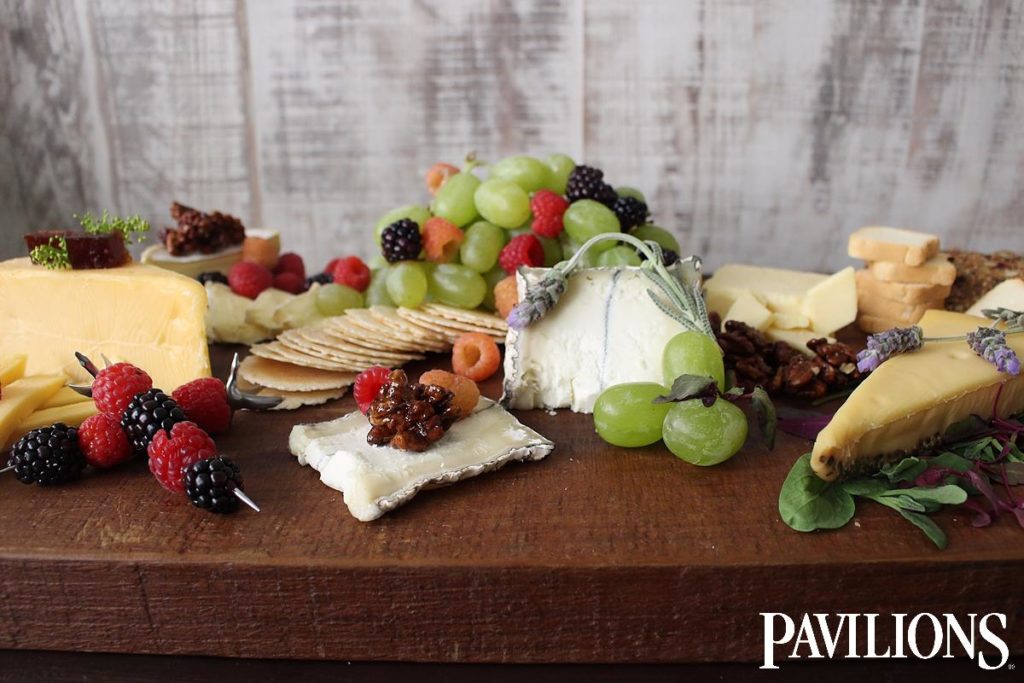 So where is a great place to find picnic goodies? My store of choice is Pavilions because they have such a huge selection of quality foods. I love their line O organics as well as their Signature line as they are comparable or better to some of the big name brands. Let's face it, food is really the core of picnics, so everything must be delicious. Bringing foods that travel well and that everyone enjoys can make any picnic flawless.
Every time I step foot into Pavilions I find a new brand I want to try, plus they always have cheese samples out and their sandwiches make me drool. If we are having friends over to entertain I'll pick up one of their spinach artichoke bread bowls. I love that I can just grab it on the shelf and not have to place a special catering order. My local Pavilions also has free fruit at the entrance for kids.
So what should you get? Many of us do not have picnics all that often, so make it the best when you do. We recently attended a local concert in the park and packed a picnic so here are some suggestions I have for you!
Canned Wine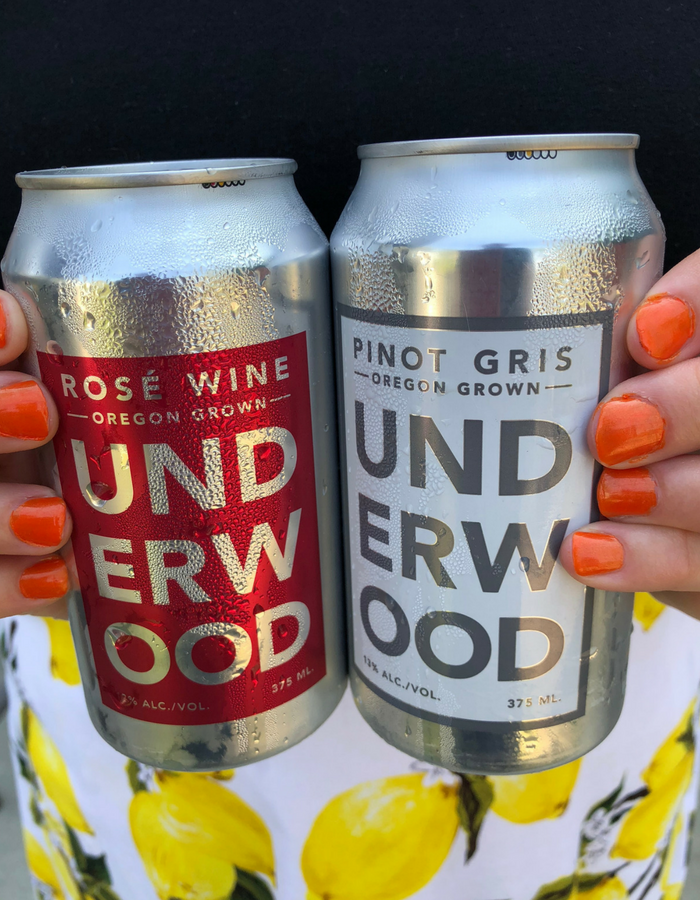 Lot's of outdoor venues do not allow glass bottles so canned wine is a great alternative. Underwood canned wine is an affordable, casual wine that can be found in the extensive and elaborate wine aisles of Pavilions. You can pick up a 4-pack or buy them individually. Varieties include: Strawberry Cooler, Riesling radler, The Bubbles, Rose' Bubbles, Pinot Noir, Pinot Gris, Rose', Get It Girl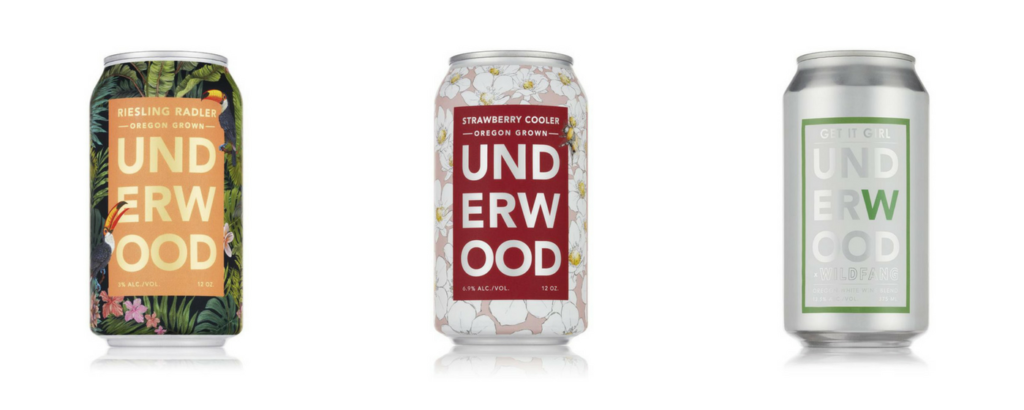 Sandwiches/Sushi
Every good picnic has a sandwiches. Boar's Head meats are a favorite of mine because their meats do not contain any nitrates. I purchased some delicious pre-made sandwiches like turkey and roast beef that come with condiment packets already included like mayo and mustard. they are portable, light weight and a great meal.
Sushi is another favorite of mine. Pavilions makes fresh sushi rolls on site every day and since they are pre-cut, they make for the perfect picnic snack and can be shared with friends. The picnic basket I used has a cooler section so I just placed an ice pack in there and the sushi stayed chilled the entire time.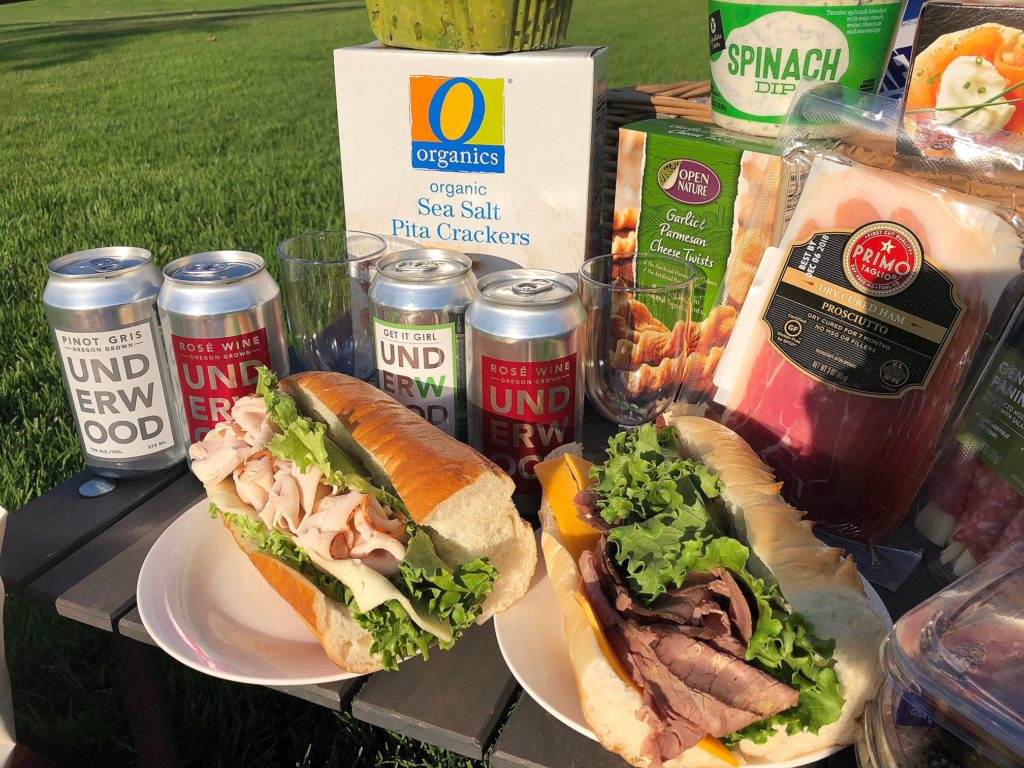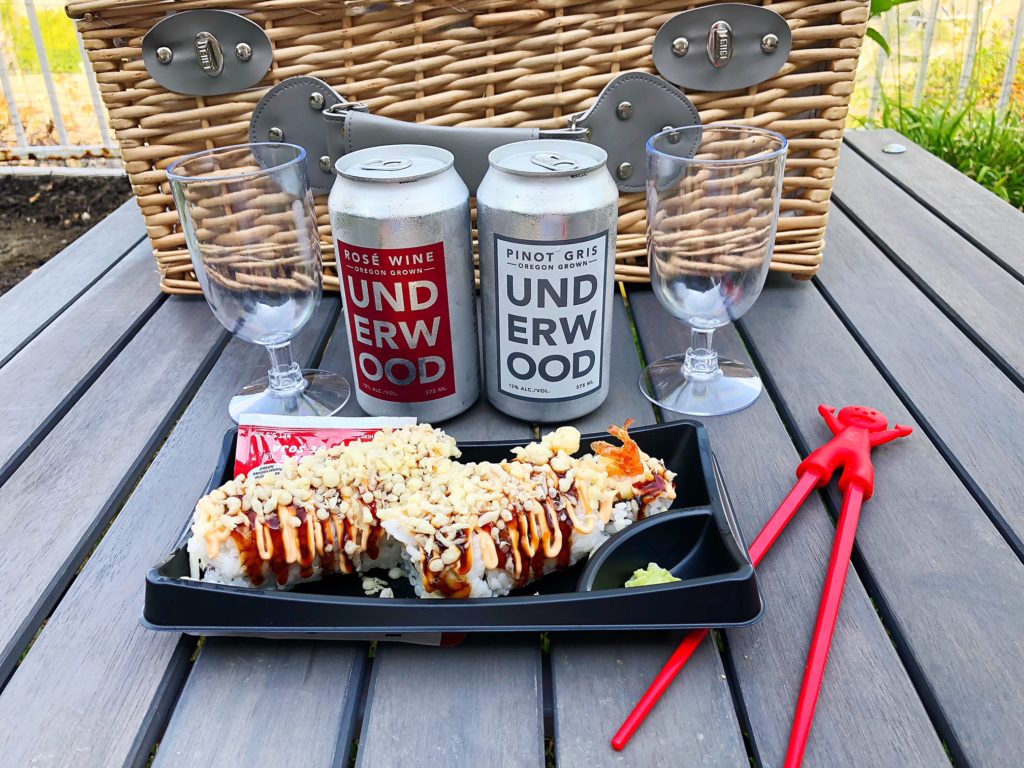 Picnic Snacks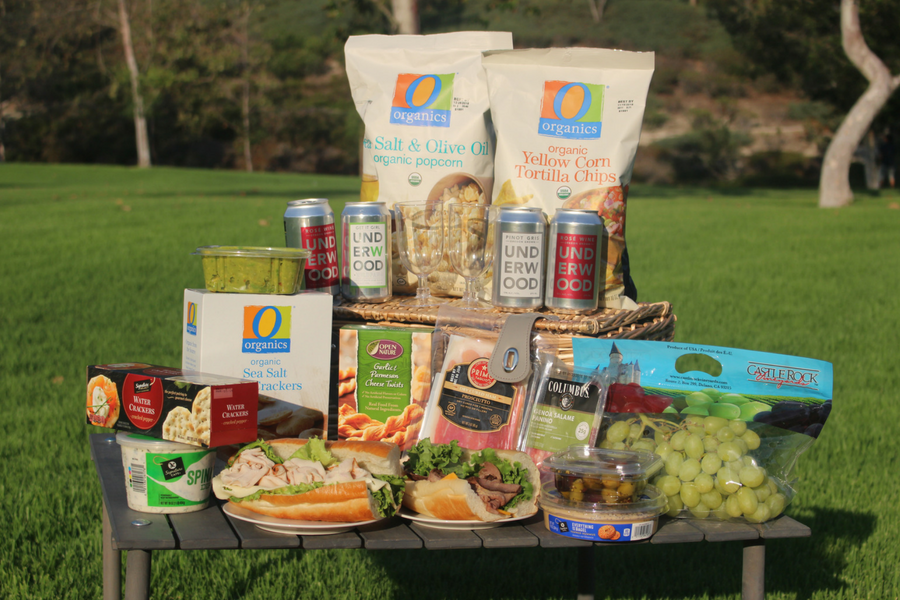 Finger foods are really the best when it comes to snacks. A nice charcutterie board is great idea but that is hard to pack for a picnic. Instead pick up some pre-cut meats/cheeses/crackers and forgo the board. Columbus makes a salami and cheese roll that is perfect for pairing with crackers and chips and Boar's head make a similar pepperoni roll. I also enjoy prosciutto which you can easily roll that into some cheese as well.
Pavilions also makes incredible guacamole. It's fresh, chunky and comes in a huge container. Pair it with O Organics tortilla chips and you can even get some pic de gallo too.
Feeling a little more fancy? Grab some fresh smoked salmon in the seafood department, a shmear of cream cheese and some signature water crackers. It's always a hit at picnics.
O Organics also makes these sea salt pita crackers that look like scoops and they are great with hummus or spinach dip. The Signature line has a yummy everything but the bagel hummus and a smooth and creamy spinach dip.
Don't forget the grapes! Mother nature's best overflows in Pavilions produce department where you'll often find 12 types of tomatoes, 15 varieties of apples, 14 types of melons and the purest organic fruits and vegetables.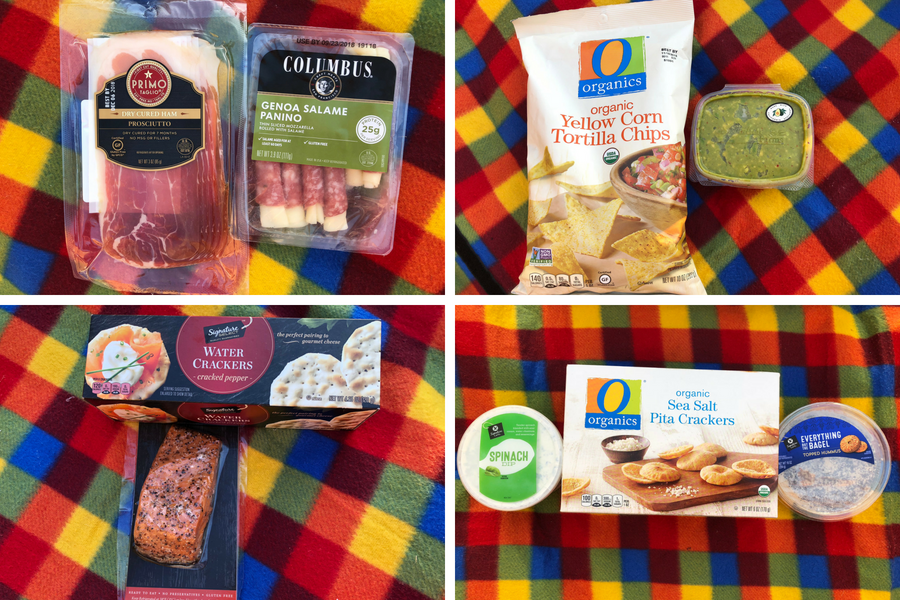 Picnic Dessert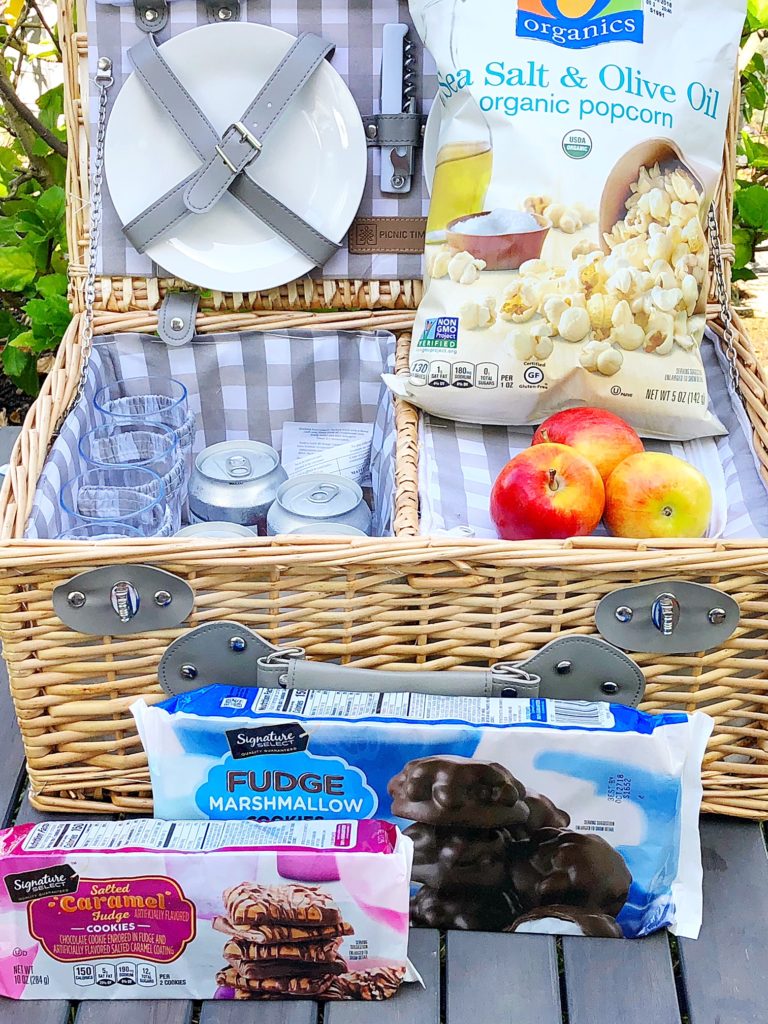 Dessert is my favorite meal and there is no shortage of desserts when it come to Pavilions bakery. One thing I learned recently is that for all of their frosting they only used plant-based ingredients. As much as I would like to bring in a huge chocolate cake from the bakery I settled for some delicious fudge Marshmallow and salted caramel fudge cookies. They fit well into my cooler so they won't melt and can easily be passed around. For those that don't like sweets, popcorn is a great alternative. O Organics has kettle corn flavor, salt and olive oil flavor, jalapeno cheddar flavor and more.
Picnic Essentials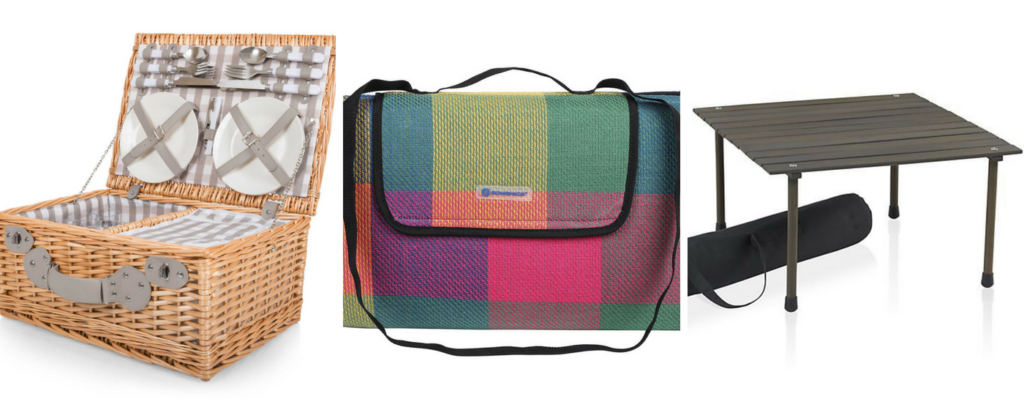 Here are the basic picnic essentials you will need. 
1. Basket: for carrying all of your food, blanket, and other supplies.
2. Blanket: for lounging (if you're not using a picnic table).
3. Table In A Bag: easy portable wooden roll up table..
4. Utensils: for eating the delicious salad. They come already included in the picnic basket above.
5. Cups/glasses & straws: for sipping the refreshing tea and lemonade. Wine glasses come already included in the picnic basket above
6. Umbrella: for keeping the sun off the food and/or you.
7. Speaker/radio: for entertainment.
8. Cooler – Check out the Coolest Cooler
The Laguna Beach Festival of Arts is a 501c3 with a mission to promote, produce, and sponsor events and activities that encourage the appreciation, study and performance of the arts. Throughout each year the Festival of Arts sponsors art education programming, art exhibits and provides art scholarships to local high school students as well as grants for local non-profit art organizations through its Foundation. This year the Theme is called "Under The Sun" and includes works by many of Laguna's early masters: Anna Hills, William Griffith, Rex Brandt, Julia Bracken Wendt, and Joseph Kleitsch, one of Challis Davy's favorites.
Tips For Visiting Pageant Of The Masters
These are some common items guests bring with them to enhance their experience:
Binoculars
Jacket or blanket
Seat cushions
Picnic Basket/Cooler- Can not exceed 14" by 14" by 14" in size and must fit under your seat. There are tables and chairs on the Festival grounds where you may picnic before the show.  Personal tables/chairs are NOT permitted.
Parking is tricky. Consider utilizing the free Laguna Beach Shuttle
You may also rent binoculars and seat cushions on site. Jackets and blankets are available to purchase at their gift shop next to the front gates.
Four (4) Lucky Winners (Yes 4 different families) will be chosen to win a family 4-pack of tickets to Pageant Of The Masters. Enter Below: