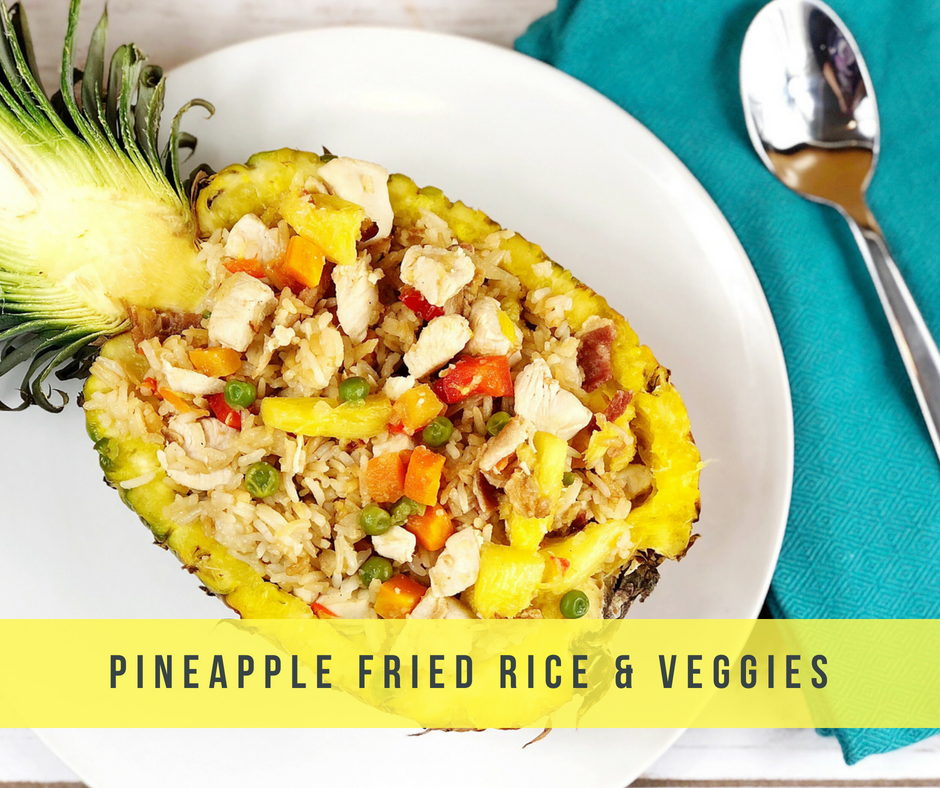 Chicken is a main staple in our house. It's the only thing my picky daughter will eat. We eat it with hummus, in salads, in enchiladas, in tacos and so much more. I'll even pack it in a thermos with rice for my kids for a school lunch. Pineapple is also very inexpensive at the store so I decided to combine the two with a pineapple fried rice.
I shop at Pavilions because they always have chopped chicken. I can never get it quite right when I chop it myself so having it pre-chopped is a huge lifesaver for me. For the rice, I used Thai jasmine rice and I cooked it in my instant pot. 2 cups of rice to 2 cups of water. Cook for 10 minutes and let naturally release for 10 minutes.
While that is cooking, fry the chicken (we prefer Foster Farms) in a pan until it is no longer pink. One it is almost cooked remove it from the pan. Then add frozen peas and carrots and cook for 2-3 minutes. Add chopped onion, add chopped bell pepper, add chopped bacon, and finally add chopped pineapple. Stir and cook for another 2-3 minutes.
Pour the warm rice in a large bowl and add sesame oil and soy sauce. Once it is fully coated, add in the vegetable/bacon/pineapple mixture and toss.
We ate the leftovers for lunch the next day.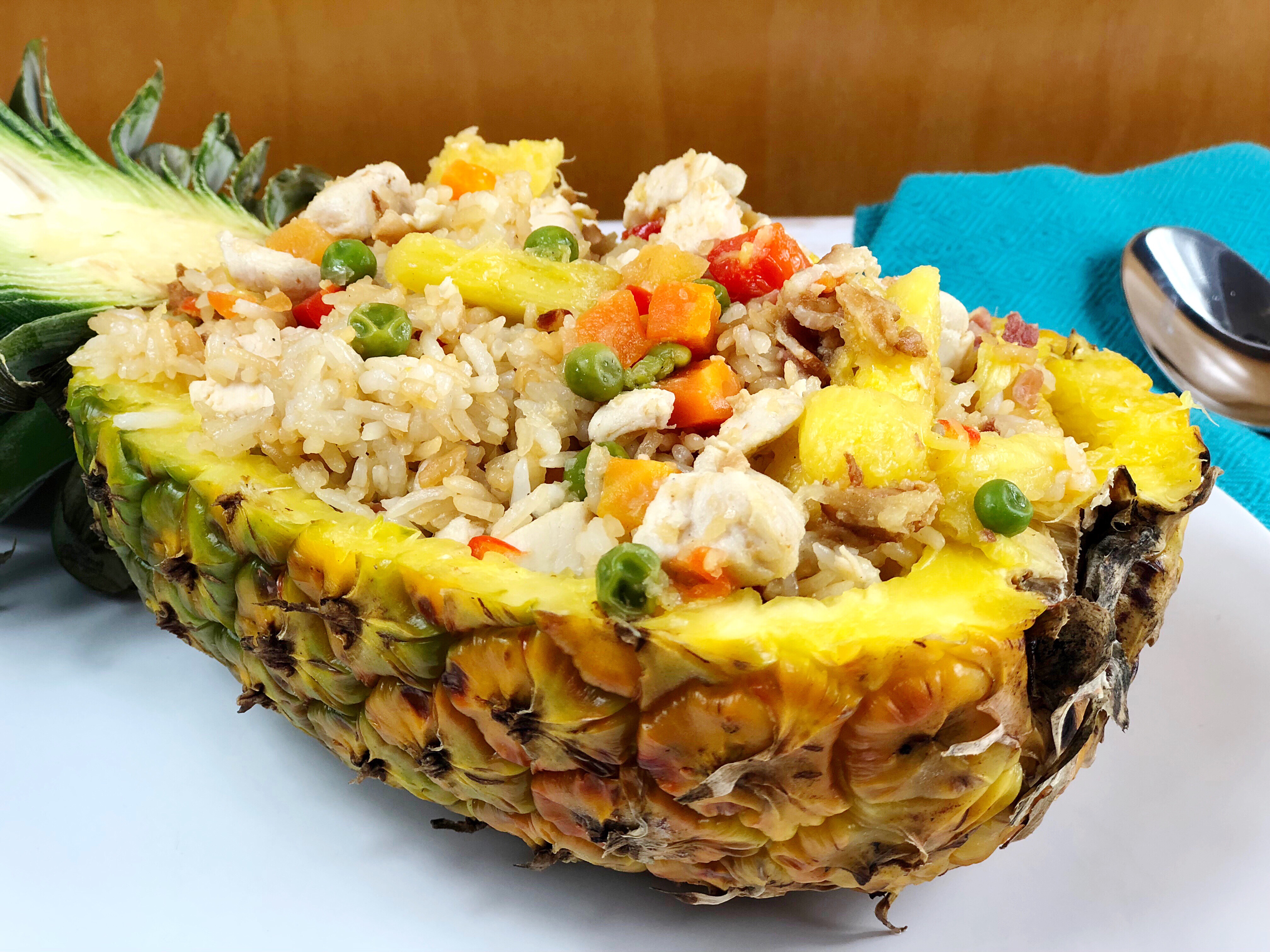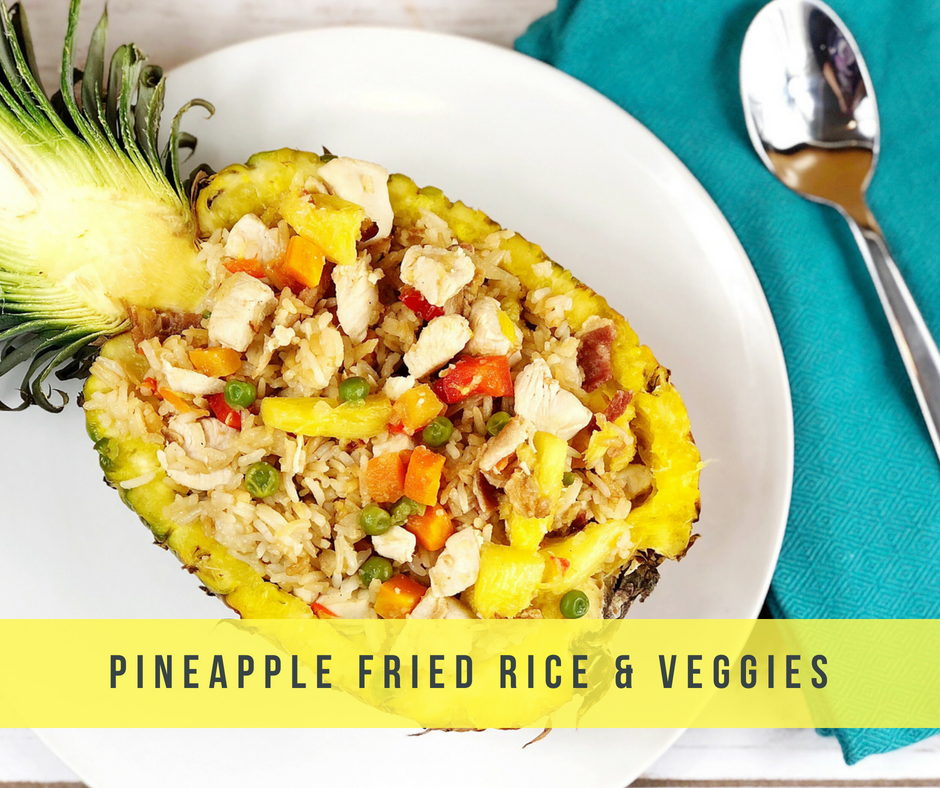 Pineapple Fried Rice With Veggies
Ingredients
2

cups

Thai Jasmine Rice or 2 cups cooked rice

3/4

pound

chopped chicken breast

1

tablespoon

vegetable oil divided use

1/2

cup

finely chopped onion

3/4

cup

frozen peas and carrots

1/2

cup

chopped red bell pepper

1

cup

diced pineapple fresh or canned

1/3

cup

cooked and crumbled bacon

3

tablespoons

soy sauce or more to taste

1

tablespoon

toasted sesame oil

salt and pepper to taste

optional: sliced green onions for garnish
Instructions
Cook the rice according to instruction. I prefer to cook mine in my instant pot. 2 cups rice to 2 cups water for 10 minutes. let Naturally release for 10.




In a large cast iron skillet, heat 2 teaspoons of vegetable oil over medium high heat. Add the chicken and saute until browned and cooked through, about 4-5 minutes. Season to taste with salt and pepper.

Remove the chicken from the pan and place it on a plate. Wipe out the pan with a paper towel. Heat the remaining teaspoon of vegetable oil over medium high heat.

Add the frozen peas and carrots to the pan, cook 3-5 minutes or until softened.

Stir in the onion, red bell pepper, pineapple and bacon; cool 2-3 minutes more. Add in chopped chicken and stir.

Pour the cooked rice into a separate large bowl. Stir in the soy sauce and sesame oil and mix gently until everything is thoroughly combined.

Add in veggie/bacon/pineapple mixture and toss. Season to taste with salt and pepper, add more soy sauce if desired.

Serve immediately, sprinkled with sliced green onions if desired.