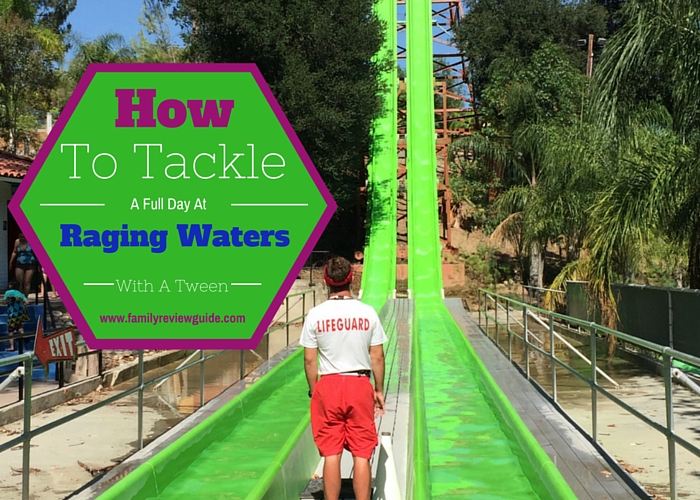 This past week my 10-year-old and I visited Raging Waters Water Park in San Dimas for the first time!  What I can tell you is that this place is HUGE and you will have an absolute blast! I would suggest you take a look at the map and plan out your strategy prior to arriving. Speaking of arriving, one of the best tips I can give you is to go on a Weekday. Weekends tend to be extremely crowded with long wait lines but we went on a Monday and had fairly short wait times of 15 mins or less.
Parking, Lockers and More…
Another recommendation would be to get there when the park opens. You can check hours and directions here. We arrived at 10am and got a parking spot right up front. Parking is $15. You will need a towel, flip-flops, money, and bottled water. While we were there we saw some guests walking around with waterproof iphone cases which were awesome because you can take photos and videos while you are there without having to run back to your locker each time.
The cement gets extremely hot in the park so I would recommend wearing flip-flops to every attraction. There were many time when my son and his friend were hopping around trying not to burn their feet.
Getting a locker is a must unless you don't have any valuables. They are located in 4 main areas, upper pavilion, surf deck restrooms, lower pavilion
restrooms, and next to snack shack. Large lockers rent for $20.00 per day, Standard lockers rent for $15.00 per day and Regular lockers rent for $12.00 per day
You can also utilize the H2GO pass which holds your place in line so you can spend more time having fun. The H2Go Pass can be used on these popular rides: Thunder Rapids, Raging Racer, Dark Hole, Dragon's Den, Dr. Von Dark's Tunnel of Terror, Flowrider, Neptune's Fury, & High Extreme.
If you are looking for all day shade, you can rent a private cabana. Here is the pricing link for all of the options.
Attractions Side A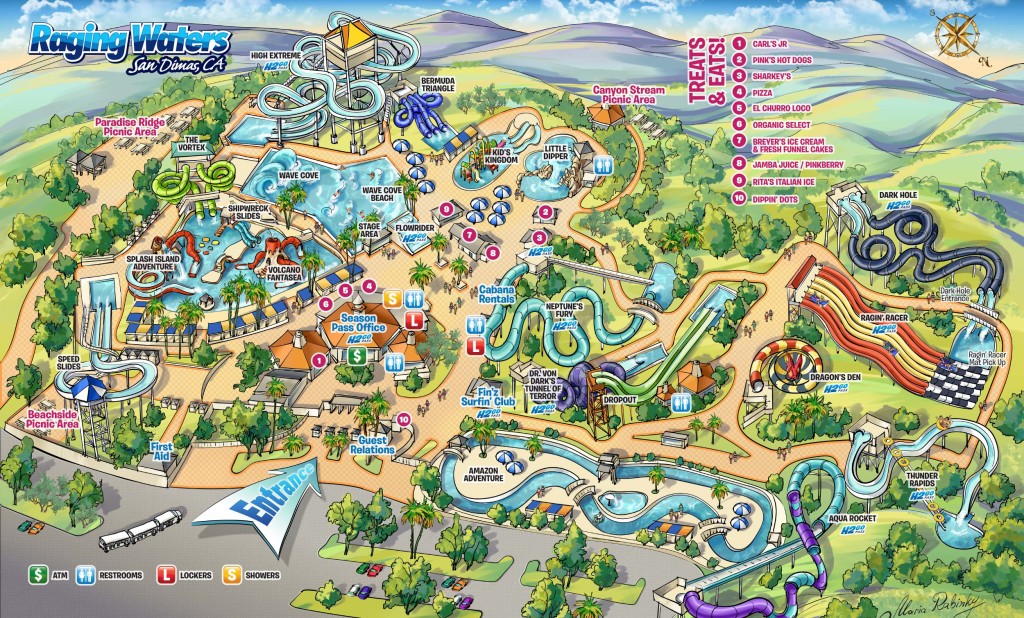 The park is split into sides A and B. Side A has a little kids section as well as some really big fast slides. It also has flow rider, a really fun surfing attraction. Section B has the lazy river and a lot of super fast, intense slides plus some really fun family ones.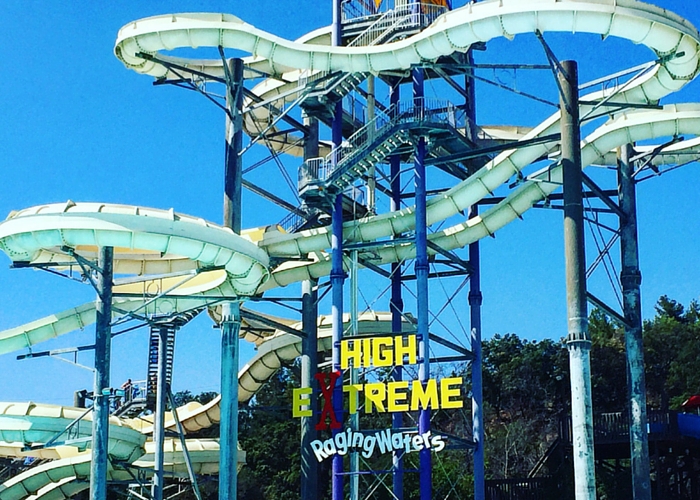 We started on side A. The first ride we tackled was High Extreme. Guests are taken to a new thrill level, beginning their descent head first on mats. Go down a 600-foot-long flumes, banking and rocking off turns for an exhilarating ride of up to 35 miles per hour. This ride is fast! Here is a little video of my son and his friend coming out!
Next, get in line for Vortex or the Bermuda Triangle. Neither of these have inner tubes so you just use your body.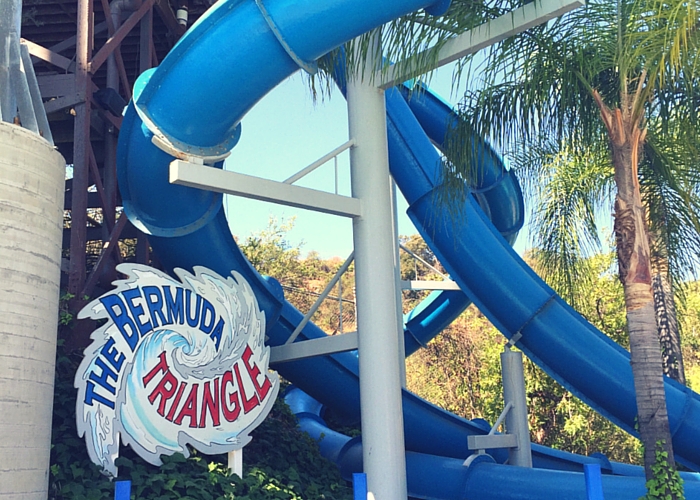 There is also a obstical course with ropes that is fun and Volcano Fantasea is great for the littles as it has a huge dump bucket nearby.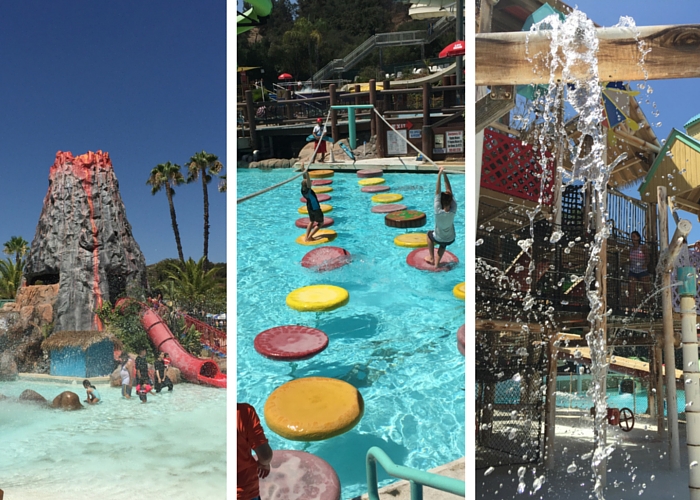 If you want to test out your surfing skills, ride the waves over to Flow Rider.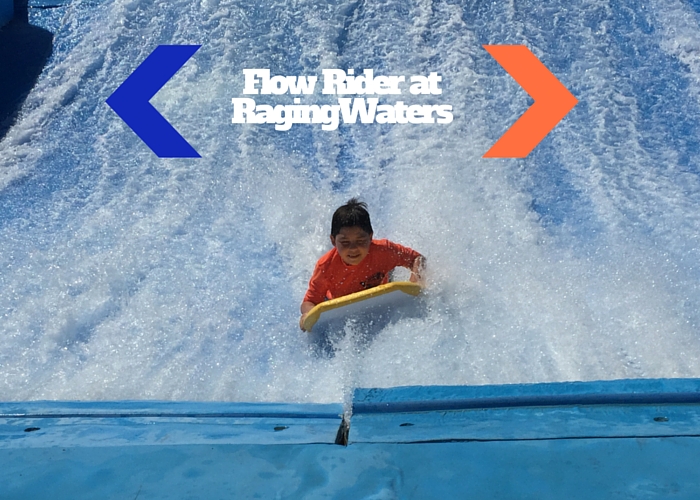 On Flow rider you will feel the power of the ocean as 36,000 gallons of water flow under you a minute. Slide back and forth across the water on a surf board or a body board. Catch a wave or just watch the action, the Flowrider is an innovation in extreme and it demands an audience. This is truly a ride for everybody. We saw some guests doing some pretty epic stunts on this and it was really fun to watch!
They also have a wave pool called Wave Cove, but I have to be honest, the waves were not as big or strong as I was anticipating. It is good of you like to bob around in the water, just don't expect strong waves.
Where To Eat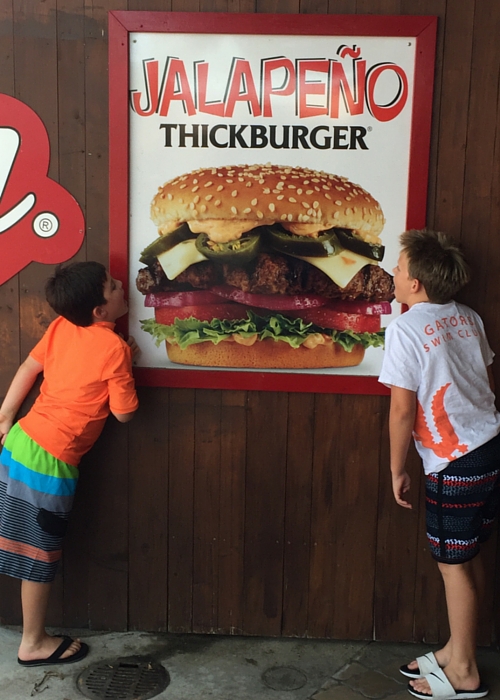 After you finish side A you should be ready for lunch! There have a huge variety of options that include the following: Carl's Jr, Pinks, Yogurtland, Jamba Juice, Pipeline Pizza, Sharkey's and a bunch of Dessert places such as Dippin Dots, Icee's and Breyers.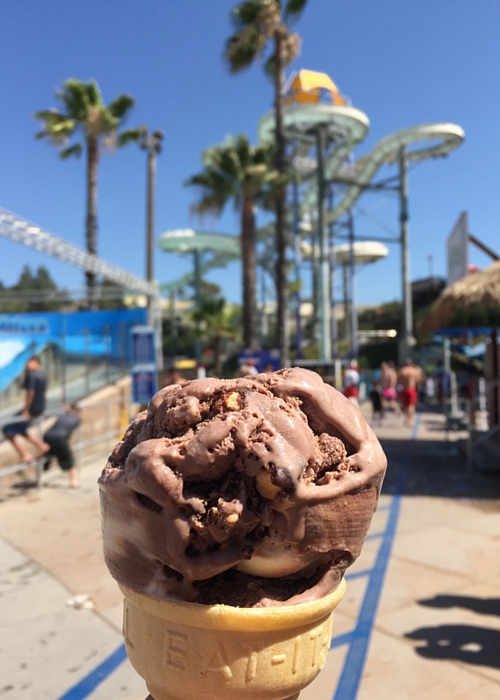 They also serve individual combo meal deals. We ended up eating at Carl's junior and got a chicken tostada salad that was really tasty. Sharkey's is good if you like seafood as they have a lot of battered options.
Attractions Side B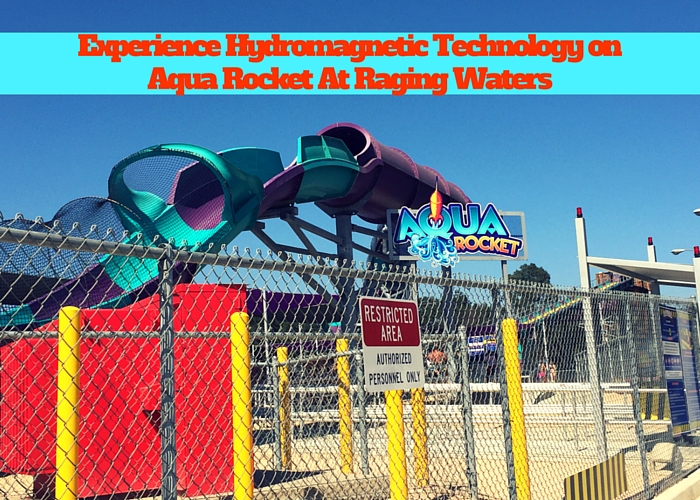 As I mentioned earlier, Side B has some really great adrenaline rush rides. My favorite ride of the whole day was The Aqua Rocket. I have seriously never experienced anything like this before. You sit in a 4 person raft and it takes you on this hilarious adventure that feels similar to a roller coaster. Linear induction motors (LIM) are used to generate a traveling magnetic field to push the metal-plated rafts rapidly and smoothly uphill. Amid the 1,000-foot-long water coaster are three continuous rocket incline zones. I don't think i have laughed that hard in such a long time-Plus a whole family can ride together!
If your tween loves a good thrill, then Drop out is the place the go.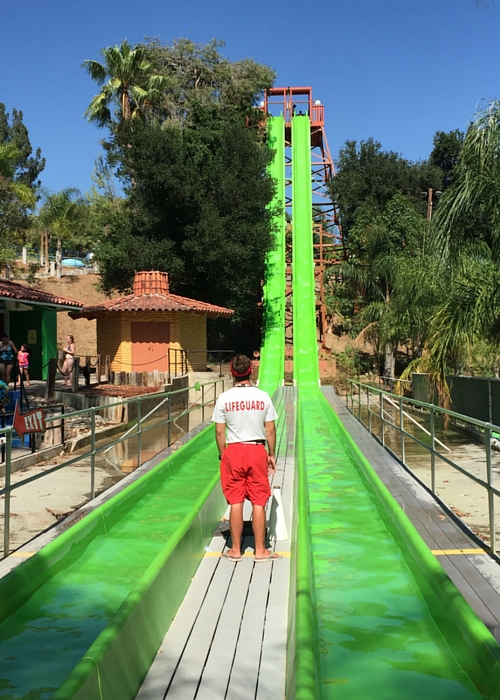 This water slide is a thrilling, seven-story drop/slide, and is one of the tallest vertical drops in the country. It hurls riders down in just four seconds, at speeds reaching nearly 40 miles an hour. There is even a viewing section with bleachers in front of the slides and the lifeguards are very diligent about keeping the area open so do not crowd. I was super impressed  with how good the lifeguards kept the lines moving so smoothly.
Tip: Due to the force of the water coming down this ride, be prepared for the ultimate wedgie!  That goes for you too boys, even with board shorts.
If you want something a little more relaxing, take a ride in the lazy river! I love that they allow you to play in the river even without an inner tube. There are a lots of fun waterfalls do go under and it is very scenic.
Some other fun slides on Side B are Ragin' Racer and Dragons Den. The Ragin' Racer is definitely not your ordinary water slide. Eight lanes of head-first, side-by-side racing that brings out the speed demon in all of us. You will feel the exhilaration of wind-in-your-face, pulse-pounding excitement with a splash of adrenaline.
Dragon's Den is a two-person bowl slide where guests jump into a two-person inner tube, shoot down a 45-foot-drop through a fully enclosed flume, spin around a 35 foot bowl, all while a 9-foot mist-breathing dragon watches closely from above.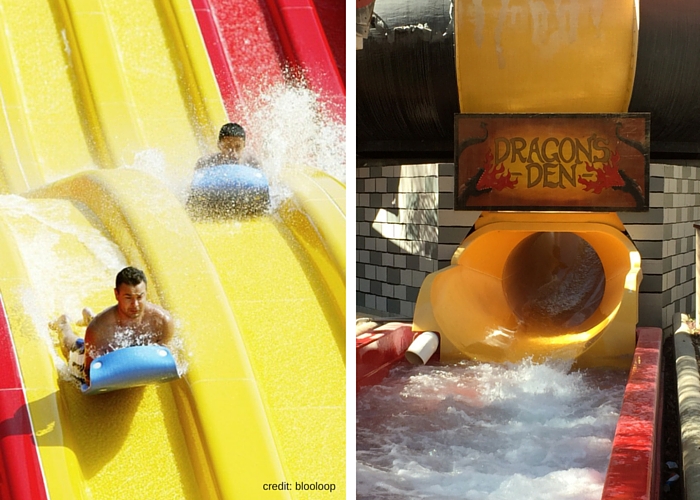 For more information visit Raging Waters on Facebook and Twitter.