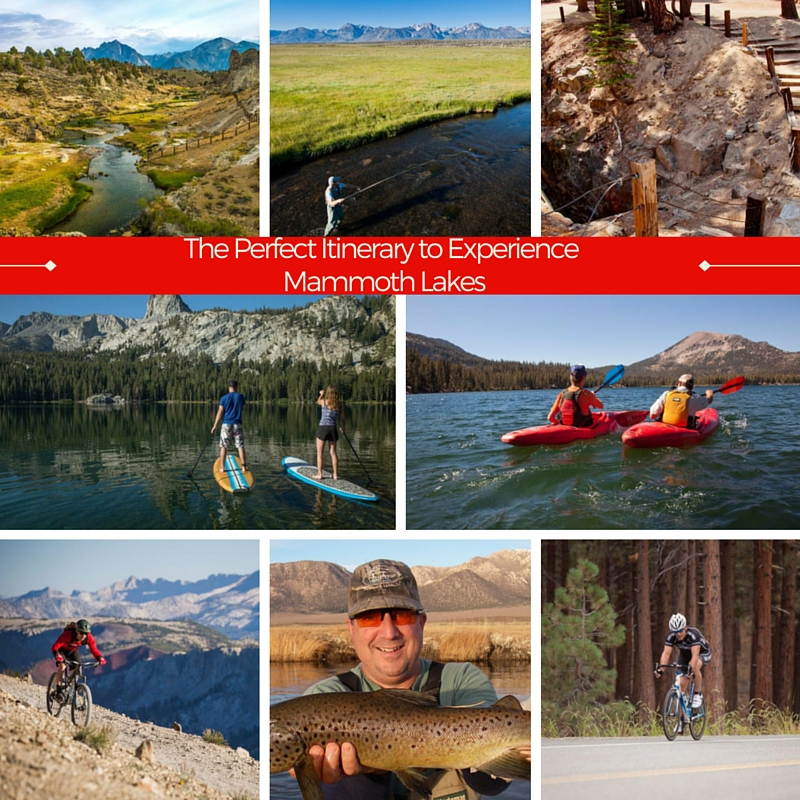 Can you believe there is less than a month before school starts back up?  Are you Looking for somewhere to unwind before the fun is over? Perhaps at a place where you can maximize your family vacation?
Look no further, because the travel experts at Natural Retreats have created the perfect itinerary for you to experience Mammoth Sized Adventures in Mammoth Lakes! Explore the hidden wonders of the west while enjoying the simple pleasures that California has to offer.
Bonus: Their collection of handpicked homes in Mammoth Lakes are perfect for large groups of people so the more the merrier!
Attractions
Devils Postpile National Monument
Sightsee at Devils Postpile National Monument and uncover the tidy lumber pile created by giants! This pile of 60-foot basalt columns is a unique sight you are yet to forget! Check out this unique formation of this National Historic Monument that began a little less than 100,000 years ago, filling the depths of the valley to 400 feet.
Take advantage of this incredible monument and experience the viewing from a bird's eye view and challenge yourself to a short but steep trail to the top and chill out and unwind to the Rainbow Falls.
Mammoth Lakes Basin
Tired of exhausting yourself on those hiking trails?
Take an afternoon and unwind at the Mammoth Lakes Basin! If you're feeling like mixing up your afternoon activities and you're looking for a time of solidarity, visitors are encouraged to take a boat out on the lake and enjoy the surrounding scenery. Pack your fishing rods and bathing suits and enjoy some time in the sun liaising on a kayak or canoe and check out all the hidden swimming areas around the lake!
Insider tip: please note the signs in certain areas of Horseshoe warning visitors about areas of highly concentrated carbon dioxide gas in the soil. Swimming destinations in these areas are not permitted.
Weekend Festivals, Events and Unique Movie Screenings
Want to unwind this summer and enjoy your weekends kicking back with a glass of wine? Catch a unique movie screening or experience a world-renowned food and wine experience!
This summer, Mammoth Lakes brings a festival or event nearly every weekend, available for a variety of taste interests!
Catch a movie screening at the Annual Mammoth Lakes Film Festival or soak up the sounds at Chamber Music Unbound whilst enjoying a delicious cuisine from world-renowned chefs complemented by some craft beer and live music at the Festival of Beers and Bluesapalooza.
The Mammoth Village Fest has been recognized as the "World's Highest Rib Cook-off". So get yourself involved this summer and take advantage of a free three-day event at The Village at Mammoth and indulge in authentic dishes from local restaurants competing for the title of Best Ribs, chili and chicken. Accompanied by world-class musicians, an art walk and a beer and wine garden, this is a festival you won't want to miss!
Summer Recreational Activities
Fly fishing in Mammoth Lakes ($205 Per Person!)
Cast your fishing road this summer or winter in the Eastern Sierras!
What better way to enjoy your weekends than kicking back with your fishing rod overlooking the crystal clear waters of Convict Lake!?
Stocked with Rainbow, Brook, and Brown trout throughout the summer season, the Mammoth Lakes Basin is a great place to come with a prize catch! Feel free to explore other options and discover the June Lake Look that encompasses four lakes! The Xplore team are happy to connect you with one of the many area outfitters who will provide equipment or guides!
Mountain biking in Mammoth Lakes ($17 Per Person!)
Conquer over 80 miles of singletrack and a summit that reaches more than 11, 000 feet at Mammoth Lakes!
Between the beginner-friendly Discovery Zone, the endless singletrack cross country trails, and the gravity-fed trails of the Derailed Zone, the Mammoth Bike Park is a dream of a mountain bike destination for a wide range of skill levels. For those that want to explore their rebellious side, get some airtime on The Bus Stop techno rock and pull some G's through the Monolith pipeline! Or alternatively, take a quiet tour through the Eastern Sierras.
Kayaking & SUP Boarding in Mammoth Lakes ($25 Per Person!)
What's more satisfying than paddling your way through one of America's greatest Western wonders?
Explore the incredible Mono Lake, often described as one of the most other worldly landscapes in the U.S! Discover its rich ecosystem of both water-dwelling creatures and birds and discover your inner-explorer!
For those that want to kick back, relax and enjoy the scenery you can float your way past the sandy beach of Horseshoe Lake and soak in the fascinating tree snags that line the shore. For any internal inquiries about this activity please ask the Xplore Team and they will be sure to connect you with outfitters who can provide you with all the necessary equipment for your water excursion!
Restaurants
Eager to see what's on for a night on the town?
For the family that loves a good laid back, family-friendly dining area, Mammoth Tavern is the place to be! Enjoy a widespread selection of cuisines amongst a lofty atmosphere with fantastic mountain views and happy hour for all of those cocktail lovers!
For the couple that enjoy a glass of red and some fine dining – look no further! The Lakefront Restaurant offers a romantic dining scene overlooking widespread views of the lake to compliment any meal!