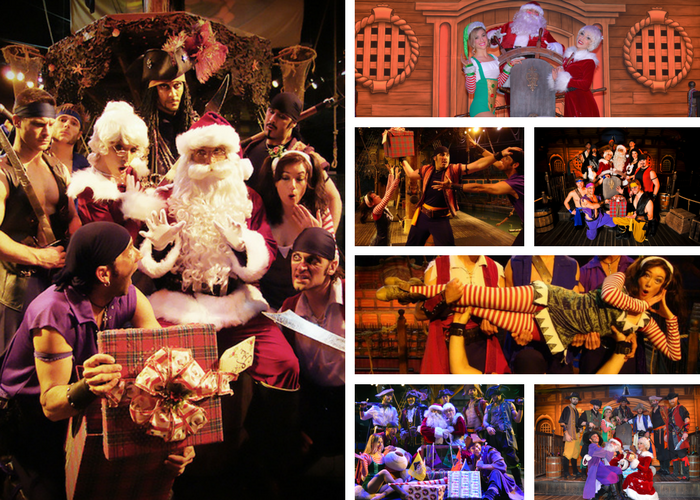 Pirates Take Christmas – Holiday Dinner Adventure
When you think of Christmas shows the ones that always come to mind are The Nutcracker, or A Christmas Carol. You don't normally hear the words "Pirates" and "Christmas" in the same sentence, except for now.  The Buena Park Pirates Dinner Adventure show is now bringing to your family through December 25th, "Pirates Take Christmas".
In case you've never been the Pirates Dinner Adventure show, let me explain how it all work.  Before the show starts every guest is checked in and given a color.  Before the show there are free appetizers and there is an opportunity to purchase drinks from the bar.  I recommend the themed adult beverages, they are great.  I especially enjoyed the Grog.  This is a special super secret blend of pirate fun.  Outside the theater you will be introduced to the cast and given a brief and very entertaining synopsis of the story.  As the show is ready to begin, you are lead into the vast dinner haul fitted with an amazing pirate ship in the middle and seated by color.  These colors represent the Pirate you will now pledge you allegiance to.  Then all the fun begins.
This show is a delightfully fun and thrilling show for the whole family.   Pirates Take Christmas is a marvel to watch.  With Santa and Mrs Claus taken captive the Pirates of various colors take you into their world of mayhem, selfishness, pride, and try to make you choose a side. With the Pirates threatening to steal and end Christmas, get ready for a while ride.  My whole family was quickly taken in by the adventure, sword fighting and zany antics of some of the cast.  With your loyalty to your color, you will find yourself clapping, toe-tapping and cheering on your Pirate.  Can you and your family help save Christmas???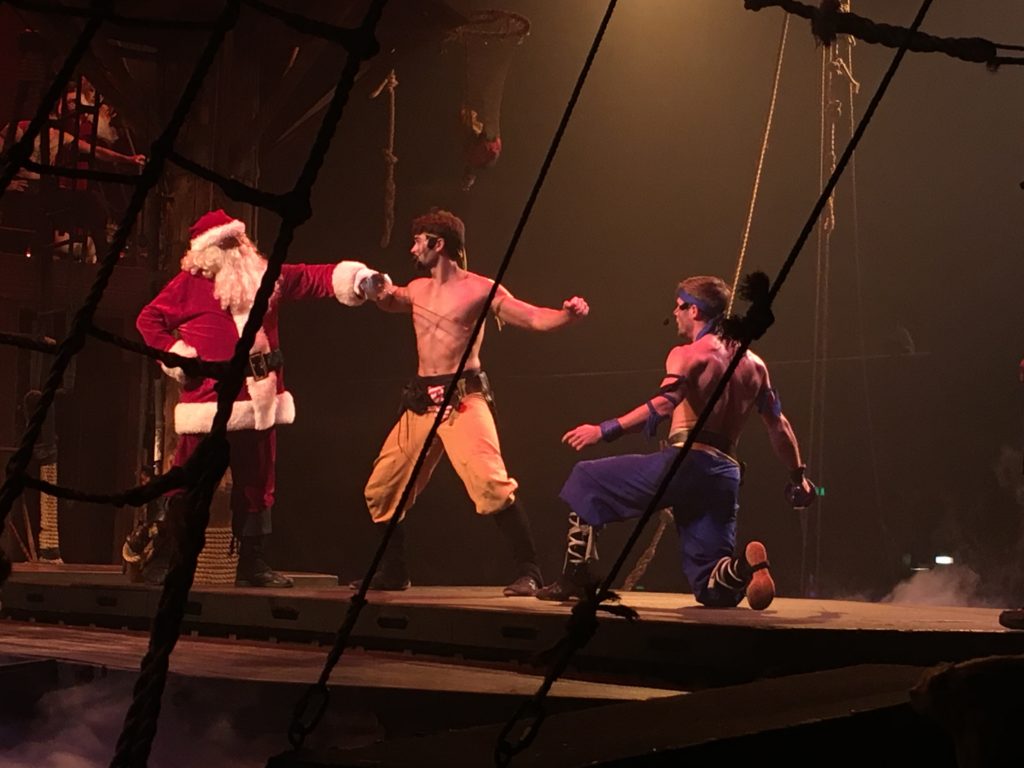 Get a discount code
The special deal is Buy One, Get One Free! Orders must be made over the phone for this code at (866)439-2469. Mention code: FRGXMAS. Offer valid for general admission only.  Not valid with any other promotion, discount, or group reservation.  Tax and fees not included.  Gratuity not included and will be charged for parties of 10 or more.  Subject to availability.  Reservations required.  Discount valid through 12/30/17.