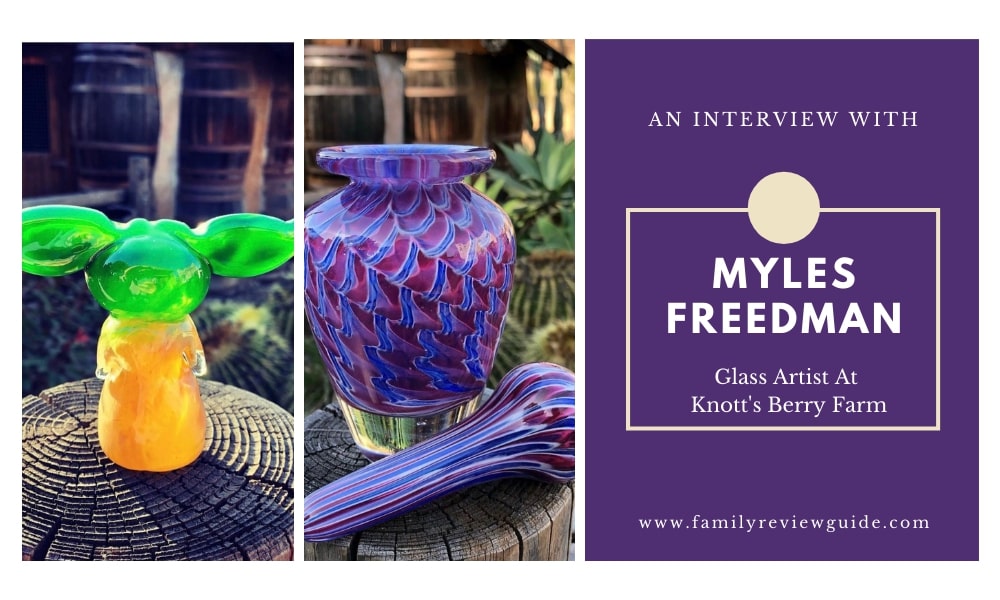 Glassblowing has becoming increasingly popular over the last several years thanks to world renowned Dale Chihuly who revolutionized the studio glass movement. This fantastic art takes a great deal of skill and practice to perfect and the end result is eye candy that is often shown around the world from Las Vegas casinos to botanic gardens, museums and even amusement parks.
Knott's Berry Farm once had a glass blower shop that got started in 1972, when members of Linda Cole's family, including her father, shook hands with Walter Knott to place the shop in the farm. It has been at several locations around the park, before settling into the building that housed the Mill in Ghost Town years ago. Now, professional glass artist Myles Freedman creates hand-blown glass masterpieces in his own mobile workshop at Knott's during all the fun events Knott's hosts throughout the year. Freedman's art glass is aesthetic beauty immersed in 3-dimensional work.
We recently interviewed Myles about his work and here is what he had to say: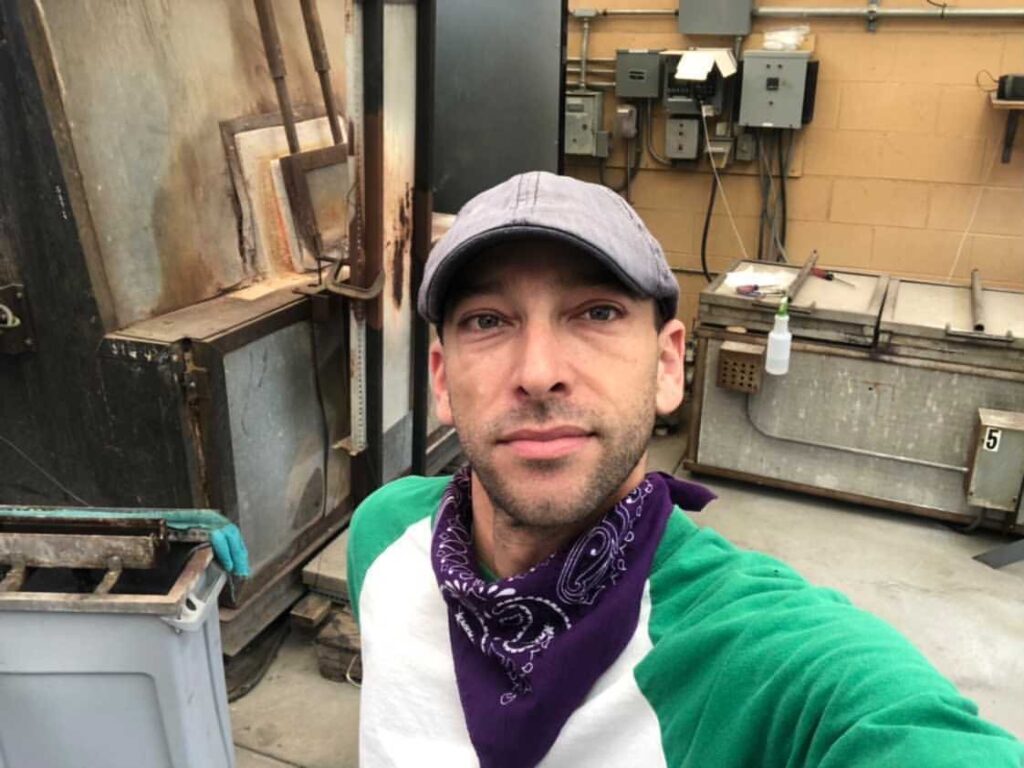 Answer Key
FRG=Family Review Guide
MF=Myles Freedman
FRG: Tell us a little about yourself and how you got started as a glassblower?
MF: Hi my name is Myles Freedman, I'm a glass artist, and glass art teacher in Southern California. I stumbled onto glass blowing after I had taken stone and ceramic sculpture classes at Santa Monica College.
FRG: How long have you been working at Knott's?
MF: I started performing hot glass demonstrations at Knott's for the Knott's Merry Farm Christmas Festival in 2018. 
FRG: Do you have a studio?
MF: I have a mobile glassblowing studio that I bring to Knott's Berry Farm. You can see it during the Boysenberry festival and Christmas festival, in ghost town. 
FRG

: What do you find most challenging about glass?
MF: I come across many different challenges while creating glass works of art. Some of my favorite challenges come from the guests of Knott's Berry Farm, when I'm asked to make something that I haven't before. 
FRG: Do you work with materials other than glass?
MF: I work with many other mediums, such as metals, clay, wood, stone, paint, and many more. I really love the idea of mixed media, and also collaborating with other artists in their choice materials.  
FRG

: Where do your ideas come from?
MF: A lot of my ideas come from my life experiences, and as well my surroundings. Being born and raised in Southern California, I am highly influenced by the nature in the area and as well the ocean. 
FRG: What is your favorite color to work with?
MF: It's always hard to pick just one color as a favorite, I really appreciate the rainbow of colors that I have access to in glass. But also the beauty of completely clear glass, there really is nothing like it. The way it bends light, reflects, and refracts everything around it. The lack of color also grabs the colors of the world around us. 
FRG

: Who has been your biggest artistic influence?
MF: Some of my strongest influences are of the venetian maestros who revolutionized the glass art industry during the renaissance period. 
FRG: Do you have a favorite project?
MF: My favorite project is whatever I'm going to be working on next. When I first started creating in glass, one of the instructors I studied under had some very wise words. He said "Love the process not the piece". Those words ring in my head every time I create a piece of art. 
FRG: What tools do you use when blowing glass?
MF: There are many tools that we use in glassblowing, most of them are specialized for the glass art industry. But some of them are very familiar to tools you might have around the house, such as scissors, or tweezers, sometimes we even use kitchen utensils because they can handle such high temperatures.  A lot of the tools we use haven't changed in thousands of years, although the technology and creating of the tools has become more advanced, but the way they function and the purpose for using them remain the same. 
FRG: What are the best and worst parts of your job?
MF: Even though some may think the worst part of glassblowing might be a creation related injury, those are usually quite rare. As an artist and someone who loves to play with glass, "the worst" part is ending the creation process. Whether I stop for the day, for an extended period of time, or even just taking a break. Continuing to create is what I love to do. 
MF: One of the best things about glass blowing is being able to teach and work with kids. Kids always have the most interesting questions and statements. They're always so bright eyed and excited to see the way that the glass moves, the way it flows, changes, inflates, and even breaks. 
FRG: What advice do you have for aspiring young artists?
MF: A few words of advice for aspiring artists. Love what you do. Never give up. Make money off your practice, let your art out into the world. Also always ask questions, in glassblowing a lot of the time the question you ask will have an answer you did not expect.
FRG: Did you ever try out for the reality show "Blown Away"?
MF: I have not yet tried out for "Blown Away". At the moment my schedule has not lined up with the filming of the show. Hopefully in the near future it will.
FRG: What has been your favorite Knott's food event since the pandemic started?
MF: The Taste of Boysenberry Festival! I really enjoy the boysenberry ice cream sandwich. It's such a refreshing treat after a day of creating beautiful glass works in a hot studio. 
Myles is available for commission work. His art is the perfect one of a kind gift for this or any season! You can contact him at [email protected] or call him at 310-310-9945. His website is: https://www.mylesfreedman.com/
---
Please enjoy these other interviews with other Knott's employees:
Krazy Kirk and the Hillbillies: https://familyreviewguide.com/krazy-kirk-hillbillies-interview/
Park Decor Manager Jeff Shadic: https://familyreviewguide.com/knotts-park-decor-manager/