While I patiently wait for the opportunity to lock myself into my favorite clam shell seat and hang face down for 10 seconds I thought it would be fun to interview one of my favorite icons at Knott's Berry Farm: Krazy Kirk and the Hillbillies! Is anyone else as obsessed as me? These guys make every visit to the farm memorable and fun.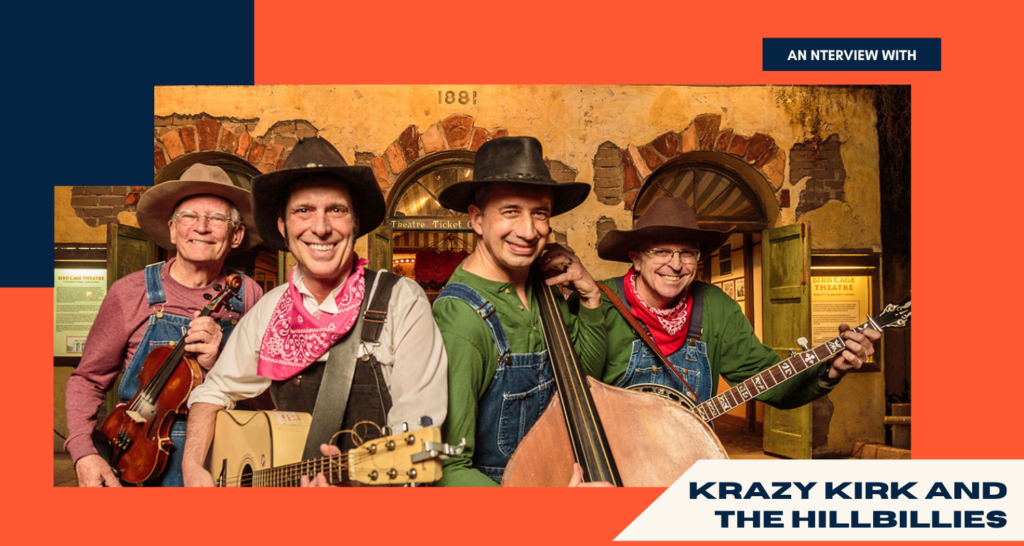 Photo Credit: Knott's Berry Farm
Answer Key
FRG: Hi Kirk! It's a pleasure to meet you. My name is Melodi and I am an official Knott's Berry Farm Ambassador. Knott's Berry Farm has a unique program where a few select bloggers, vloggers and influencers are featured as a Knott's Berry Blog contributor and we receive exclusive behind the scenes looks at their Seasons of Fun! Plus we have access to Ambassador-only events throughout the year. Watching you and the Hillbillies perform is one of the biggest highlights for me and I would love to ask you a few questions!
FRG: 2020 has been quite a year and Covid-19 seems to have put the brakes on live entertainment. Miraculously, Knott's Berry Farm thought ahead of the game and outside of the box and has created some amazing foodie events including socially distanced entertainment. At the Taste of Fall-O-Ween they had a huge screen on the Calico Mine Stage featuring you and the Hillbillies and it really felt like you were there live in person. Almost as if you were singing to me directly.
FRG: How did you prepare for the recorded performances during the Taste of Calico and the Taste of Fall-O-Ween and how was it without an audience?
KK: It was really hard to not have an audience to play off of, however the feeling I got from the film crew, bosses and peers that were there actually made it a lot of fun. Mostly what we did was material we've used before with the addition of rock n' roll songs for Halloween. We rehearsed for a day before filming which was great since we have not really been playing together in months.
FRG: How often do you and the Hillbillies practice and where do you practice during the break?
KK: Of course we practice individually daily. We do not actually practice together as often as we used to when we first started. After we developed our sets we started working consistently, so we were always able to keep sharp and just add additional songs which we would work on backstage during our breaks. We find a little place behind the scenes and work out our parts and then sharpen everything during our sound check. Knott's gives us a lot of creative freedom so we are open to add what we think will entertain the best.
FRG: What are some things you miss the most about not being at Knott's to perform?
KK: All of it really, the whole routine. Most of us in the band have worked with each other for many years. I miss seeing and playing with them at Knott's on a regular basis. The people we have come to know as friends, like the folks who come see us regularly, and our fellow associates we see in passing throughout the farm. We really miss our audience who are like our friends.
FRG: Which Knott's seasons of fun are your favorites? Do you have different song sets for different seasons – we loved the Merry Farm Holiday show.
KK: I really liked the Taste of Knott's. It was nice to see an event successfully take place during this time of social distancing. We got to do a video of our show to be played during the event. It was fun being able to figure out a way to entertain in the midst of quarantine. All of the events have been great and some of the food offerings even accommodate being vegan!
KK: As far as seasonal sets, Yes, we alter our show a bit for the seasons, especially Christmas when we do our 'Hillbillie Holiday Spectaculur'.
FRG: Do you prefer performing in the Wagon Camp Theater or the Birdcage theater and why?
KK: I like them both for different reasons. The Wagon Camp is fun because we can fit a lot of people and I love the clear sound we get from playing outside. The stage looks amazing and is fun to play on, we feel like rock stars!
KK: The Birdcage Theater brings the audience in closer to the stage giving it a more personal setting. I can interact with the audience, for instance, approaching them with a microphone to participate in a sing along.
FRG: My favorite song you guys perform is "The Devil Went down to Georgia". Did Charlie Daniels (the original artist) ever get to see you perform it?
KK: I don't believe he ever did, but I do believe he would have enjoyed our take on it. We actually end with a fiddle duel between the devil and Johnny. I think it's pretty funny.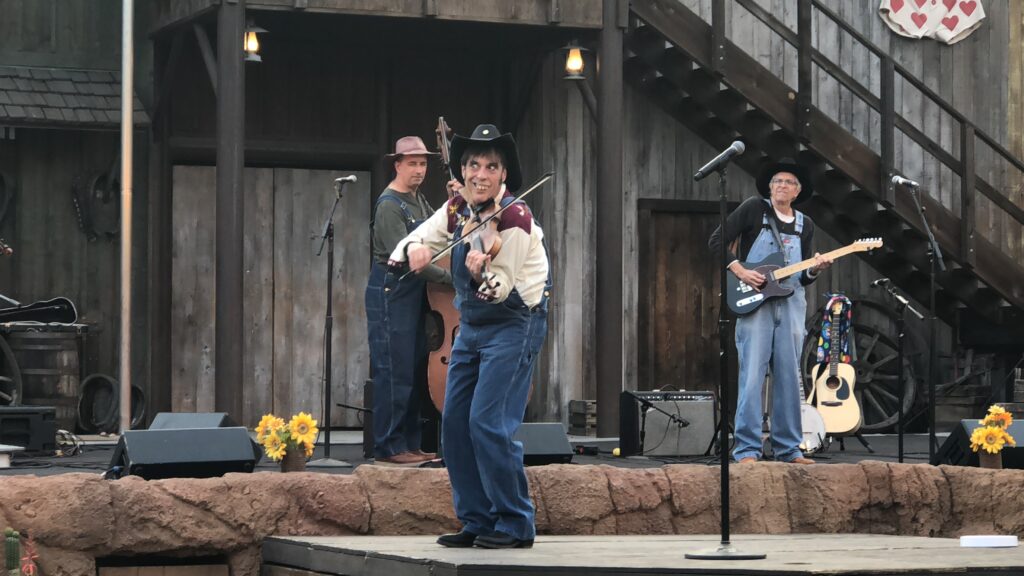 FRG: My husband and I laugh so hard when you pull out your big false teeth. How did you come up with that idea?
KK: I stole it from a comedian friend who stole it from a comedian friend who stole it from another comedian.
FRG: Do you guys ever pull pranks on each-other?
KK: For a while there was a baby opossum (Polly) hiding out under the stage that would come out during the shows. Rick would have fun with me by pointing at my feet and yelling, "THERE IT IS", causing me to practically climb up my microphone stand! We make lots of faces within the band at each other when anyone (usually me) makes a mistake.
FRG: How old were you when you started in music and what got you started? Why did you choose Bluegrass?
KK: I started playing violin when I was 7. Good grief, you'd think I'd be better!
KK: My parents were both music teachers, therefore, I was inspired to be musical. My dad encouraged me to play the violin because it's fret-less and requires good pitch to play in tune. My dad being a singer, figured I might become a singer too. Singing mostly classical music/opera. As I grew a little older I became involved in musical theater and had more fun singing in different styles. I got to play Jesus in Jesus Christ Superstar, which was my first time performing as a rock n roll singer. After that I began playing in rock n' roll bands in the clubs in Albuquerque, NM. Being a violinist I was able to start playing fiddle style music. With a turn of events I found myself playing in a country/bluegrass band. I think it's all turned out great. I have been fortunate to make a living having fun and playing music in many styles.
FRG: I've heard you started in comedy – how did that start, and why did you make the switch to music (and comedy – because your show is very funny too)?
KK: As an actor I was always much more comfortable playing comedic roles. Between fronting bands and working as a comedic master of ceremonies, I found my niche.
FRG: Thank you so much for your time!
Ready for more Knott's Berry Farm Fun? The Taste of Merry Farm is coming November 20-January 3rd on select dates. Christmas spirit will still shine bright this year with holiday charm brimming out of every corner of the park, as Knott's wondrously transforms with enchanted décor, thousands of twinkling lights, miles of festive garland, and a variety of picturesque holiday settings, all serving as a backdrop to the tastiest holiday foods around. Click here for more details. Have a peek at all the delicious food that is going to be served.
Make a Snoopy Sandwich Board
Click the picture for all the delicious deets.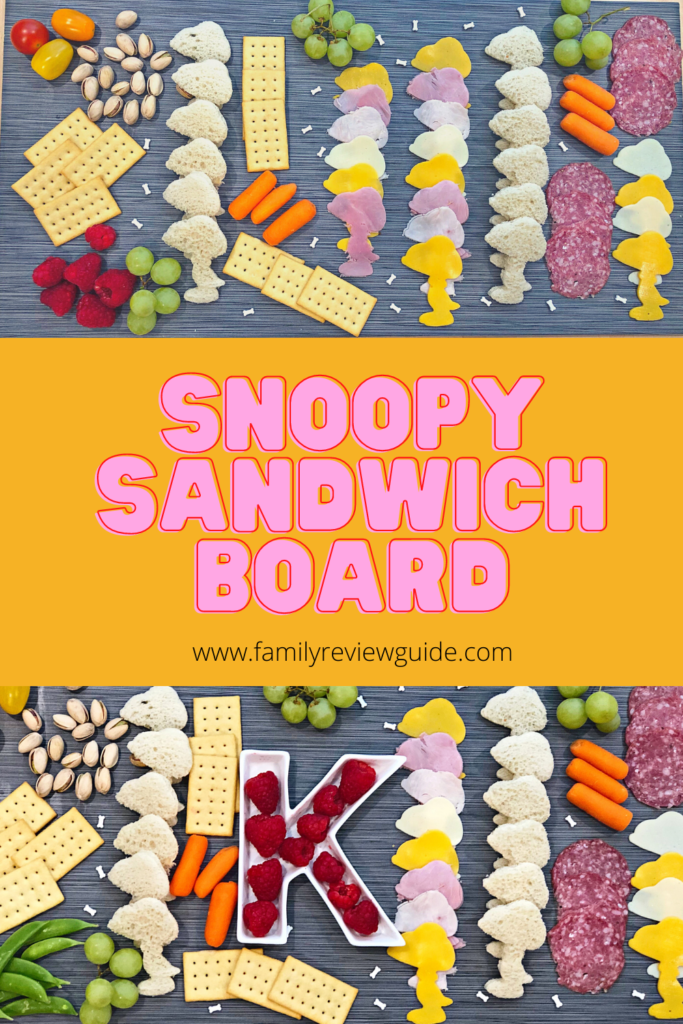 Make Charlie Brown Thanksgiving Cupcakes
Click on the picture for all the delicious deets.

For more information visit Krazy Kirk at his Facebook page or Knott's Berry Farm at their Facebook page.