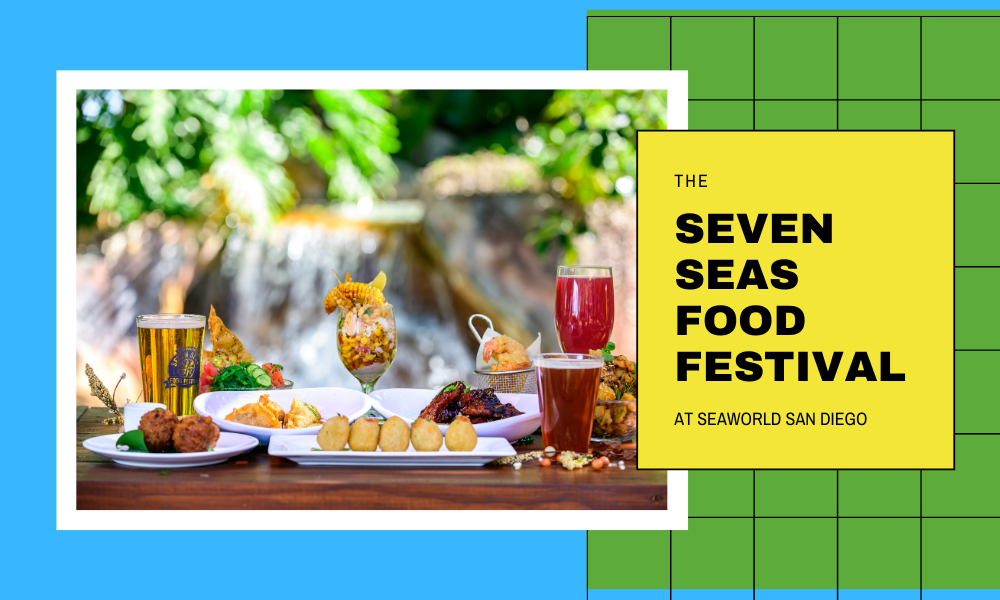 In case you haven't heard yet, SeaWorld San Diego is now open and is operating under zoo and aquarium guidelines. They have tentative plans to return to daily full operations in June but in the meantime guests can savor in all the flavors at The Seven Seas Food Festival going on now through May 2. With more than 125 fresh flavors from around the world, guests can taste everything from the most indulgent desserts to the park's all-new savory Vegan bites. In addition to the amazing food, this year's festival includes SeaWorld's most expansive beverage menu ever with more than 25 specially curated cocktails, zero proof cocktails and wines, and a selection of more than 75 craft beers from California and beyond.
FAQ's About The Seven Seas  Food FestivaI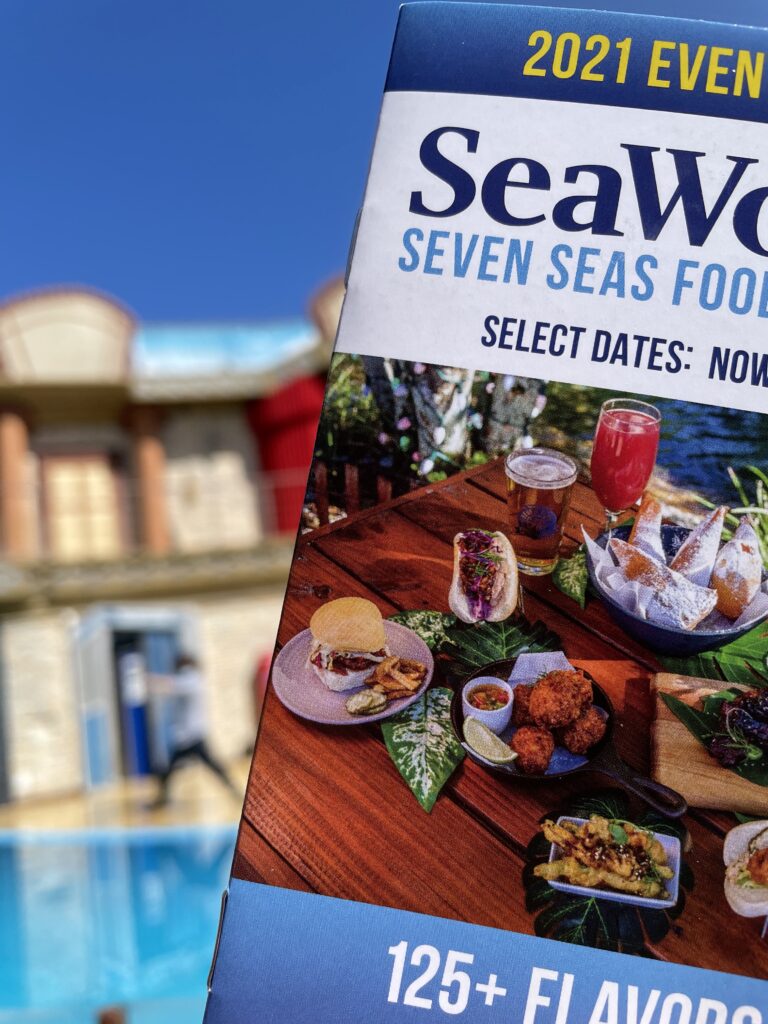 Do I need a separate ticket to attend the food festival?
Yes. You still need to purchase admission into the park and The Seven Seas Food Festival Tickets are separate.  Tickets to SeaWorld  (Including fun cards and annual passes) can be purchased here and tickets to the food festival can be purchased here. Annual Pass Members get 3 FREE Seven Seas items with the purchase of the Pass Member lanyard!
What Food is Served At the Seven Seas Food Festival?
With over 125 items you are sure to find something to please your palette. You can find the entire list of every item that is served here. They will give you a food passport book that shows you  all of the items and where to locate them. You can also use this map.
Our Favorite Items
Our Top Two Favorites were the Fontina Cheese meatballs and the spicy poke bowl (Tuna, Seaweed, Edamame, Avocado, Cucumbers, Wonton Crisps, Chili Dressing). Polynesia was my favorite area too due to the location as it is right on the bay and you can watch the boats, paddleboarders and jetskiiers go by.
You can also purchase cocktails at the Tiki Bar there such as:
Hawaiian Pineapple Express
Ocean Organic Hawaiian Vodka, Fresh Pineapple, Mint, Lemon
Blue Hawaiian
Flor de Cana Rum, Blue Curacao, Pineapple Juice, Edible Flower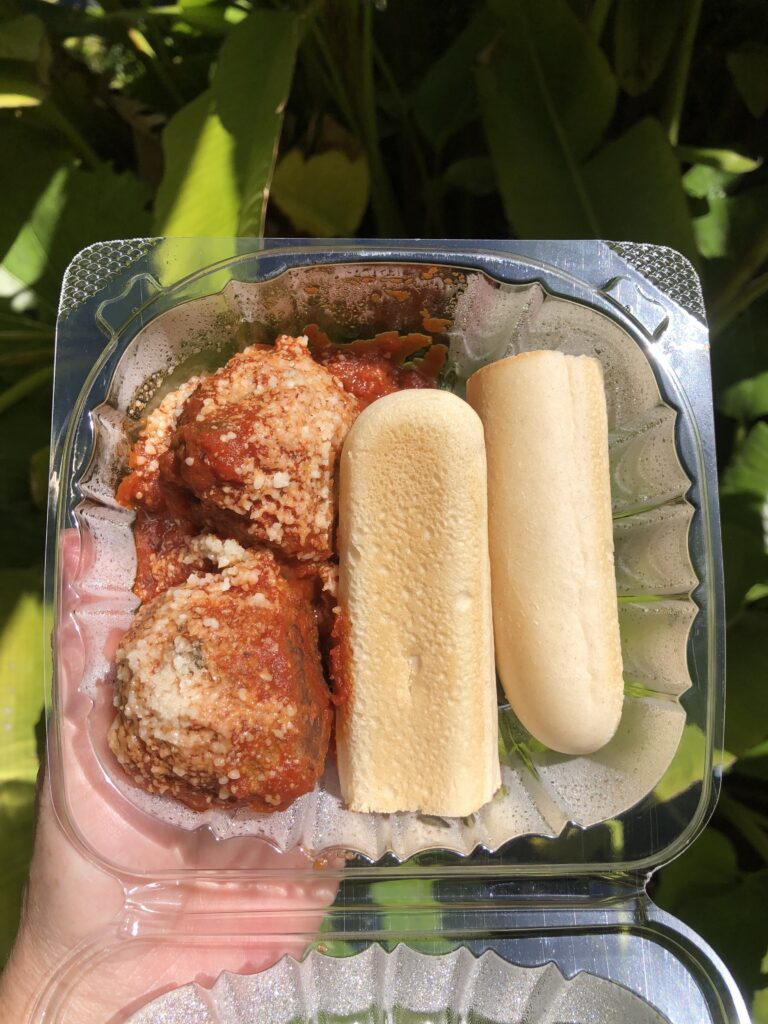 Head to the Flavors of SoCal for a bite of Lobster, White Cheddar Kraft Heinz Mac n Cheese. There are large chunks of lobster waiting for you.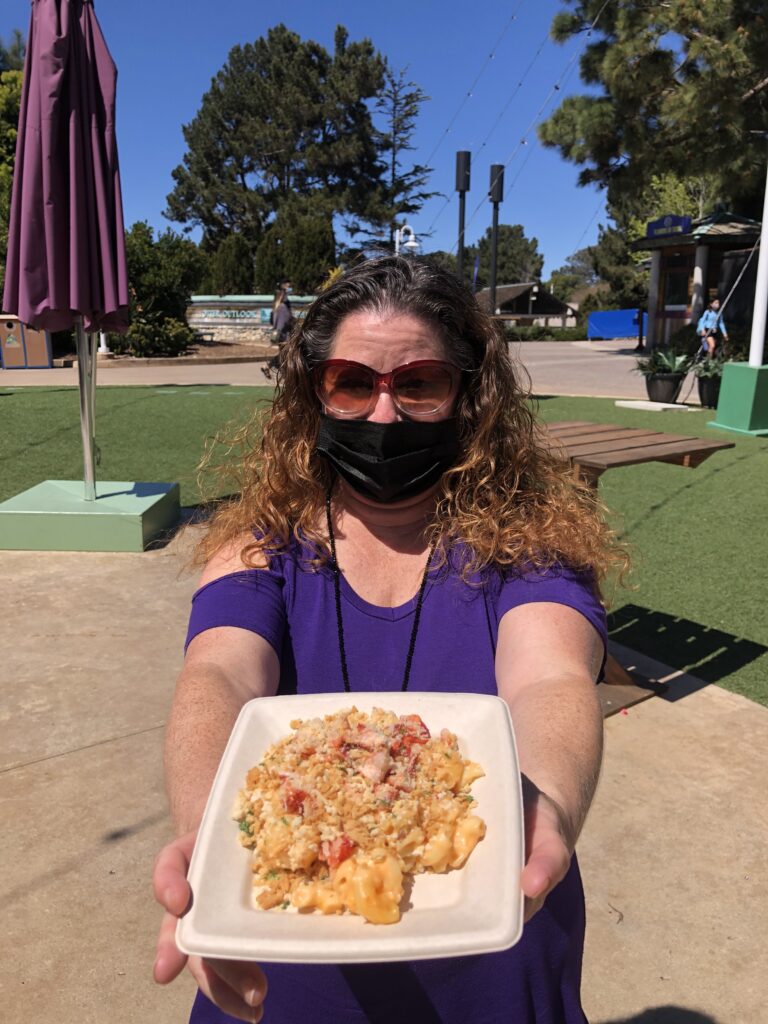 Craving some BBQ? That's easy, you want the Calypso Bay Smokehouse for some  BBQ Ribs (Slowly Smoked Pork Ribs, Homemade BBQ Sauce) Quartered BBQ Chicken (Smoked and Smothered in Homemade BBQ Sauce) and some BBQ Brisket Tacos (Cilantro-Lime Crema, Roasted Corn Pico de Gallo).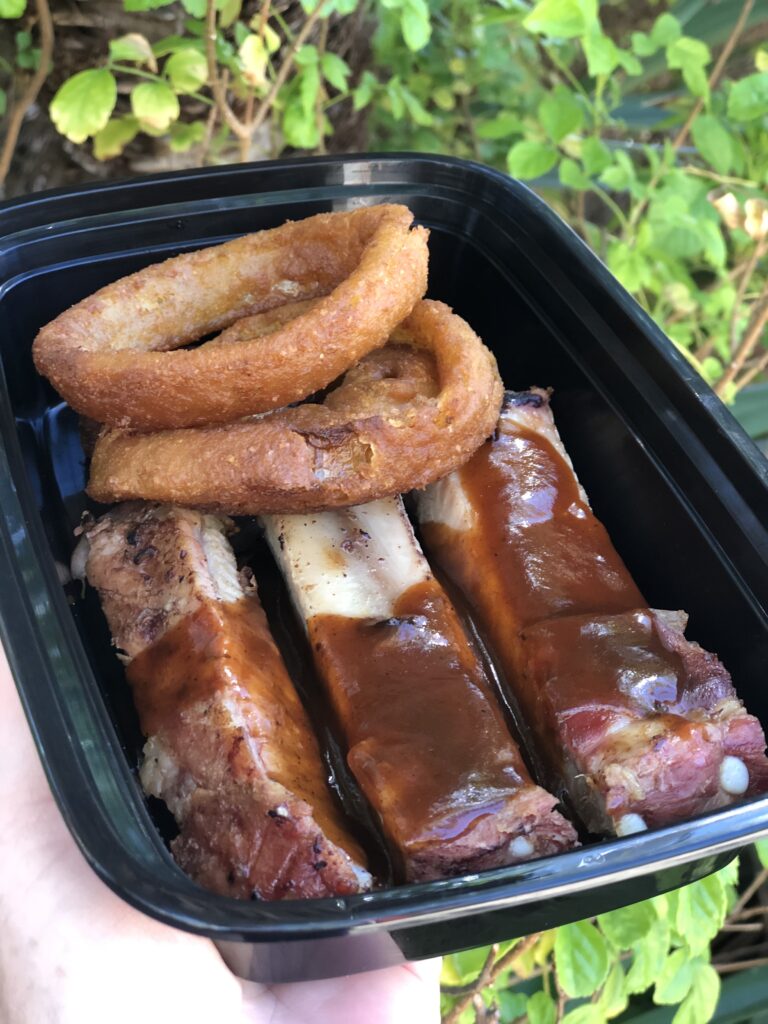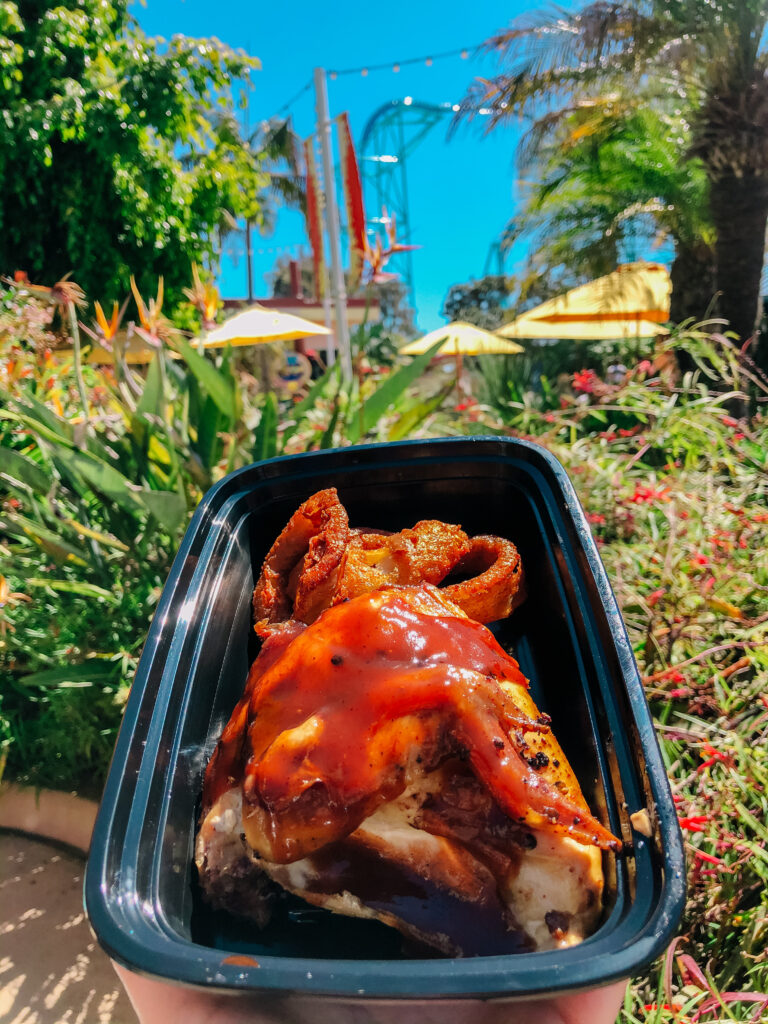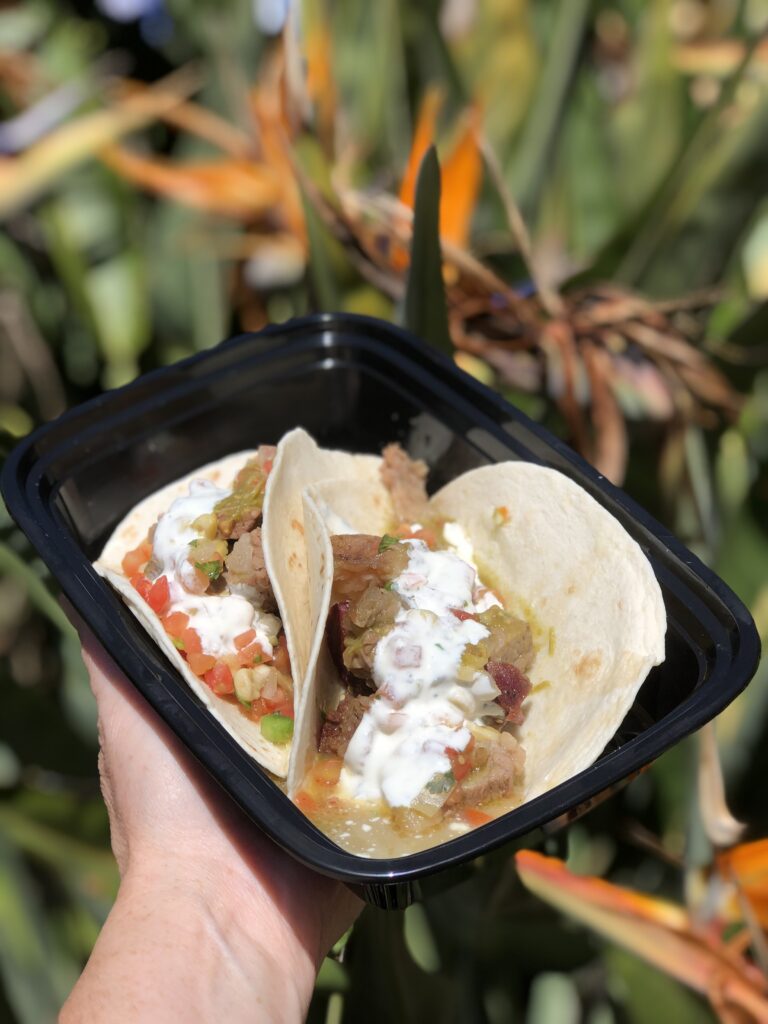 Ready for dessert? You will love the Golden Dusted Chocolate Mousse and Macaroon in France. While you are there sample the Grilled Lamb Chop . It has Marbled Potatoes, Feta Cheese, Roasted Garlic & Oregano Vinaigrette. Careful, Its a tad on the spicy side.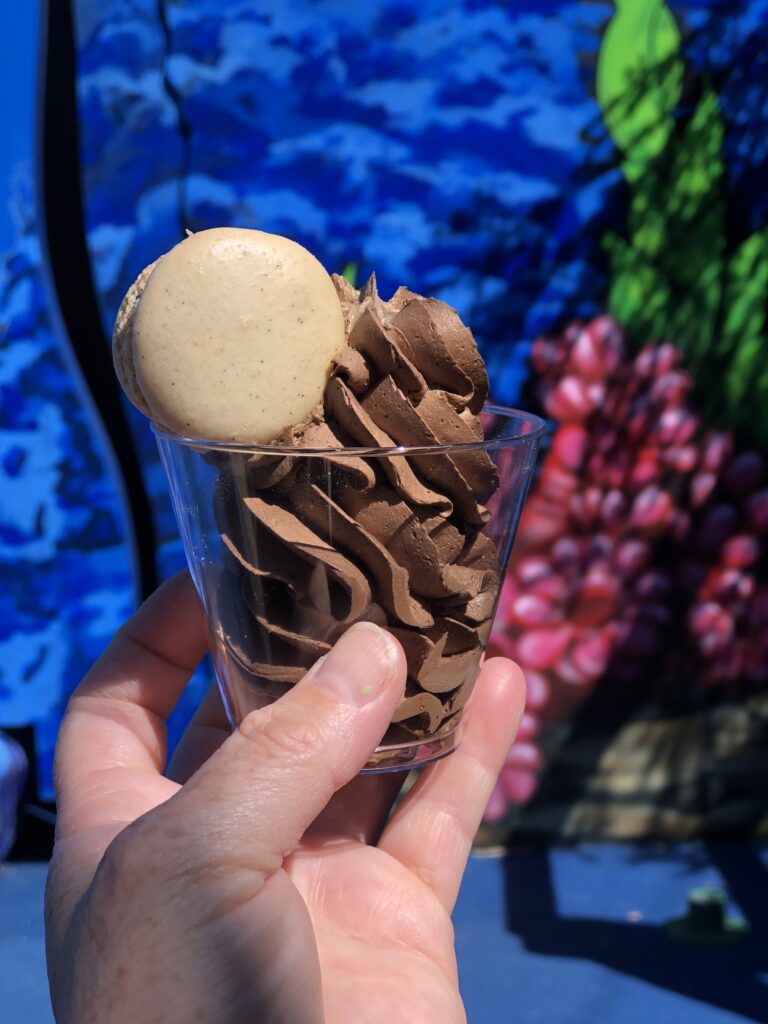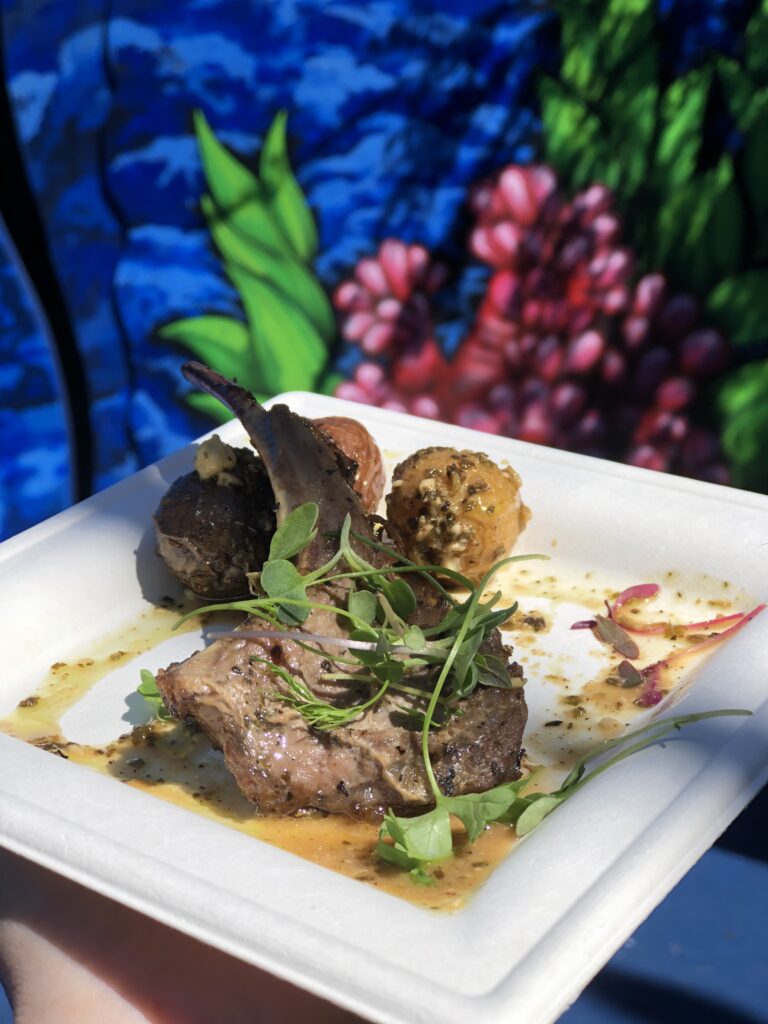 Another yummy dessert is the Greek Yogurt & Honey with Poached Berries, Mint and the Sweet Beignets.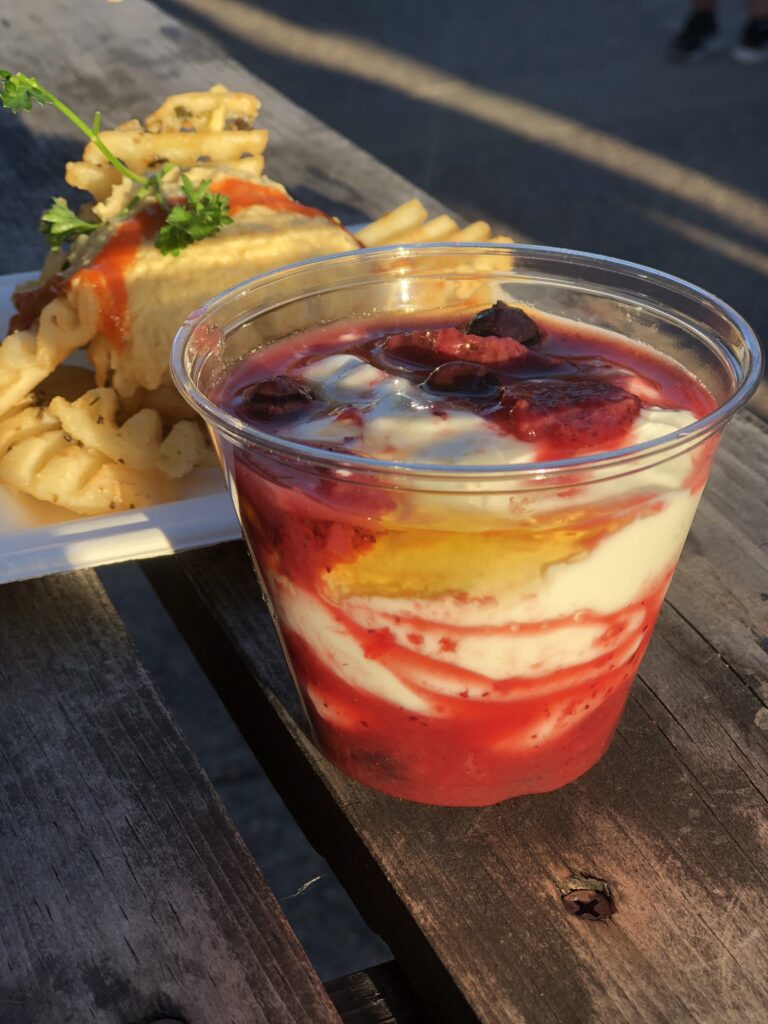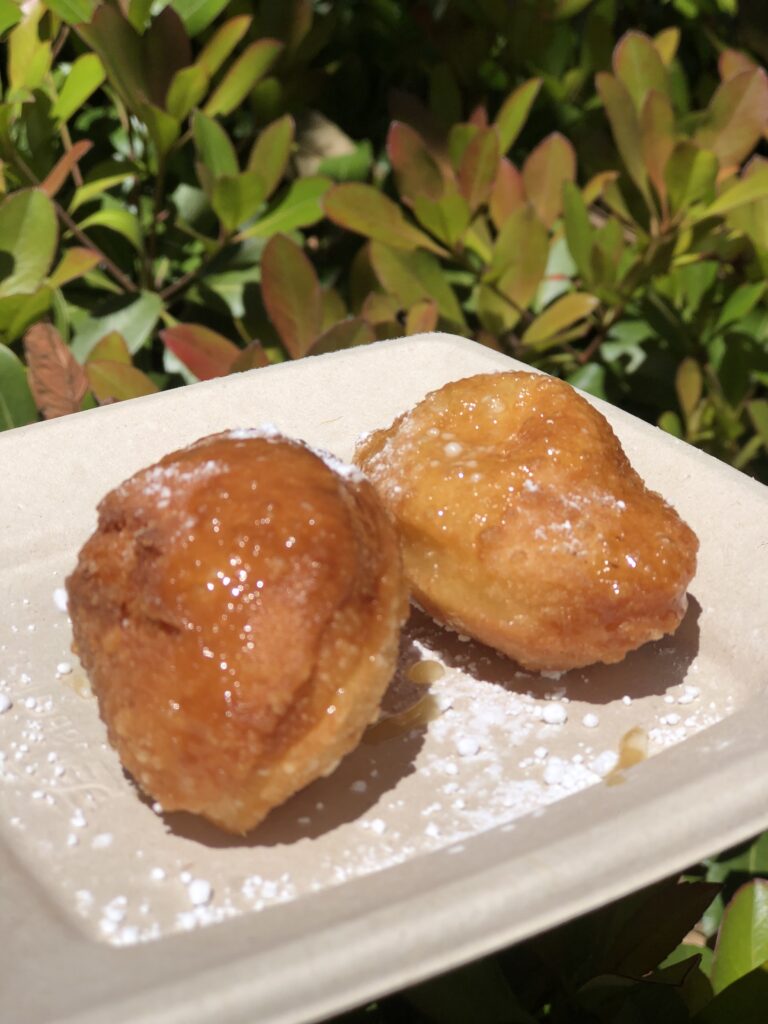 If you just need a light snack then I recommend the Hummus & Parmesan Garlic Fries  with Hummus with Chili Oil.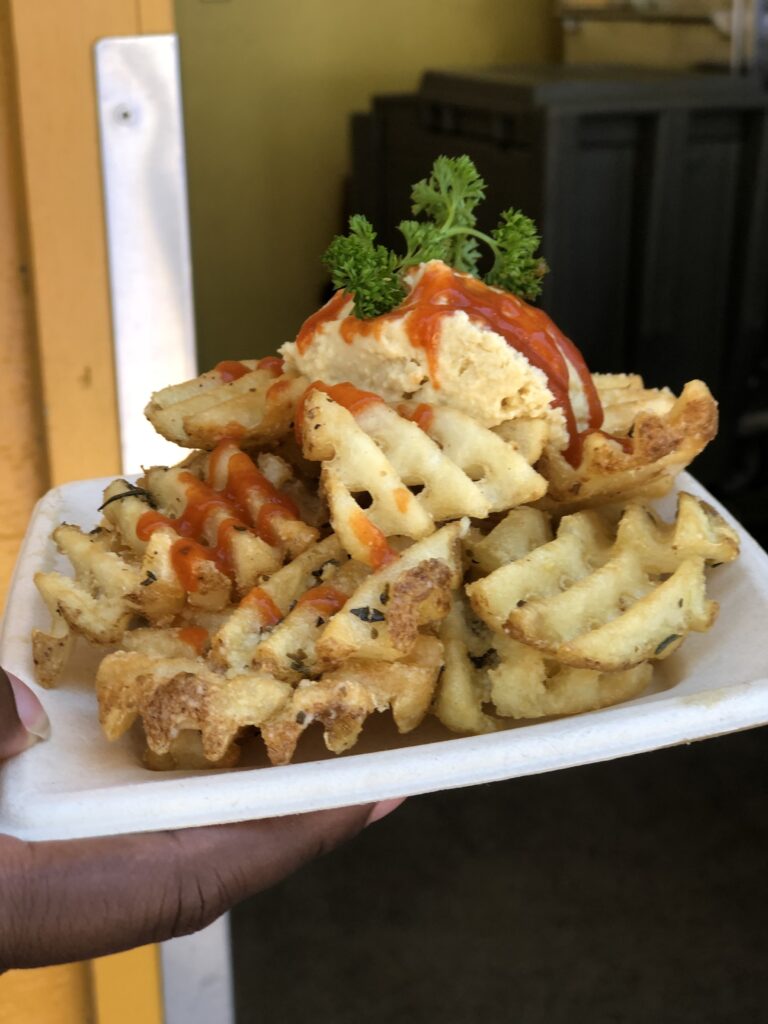 Live Music
Along with delicious eats, Seven Seas will feature three live music stages and an exciting trip to the Pacific islands, with the sights and sounds of the new Polynesian dance presentation —all included with theme park admission.
Polynesia Dance Presentation: Experience the heart-pounding energy and lyrical beauty of Polynesian dance and music with the premiere of SeaWorld San Diego's Polynesia Dance Presentation, complete with atmospheric Hawaiian traditional music, hula dancers and live musicians.
Three Live Music Stages: Talented musicians will perform physically distanced performances at various times throughout the day, including the relaxing sounds of acoustic guitarists and the upbeat rhythms of jazz trios spaced out around the park.
What Shows Can I See?
I am completely obsessed with the shows at SeaWorld and personally think that is the best part of visiting. There are currently three shows to watch:
Sea Lion High: The New Class is filled with amazing animal behaviors and fun audience interaction as Clyde and Seamore go back to school in slippery pursuit of their diplomas.

Orca EncounterLearn more about killer whales and connect in an inspiring new way with the ocean's most powerful predator.

Dolphin Days – Dolphin Days is a festive celebration of our natural world starring the ocean's most playful ambassador, the Atlantic Bottlenose Dolphin.

Kids will Love the R is for Rescue show.  It's an ALL-NEW animal education presentation with Elmo & Abby Cadabby, located at Nautilus Amphitheater.
Join Sesame Street friends, Elmo & Abby Cadabby, as they sing, dance, and learn all about animals. The SeaWorld Rescue Team, along with some animal ambassadors, help Elmo and Abby understand how the team rescues and cares for animals in need, and how we can all take care of the environment to make it a safer place for our animal friends.
Sesame Street Meet‑and‑Greets
Enjoy physically distant photo opportunities with everyone's favorite Sesame Street friends. Click here for times.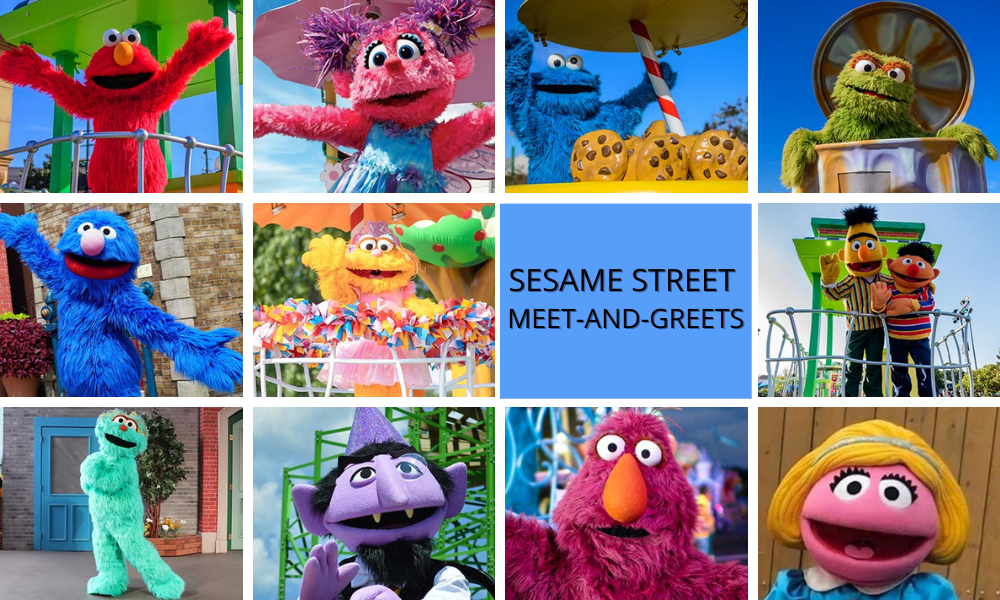 Sea  Of Treats Candy Trail
Kids (ages 12 & under) are invited to embark on an exciting adventure in search of sweets located all throughout the park, with purchase of a reusable candy bag! See the park map to locate Sea of Treats candy stations, where scoops of goodies are delivered through physically-distanced candy chutes straight into your candy bag!
Indoor/Outdoor Animal Exhibits to See
Indoor animal exhibits are now open! Guests can experience an amazing underwater viewing tunnel at Shark Encounter, visit belugas and walruses in the Wild Arctic and watch the playful antics of penguins at Penguin Encounter. With limited capacity, physical distancing, increased cleaning, and more, we continue to provide our guests with fun, inspiring and memorable experiences, while addressing important health and safety needs during this time.
Fire Dancer and Fireworks Show
For Spring Break  Only, Guests are invited to end their day watching fireworks light up the sky and can choose from a variety of physically-distanced viewing areas available around the park. The fireworks presentation will begin at 7:45pm starting on Friday, March 26 and will run daily through Sunday, April 4.
We really enjoyed the fire dancer and the music was really authentic with lots of Hawaiian flare.  The stage is small so viewing is better in the center, however there is a large screen to can watch if you seats are not ideal.
What Covid Precautions Is SeaWorld Taking?
In compliance with state safety guidelines for zoos, SeaWorld will continue to operate with enhanced health and safety protocols for cleaning and sanitizing, physical distancing, face covering requirements, and temperature screenings. To give guests ample space for a physically distanced visit, reservations and date-specific tickets must be purchased online and in advance of each visit to manage capacity. Each ticket includes park entry, and access to all outdoor animal exhibits and presentations. The number of tickets available each day is limited and are on sale now.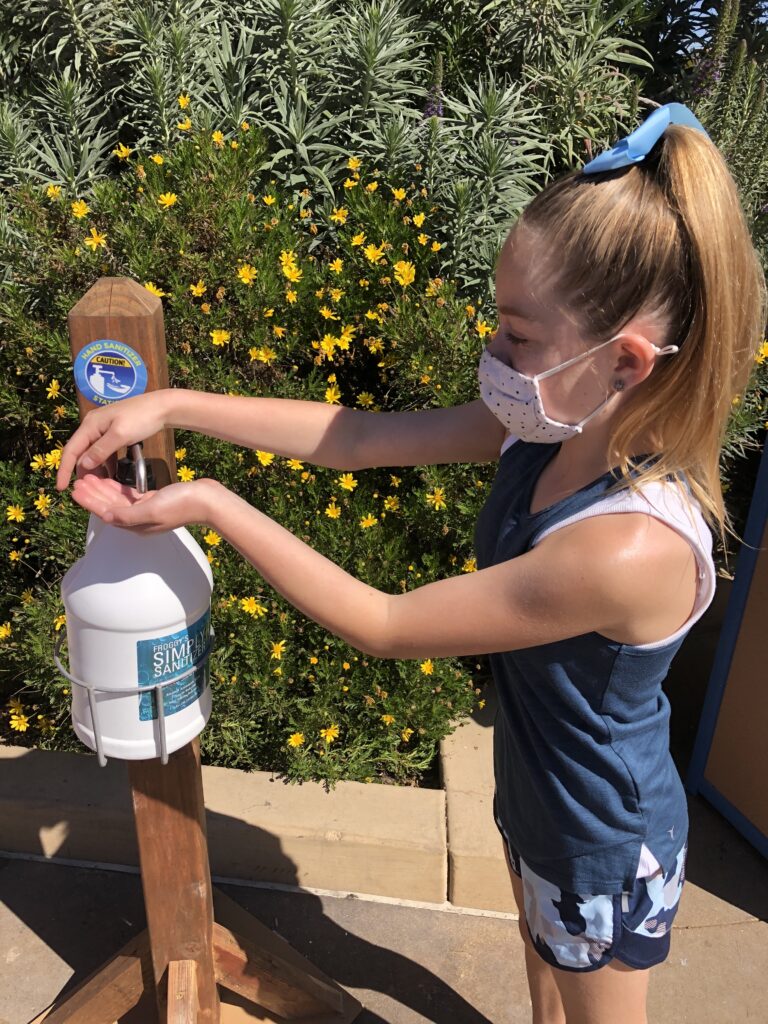 There are hand sanitizers all over the park making it easy to clean your hands after every and any show or exhibit. Some places even have hand washing stations.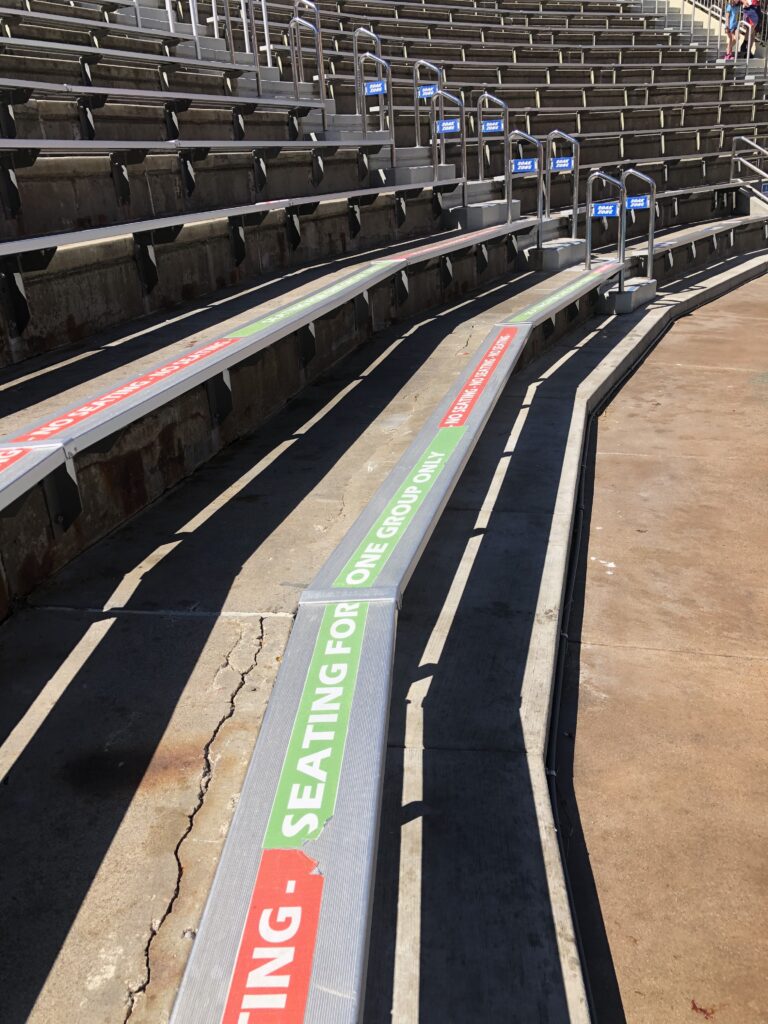 Amphitheaters have tape on the seats which allow only groups of families to sit together and giving ample space between each guest. When the shows are over you must remain seated and then a park ambassador will usher you our in rows. We felt extremely safe and well cared for while we were there.
 Tips For Visiting:
Plan your day to catch shows and exhibits in advance. This way you will not miss out on anything. Shows fill up quickly.
Be sure to catch the Walruses and Beluga Whales at Wild Arctic. They are EXTREMELY social and they interact with you through  the glass.
Check out the feeder fish at the entrance. Its quite an experience.
2 Food lanyards can feed a family of 4.
For More information Visit SeaWorld on Facebook and on Instagram.