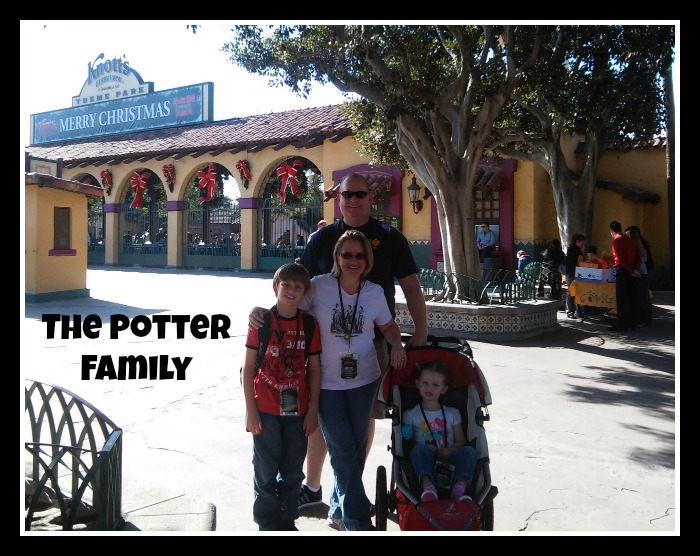 If your looking for some fun Holiday events this season, consider visiting Knott's Merry Farm in Buena Park, CA for an unforgettable experience of holiday joy.
Last weekend my family and I attended  Knott's Merry Farm on opening day of their Christmas Season. The kids were so excited to go and my husband and I were pretty excited ourselves. When we arrived the entire place was decorated for the season. Lots of lights (even during the day), garland, Christmas trees and of course Snoopy and his buddy's all decked out for the holidays.
MERRY GHOST TOWN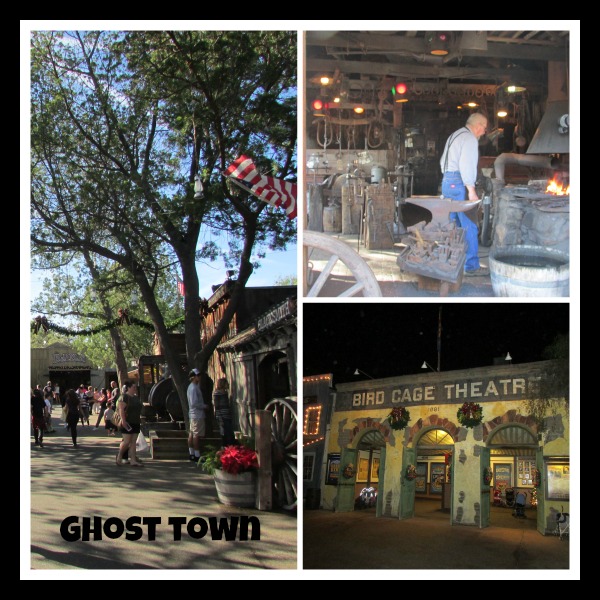 We first checked out Ghost Town. In Ghost Town you will find some awesome things like an old school-house, the Birdcage Theater, a real working Blacksmith, shops, restaurants, Santa's cabin and tons of Christmas Crafts. The kids were fascinated with he Blacksmith. He was making horseshoes. We stood there for probably 20 minutes talking to him about how he does his job. Here is a video of the Blacksmith at work: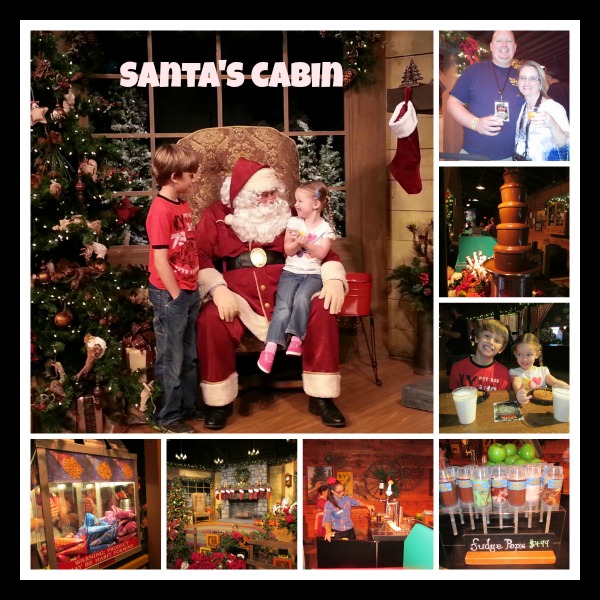 Santa's Cabin came next. Santa's Cabin was in the Wilderness Dance Hall in Ghost Town. When we walked in the first thing that hit me was the smell! It smelled like fresh-baked cookies! The main attraction inside was Santa. He was on a large stage and it looked just like his living room. The kids stood in a short line and went and sat on his lap. Rylee was a little hesitant at first (at least she wasn't crying like last year :) ) but once she warmed up to him she was smitten and started telling him everything she wanted. Erik, being the big brother, waited patiently for his turn to tell Santa that he wanted a tablet. There was a girl taking pictures which you can purchase. Once our Santa visit was complete we hung out in the cabin having the most delicious treats! Hot cookies and ice-cold milk, s'mores using a chocolate fountain, fudge pops, coffee, hot chocolate, fresh roasted cinnamon nuts and Leif and I's favorite – beer and wine! ou could have spent a lot of time in this place but next we wanted to go on some rides!
MERRY RIDES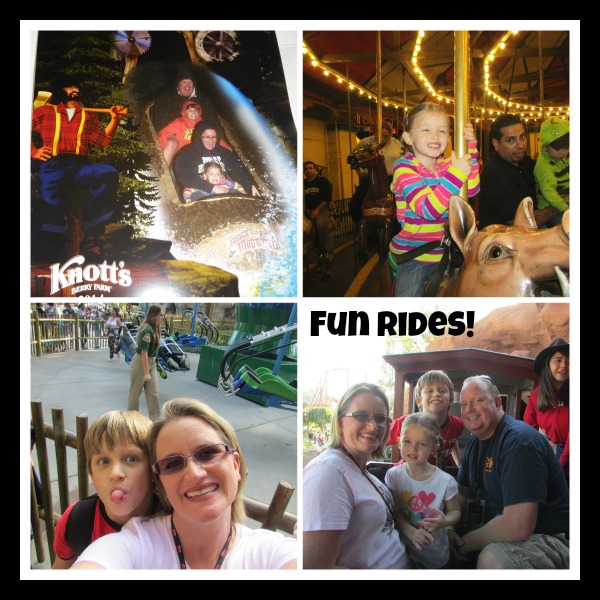 We went on a ton of rides! For being a Saturday it was not as busy as I thought it would be so we got to go on a lot. We went on the Mine Ride, the Log Ride, the Carousel, Jaguar and a bunch of stuff in Camp Snoopy. While we were in Camp Snoopy we came across Lucy's Wish List Show. This was a great show that the kids loved! They made it snow on the audience and they sang lots of Christmas songs. Here is a short video of the show:
MERRY ICE SKATING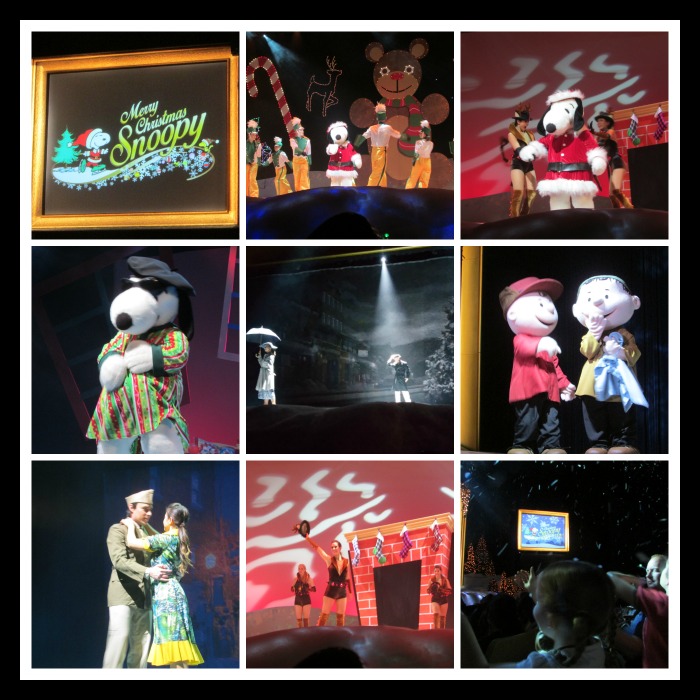 Our next stop was Snoopy on Ice. This has to be one of the best Ice Skating shows I have ever seen! They made it snow on the audience, Linus came out on stage and told the story of the birth of Christ (AMAZING!) and of course Snoopy was the star and yes he was on ice skates! A friend of mine was in the show. Her name is Katie Mcguire and she is a fantastic ice skater! I have not seen her since we did 42nd Street (yes I do musicals) several years ago so when she came out on stage I was so pleased I got to see her again! This show is a MUST when you come to Knott's during the holidays.
MERRY CRAFTS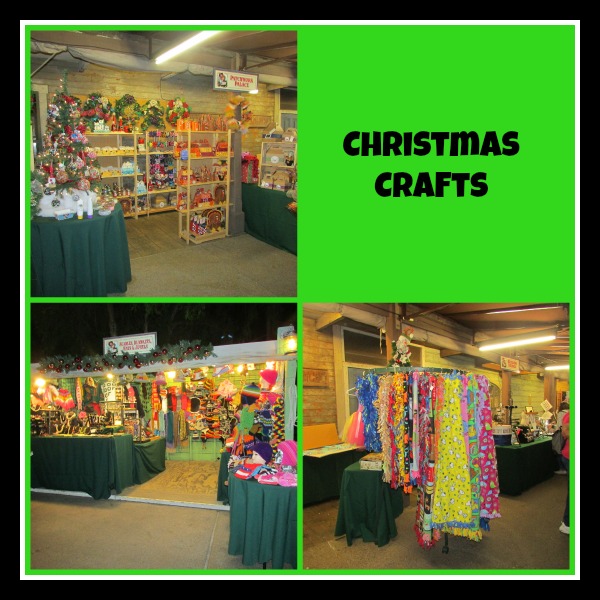 Shopping was next! The boys weren't to happy but Rylee and I were excited! The Craft show is located in Ghost Town and it consisted of several people rent out booths and display their wares. Lot's of homemade goodies to choose from. Knit scarves, chain saw carved wood sculptures, blown glass vases and blankets off all varieties. It was so hard to choose what to buy since there were so many nice things. It was so nice to be able to get a few Christmas gifts for my family.
MERRY TRAIN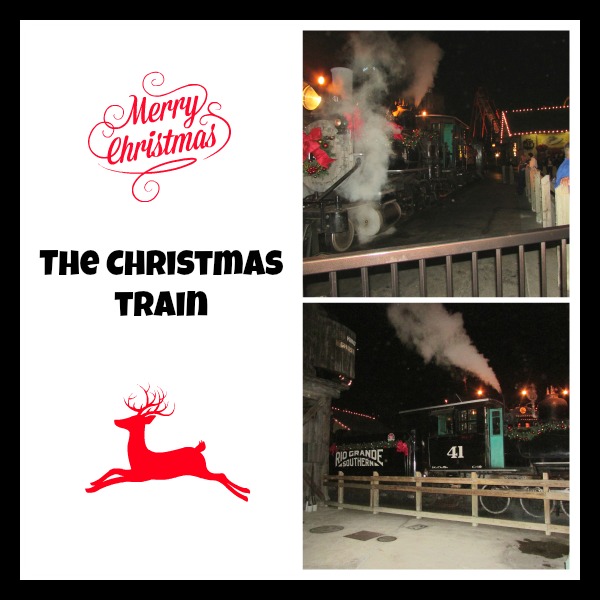 We did the Christmas Train next. This is an 8 minutes ride around the park on a real steam engine all decorated for Christmas. The kids loved it and it was nice for us parents to be able to sit and relax for 8 minutes! The train drops you off at the main stage which is where the Christmas Tree Lighting ceremony happens. That was next on our agenda.
MERRY CHRISTMAS!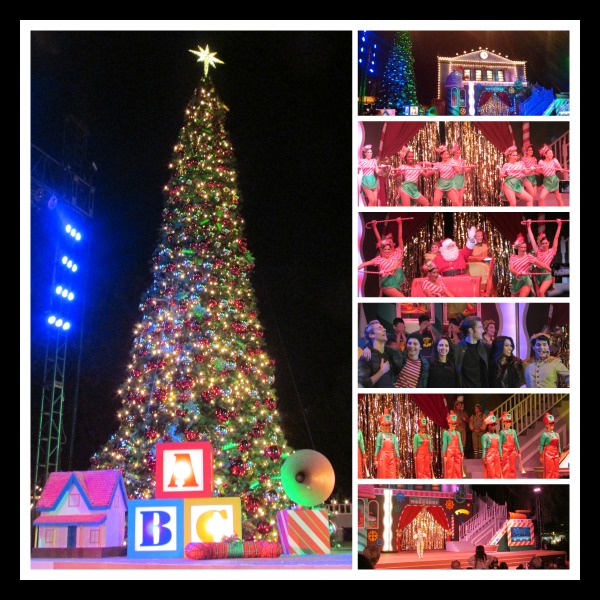 The Christmas Tree Lighting ceremony happens every night at 6:15pm. There is a super cute show which includes Snoopy and Santa! They have a huge Christmas tree on the stage which is dark until Santa says to light it. For opening night they even featured a few teen actors from various TV shows. That was a treat for all the tweens watching. Here is a short clip if the a little bit of the show: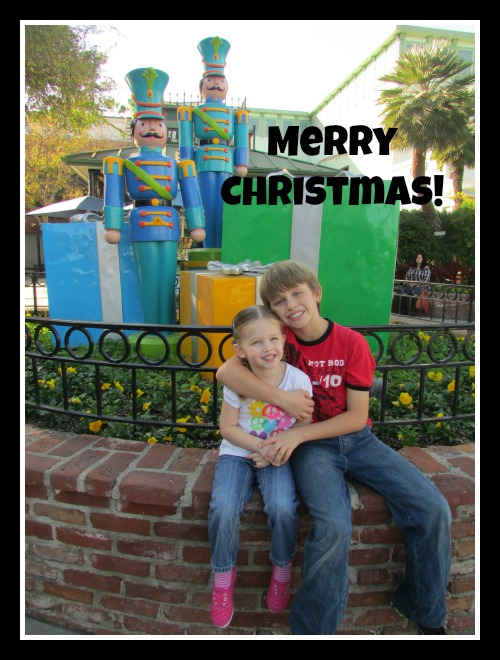 This was a FANTASTIC day for The Potter Family and all thanks goes to Knott's Merry Farm. Lot's of fun Christmas things to see and do along with the super fun rides and yummy food! We can't wait to go back!!
For tickets please visit the Knott's website at www.knotts.com