One of the best things about living in Southern California is the beautiful weather. However, unlike people back east we do not get to experience the seasons in full effect. I have only seen real snow maybe 2 times in my life so I often day dream of it and get very excited when I come across fake snow.
Recently I visited Legoland California Resort and my dreams came true. From now until January 4th  you can experience Legoland's Holiday Snow days and Winter nights where kids can build a snowman with LEGO® accessories and throw real snowballs at colorful targets. They can also ride snow tubes down a hill. And that's not all. There  are shows, live music and twinkling lights! There's even a food truck with yummy treats served by Santa's Elves.  Stay for the whole day and watch nightly fireworks over Mini Land USA, December 26 – 30. Your family can witness the lighting of a 30-foot tall LEGO Christmas Tree and enjoy live entertainment with LEGO Friends Live. A life-sized LEGO Brick Santa and Reindeer will make the perfect family photo.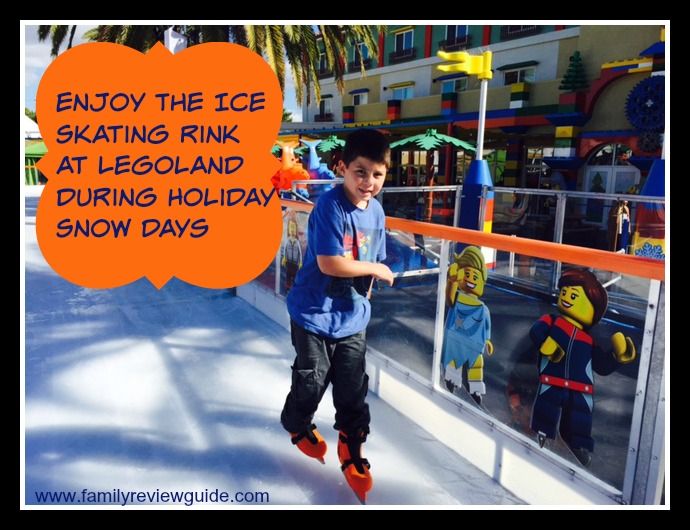 New this year is an Ice Skating Rink! Guest can pay $20 and get up to 90 minutes of skate time. Children must be 3 years old to participate and they have bobby's for the kids to sit or hold onto if they have never skated before. Your ticket includes ice skate rental and helmets, if needed.You can order online here.
If you are cold and wet and want to recharge your battery before heading into the park stop by  "Bricks" inside the Legoland hotel for a cup of hot chocolate or even better a family S'mores kit. The kits are only $9.00 and it comes with about 8 marshmallows, 2 Hershey chocolate bars and plenty of graham crackers. a family of 4 could easily manage on 1 box.

If you're looking to make some new friends, say hello to all of the friendly Lego guys waiting for you on the patio!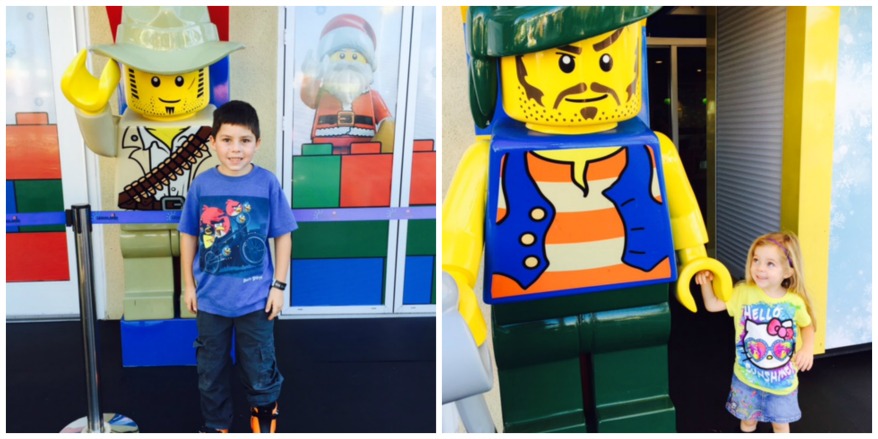 When you head into the park you will be mesmerized by all of the adorable Lego Sculptures on display. Everything from Christmas trees to snowmen! And if you really want a visual treat,  head over to mini land for an amazing view of all kinds of Lego sculptures. Everything from Star Wars to the State Capitol.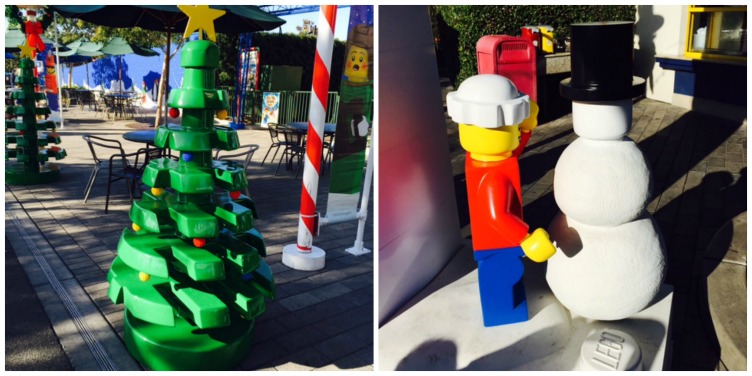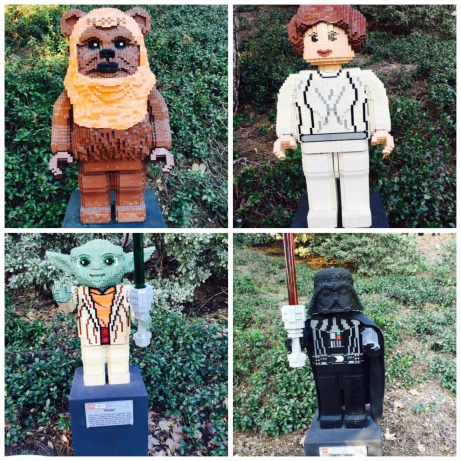 Lego Stars Wars Characters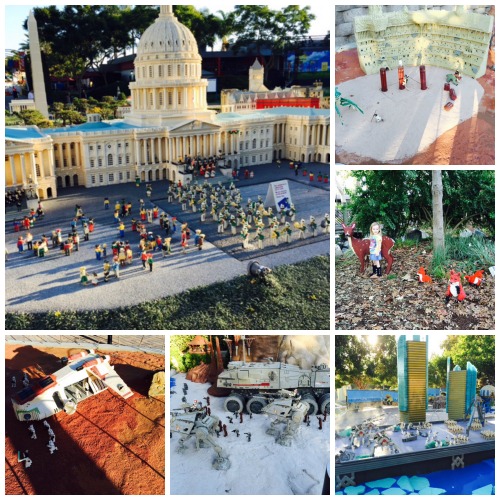 If your up for some more ice and snow, head over to Fun Town for some snow tubing and snow play! Kids can sled down a 6 person hill on a snow tube and get off and do it all over again. Parents can walk their kids up to the top and then walk back down to meet them at the bottom. P.S. It wasn't really snowing in the picture. I just put it in for effect.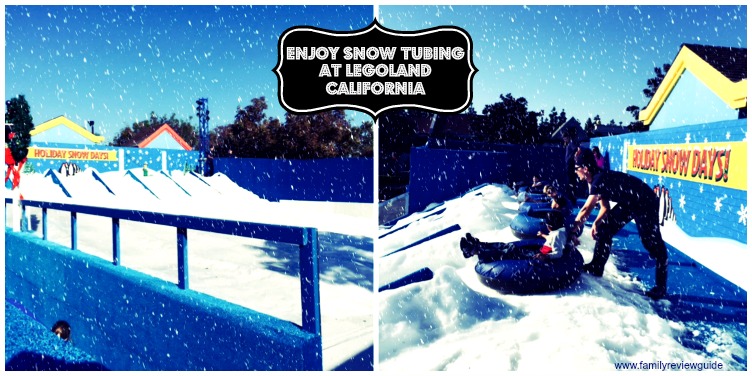 Afterwards, come around the corner and have a snow ball fight or build a snowman in the snow!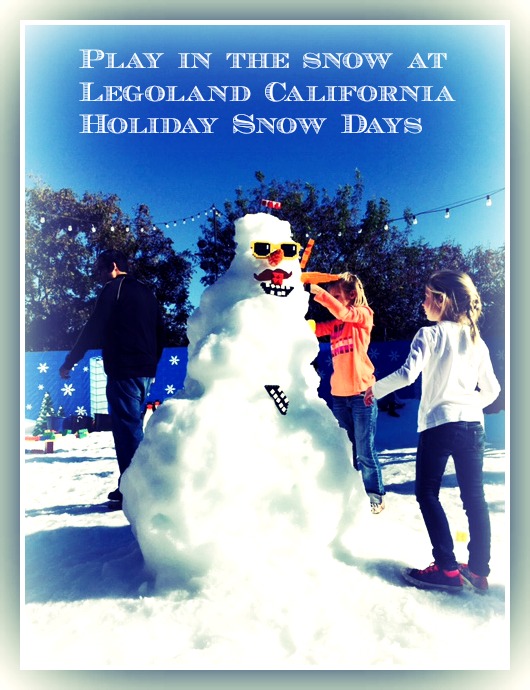 If you want to rest your tired feet come into the Duplo Play area or the build and test room. The Duplo play area is a free-play opportunity for younger children, tens of thousands of LEGO® DUPLO® bricks beckon young builders. Even the youngest LEGO enthusiasts have a place to explore.
The Build and Test room is a room in the heart of the Imagination Zone, where young engineers can build a car and then test it against the competition on the track. Will yours cross the finish line first?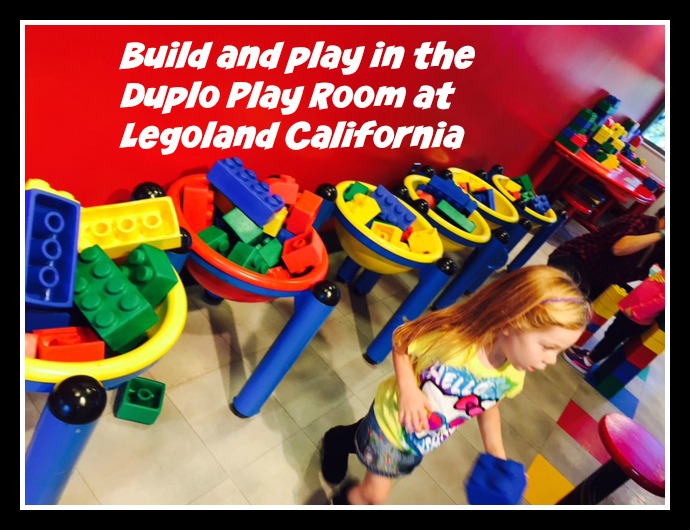 At the end of the day take a ride on the Coast Cruise. This grand tour for the whole family is an ideal vantage point to enjoy the sights and adventures along the lakeshore and in Mini Land. Your captain will also tell you some corny jokes and you can't help but to laugh.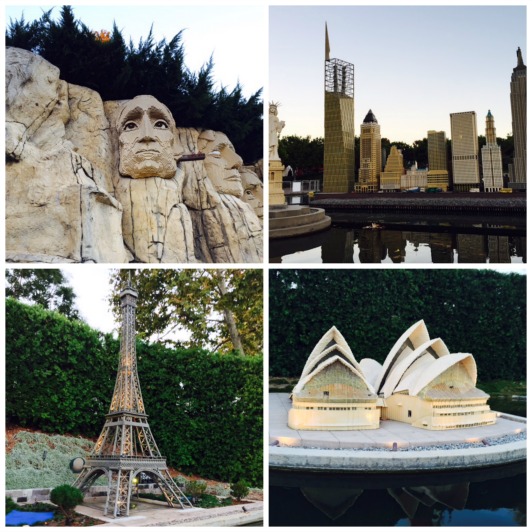 Holiday Snow Days  Calender

• Winter Nights festivities at 5-7pm on November 28, 29 and Dec. 6, 13, 20, 21, 22, 23, 26, 27, 28, 29, 30.
• Official Tree Lighting on December 1.
• Nightly Tree Lighting at 5pm, December 4-25th.
• Holiday Fireworks at 7pm on December 26-30th.
• Kids' New Year's Eve celebration with fireworks at 6pm on December 31st.
 Legoland Nightly Shows
A Special Gift For You
Receive a FREE ticket to return when you visit LEGOLAND between November 1, 2014 and January 4, 2015.  Present any paid admission ticket at the Our Gift To You kiosk inside the Park, and receive a ticket to return to LEGOLAND California and SEA LIFE Aquarium between January 5 – March 1, 2015.*
* You must request your free return ticket on the day of your paid visit. Free tickets valid only between January 5 – March 1, 2015. Additional restrictions may apply.
For more information please visit Legoland California on Facebook and on Twitter.