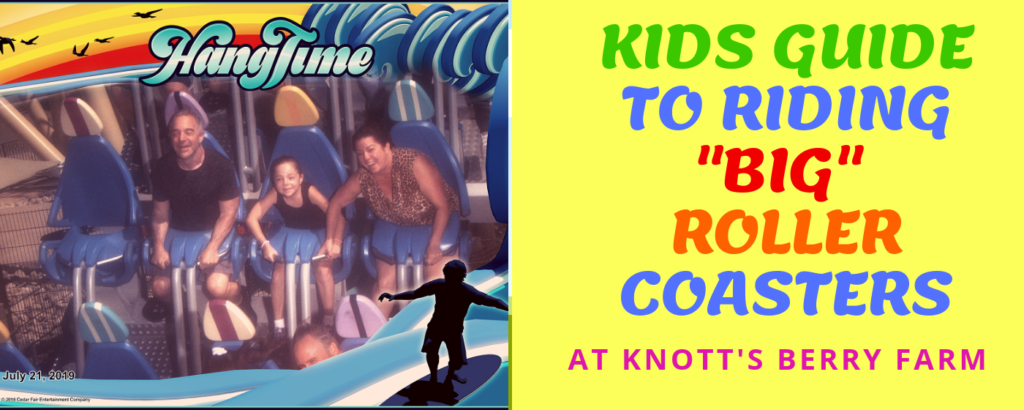 Do you remember the first BIG roller coaster you ever rode? I bet you can remember every detail down to the color of the track. For me it was Corkscrew at Knott's Berry Farm. I was about 10 years old and I remember begging my mom to take me on it. She was not the adventurous type so she kindly asked a stranger in line if they would ride with me. I remember standing in line and staring at the big blue helix track thinking "I can totally do this" and "That looks like so much fun"! I was filled with anticipation, nervousness and excitement all at the same time. I still remember the sound of the chain lift and the way the padded shoulder harness felt. It was an exhilarating ride it and I remember smiling so big and being proud of myself after I got. I ran to my mom and she gave me the biggest hug in the world! After that I became an adrenaline junkie and I am still one to this day!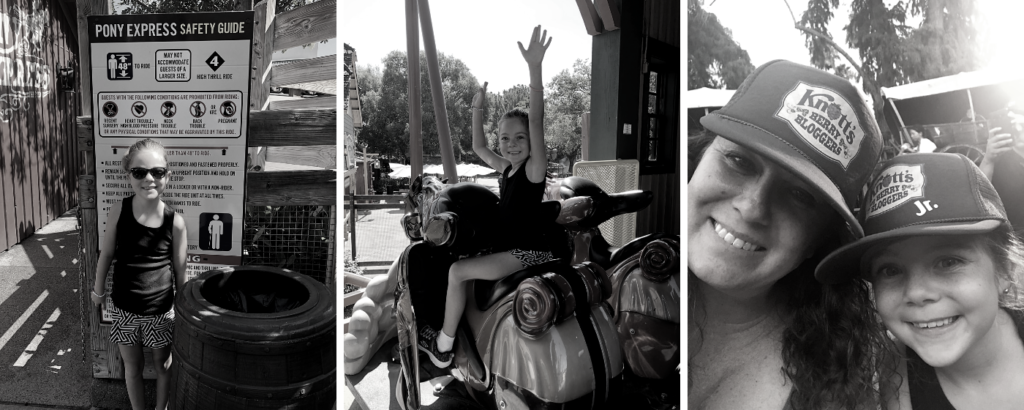 It Finally Happened- 48 INCHES
Fast Forward to 30 years later. I have two teenage sons and an 8-year-old daughter now. The boys love roller coasters and I have been waiting patiently for my daughter to grow so she can ride the BIG roller coasters with me at Knott's. Being a Berry Blogger definitely has its perks and I wanted so badly for her to experience the thrill of riding HangTime last year when it opened. (We got to ride it 4 times in a row without getting off one day as they were filming a promo). Unfortunately she was just shy of 48 inches so I have been taking my friends' kids on instead while we wait for that magical day. Well guess what??? It finally happened last week!!!! My husband measured her with a tape measure and she was exactly 48 inches. You can bet the we drove to Knott's first thing in the morning the next day to double-check the measurement. We ran into Ghost Town and measured her at Ghost Rider!  Sure enough she was good to go! I was probably more excited than she was. Here is some video:
I asked her what she wanted to ride first and she said "A lot of rides" LOL. But then she decided on HangTime. That's my girl. Go big or go home!
Understanding Employees Are Key
Before I show you her reaction to the ride, let me share a sweet story that happened. While we were walking through the queue for HangTime she suddenly got very nervous (Just like me on Corkscrew). She shed a few tears and my husband and I told her that if she wasn't ready she could skip it and try again another time. Well, she was extremely conflicted because she wanted to ride it but her anxiety was starting to take over. A sweet employee sensed her hesitation and crouched down next to her and told her that she would gain the title of "Queen Of The Park" if she rode it. Then just like that everyone else on the ride started cheering her on! This made her feel so brave and empowered that she quickly ran to her seat and sat down. The employee was really good about letting her see how secure her seat belt and lap bar were and gave her a high-five as she left the station. She kept her eyes open the whole time and she rode that roller coaster like a boss! My girl was so thrilled with herself when we got off the ride I literally had flashbacks to when I was a young girl. Here is her reaction:
We only conquered one ride that day due to time constraints but since we have an annual pass we decided to come back a few days later with a game plan. Here are some ways to make your child's first time riding BIG roller coasters at Knott's not only special, but a success!
Tips on Riding Big Roller Coasters Knott's

Make The Day Special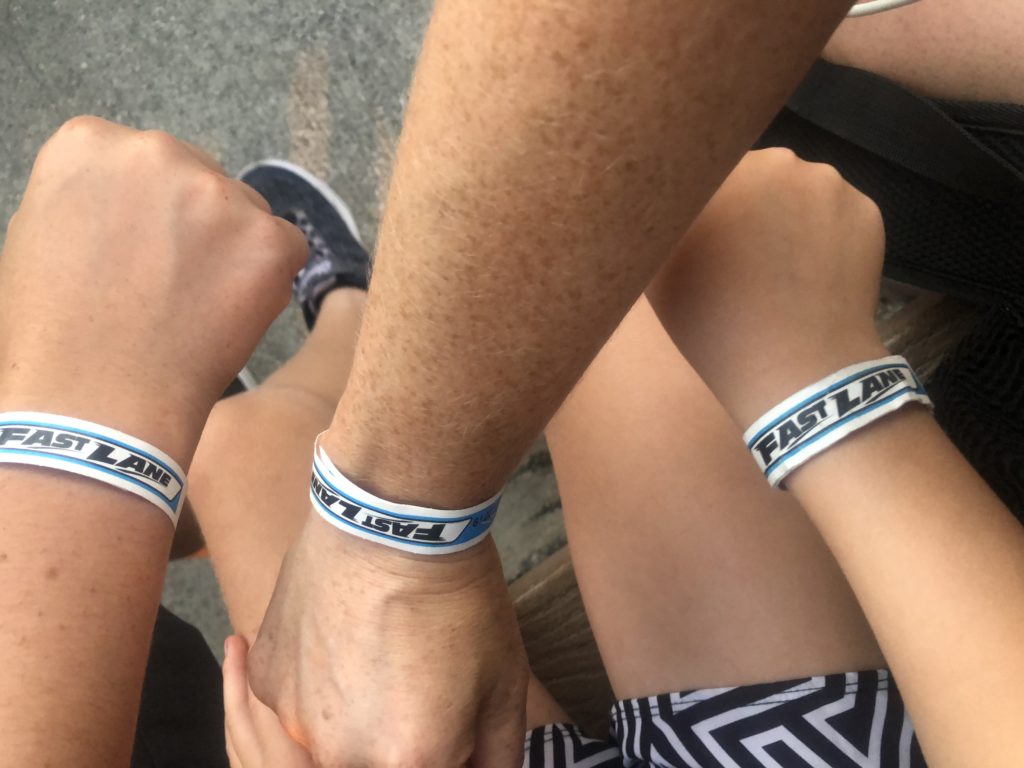 There are several ways to do this but one of my favorite ways to make my kids first time riding a big roller coaster special is to get them a FAST LANE PASS! This is a total game changer. Let's break it down for a minute. Standing in a long line can add to anxiety and nervousness. Knowing that my kids had a fast lane bracelet not only added to their excitement but it allowed us to make the most out of our day. It eliminated the apprehension and made them feel special and honored for the day. Fast Lane wristband gives you priority boarding on select rides, including Calico River Rapids, HangTime, GhostRider, Voyage to the Iron Reef, Montezooma's, Pony Express and more. You and your kids can ride as many times as you want, all day long.
Start Small
While some might disagree with HangTime being "small" I will tell you that it was better that we started with that instead of GhostRider.  Wooden Roller coasters tend to be jarring so I personally think starting with Jaguar or Pony Express is a great start. Pony Express is low to the ground, the track  is smooth and it's not an overly aggressive ride like GhostRider. Here is my recommended list for roller coasters with a height requirement of 48 and above only.
Jaguar – This is the most tame of all 48 inch rides
Pony Express
Sierra Sidewinder (Kids Can ride at 42″ with an adult but it's a pretty intense ride).
Montezoom'as Revenge
HangTime
Wipeout
GhostRider
La Revolucion (not on a track)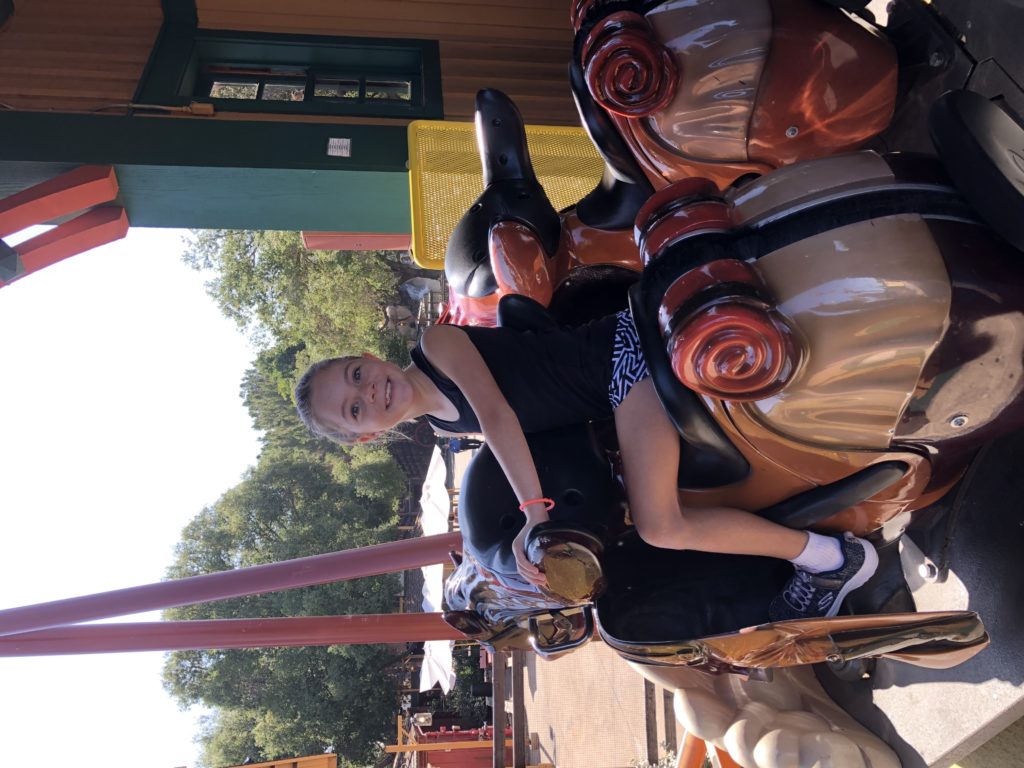 Watch The Rides In Advance
Knott's Berry Farm has YouTube videos of most of their rides online. Watch these videos with your kid/s prior to arriving so they can see exactly how the ride looks. You can answer their questions about speed and stats and it may even build up their excitement! Another great way is to observe other riders at the park.
Communicate With The Ride Operator
Don't be afraid to tell the ride operator your child is nervous. Most will go out of their way to make your child feel extra comfortable and encourage them. They want your child to have a great time.
Point Out the Safety Features
Kids are often scared because they don't understand how the rides work. My daughter once asked me how the roller coasters stay on the tracks so I pointed out how the coasters are connected to the rails. I also explained how the harnesses and lap bars lock so you can't fall out. I also assured her there were seatbelts in addition to the restraints. On Hangtime this was helpful because she didn't understand why there was no shoulder harness. We told her all about the clamshell lap bar and how safe and secure it was. You never know if it might help ease their anxiety about a ride.
Nudge But Don't Force
Please do not scar your kids or leave them with bad memories. If they are not ready do not force them as this will almost always backfire. This is an area I have to say Knott's excels in. One time last year we were waiting in line for a roller coaster and a parent forced their visibly terrified child on the ride, even though said child was shouting "no" and crying hysterically. Knott's kindly asked them to step off the ride as employees are trained not to allow anyone to ride unless they appear consenting. Don't hold a grudge if they back out. Your child wants to make you proud and you can always try again later.
Take Breaks – Have A Snack
One of our favorite spots to rest and refuel is Board Walk BBQ. It's situated right in front of Xcelerator and my daughter loves watching the launch. It will most definitely help her when she is tall enough to ride. Plus she can watch people play the boardwalk games and The log ride is close by which she can now ride alone since she is 48″ tall. Oh and one more thing, there is a place to buy funnel cakes around the corner.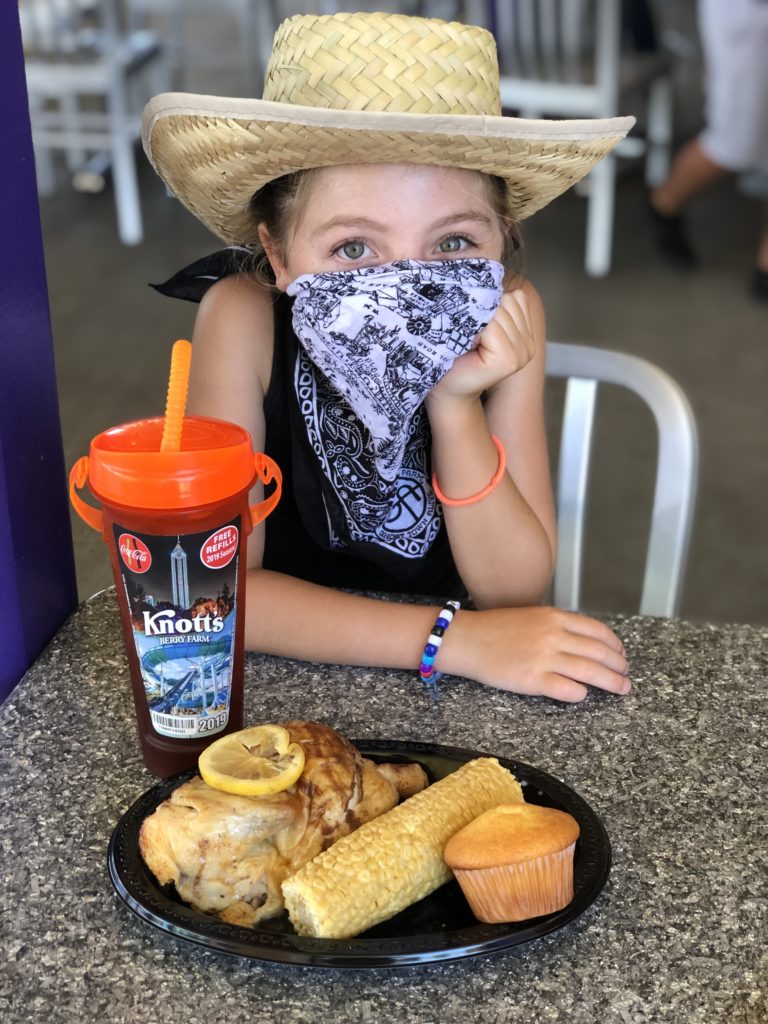 Smile, Laugh and Repeat
The end of a successful day should look and sound something like this: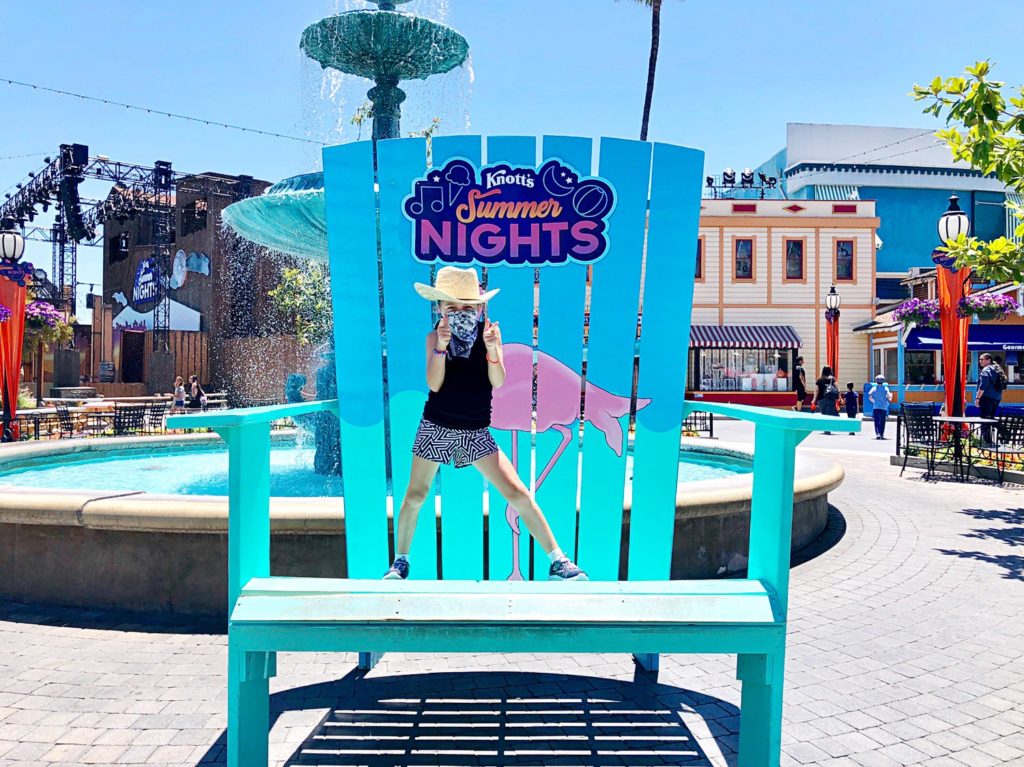 Here are some of her responses to a few of the Rides. Sometimes she was shouting because she was so excited!
Response To Ghost Rider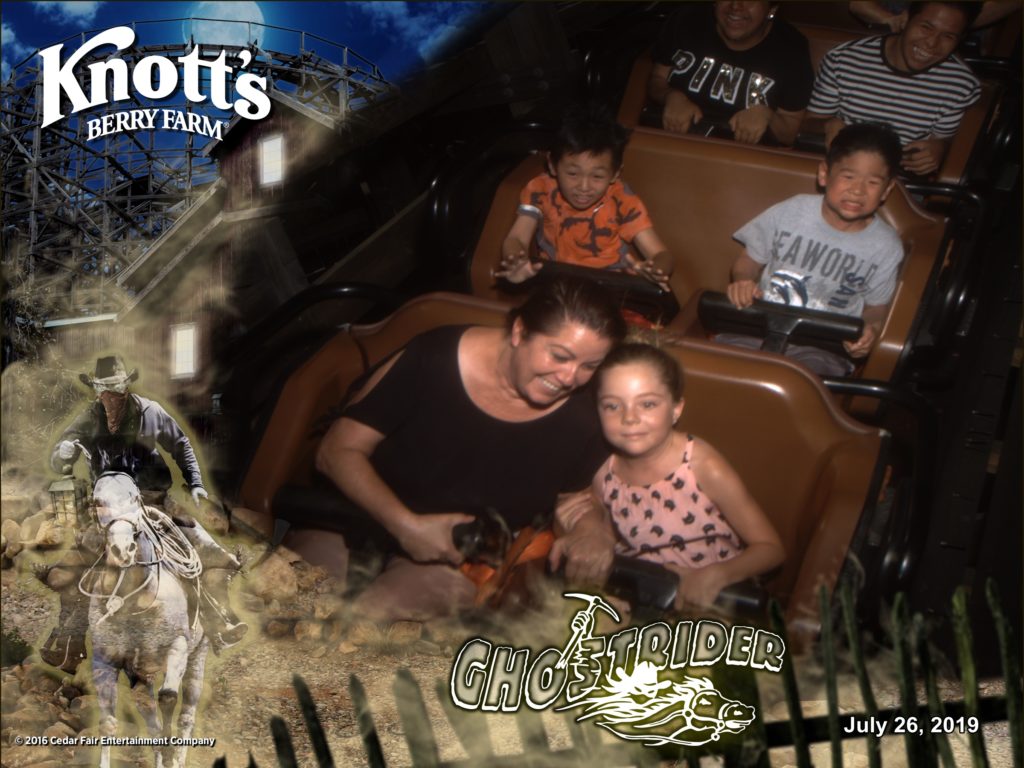 Response to Montezooma's Revenge
Response To Jaguar
This ride ended up being too slow for her LOL.
Response To Wipeout
A Ride Down The River
Thank you for the best day ever Knott's Berry Farm! We made so many awesome memories.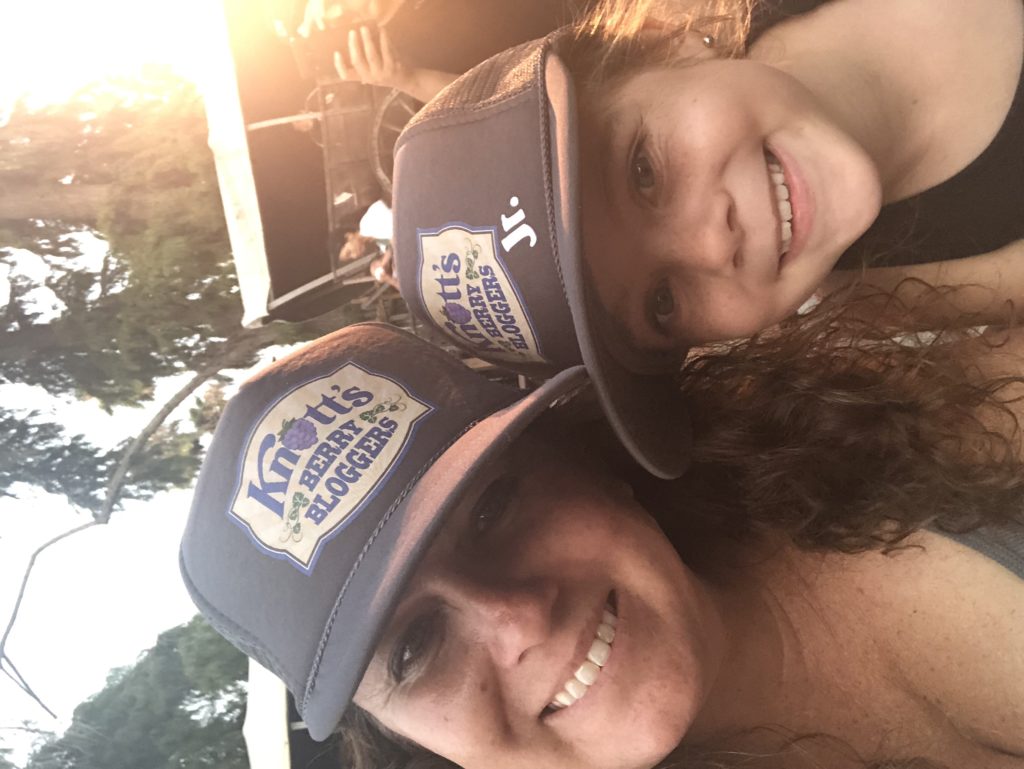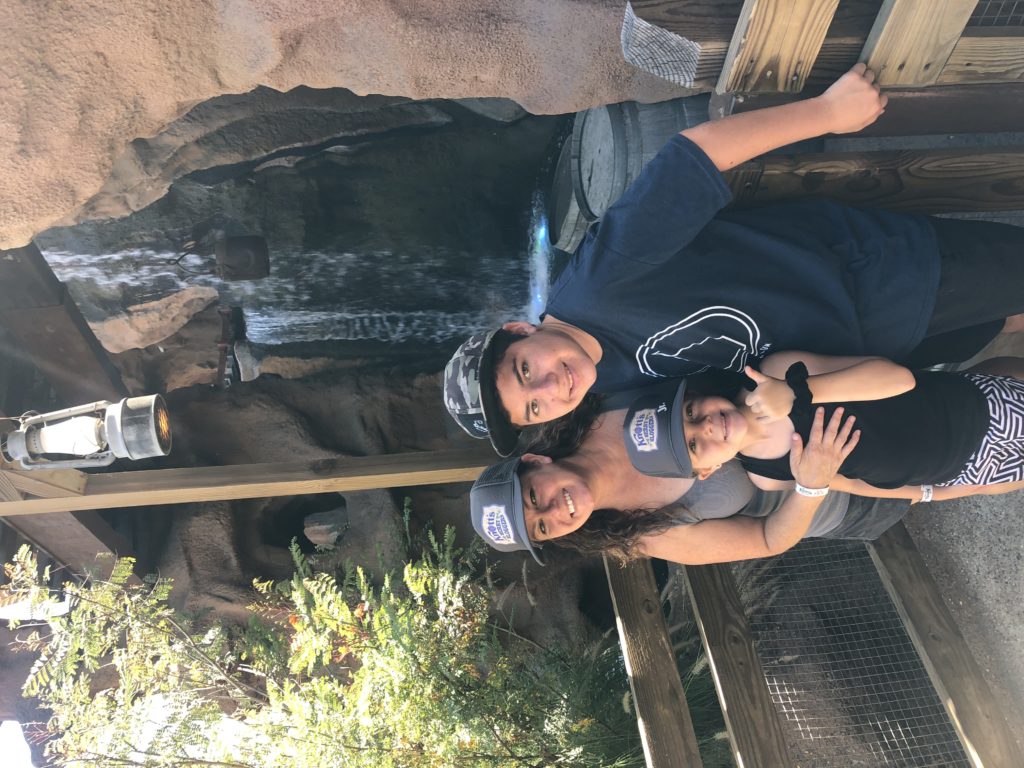 For more information please visit Knott's Berry Farm on Facebook and on Instagram
Pssstttt. Learn more about Knott's summer nights by clicking on photo below.