Making new friends is always fun and exciting. Especially when you are at Knott's Berry Farm! The park already has friendly employees year round, but during Ghost Town Alive and Knott's Summer Nights the park comes to life with interactive characters that want to be your best friend and will keep you smiling all day and night long! I recently attended a media preview of Knott's Summer Nights and I was delighted to meet a handful of the funniest people in Buena Park. Hysterically known as the block party planning committee this rowdy bunch will mingle all night with you, dance with you, play with you and basically keep you giggling through the night. Here are 11 characters from the party planning committee that you need to meet!
Ivana Drink – She is on the drink committee and she drinks Rose' all day. She wears a big floppy hat, cheetah top and black sunglasses. And she is super chatty.
Anita Drink – This is Ivanna's sister. She too loves to dress up in cheetah print with her red wine and large black sun glasses.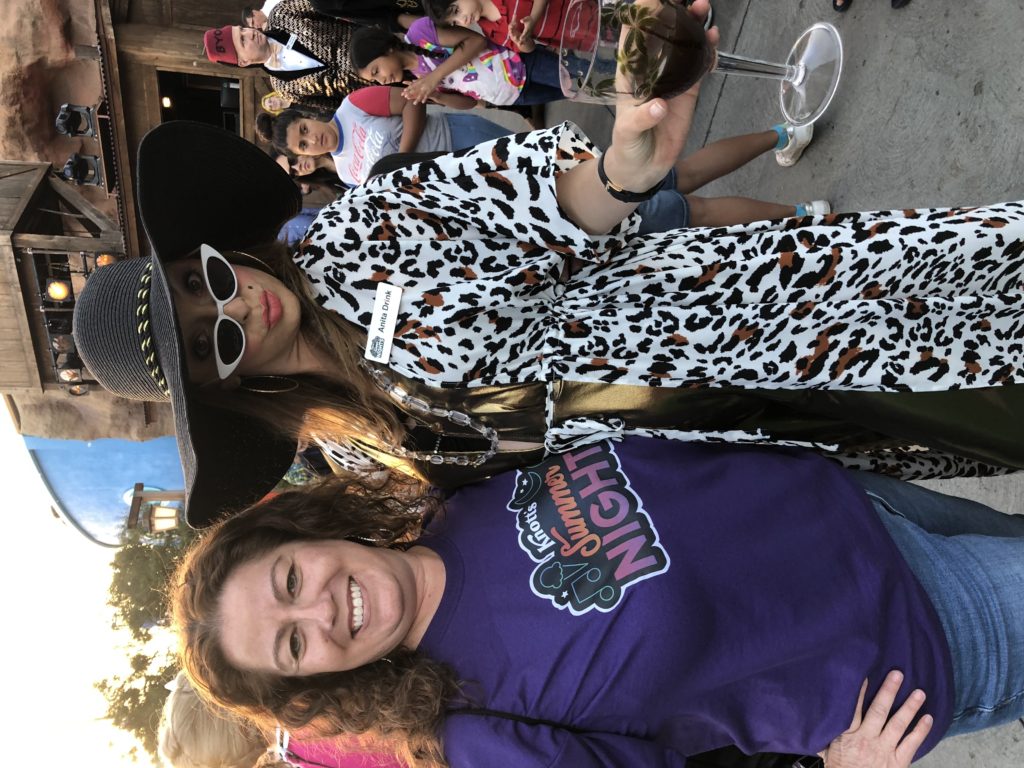 Sal Monella – On the end right! This boisterous fellow wears a chefs hat, a collared flamingo shirt, a red apron a carries a large pair on tongs. But don't eat anything he cooks. You may get sick!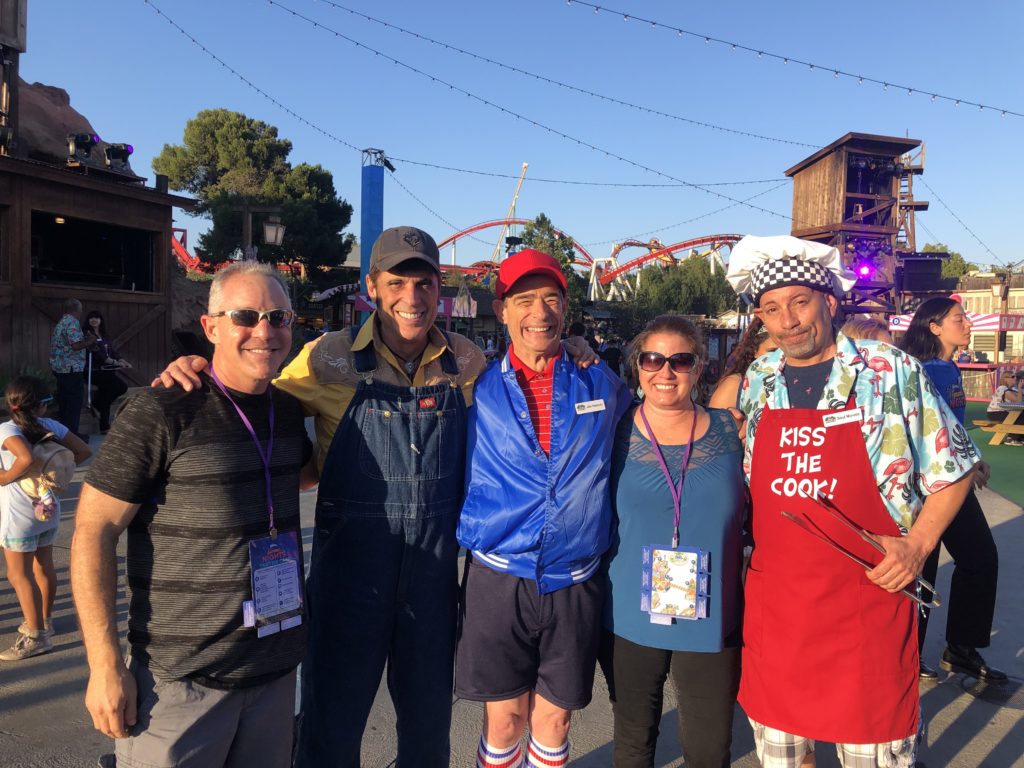 Dunkin Disorderly – Duncan has to be my ultimate favorite. He is the MC and has more personality in his  pinky finger than I have in my whole body! He wears a BYOB hat and a snazzy coat jacket, a gold bow tie, burgundy shorts and sock garters! He is classy as all heck!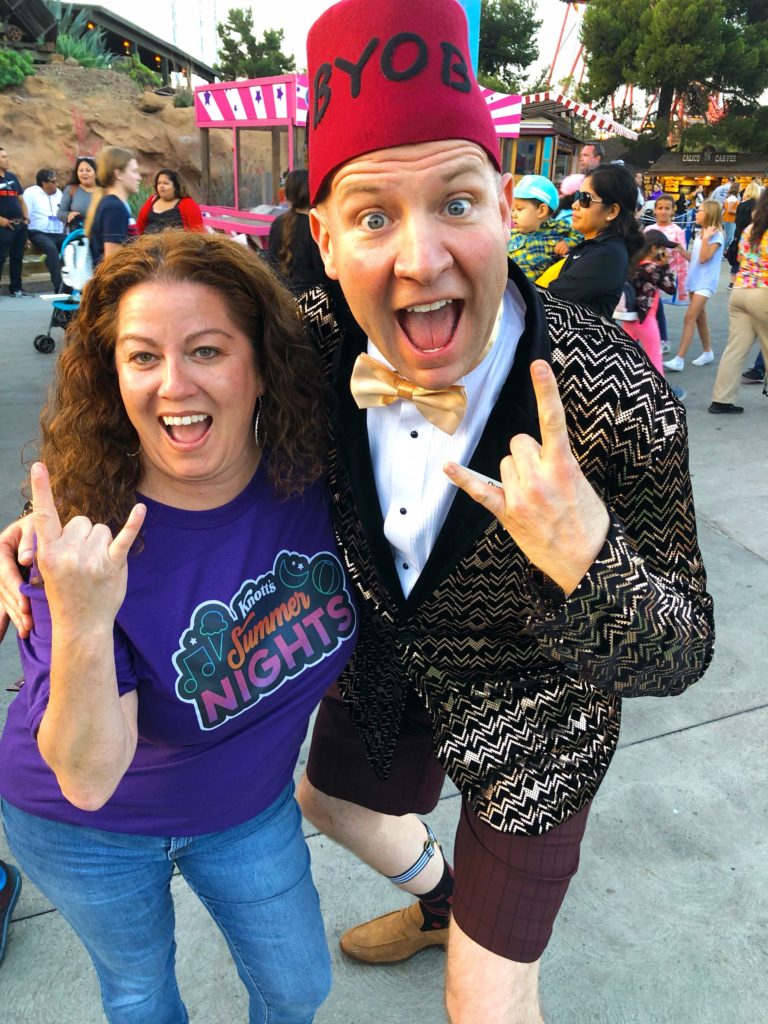 Sandy Shores (Geoffrey the flamingo) – Sandy is a young kid who loves the beach! He wears and inflatable pink flamingo around his waist and a billabong pool hat with white zinc on his nose! HIs flamingo's name is Geoffrey.
Anna Break – This beautiful waitress is hard to miss! She is dressed in bright pink, has very heavy make-up and big hair! she is really great helping the littles play games and she loves to dance!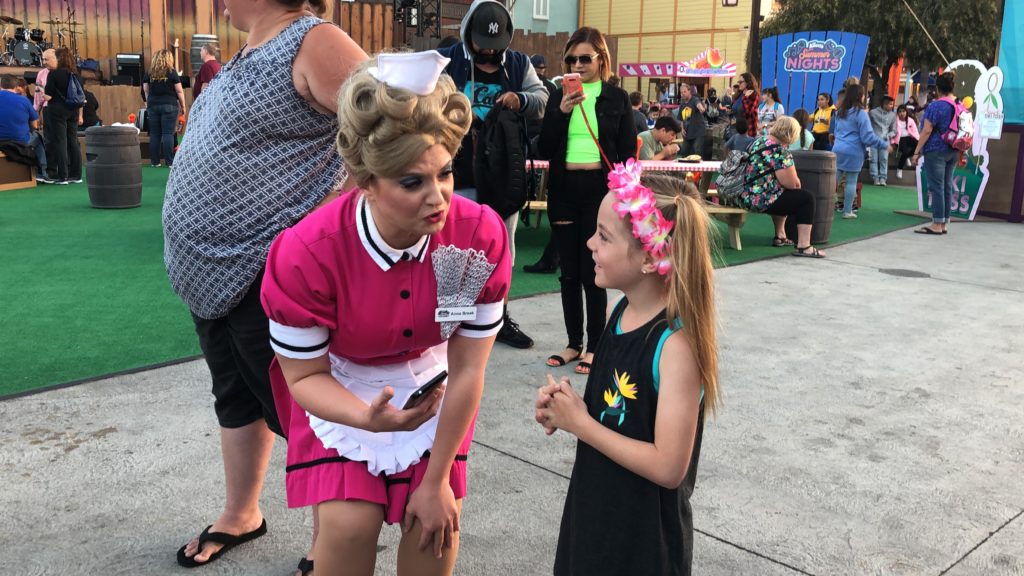 Justin Credible – It's the best scout master in all of Buena Park. His last merit badge is the "Magic" badge so you may see him with a deck of cards perfecting his tricks! Just loves kids and can dance like no ones business!
Helen Highwater – Helen is Duncan's side kick and she is a bit of a hippie with lots of beads and jewelry that she loves to flash!
Marsha Mellow – Keeping things groovy is Marsha Mellow. In pure hippie form Marsha wears Lennon glasses, knot sweaters and a matching headband. She often throws the peace sign and can be found dancing away with Justin Credible.
Bonus Characters:
Knott's Food Offerings
Head on over to the Knott's Berry Farm blog and check out my list of 10 not to miss foodie favorites during Knott's Summer Nights. You may need a napkin for all the drool.
For more information about Knott's Summer Nights follow along with them on Facebook and Instagram.