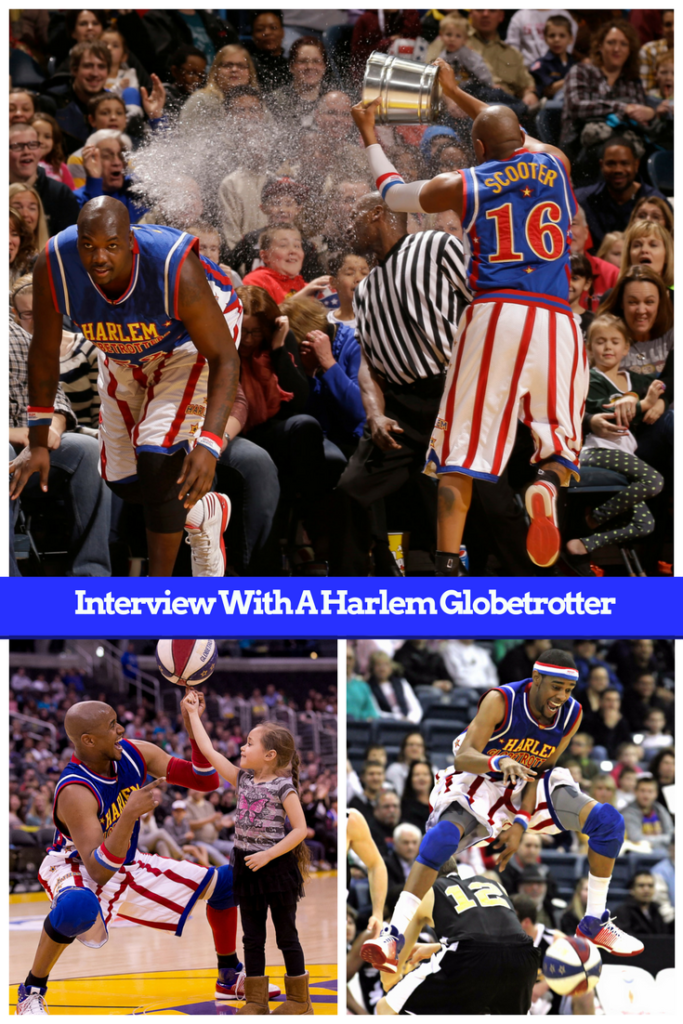 It's that time of year again. Our favorite red, white and blue boys are back with some new tricks and lots of humor. Celebrating decades of smiles, sportsmanship and service to millions of people worldwide, the world famous Harlem Globetrotters will bring their unrivaled family show to the Los Angeles area Feb. 11-19. It's a great family adventure of wholesome fun that makes for special memories.
New this season, for the first time ever, the Globetrotters will debut basketball's first 4-point line. The 4-point line will be located 30 feet from the basket – 6 feet, 3 inches beyond the top of the NBA's current 3-point line.
Their one-of-a-kind show is unrivaled in the world of family entertainment with incredible ball handling, hilarious comedy and loads of fan interaction, including a post-game autograph signing.
For $7 off your tickets use the promo code: CALI when you visit: http://www.harlemglobetrotters.com/socal. The globetrotter will be performing at the following locations:
Ontario at the Citizens Business Bank Arena on Saturday, Feb. 11, at 2 p.m., and 7 p.m.
Anaheim at the Honda Center on Sunday, Feb. 12 at 2 p.m., and Saturday, Feb. 18 at 1 p.m. and 7 p.m.
Mission Viejo at the Saddleback College Gym on Monday, Feb. 13, at 7 p.m.
Los Angeles at the STAPLES Center on Sunday, Feb. 19, at 12:30 p.m., and 5:45 p.m
Interview With A Harlem Globetrotter – Handles Franklin
FRG= Family Review Guide /HF=Handles Franklin
---
FRG: How often do you practice?
HF: Two hours before every game.
FRG: How often are your games?
HF: As a team, we play about 340 games in 250 cities – and that's just in North America.  We'll player another 100 games internationally every year.  We think of ourselves as one team, but we split up into three units to cover the most ground.
FRG:When did you decide you wanted to be a globetrotter?
HF: I saw the Globetrotters on Scooby Doo when I was six years old and knew I either wanted to solve mysteries or play for the Globetrotters.  This has truly be a lifelong dream.
FRG:What do you like most about being a globetrotter?
HF: Bringing joy to kids around the world and giving them a memory that will last a lifetime.  It seems that every person has a Globetrotter memory.  It's amazing to be a part of a 91 year tradition.
FRG:Do you hang out with Globie outside of the games?
HF: Everyone loves Globie and Big G.  I can't get enough of them!
FRG: What is your secret to winning so often?
HF: The Globetrotters have a tradition of winning that dates back to 1926.  Our current team has no plan so of losing anytime soon.
FRG: What do you do in your free time? What hobbies do you have?
HF: In my personal time, I give back to my community of Harrisburg, PA – revitalizing parks and playgrounds.  I'm also a football fan – my favorite team is the Philadelphia Eagles. 
FRG: Do you have an offseason or do you play year round?
HF: Our North American tour runs from the day after Christmas to the end of April.  The other months, we'll tour internationally, talking to kids about bullying prevention in schools, and mix in a little bit of time at home.
[gview file="https://familyreviewguide.com/wp-content/uploads/2017/01/Handles-Franklin-Bio-2017-Tour.pdf"]
Win 4 
complimentary ticket vouchers
***PLEASE NOTE:  These are ticket vouchers that can be taken to the box office for redemption – approximate $25-29 value each.
a Rafflecopter giveaway
We will be attending as media guests.