Last week Melodi and I went to lunch with a friend at Dicky's Barbeque Pit over in Laguna Niguel. I love BBQ food and was so excited I finally got to try this place out. I had passed by it numerous times and each time I vowed I would get in and try it one day. As you approach the store you can already smell the goodness that is cooking and it is just waiting for you to gobble it up! It's as if the smell is saying "Come in and take a bite!" Just from the time it took for us to walk from our car Melodi said "Man that smells good! I'm so hungry!" 3 times!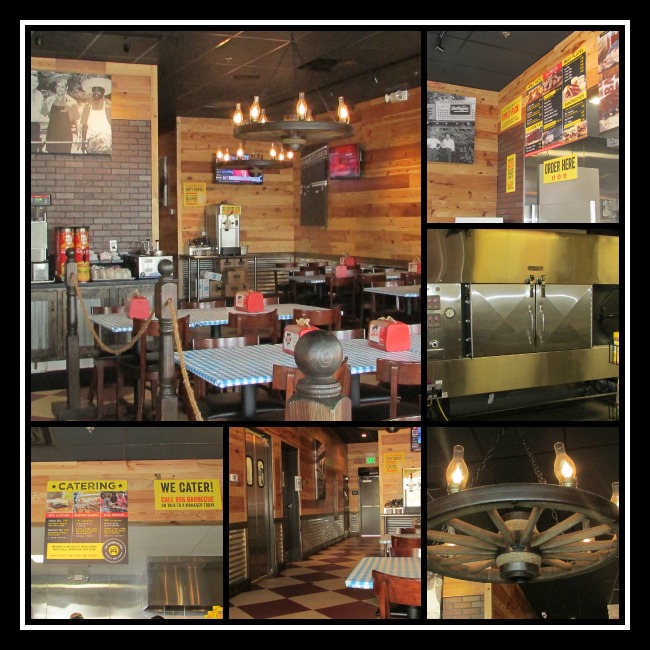 Walking in the interior is super cute! Just as I pictures a barbeque place to be. Checkered floor, picnic style long tables, wagon wheel chandeliers and a HUGE oven to cook and smoke all those delicious meats. The menu has 8 different kinds of meats to choose from and 12 different sides! They also have sandwiches, salads, kids meals and baked potatoes! It took us a few minutes to decide. Everything looked and smelled so fantastic but we HAD to chose…..so we mosied on up to the window.
DICKEY'S BARBEQUE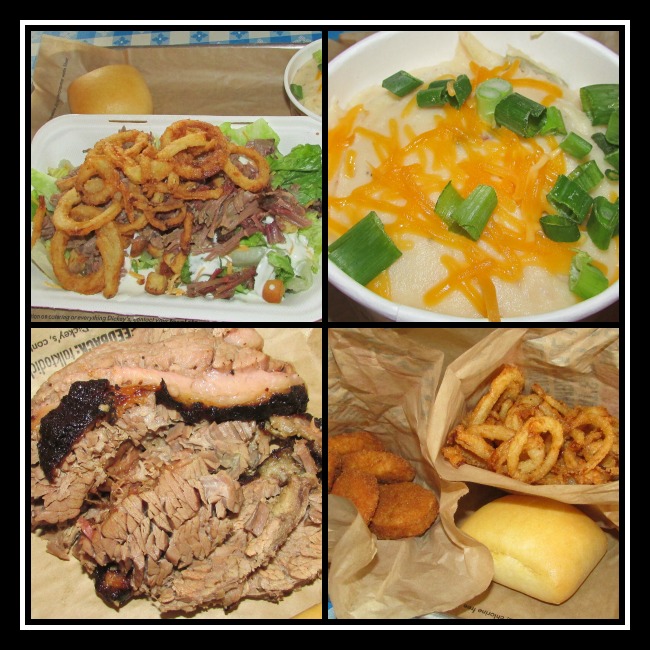 Melodi ordered a meat plate with Beef Brisket, Baked Potato Casserole, Fried Onion Tanglers and a Roll. I ordered the Beef Brisket Salad, side of Baked Potato Casserole and a Roll and the girls ordered Chicken Nuggets with Fried Onion Tanglers and a Role. So first off the brisket was AMAZING! It was so moist that it literally fell apart as you tried to get it into your mouth. The flavor was smokey and yummy and good. The baked Potato Casserole was BOMB!! I didn't know you could make something so yummy as this most yummilicious (That's yummy and delicious in the same word…..I am going to get it into the dictionary one day. Just you watch.) side dish! The fried onion tanglers were TO DIE FOR!! The salad was crisp and fresh and delicious and the chicken nuggets were pretty tasty! The food was seriously so good!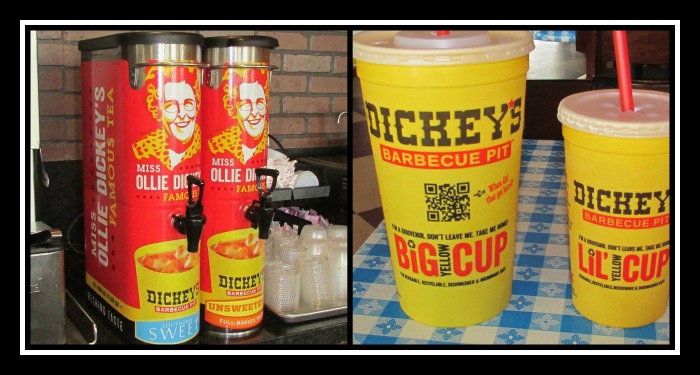 Side note about the drinks: First off, they have super good Iced Tea-Both sweetened and unsweetened. And second of all everyone gets a cup they can take home. You don't even have to pay extra for it! The cups can go in the dishwasher and they won't melt! So I have decided I am going back at least 12 more times so I can get a set of each small and large to keep in my kitchen.
DICKEY'S FREE ICE CREAM!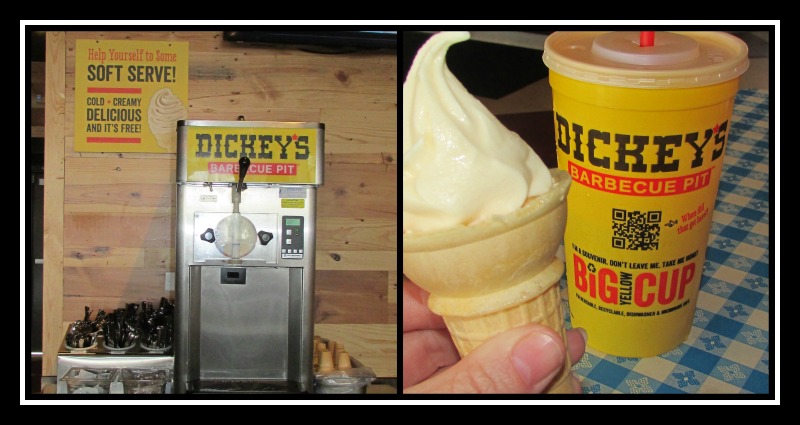 And to top it all off they give you FREE Ice Cream. Yep you read that right FREE! They have a machine right in their dining room with a big ol' sign over it that says "Free". So of course we had to have some. You can't pass up something free! It was smooth, creamy and delicious. And you get to have a cute little cone with it!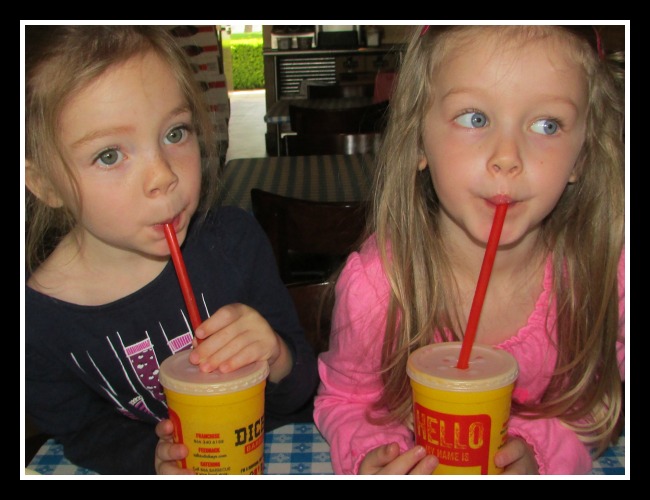 The moms loved Dickey's and the girls loved Dickey's so we will definitely be going again and again and again. And maybe next time we will let the boys come with us!
To find out more about Dickey's Barbeque Pit head on over to their website: www.dickeys.com