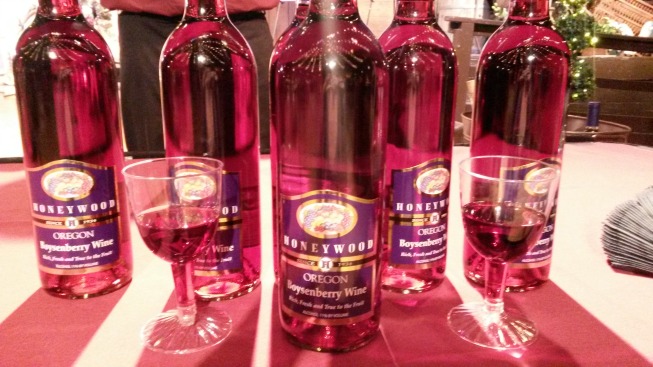 Delicious Bites at Knott's Boysenberry Festival
by Katie Brandenburger, Freelance Writer and Communications Consultant
Springtime is here! Along with the bees buzzing and flowers blooming, anything and everything boysenberry is happening now through April 12 during the Boysenberry Festival at Knott's Berry Farm.
Located in the theme park's historic Ghost Town, the 16-day festival has returned with an unforgettable lineup of exquisite boysenberry bites, dazzling entertainment, a Wine and Craft Brew Tasting Garden and farm fresh fun for the whole family. Entertainment for the event includes dueling fiddlers, Jammin' in the Dark, Peanuts Party in the Park, vine dancing, swing dancing, live music, and other live entertainment.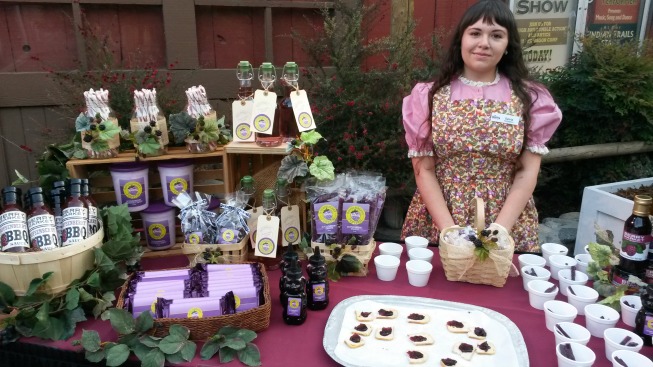 Boysenberry Food
I had the opportunity to check out some of the food and beverage options for this year's festival, and I can promise you one thing: you won't be disappointed!
As I entered the food hall where the event took place, a quote popped into my head: "Life is uncertain. Eat dessert first." So I did. I started with dessert and worked my way down the line from main entrees to appetizers. The first delectable dessert I tried ended up being my favorite item of the evening: Boysenberry Dessert Flautas. The dessert flautas taste like a rolled-up funnel cake with warm, gooey boysenberry sauce in the middle and powdered sugar on top. Absolutely mouthwatering.
The next dessert I tried was an incredible work of culinary art. It was part cinnamon roll, part funnel cake and part donut covered in a tart boysenberry sauce – and it ruined my diet for the entire month, but it was worth every bite. A Knott's Berry Farm Culinary Creation, the Fun Bun definitely lives up to its name.
The Boysenberry Chocolate and Cream Cheese Mousse was a light, creamy blend of deliciousness perfectly displayed in a plastic parfait cup (or a plastic wine glass, depending on how you want to look at it).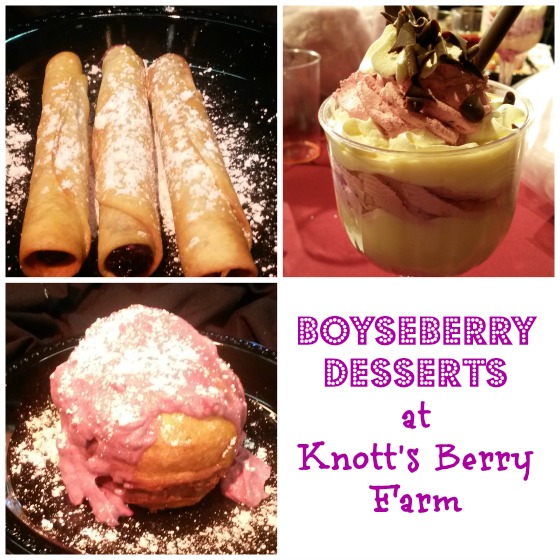 Amid the sweet boysenberry treats was a peculiar snack that looked a lot like fried chicken bites: fried alligator with boysenberry aioli. Yes, fried alligator. Normally I'm not an overly adventurous eater, but I was coaxed by a Knott's staff member to at least try a bite and was assured it indeed "tastes like chicken." And it did – but the texture was a bit more rubbery. And though I can now add fried alligator to my short list of conquered exotic eats, I won't be running back for a second helping. It was just a bit too exotic for me.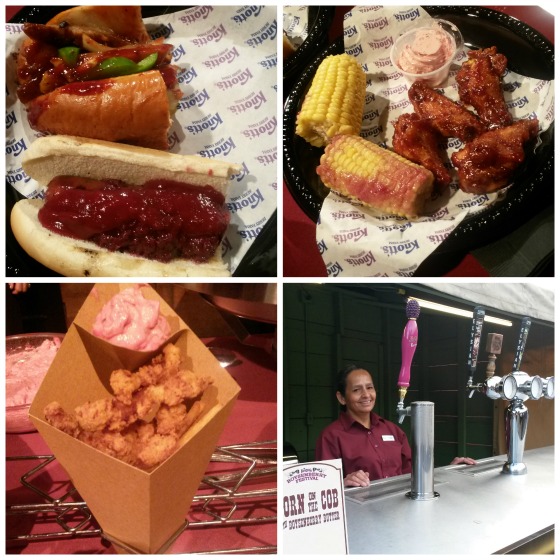 The corn on the cob with boysenberry butter was light and sweet, as were the ribs and chicken wings with Knott's Famous Boysenberry BBQ Sauce, without an overpowering boysenberry taste.
Boysenberry Beverages
And if all the boysenberry-inspired food you can imagine isn't enough, you'll find plenty of delicious drinks including Honeywood Winery's Boysenberry Wine and fresh boysenberry lemonade to please your palate.
The Boysenberry Festival is included with admission to Knott's Berry Farm, but there is an additional cost for food tasting experiences within the event. Knott's has extended hours (10 a.m. to 10 p.m.) during the festival, which runs March 28 – April 12, 2015.
Visit https://www.knotts.com/what-s-new/boysenberry-festival for more information or visit them on Facebook and on Twitter.