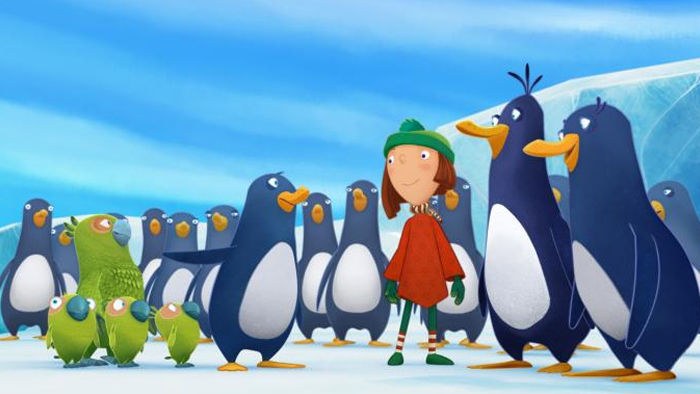 As a mom of 3 I am always driving. Fortunately I have a DVD player in my car and can quickly put in a movie to keep my daughter entertained in the car line at school pickup since we often sit in it for upwards of 30 minutes. Recently I acquired the new movie "Jasper: Journey to the end of the world". It's a tale about Jasper the penguin who believes there is a greater world beyond the edge of the ice. He is proved right when he finds himself aboard an ocean liner in the company of the rarest of birds, the Kakapo, whose main trait is that when frightened she wells up like a balloon. Along with Emma, the captain's daughter, Jasper becomes embroiled in a rescue mission to save the Kakapo's eggs from the menacing Dr. Block and his sidekick Rolf.
Here is a clip for you to watch:
The cast is really cute and is full of British accents. My 4-year-old daughter really enjoyed the scenery in the movie as well as the little girl Emma. The lead villain, Dr. Block is a bumbling thief and quite comical. This is a feel good movie for the whole family and the moral of the story is you may learn just how big the world truly really is.
You can purchase the movie here on Amazon.
 Jasper Cast
 Malte Arkona  – Jasper (voice)
Maresa Sedlmeier – Emma (voice)
Christoph Maria Herbst – Dr. Block (voice)
Torsten Lennie Münchow – Rolf (voice)
Christine Leyser – Diva (voice)
Manou Lubowski – Jaspers Vater (voice)
Katrin Fröhlich – Jaspers Mutter (voice)
Manfred Trilling – Pinguin #1 (voice)
Gerhard Jilka – Pinguin #2 / Passagier Herbert (voice)
Marion Hartmann – Herberts Frau (voice)