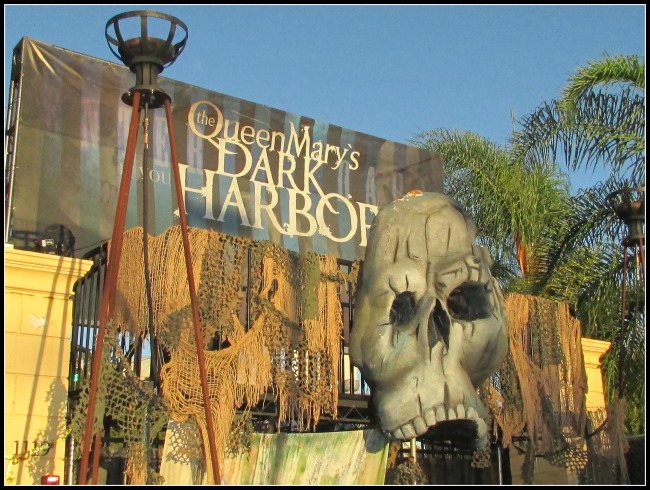 It's back!!! Dark Harbor at the Queen Mary is back for another scary October. I love all things scary so, OF COURSE, I had to go! I was excited to see what was new and how they topped themselves this year. Because every year the Queen Mary out does itself on the awesomeness that is Dark Harbor! It just keeps getting better and better.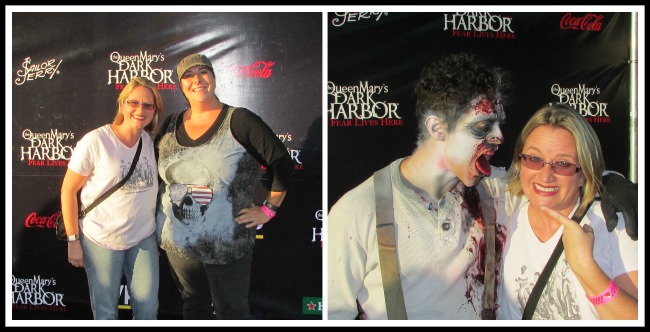 I took my friend Kristen who informed me that she hadn't been to anything like this in years. She was so nervous going in but I knew she would love it. As we were taking pictures on the red carpet a really creepy gross guy came over and wanted to take a picture with me. If he wasn't so bloody and dead I would say he was rather cute. :)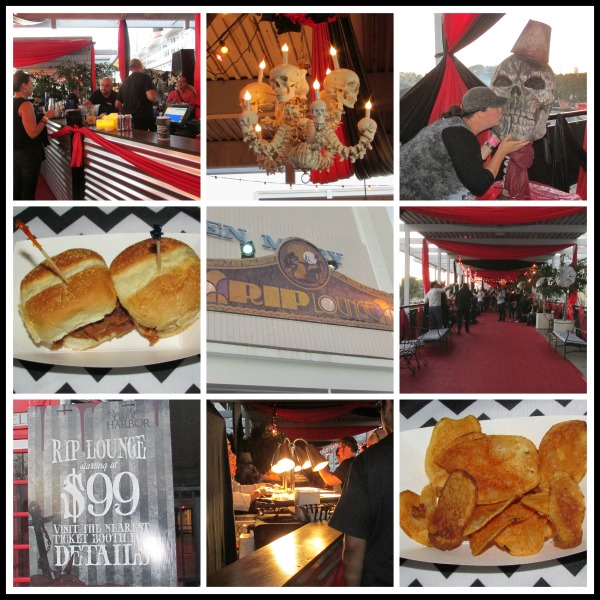 Besides the 6 awesome mazes, they have several new things this year. One of them being the RIP lounge. Get it….VIP….RIP….a cute play on words. For an extra fee, you can get access to this exclusive lounge where they have their own bar, food, couches to relax and super cool decorations. It was located above the attractions so you could see everyone running around and getting scared by all the scary guys. And the sunset was amazing!
DARK HABOR'S LULLABY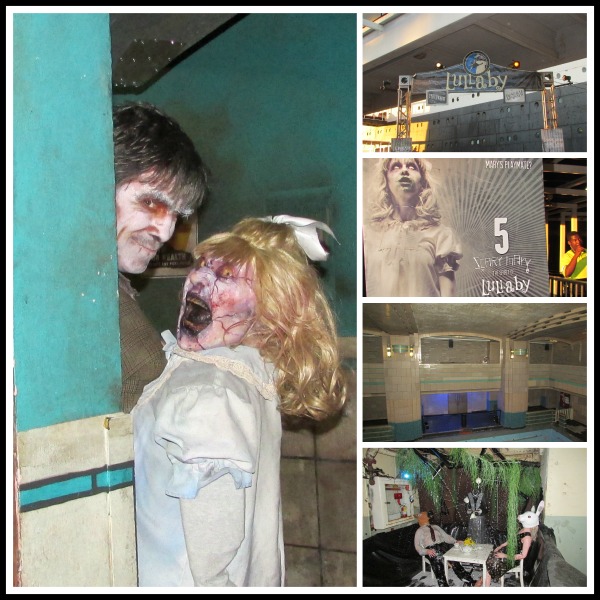 So I am only going to talk about my 2 favorite mazes. There are 6 mazes in all, but I don't want to give it all away. So my first favorite is called Lullaby. It's one of the new ones this year and it is located in the ship and part of the maze goes through the infamous pool area. Which really is haunted so you get that creepy feeling when you walk through it along with getting scared by "Mary" which is this little girl who follows you through the whole thing. Pretty cool right?!?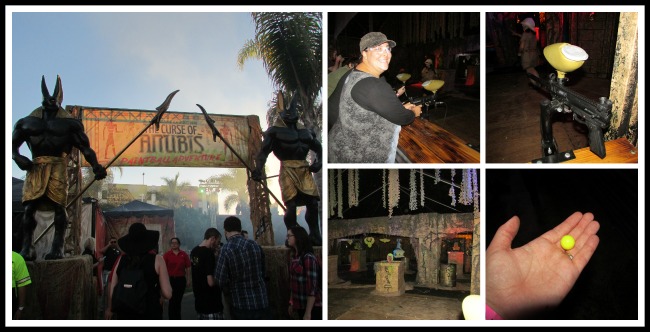 After a few mazes, we decided to try one of the new attractions. Paintball! It's called The Curse of Anubis and you basically get to shoot at lots of stuff (live people included) with glow in the dark paintballs. Don't worry you don't get shot with paintballs, you get to shoot the workers. It was totally fun and I'm a pretty good shot if I do say so myself.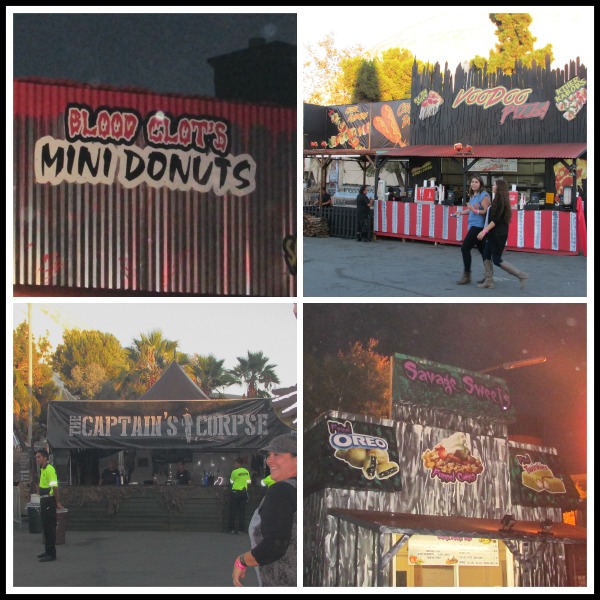 When our tummies started rumbling there was PLENTY to choose from. From VooDoo Pizza to Blood Clot Mini Donuts to The Captains Corpse where you can get some bubbling Absinth. Lot's of really good fair food. Bad for you but oh so tasty!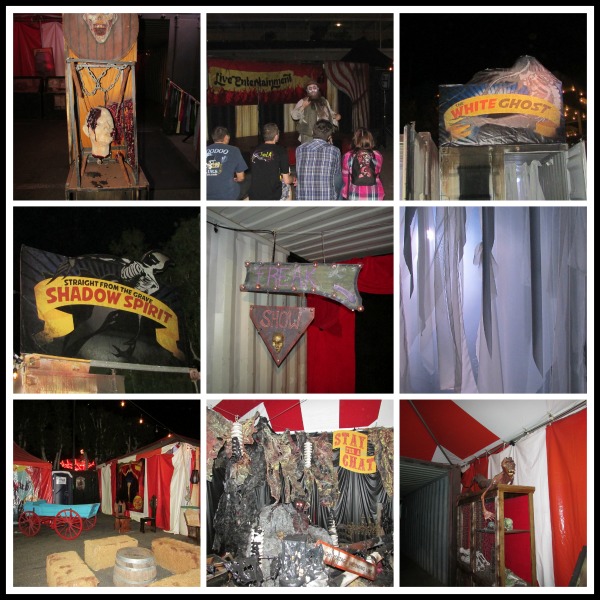 Next came Sideshow Freaks and Oddities. It was like a small carnival within the main carnival. It had 2 of its own mazes (smaller scale of course) a freak show…literraly and a bar. You can always tell where the Sideshow Freaks and Oddities is because they fire spewing out of the opening. Check out my video below:
CREEPY CABANA'S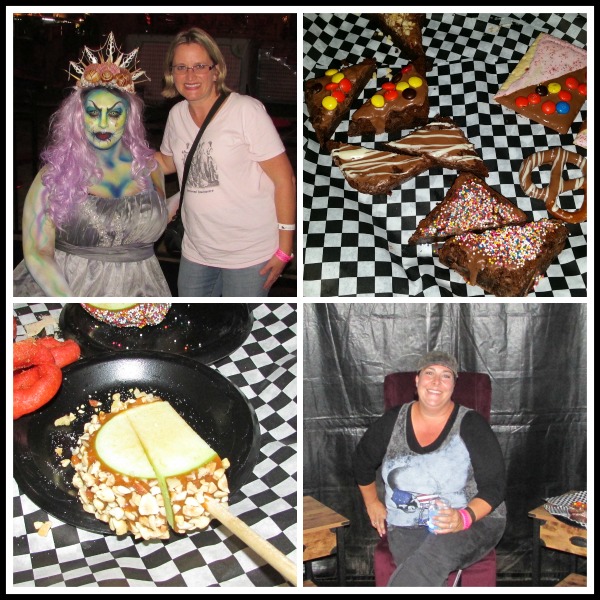 Before we went into our last maze we decided to check out the Creepy Cabana's. These little tents are super comfortable with couches, cool decorations, your own waiter and yummy food! There is a bar right next to them called Nightmariners Bar where we got our adult beverage then we took a breather in the Creepy Cabana's. We had caramel apples, delicious brownies, and crazy yummy Poptarts. Check out the super cool mugs we got our drinks in!
DARK HARBOR'S CIRCUS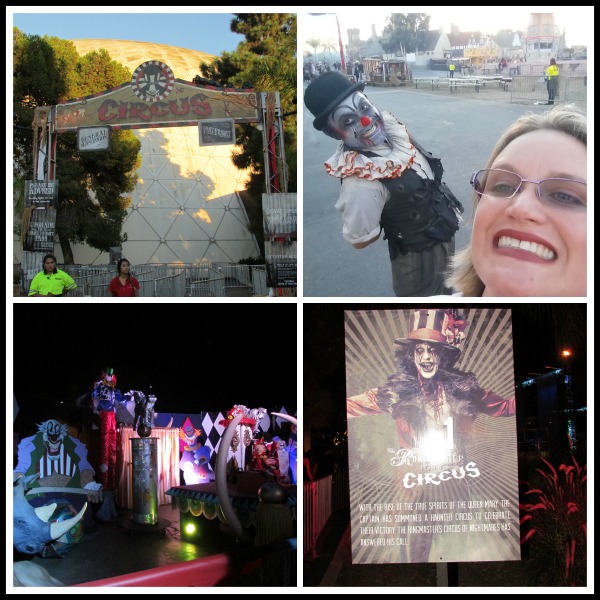 Our last maze of the night was my 2nd favorite. It was called Circus and for those of you that don't know I am SUPER freaked out about Clowns. So of course I knew this one was going to be a doozy! You guys this maze was AWESOME!!! They had this cool tunnel where it felt like you were moving, but your weren't (I have heard it referred to as the Vomit Tunnel by several people while we were there) and part of the maze went though a ball pit. Man, it was so cool!
Here are me and Kristen's reactions coming out of 2 of the other mazes:
So once again Dark Harbor at the Queen Mary was off the hook! I highly recommend it for those of you 13 and up. Don't take your little one's or they will have nightmares.
For more information visit Dark Harbor on Facebook.