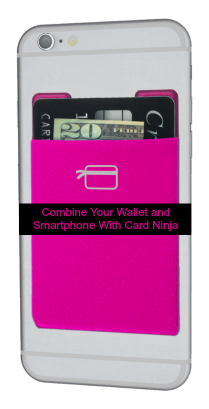 How many times have you needed to run into the store for just 1 item and you don't want to lug your entire purse with you? Now you don't have to with the Card Ninja! This sleek little universal pouch attaches directly to the back of your smartphone giving you easy access to credit cards, cash, drivers licenses, rewards cards or anything else you might need.
Card Ninja Features
Attaches easily, just like a sticker.
Removable.
Extremely slim.
Holds your valuables securely.
Flexible enough to hold one card or up to 8. Cash too!
No more need for a bulky wallet or purse.
No more fumbling through your wallet trying to find the right card, or struggling to try to pull your drivers license out of that tight little plastic pocket in your wallet. The Card Ninja has a neoprene pouch where you can fit up to 8 cards and cash!
How does the Card Ninja Attach To My Phone?
Just peel the backing off the sticky side of the Card Ninja and place it on the back of your phone. Easy-peasy. It is very secure and will not ruin your phone.
What Colors Does The Card Ninja Come in?
Black, Steel, Eggplant, Gold, Blue Raspberry and Majenta.
Who is The Card Ninja Ideal For?
Runners, Moms, Dog Walkers, beach dwellers, and more
For more information visit the Card Ninja on Facebook and Twitter.