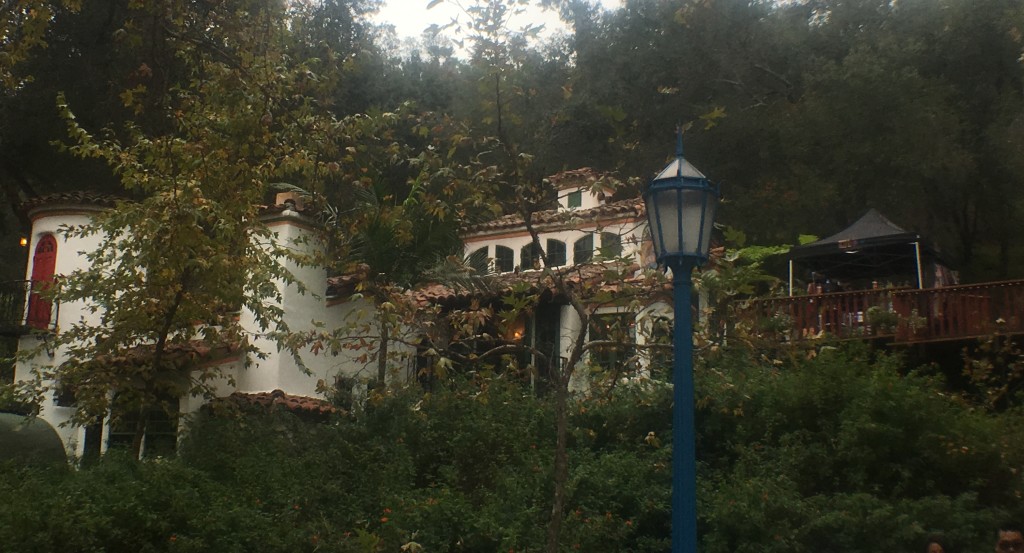 7th Annual Christmas with the Critters at Rancho Las Lomas
Did you know that wild animals and critters love Christmas presents too?  Ever watch a tiger open a Christmas present? Or see a Zebra up close? We did all that and more when we visited the Rancho Las Lomas Wildlife Foundation as they hosted their 7th annual "Christmas with the Critters" event for Orange County families.
Not familiar with Rancho Las Lomas?  Rancho Las Lomas is an open-air museum that lives, breathes, squawks and growls. Their goal is to educate and inspire the community about the wonders of the natural world, while helping all realize every creature of this planet deserves the right to live with compassion and respect. Their mission is to provide the best home possible for the animals in our care.
The 7th Annual Christmas with the Critters was filled with fun for the whole family.  We started our day with a picture with Santa Claus with a very beautiful fireplace background. I'll stop here and just say the whole ranch is beautiful.  They had bounce houses, crafts, live music and special guests.  We bounced, decorated Christmas cookies, made reindeer food and had our faces painted.  We met Elsa and took picture with Mermaids.  Compliments of HB Mermaids
Our very favorite moment was watching the white Bengal tiger open up her present.  She ripped the top of grabbed her turkey and hid in her cave to enjoy her gift alone.  The ranch help said they are very territorial animals and probably thinks that all of staring at her might want her gift.  We just wanted to catch a great close up look at this beautiful exotic animal.  We then watched the Zebras and Emus play and encountered an extremely beautiful and rather magnificent African Serval who was just sitting there taking in all of the action outside of his/her enclosure.
This was not just an event for the kids, but the parents we also able to enjoy some holiday shopping from various vendors and participate in a silent auction.  The whole family was treated to a delicious lunch catered by 24 Carrots catering and Events. The event even offered couple adult beverage options for purchase.  Shopping opportunities were given by Tin & Velvet, Off the Cuff Jewerly, LulaRoe, Scentsy, Ink & Pearls Clothing, Grumpy Dog Candles, Kelly's Croutons and Luisa Chocolatiere

Besides watching Lily, the Bengal tiger open her gift, my favorite part of the day was the singing sensation of A. Rae and the Rescue Dogs.  They are a young (11 and 9 years old) singing duo Alexa and Avery Rae and they are adorable.  For the last year and half this dedicated duo has been singing around the community at their mom – Kelly Rae's shows.  It's a family team and even dad gets into the picture by writing all of their original material.  They are not just aspiring artists they are giving the proceeds from their shows and CD sells to help rescue dogs.   Which so far has been about $2,500.
The Rancho Las Lomas Wildlife Foundation and A. Rae and the Rescue Dogs are match made in Heaven.  Their love for the animals is inspiring and heart warming.
Did you miss out on the event but still want to help?  Make one of their resident animals holiday wishes come true, check out their Amazon Wish List: https://www.amazon.com/gp/registry/wishlist/3D6LBUK7GJ4VO/ref=cm_sw_su_w
About Rancho Las Lomas
Rancho Las Lomas is Southern California's most spectacular private resorts and zoological garden. Hidden away in the foothills, this lovely special event location is used for weddings, film and photo shoots, and unique corporate and commercial events.
Rancho Las Lomas Wildlife Foundation (RLLWF) is a non-profit dedicated to the creation of a crucial link between people, animals, and the preservation of nature. RLLWF is established to create a beautiful place for people to connect with the wild in our world, and demonstrate ways by which all can make a positive contribution to the environment.  RLLWF operates from the grounds of the beautiful Rancho Las Lomas located in the foothills of Orange County California. The property encompasses over 50 acres in the midst of urbanization. The unique setting creates an ideal opportunity to attract visitors while promoting wildlife protection and education.