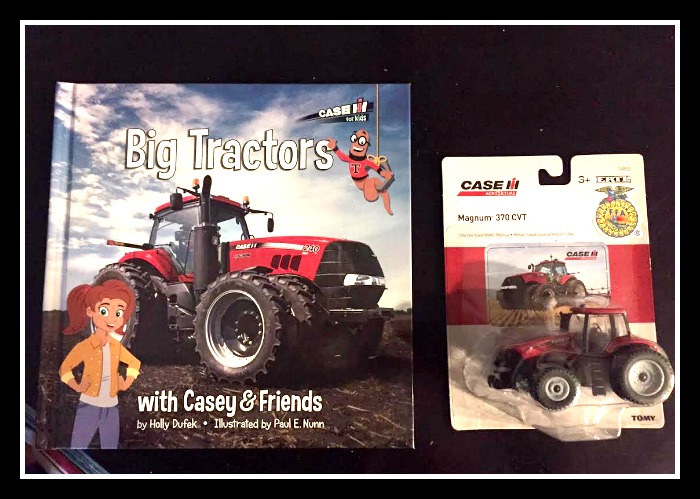 My friend Erin recently gave me the book Big Tractors with Casey & Friends to read to my 4 and 5-year-old boys.  They were so excited to see a matching toy tractor come along with the book.  Published by Octane Press, the Casey & Friends series of books uses pictures of real farming situations in conjunction with cartoon characters to explain to little ones how farm equipment works in a super fun way!  The characters include Casey the farmer, Tillus the worm and Big Red the tractor.  Big Tractors is one of several other books in this series.  Others to look for are A Year on the Farm, Combines and Planters & Cultivators.  Any child with an ounce of interest in farming, equipment, food or animals is sure to be excited about this series of books.
CASEY & FRIENDS BIG TRACTORS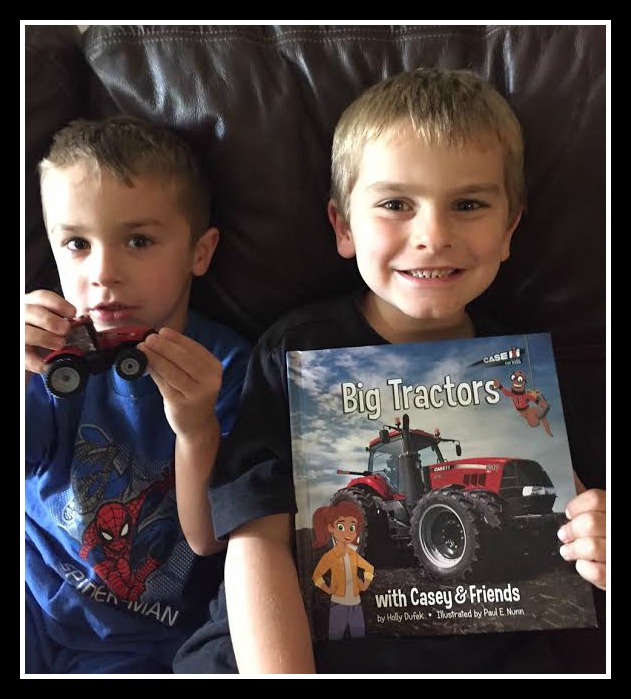 We all know it can be challenging to read an entire book to kids, especially younger kids, trying to keep their interest the entire time.  Big Tractors made this extremely easy.  In fact, my boys had so many questions about the story along the way, that we actually were able to take time at dinner to tell their dad all about what they learned and what they liked best about the story. My 5-year-old especially liked that it isn't for babies" and "teaches my brother the definitions at the back of the book".  My 4-year-old liked that it has such great pictures in it.  What I liked about the story is that is teaches children about thinking ahead in a situation and working as a team. As parents, we are always trying to both of these but this story makes it fun!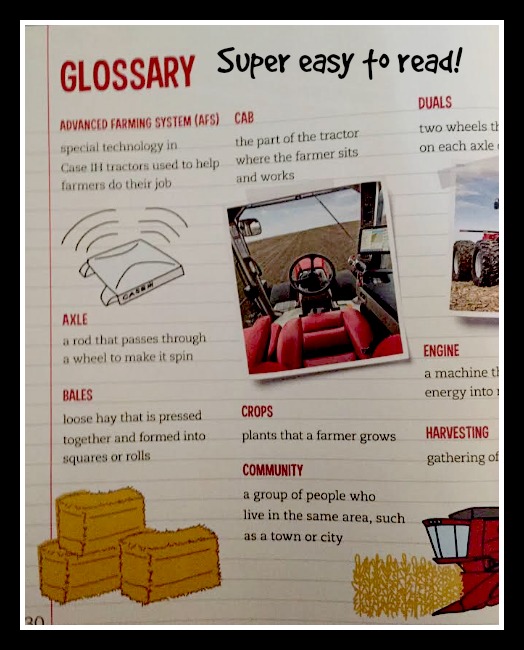 I also liked the last page that has a glossary of terms used in the book with a definition and picture for kids. I also think I made some headway with my youngest son to teach him that fruits and vegetables don't exactly come from the grocery store.  There is a bigger process that comes before mom or dad going to the grocery store! Be sure to check out this series of books.
For more info on Octane Press, the publisher, check out their website: www.octanepress.com/home