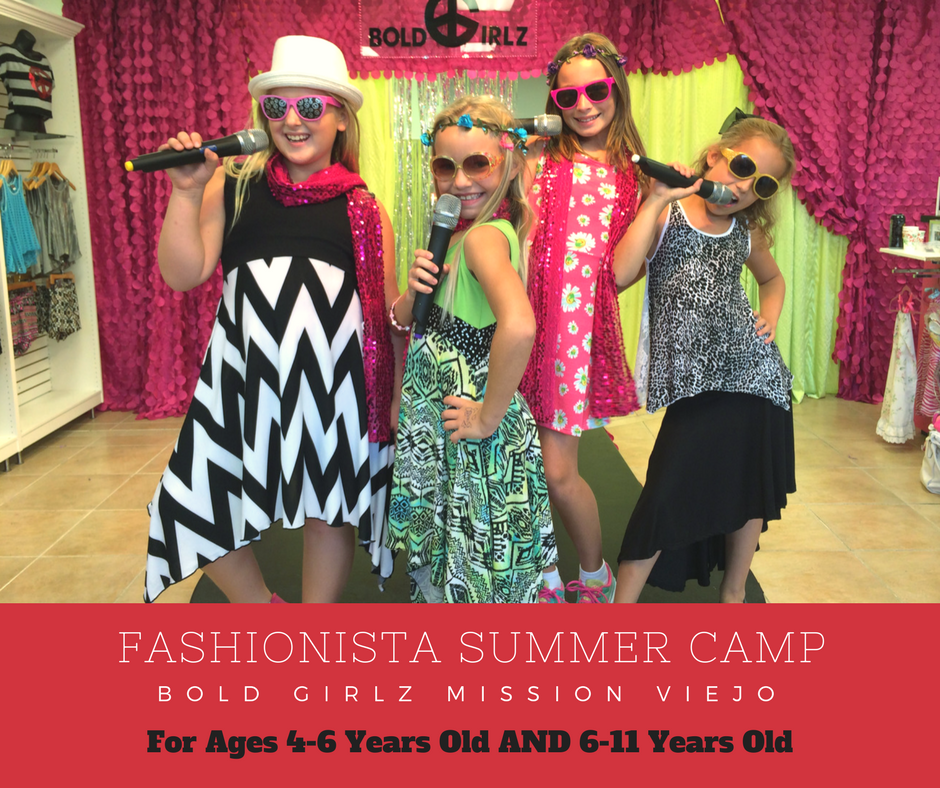 Do you have a daughter who loves to express herself through fashion and style?  We know just the camp for that! Fashionista summer camp at Bold Girlz in Mission Viejo is the ultimate girl power camp that fosters self esteem and empowerment through fashion and fun and inspires them to give back.
What is The Mission Of Bold Girlz?
Brave: Build Self Esteem.
Original: Provide a place where girls can express themselves and their talent.
Loving: Inspire girls to give back and create awareness and fundraising for non-profits that empower girls.
Daring: Instill Empowerment.
Watch this video and see for yourself!
What Does A Sample Camp Day Look Like?
Fashion camp is offered for two age groups. Ages 6-11 and also ages 4-6.  For the 4-6 age group it is not as structured as the 6-11 class so crafts and jewelry making are a large part of the camp.
For the 6-11 year old group a sample day looks something like this:
6-11 year olds
**Each day includes outfit selection + Fashion Show Finale! 
MONDAY – INTRO TO FASHION 
 Designer Inspiration
 Latest Fashion Trends
Create Fashion Vision Board
TUESDAY – FUN SPA FACIALS
The (3) phases of skin care – Cleanse, Exfoliate, Minty Facial Mask
Relaxation techniques with cucumbers over eyes; hand massage 
WEDNESDAY – ETIQUETTE TRAINING
Proper Dining, Social Manners, Introductions
THURSDAY – T-SHIRT DESIGN
Fashionistas will incorporate what they have learned into their design
FRIDAY – JEWELRY MAKING & FASHION SHOW FINALE
Girls will make beaded bracelets
Fashion Show Finale at 1pm for Family to attend
How Much are The Camps and What is Included?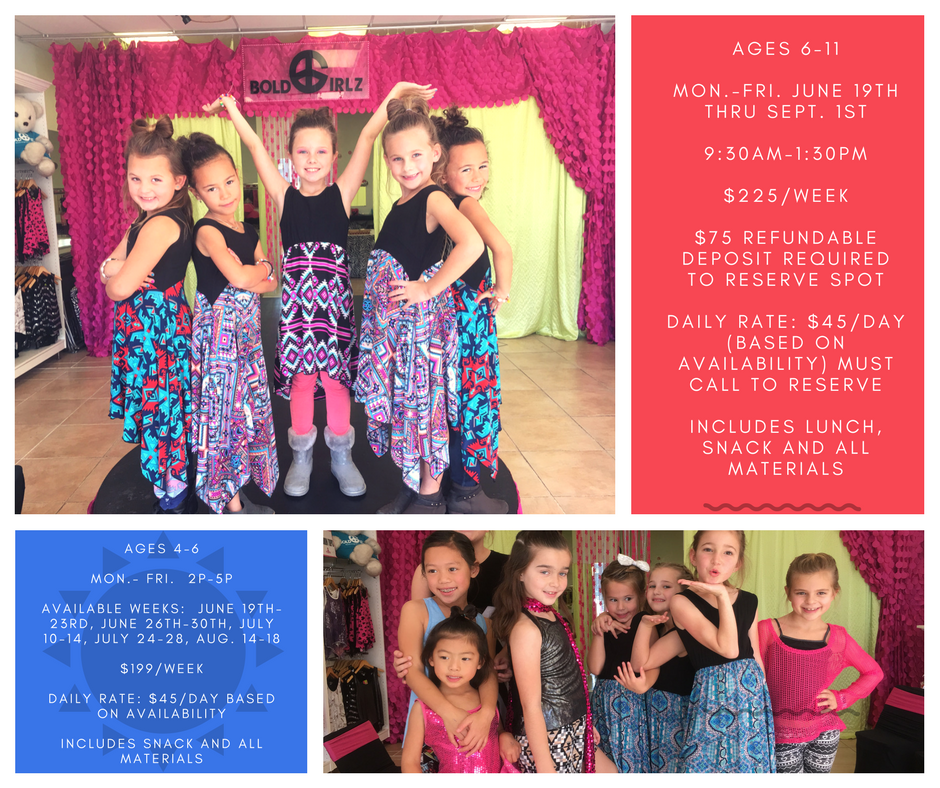 For Ages. 6-11 camp is offered Mon-Fri. June 19th –Sept. 1st
Time: 9:30am – 1:30pm  
Price: $225.  Please use the code FRG to receive $25 off the initial price. Price includes snack and All materials. Sign up here.
---
For Ages 4-6 camp is offered  Mon-Fri. 2-5p June 19th-23rd, June 26th-30th, July 10-14, July 24-28, Aug. 14-18
Time: 2:00pm-5:00pm
Price $199. Please use the code FRG to receive $25 off the initial price.  Price includes lunch, snack and all materials. Sign up here. 
Get Social
For more fun and exciting updates, visit Bold Girlz on Facebook or Twitter.
Ettiquette Class Review
Learn About Ettiquette Class At Bold Girlz. Click on the photo and it will take you to a recent review.