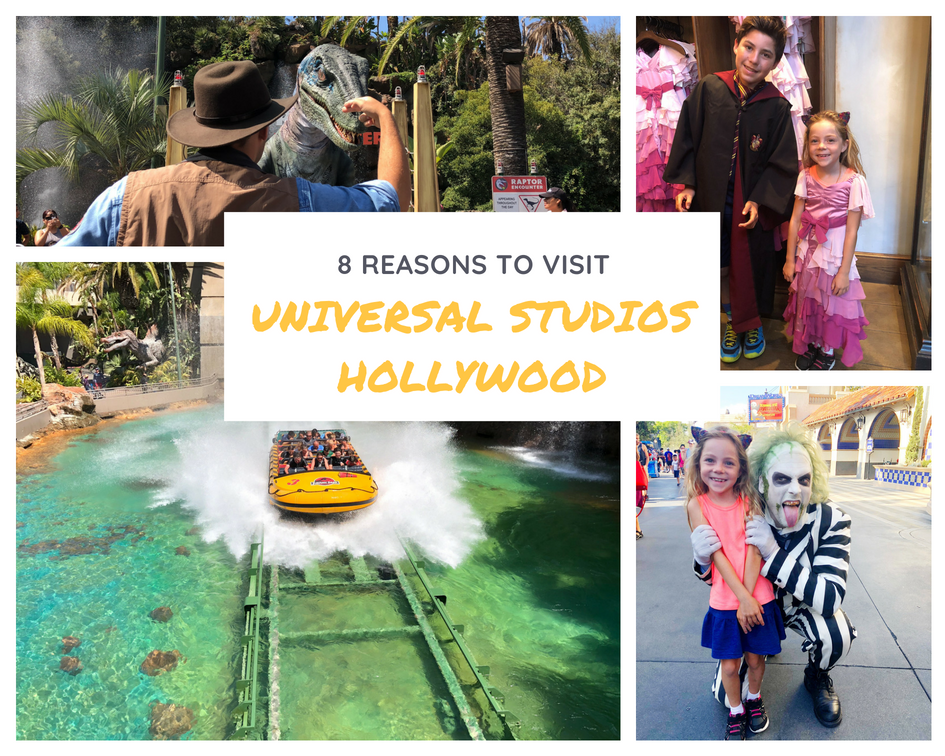 Universal Studios Hollywood is bursting with so many new and exciting attractions this summer. The entertainment capital of L.A. is a great place for families to create memories, share laughs, and discover the magic behind Hollywood's latest and greatest films. Here are 8 great reasons to visit the theme park this summer:
DreamWorks Theatre featuring "Kung Fu Panda: The Emperor's Quest
The Shrek attraction, which opened in 2003 and included animation, animatronics and 3-D effects to tell the story of how Shrek and Donkey save Fiona from Lord Farquaad has now been replaced with Kung Fu Panda: the Emperor's Quest. It's a multi-sensory adventure inspired by the global blockbuster franchise Kung Fu Panda. This new technologically advanced attraction takes you on a legendary journey that fuses captivating storytelling with state-of-the art projection mapping and LED lighting effects for a highly engaging and immersive, unstoppable-awesome experience.
When you first enter the theater you will watch Po, Tigress, Alex the Lion, The Penguins, Skipper, Rico, Kowalski and Private, King Julian; Poppy and Branch and Puss 'n Boots banter with each other. There is also a cameo by Shrek and Fiona. The seats are extremely comfortable but don't be fooled. All of the seats move during the 2-D movie. It's a lot of fun and a lot of motion.
Ride Jurassic Park — The Ride One Last Time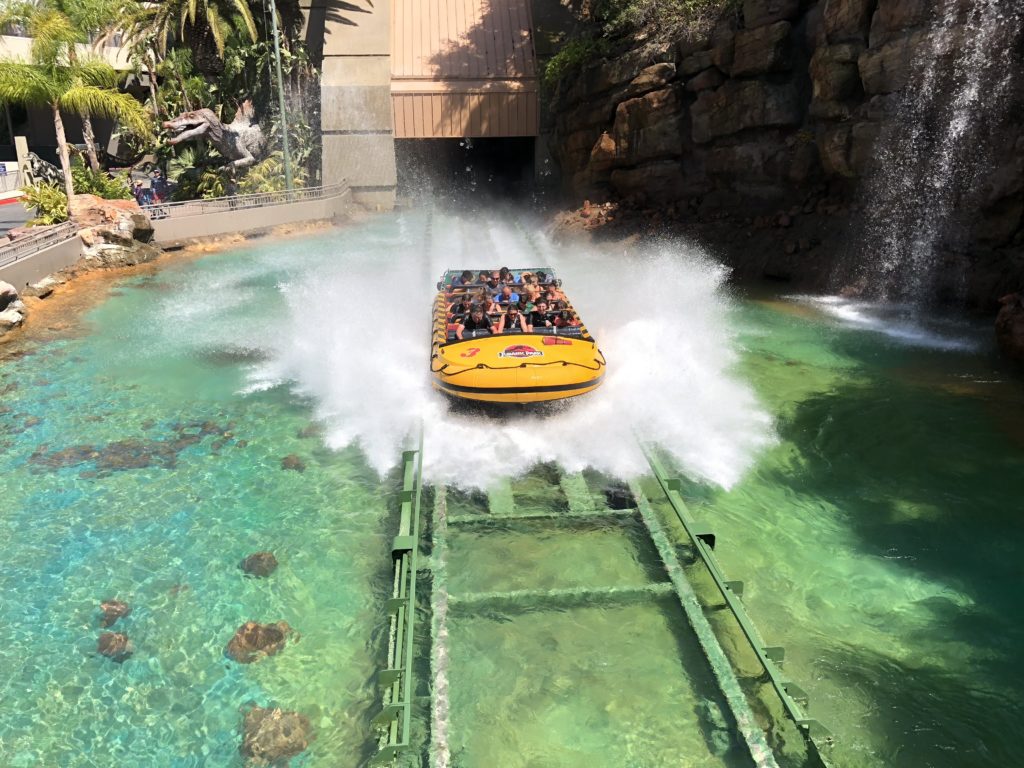 Be sure to experience Jurassic Park®- The Ride before it goes extinct on Sept. 3, 2018 to make way for the new Jurassic World ride opening in 2019! 1.5 million gallons of water are used in the ride and you will absolutely get wet (drenched is more appropriate). However, on a hot sunny day it is super refreshing and you dry very quickly. During the ride you'll see dinosaurs in their natural jungle habitat and you'll narrowly escape a life-sized T-rex as your raft makes an exhilarating 84-foot plunge to safety. There are periods of light and darkness so be sure to let littles ones know there are parts where it will be dark.
Meet Blue The Velociraptor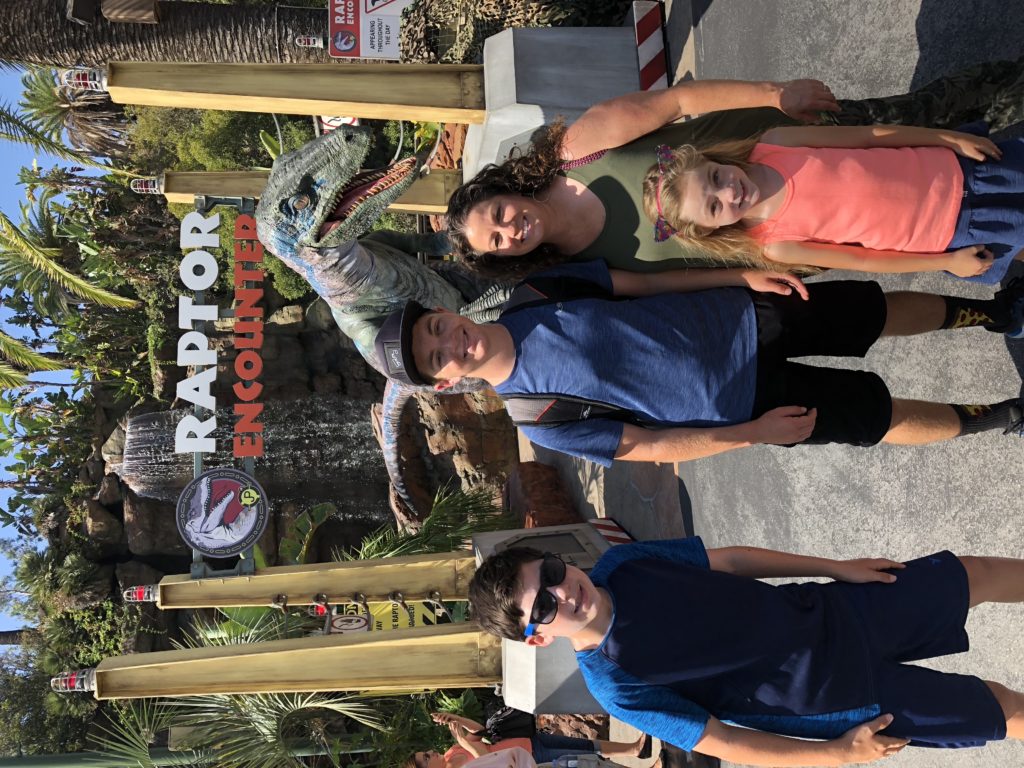 Right next to Jurassic Park the Ride is "The Raptor Encounter". Here you can confront Blue, one of the most popular velociraptor from the blockbuster Jurassic World franchise. Blue is a moody velociraptor with huge teeth and she is the exact computer-generated model as she is in the big screen. At 12-feet-tall, and 15-foot-long Blue will take pictures with you  and is given orders by her handler. Be prepared to laugh and even get scared as Blue has a very loud growl.
New wand magic and Spells At The Wizarding World Of Harry Potter
There is new wand magic featuring the Incendio fire-making spell and the Alohomora unlocking spell in The Wizarding world of Harry Potter. The Incendio fire-making spell, will shoot flames of varying size based on skill level. The Alohomora unlocking spell unlocks a series of intricate locks that may reveal the fiery breath of a creature hidden behind a secret door. I did notice that some of the guests had a little trouble with their wands but there was always a cast member there to help!
New lunchtime menu items at Three Broomsticks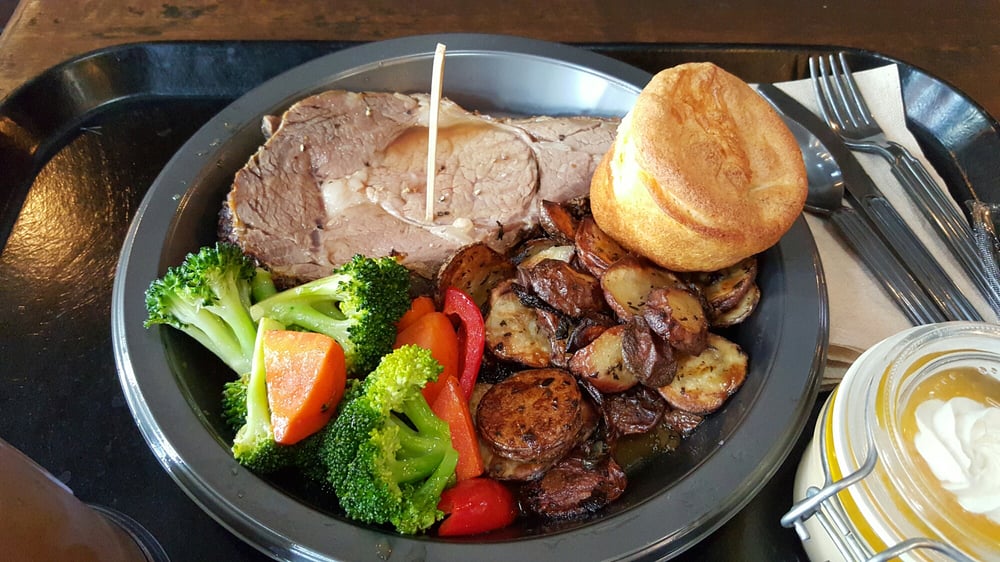 Photo Credit: Kristine J/Yelp
My favorite place to eat inside Universal Studios has always been Three Broomsticks. The location is close to the entrance, the atmosphere is nice and the service is fast, but most of all the food is delicious. Recently, the restaurant introduced three new item menus:
Ploughman's Lunch – imported selection of ham, salami, country paté, English cheese, homemade pickles and a warm scotch egg served with bread, cranberry chutney and grain mustard
Cheese Toastie with Chicken – grilled English Cheddar cheese with chicken, crispy bacon, mustard and sliced tomato topped with a sunny side egg served with a fresh salad or potato wedges
Sunday Roast Sandwich – served on a freshly baked baguette filled with warm prime rib, caramelized onions, English Cheddar, horseradish sauce and homemade garlic pickles served with fresh salad or potato wedges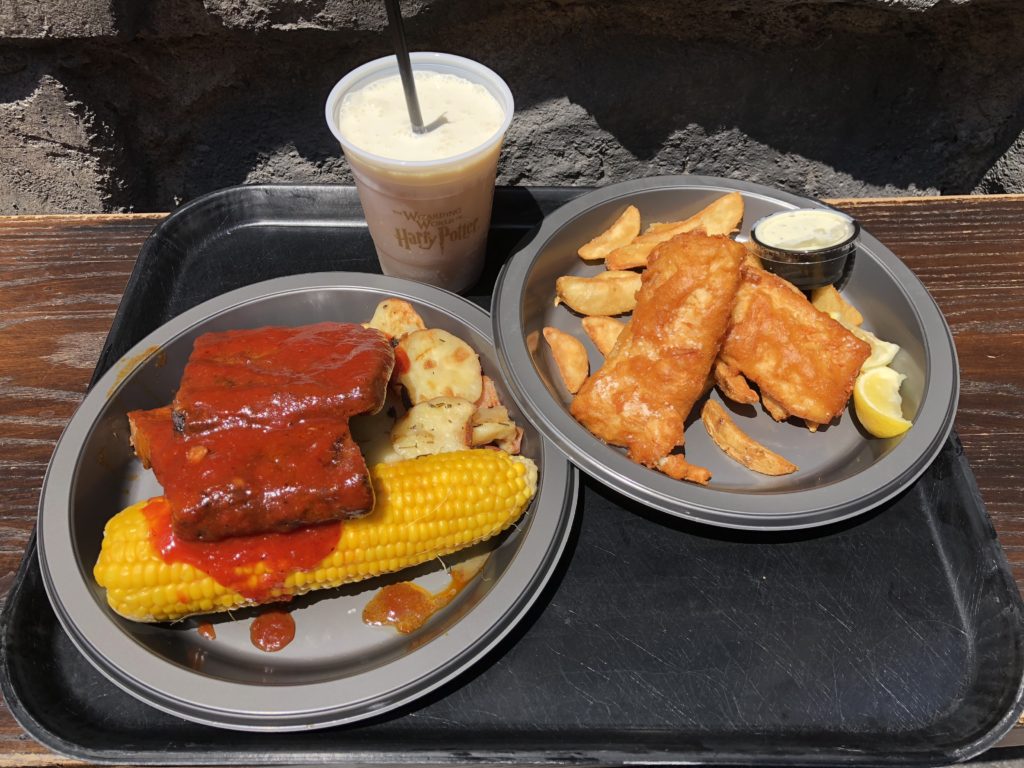 Gladrags Wizardwear
Channel your inner wizard at Gladrags Wizardwear with new high-end costume replicas of Professor Severus Snape's robe and Hermione's Yule Ball dress, available in adult and kid sizes. For Hermione's Ball Dress they happily let my daughter try one on for size and my son got fitted for a full Harry Potter robe and tie. The dress was around $350 and the the Robes/ties are priced accordingly. It's like a Harry Potter Dress Up Store! We even saw adults doing it.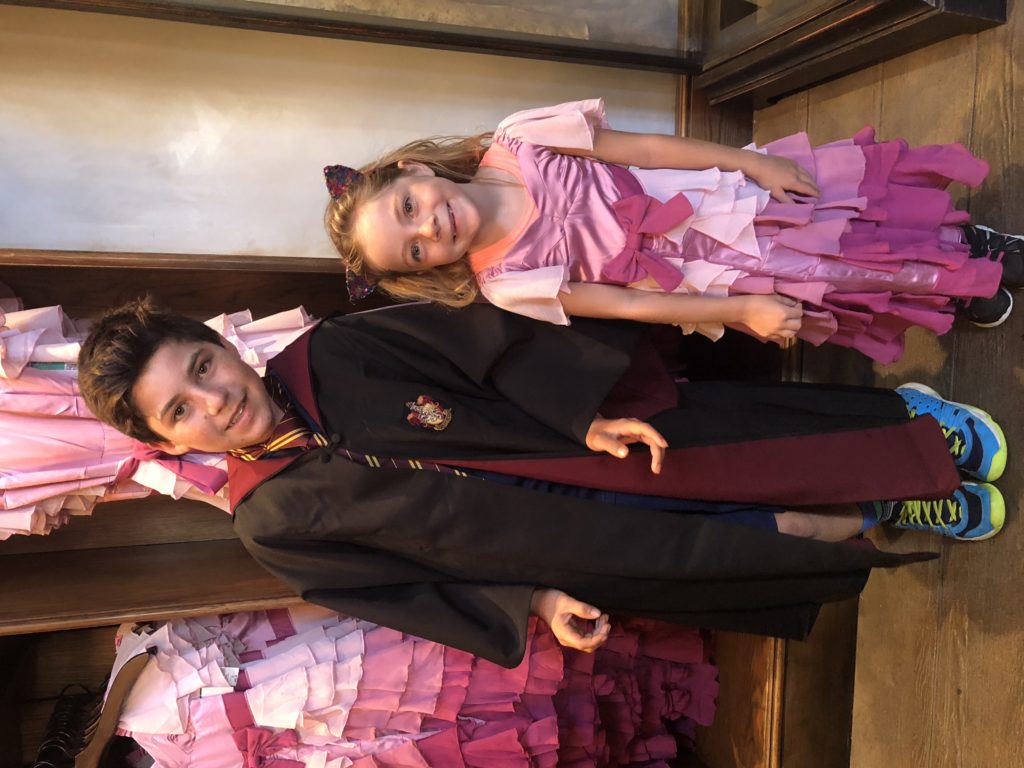 Meet and Greet With Po and Tigress and Mr. Pings Noodle Shop
Character meet and greets are HUGE at Universal studios. Between Hello Kitty, Beetle Juice, Minions, Optimus Prime, Bumblebee and Megatron, The Simpsons, SpongeBob SquarePants, Shrek, Donkey and Princess Fiona, Curious George, Scooby-Doo & Shaggy the Raptor encounter and many more! You never know who you might meet! New to Universal Studios is Po and Tigress. Guests can pose and hug both characters which take place right next to Mr. Pings Noodle Shop!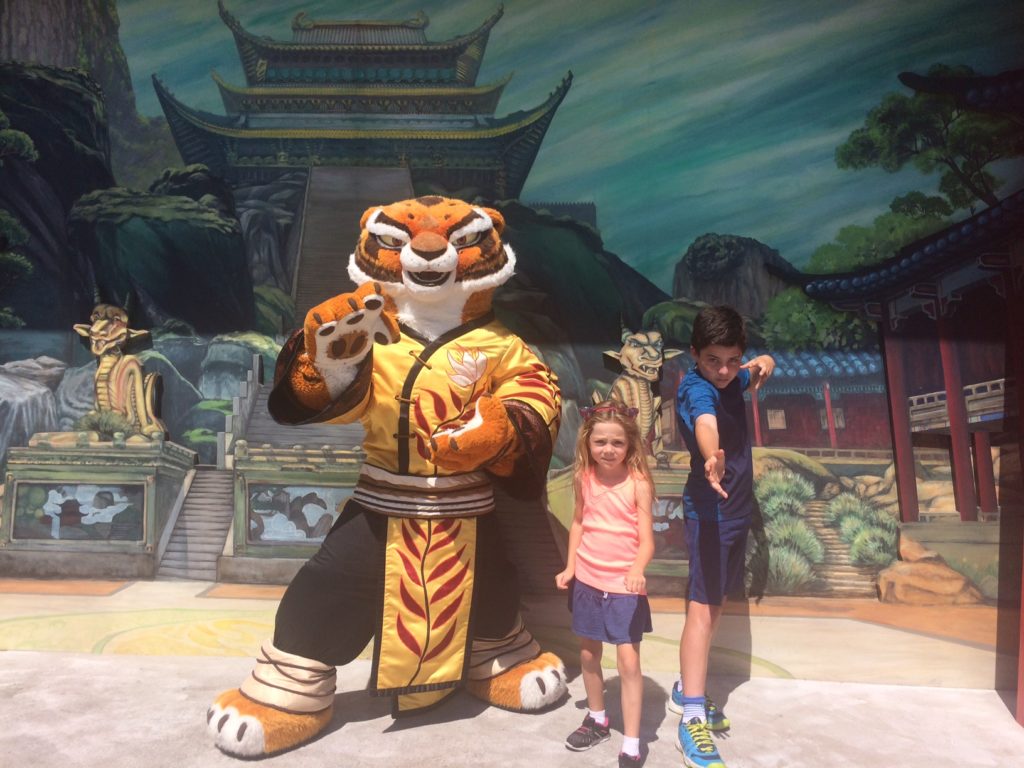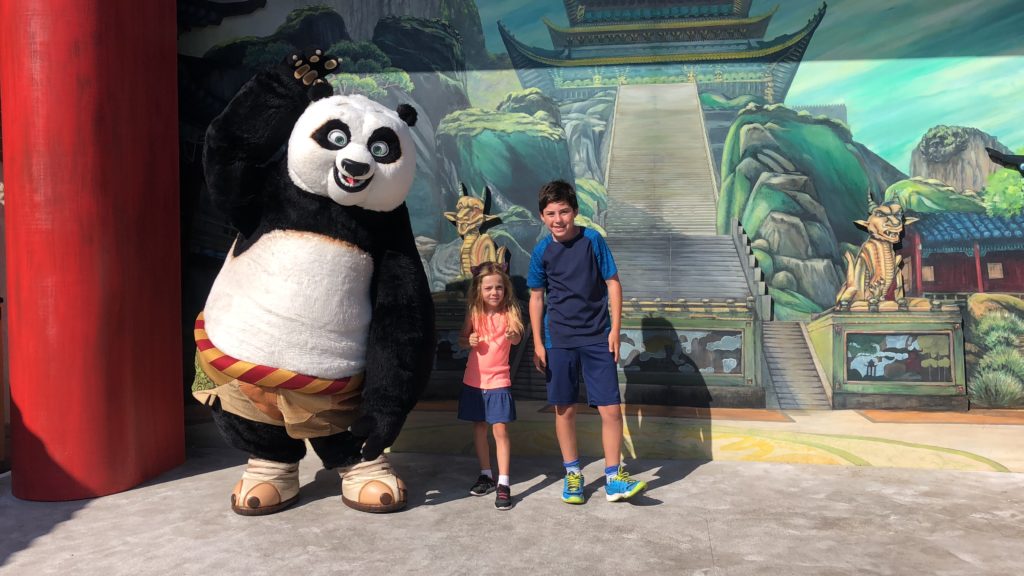 Mr. Ping is a crack up and spends a lot of time talking with you. We probably saw him three different times and each time was a different experience with new laughs and new jokes. His secret ingredient noodles are awesome and can be purchased next door!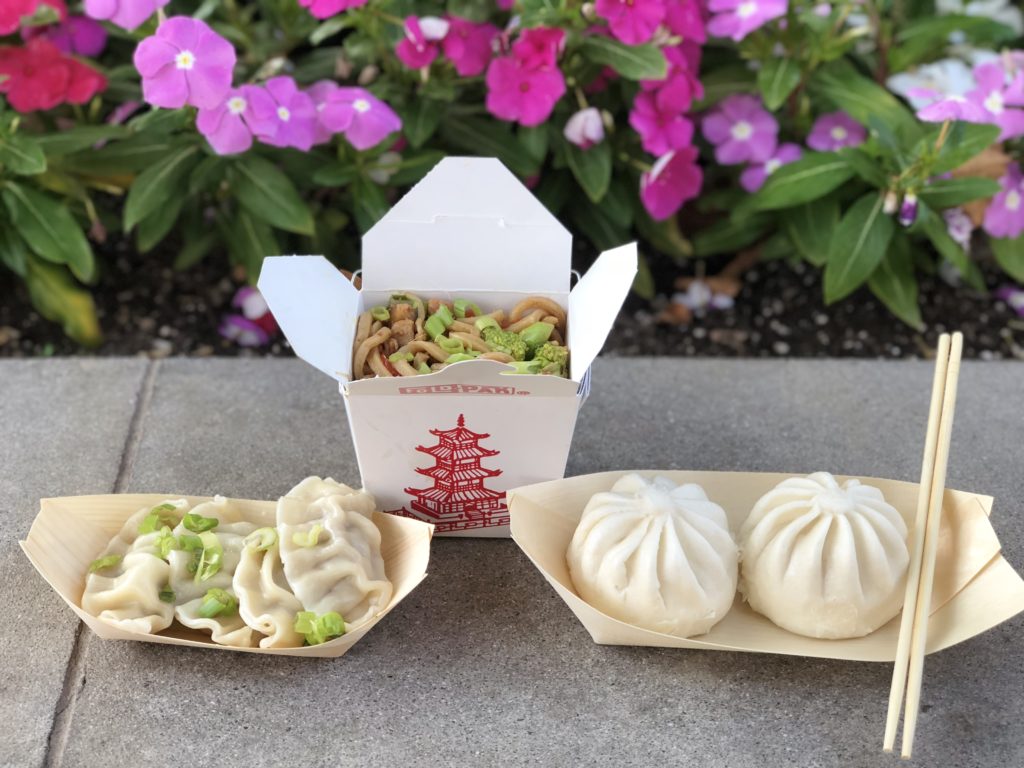 The noodles come with a choice of chicken, tofu or beef and the potstickers are absolutely delicious. I have never tried Bao before and now I am hooked! Three Broomsticks has some serious competition.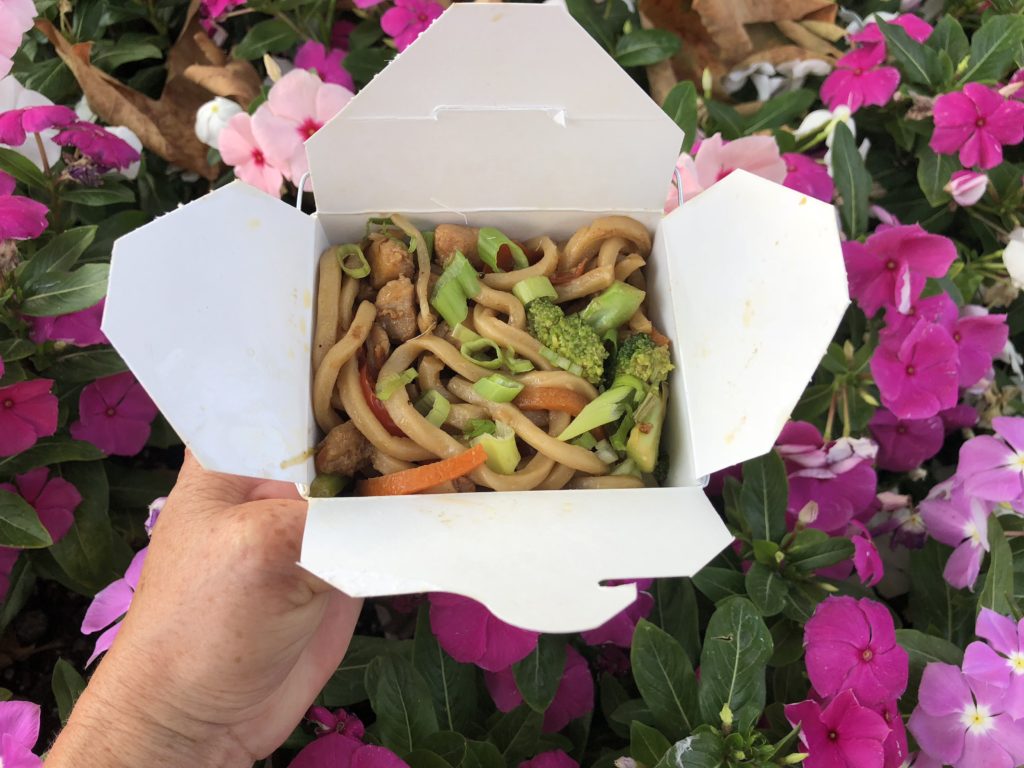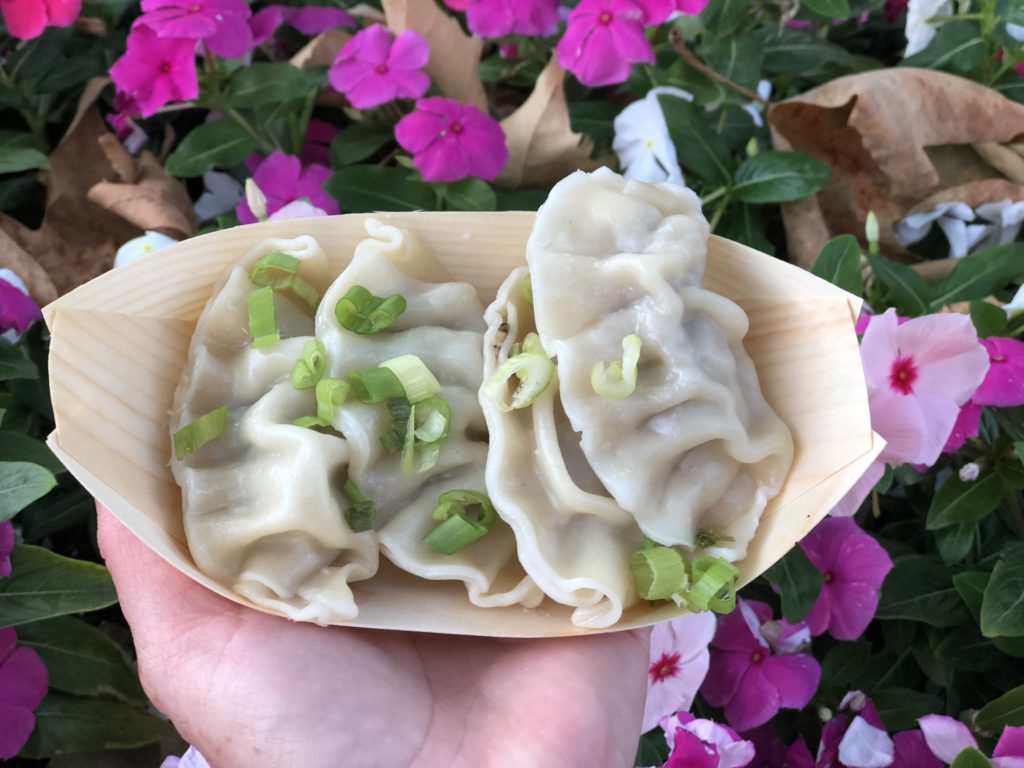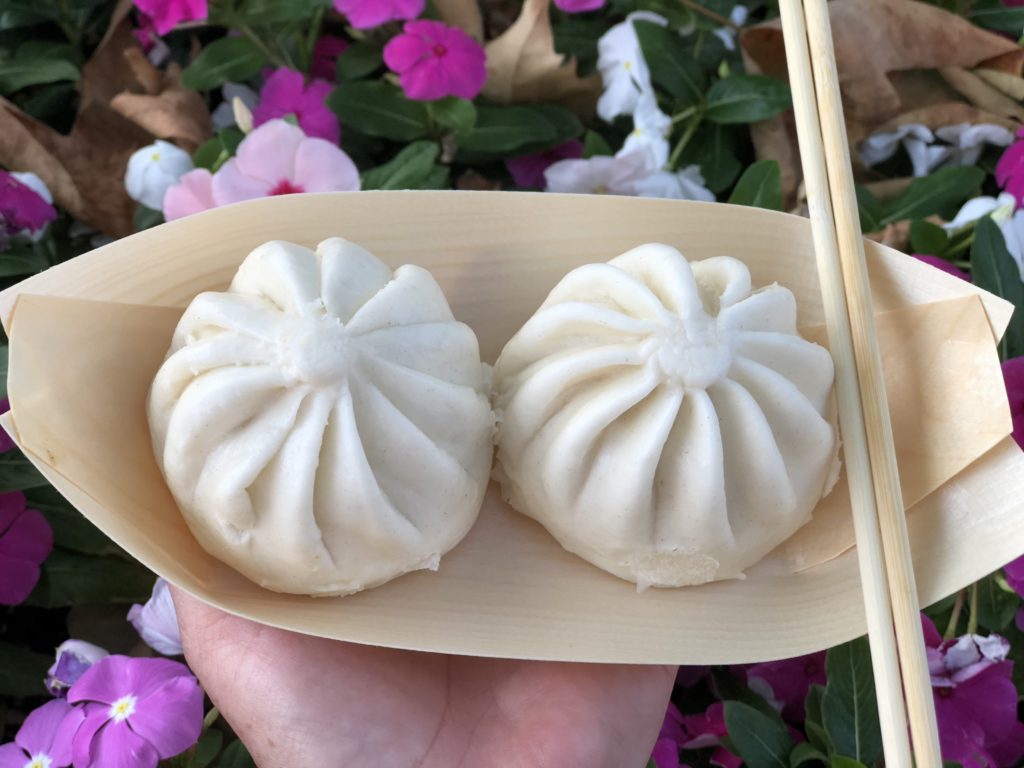 Nighttime Lights at Hogwarts Castle
This spell-bounding and mesmerizing show features a dazzling light projection experience against the backdrop of Hogwarts™ School of Witchcraft and Wizardry. The entire production is about 5 minutes long and showcases the four houses of Hogwarts: Gryffindor, Ravenclaw, Hufflepuff and Slytherin and culminates with awesome beams of lights that fan into the night sky. The colorful state-of-the-art light display and special effects projection, designed to dance across the stunning Hogwarts castle, will be accompanied by a special musical arrangement created by Academy Award-winning composer John Williams based on his original scores composed for the film series.
Blogger Tip – The best viewing spot is right in front the of stage where the Frog Choir and Tri-Wizard Spirit Rally perform. However, you will have a different experience every time you see it depending on where you stand.
For more information Visit Universal Studios on Facebook and on Twitter.