This is a sponsored post compensated in the form of a Best Buy Gift Card. All thoughts and opinions are my own.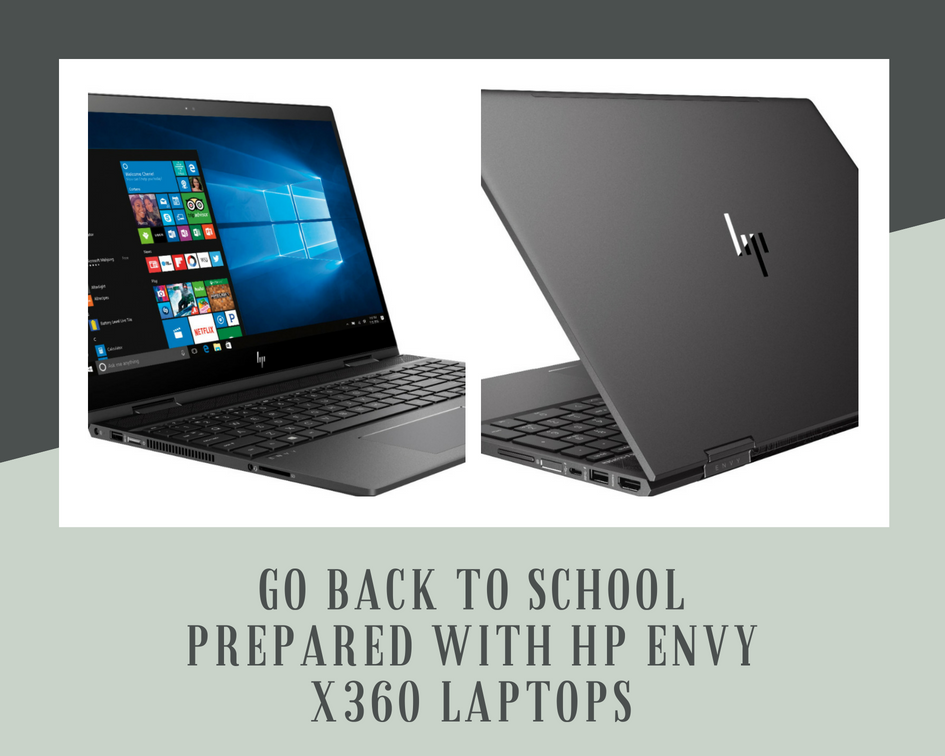 Summer is halfway over and the back to school shopping has already begun! Stores are full of school supplies, back packs and clothes, but it's important to think about our kids technology needs to prepare them for the new school year. As parents, we want to be sure that they have a fast, reliable and affordable method to stay connected with their school assignments and stay organized to be successful.
I have a 16-year-old who will be a junior in high school so college prep is extremely important this year. He will be studying for the SAT/ACT, working on college applications, researching careers and looking into financial aid. Therefore, we need to find him a laptop that has a lot of memory, is lightweight and has a long battery life. Our go to store is Best Buy because they have the best selection, affordable prices and great customer service.
Currently we own a very old Dell and we are considering upgrading to an HP Envy x360 laptop.  All of the laptops in the series have a windows 10 operating system that brings  back the Start Menu from Windows 7 and introduces new features, like the Edge Web browser that lets you markup Web pages on your screen. Some of the other reasons we are so jazzed about this laptop are:
Built for Windows Ink – 

Quickly jot down notes and ideas with ease.

Full HD touch screen –The 1920 x 1080 resolution boasts impressive color and clarity. Natural finger-touch navigation makes the most of Windows 10. IPS technology for wide viewing angles. Energy-efficient WLED backlight.
8GB system memory for advanced multitasking – Substantial high-bandwidth RAM to smoothly run your games and photo- and video-editing applications, as well as multiple programs and browser tabs all at once.
360° flip-and-fold design – Offers versatile functionality with laptop, audience, tabletop, presentation and tablet modes.

I can picture my son walking from class to class on campus and this sleek folding method would make it easy to carry in his large backpack. Many classes rely on the Internet for completing assignments and research, so he will need something to handle that type of work in addition to writing papers or preparing projects. Although most campuses have computer labs, having his own laptop makes it easy to have his work with him anywhere, including at the library, group study sessions, tutoring, class, and home.

Note taking is also something this computer can do as well.  In the old days, students used their pen and book to take notes from the class. It is definitely not efficient compared to taking notes with laptop. Aside from being able to take notes faster, my son can also record the lectures by using a microphone. Since most lecturers these days are using PowerPoint to explain the lecture, he can copy it to his laptop easily.
Watch Video About HPEnvy x360
Savings Offer
If you purchase an HP Envy x360 today you will instantly save $100. Sounds like a pretty sweet deal to me.
For more information visit Best Buy on Facebook and Twitter.