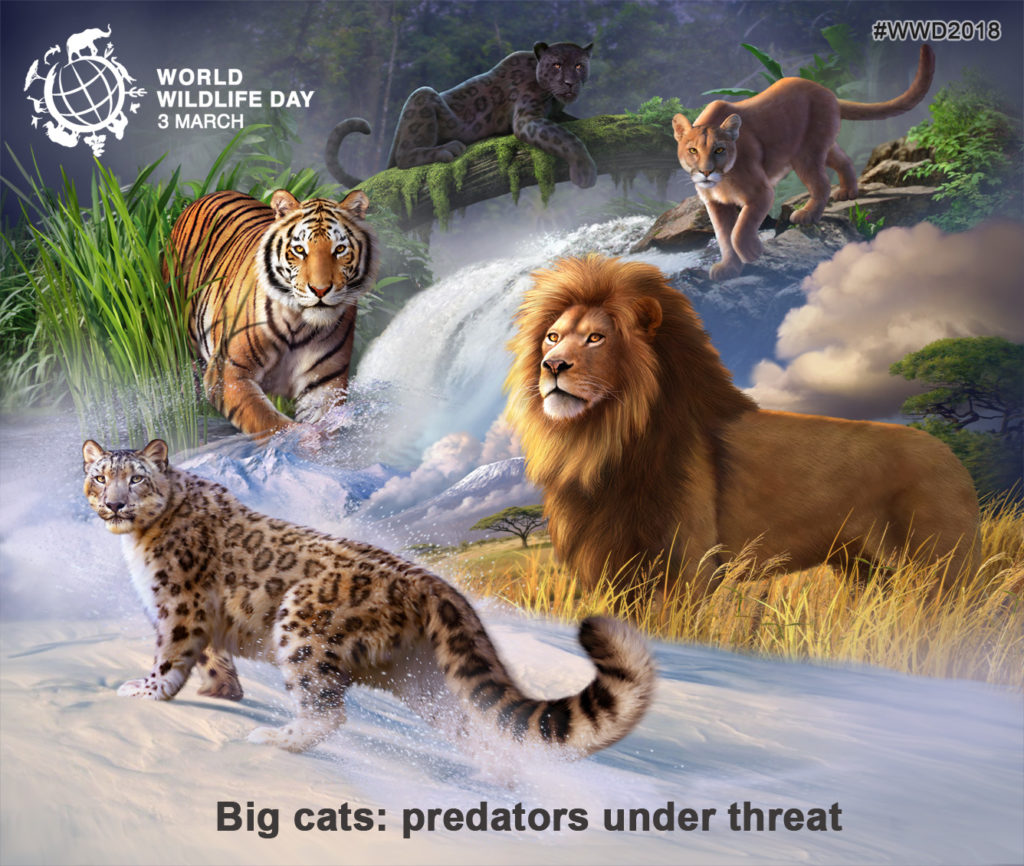 In celebration of World Wildlife Day, SIEGFRIED & ROY'S SECRET GARDEN  AND DOLPHIN HABITAT at THE MIRAGE is inviting you to participate in educational activities designed to demonstrate the importance of protecting the world's wild animals. This year's theme is "BIG CATS: PREDATORS UNDER THREAT."
Big cats are among the most widely recognized and admired animals across the globe. Today these magnificent animals are facing many and  varied threats. Activities and information stations located throughout the Secret Garden and Sustainability Center will demonstrate to  visitors why these animals are vulnerable, threatened or endangered  and what they can do to help. Artwork from a local elementary school will be on display in the underwater viewing area of the Dolphin Habitat.
How Does Free Admission Work?
Children ages 4-12 wearing clothing representing the theme "Big Cats: Predators Under Threat" will receive complimentary admission March 1-4 from 11am-4pm  at Siegfried & Roy's Secret Garden and Dolphin Habitat.
What is the Address?
The Mirage Hotel & Casino
3400 Las Vegas Blvd. South
Las Vegas, NV 89109
What is the Price For Adults?
Adults: $22; Children (4-12): $17; Children (3 and under):
Complimentary
*Children ages 4-12 wearing "Big Cats" themed clothing receive
complimentary admission.
How else Can I get involved?
Great Question! These majestic cats need all the help they can get so one way you can help is to get to know the big cats and learn about the challenges they are facing and how you can help. Share what you've learned with your friends and family.
Check out the fact sheets of the big cats of this website
Post on social media and spread the word. Have a look at this Social Media Kit if you need some inspirations. Or take a photo with the action cards and say something about the day.
Remember to use the hashtags #WorldWildlifeDay, #BigCats, #PredatorsUnderThreat, #WWD2018,  #DoOneThingToday, #iProtectBigCats
Bring World Wildlife Day to the class and talk to students about the day. The youth are the future leaders of wildlife conservation and they deserve a future where we humans live in harmony with wildlife that share the planet with us.
​And do follow the official Twitter, Facebook and Instagram accounts of World Wildlife Day.
Tickets and information are available by calling (702) 791-7188 or visiting online at miragehabitat.com. For more information about World Wildlife Day, visit wildlifeday.org.