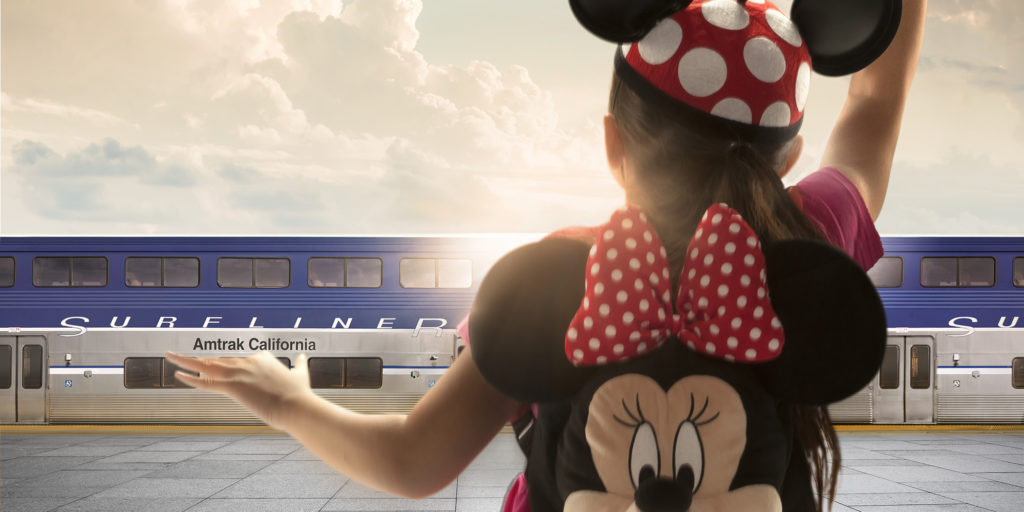 The happiest place on earth has recently partnered with Amtrak railroad service to provide happy families lasting memories and time saving offers. The new partnership will allow guests to spend more time in the park and less time in the car. Southern California residents can enjoy magical offers for train travel and theme park admission through May 21, 2018.
The Amtrak Pacific Surfliner has partnered with the Disneyland® Resort to offer special, limited-time savings for Southern California Residents on both train travel and Disneyland® Resort theme park admission through May 21, 2018. The Pacific Surfliner brings nearly 3 million travelers annually to Southern California destinations including Anaheim, the gateway to the Happiest Place on Earth.
Pacific Surfliner and the Disneyland® Resort have partnered to provide Southern California Residents a magical offer including:
Kids ride free on the Pacific Surfliner to the Disneyland®Resort with a paid adult.
An additional 5 percent savings on the SoCal Resident Ticket offer for Disneyland® Resort theme parks.
Anaheim Resort Transportation (ART) provides a convenient connection from the train station to the Disneyland® Resort. From the Anaheim Regional Transportation Intermodal Center (ARTIC), board ART Route 15 located at Bus Bay #12 to the theme park. The ride is free with your valid train ticket. Participants can travel to ARTIC by train from points throughout Southern California, including San Diego, Orange County, Los Angeles, Ventura, Santa Barbara and San Luis Obispo. The ART is so beautiful all lit up at night.
Program details:
Kids Ride Free to Anaheim – Book the train to Anaheim, CA [2] and for each adult ticket purchased, receive one child ticket free (ages
2-12). To redeem, select one "Adult" and one "Child" as your passenger types, and enter promo code V231.
Enjoy Special Savings on the Disneyland® Resort SoCal Resident Ticket – Unlock an additional 5 percent savings on the SoCal Resident Ticket offer by visiting PACIFICSURFLINER.COM/DISNEY.
Visit pacificsurfliner.com/Disney for complete offer details.