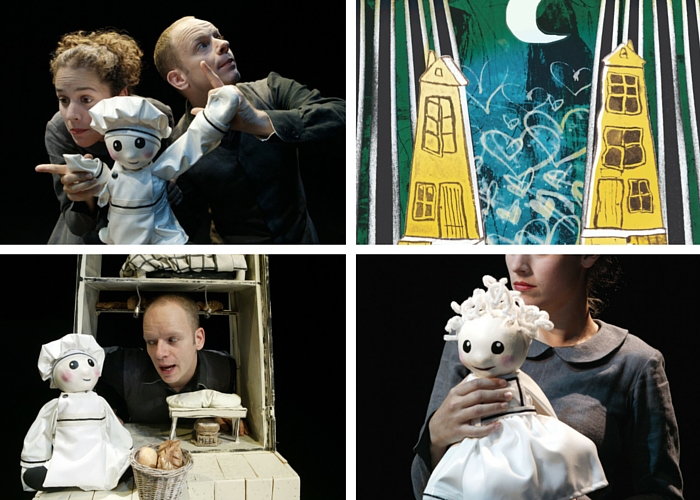 February 20 & 21, 2016 in Samueli Theater; tickets on sale now
The heartwarming Perô, or Mysteries of the Night, an adaptation of the popular children's book by French author Michel Tournier, will return to Segerstrom Center for the Arts February 20 & 21, 2016 with three performances. This award-winning collaboration between Speeltheater Holland and Childsplay tells the story of Perô, a baker in a tiny Italian village with a broken heart. Bashful Perô has a secret love for laundress Colombina, but she is captivated by colorful house painter Palentino. Will Perô tell Columbina of his love? Will the village run out of bread because Perô is too sad to bake? Using an imaginative mix of puppets, actors, singers and live musicians, this charming tale of love comes to life.
What age is this show geared for?
Perô, or Mysteries of the Night is recommended for children ages 7 and above. Tickets are $20 and are available online at SCFTA.org, at the Box Office at 600 Town Center Drive in Costa Mesa or by calling (714) 556-2787. For inquiries about group ticket savings for 10 or more, call the Group Services office at (714) 755-0236. The TTY number is (714) 556-2746. The 1 p.m. performance on February 21 will be sign-language interpreted.
Free Creative Activities
Audiences are encouraged to arrive one hour before the performance for free creative activities. The Center's Education Department offers these enriching experiences to provide young people and their families with more opportunities to play together creatively. Studies show that this is critical in helping to develop the ability to think and problem solve.
How Do I order Tickets?
600 Town Center Drive Costa Mesa, CA 92626 T (714) 556-2121 F (714) 556-8984 SCFTA.org
Perô, or Mysteries of the Night NEWS 2/4 November 24, 2015
Win 4 free tickets