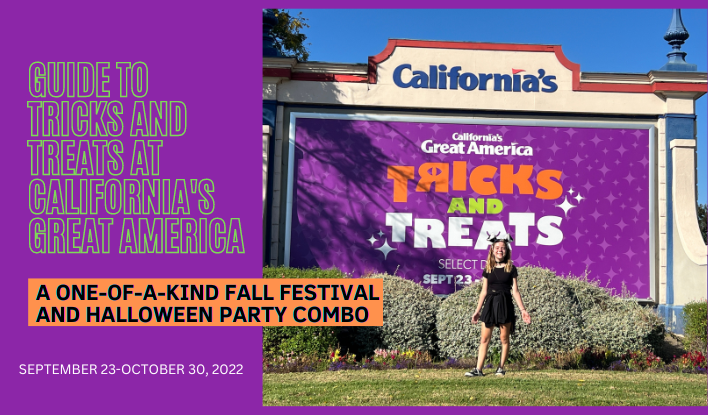 If you are looking for something fun, unique, and interactive that the whole family can participate in this Halloween season, then you need to head on over to California's Great America for their brand new Tricks and Treats event! We recently attend this one-of-a -kind fall festival and Halloween party combo and we have nothing but raves and accolades! It was literally so much fun! We live in Southern CA so we took a short flight over but you can easily drive to the amusement prk as there are so many fascinting stops along the way to make for a fun road trip. Here is a guide with some tip to help you navigate this event:
What is Tricks And Treats?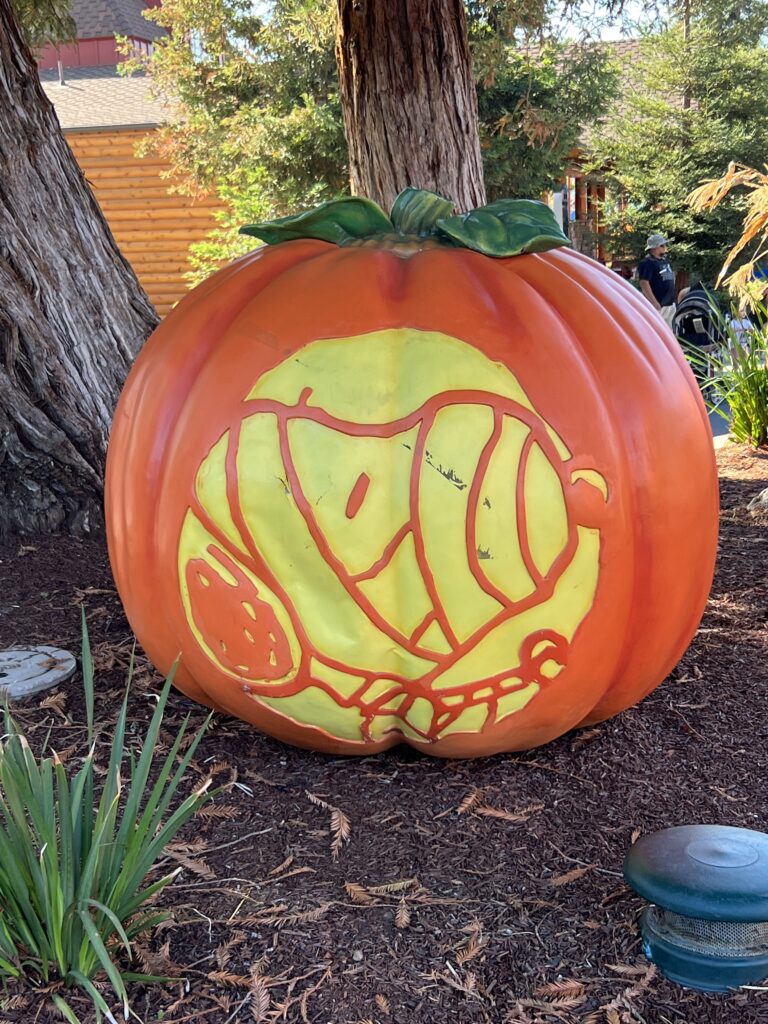 All new for 2022 is Tricks and Treats has replacd their Halloween Haunt and is a one-of-a-kind epic fall festival and Halloween party combo. Everyone in the family – from little goblins to grown-up ghouls – will find ghastly great things to do for Halloween. Celebrate the season with mischievous tricks, tasty treats, adventures and activities – and so much more.
Upon entering the park, guests will be immediately immersed in the Halloween fun with a choice of four themed areas to start from. The Main Stage sits adorned with a giant pumpkin as the event's centerpiece of all festivities. During the day, it is a picturesque family backdrop perfect for capturing fall-inspired memories. As the evening approaches, guests will notice the large festive Jack o' Lantern coming to life with a fiery light, taking on a soft uncanny glow. From there, guests can choose their path by embarking on the festive Lands of Treats or one of the mischievous Lands of Tricks, each with its own mystery and fun in store. The Lands of Treats is made up of Everfall and Sweet Tooth Acres, both rich with joyful memories of bonfires, Halloween sweets and cozy fall feels. Guests will enter an autumnal fall festival, and sugar-spun candy farm decor displayed everywhere imaginable. For those looking for more mischievous fun, the Lands of Tricks offers Spooky Spires and Ickyville. These playful areas will have guests drawn to a splat-tastic monster party and an eerie classical speakeasy populated by gothic surprises.
Know Before You Go
Before you even enter the park I highly recommend you download their app. Not only can you store all of you mobile tickets in the app, but you can also purchase passes, meals, fast lane, parking FunPix and more.
The app will also tell you where every bathroom is located in the park.
CA Great America is cashless so be prepared with credit cards or use the cash-to card kiosks
If you need a stroller or a wheelchair I recommend you arrive right at opening as both sell out FAST! (single strollers are $22, doubles are $27) and (manual wheelchairs are $30 and electric scooters are $75)
Lockers are $
Know the bag policy. If you plan to arrive after 6pm, however, you are only permitted a very small wallet or clutch (6.5" x 4.5" x 2") – barely big enough to hold a phone. Plan accordingly!
Bring a sweatshirt to tie around your waist. It gets chilly in the evenings.

The park is closed Sunday October 23 for a San Francisco's 49ers game (the theme park shares parking with the stadium so both can't be open at once). Great America has scheduled has an extra party the Thursday night before instead – October 20.
Where To Stay?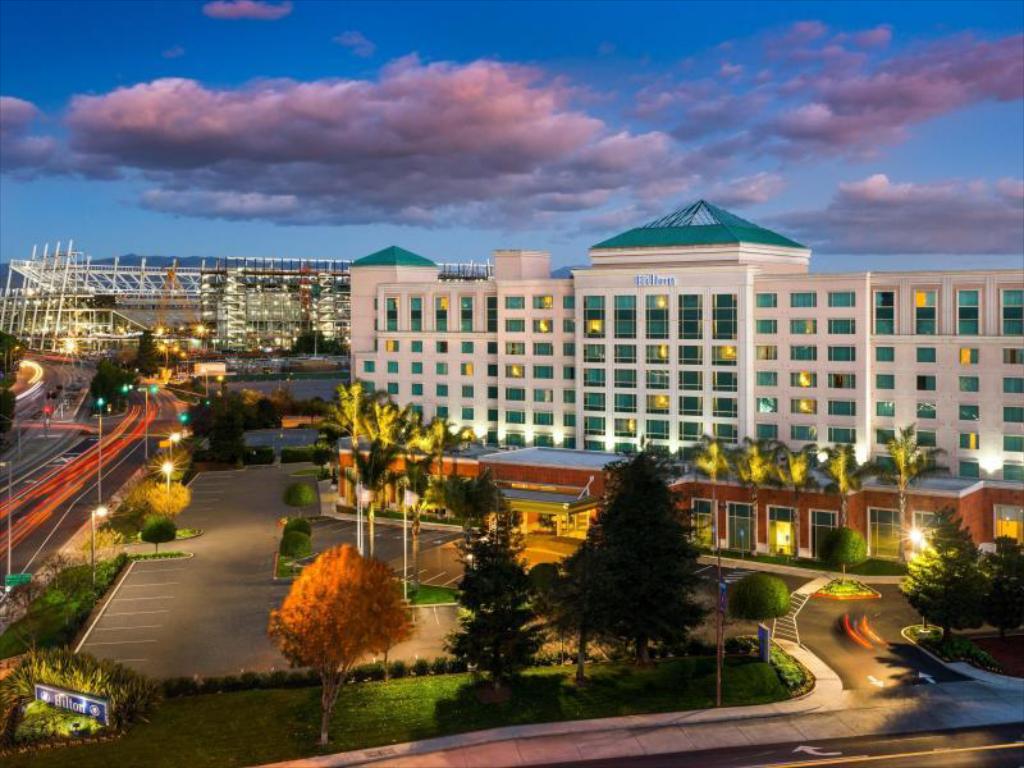 If you are coming from out of town, I highly recommend staying at the Hilton Santa Clara. This is the closest hotel to CGA. Just a five-minute walk to Levi's Stadium, the stylish and SUPER SAFE sophisticated Hilton Santa Clara hotel boasts an ideal location adjacent to California's Great America theme park and directly across from the Santa Clara Convention Center. This AAA-rated hotel is set in an attractive resort-style building, just 20 minutes from the San Jose Airport (SJC), in the heart of Silicon Valley. From award-winning dining to spacious rooms and suites, the hotel offers a modern touch and a convenient location.
Room Tour of Hilton Santa Clara
Arrival At The Park
You will need to go through a bag check upon entry into the park. If you would like to bring in a full-sized bag You will have to enter BEFORE 6pm as after that only bags the size of a small wallet are allowed in. You can find more information here. Her are some helpful tips you should do upon arrival:
Upon entering the park, point out a uniformed security officer that your child can easily spot if he or she should become lost. If your children do get lost, go to the Family Care Center, located in Planet Snoopy, where all unaccompanied children are brought.
Sign up for KidTrack. This is a free program that assists in quickly reuniting lost children with their parents. Guests with cell phones can register for this safety system at Guest Services, Town Hall or Family Care Center.
Familiarize yourself with Parent Swap. This is a program intended to help families with small children. One parent waits in line and both get to ride (separately). To participate in Parent Swap, parents need to obtain a slip at Guest Services or Town Hall.
For the shortest lines, always ride the most popular rides – such as RailBlazer and Flight Deck – when the park first opens or in the early evening when many large groups leave the park.
Familiarize yourself with the park's layout by taking a moment to look over the park map handed out at turnstiles. Then take a ride on the 200-foot-high Star Tower, located to your right in Carousel Plaza, for a panoramic view. Below is a woderful map of the park.
ga22-128-tricks-and-treats-park-map-and-guide_digital-final-1

If you like Rides a Fastlane Pass is Recommended
Your time is worth money. You should absolutely splurge and get a fastpass because it can completely change your visit. We literally covered so much having a fast pass. One of the best lines we bypassed was the sky buckets. We legit walked right up and got right on. That lin must have ben like 2 hours long. My 11-year old daughter loved loves roller coasters so she maximized our fast pass like you couldn't believe. We rode multiple rides multiple times and still had plenty of time to cover everything the event had to offer.
When can kids Trick Or Treat?
Kids can tick or treat from 5pm-10pm along the trail but must be under 12 to participate. A punch card is required which they will give to you.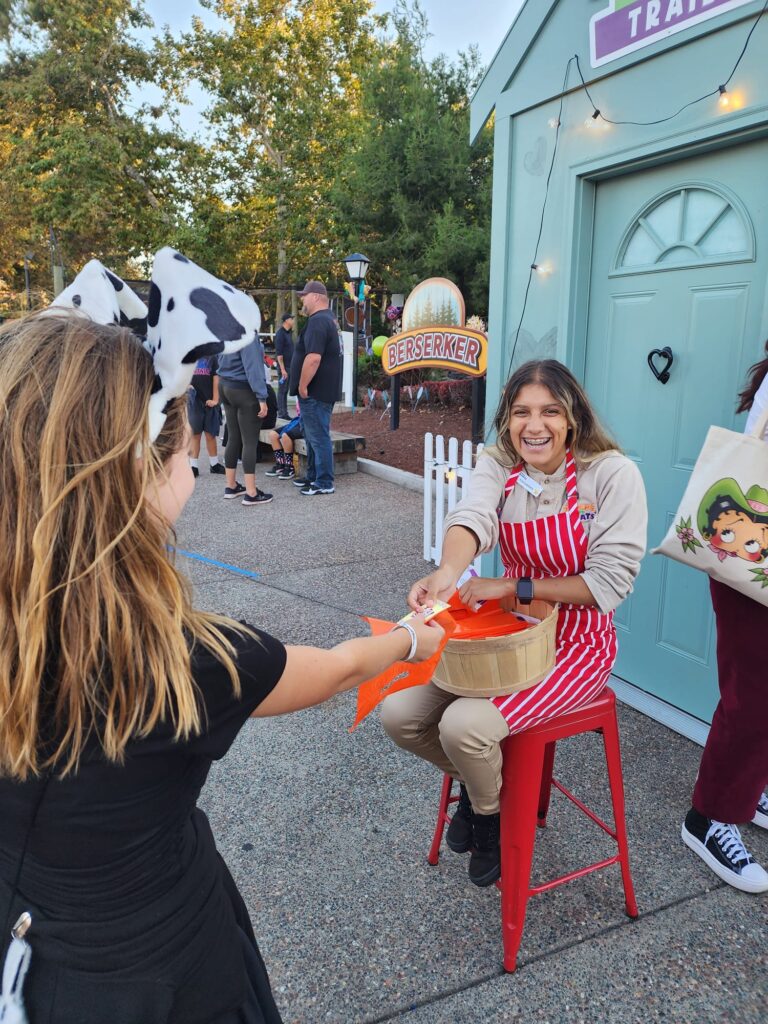 Shows to see at Tricks and Treats
Incantation
Each night of Tricks and Treats, join the characters and help bring Patch the Pumpkin Pail to life! Tricks and Treats is open select nights from Sept 23 – Oct 30 in Celebration Plaza 7:30pm
The Great Craft Off
This is where audience members are invited to recreate a fall treat in Halloween decorating competition! My daughter made an alligator out of graham crackers and marshmallow fluff.

Costume Council
Have a costume that you feel fearless in? Participate in the Costume Council! Those who dress to impress better strut their stuff and celebrate their unique Halloween look! Showtimes: Download the Great America app!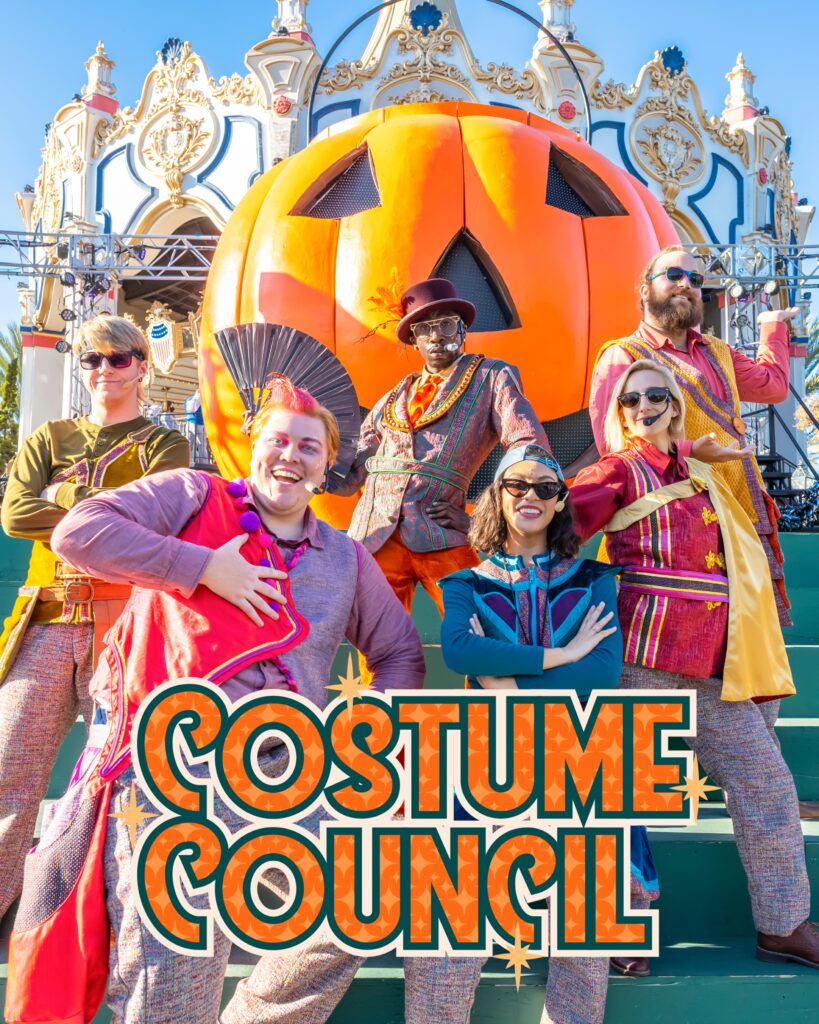 Harvest Duet
The music of Everfall consists of acoustic covers of songs that simply feel fall. Grab a hot drink and listen to our two musicians perform an array of acoustic songs, from earnest tributes to the Lands to romantic "sweater weather" tunes to music that intangibly fits the season
The Snots
The all-zombie band The Snots play putrid pop punk parodies of popular songs: Ed Sheeran's 'Shape of You' becomes 'Plate of Goo,' 'Uptown Funk' becomes 'Uptown Gunk,' 'Blurred Lines' is 'Blurred Slimes'…a repertoire so long you could just puke.
The Spectral Sisters
The tastefully harmonized wails of this Andrews Sisters-esque act can be heard across Spooky Spires.
Click HERE to see all of the shows and events offered during Tricks and Treats.
Take Pics With Characters and Props
Tricks and Treats is literally an instagram playground. There are so many photo ops that you could literally spend all day just taking photos.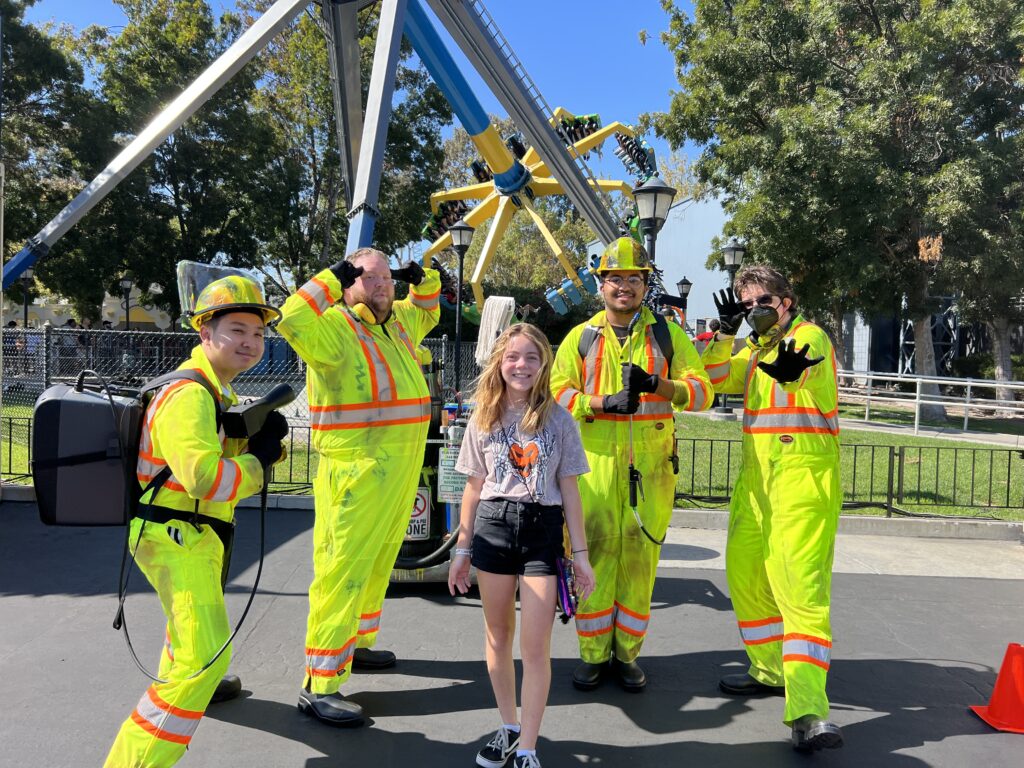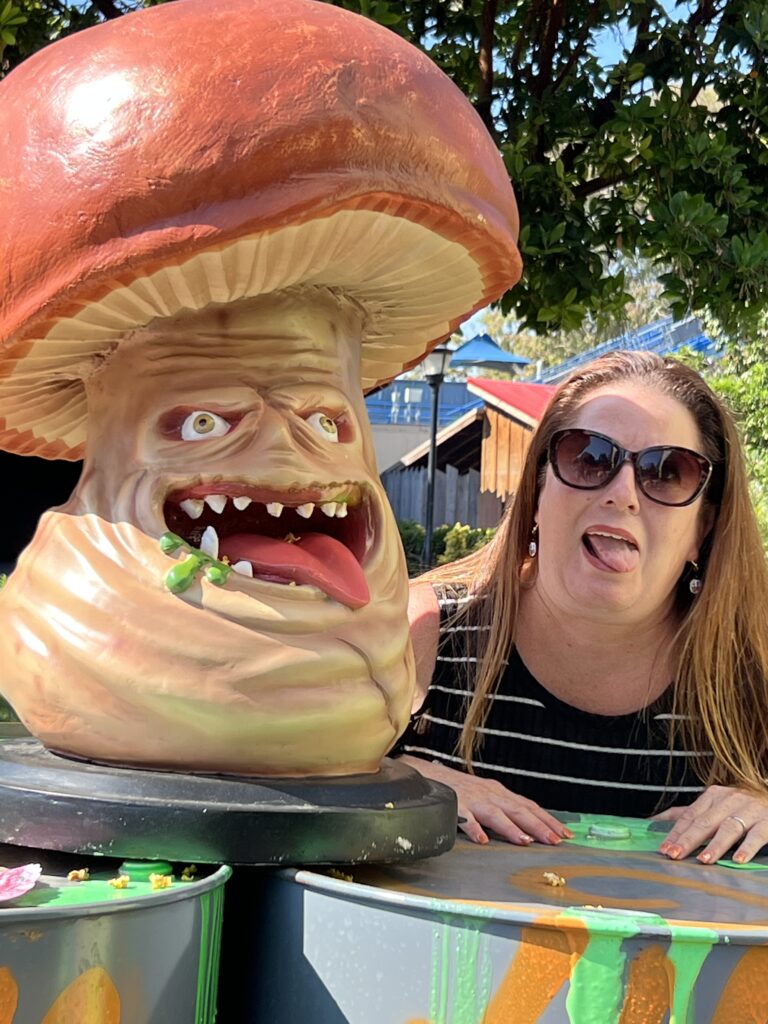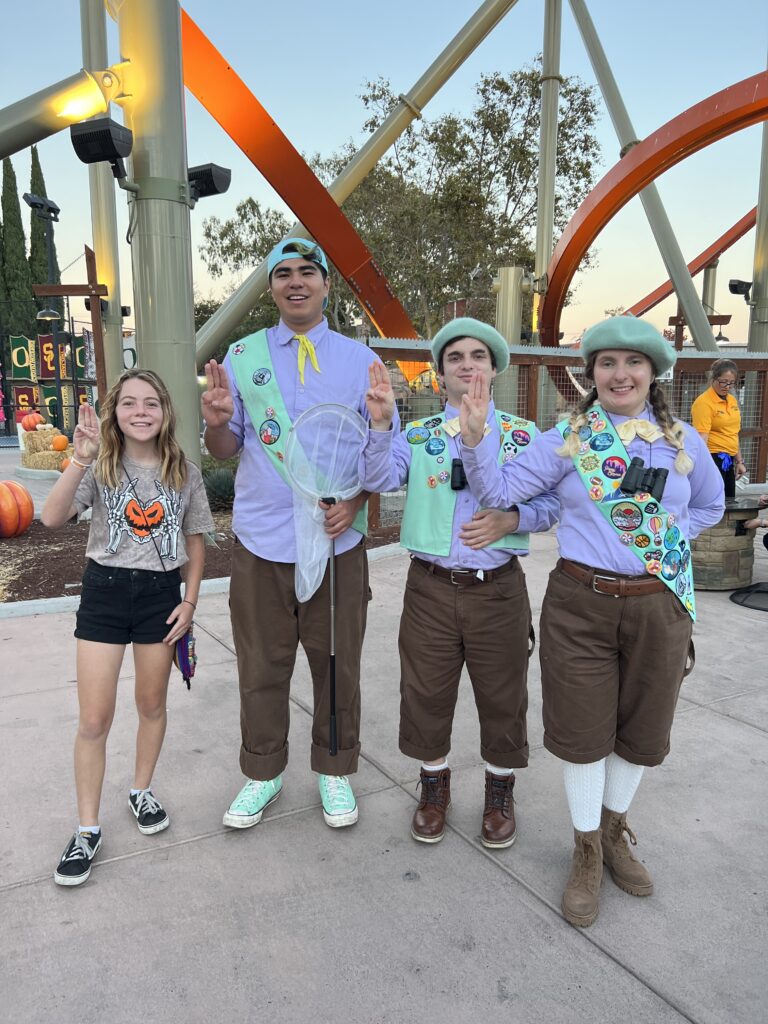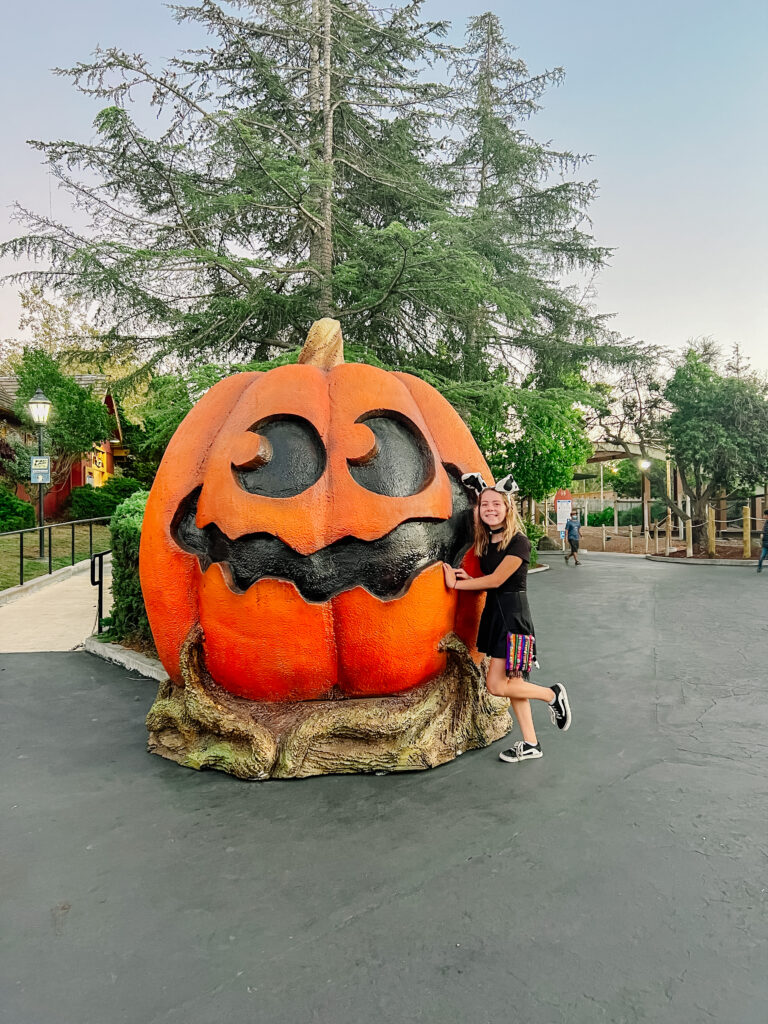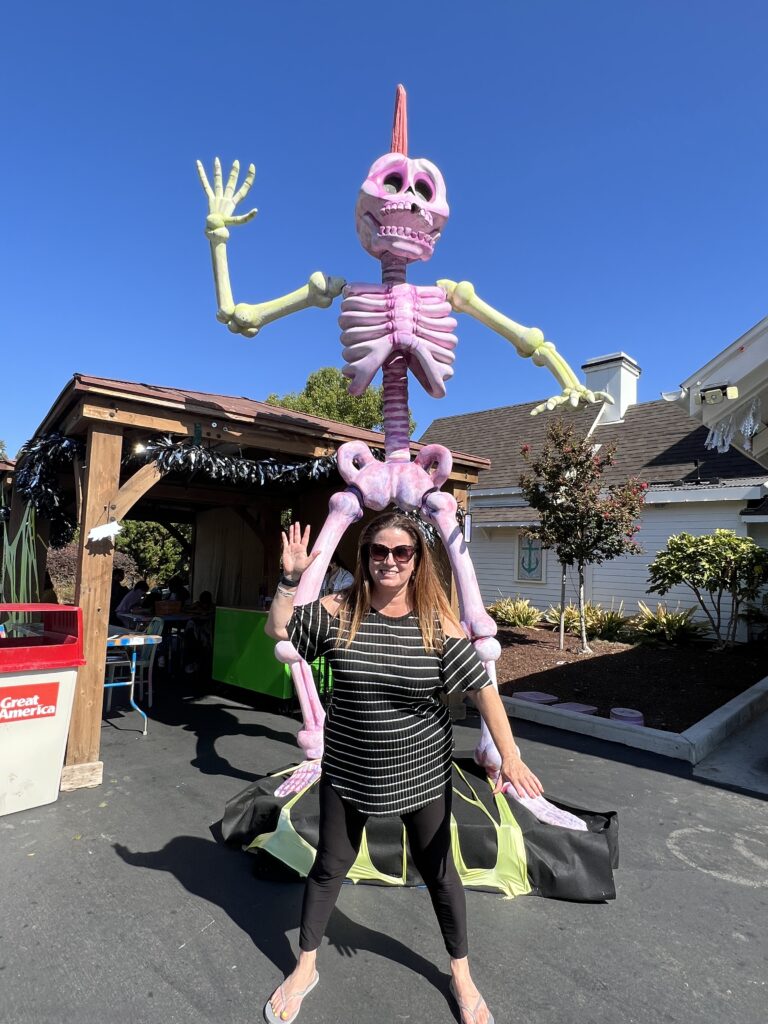 Enjoy All The Food
One of my favorite places to eat in the park was South Bay Cantina. Here you can build your own nachos and order other Mexican food items. Everything was so delicious and they even have specials of the day!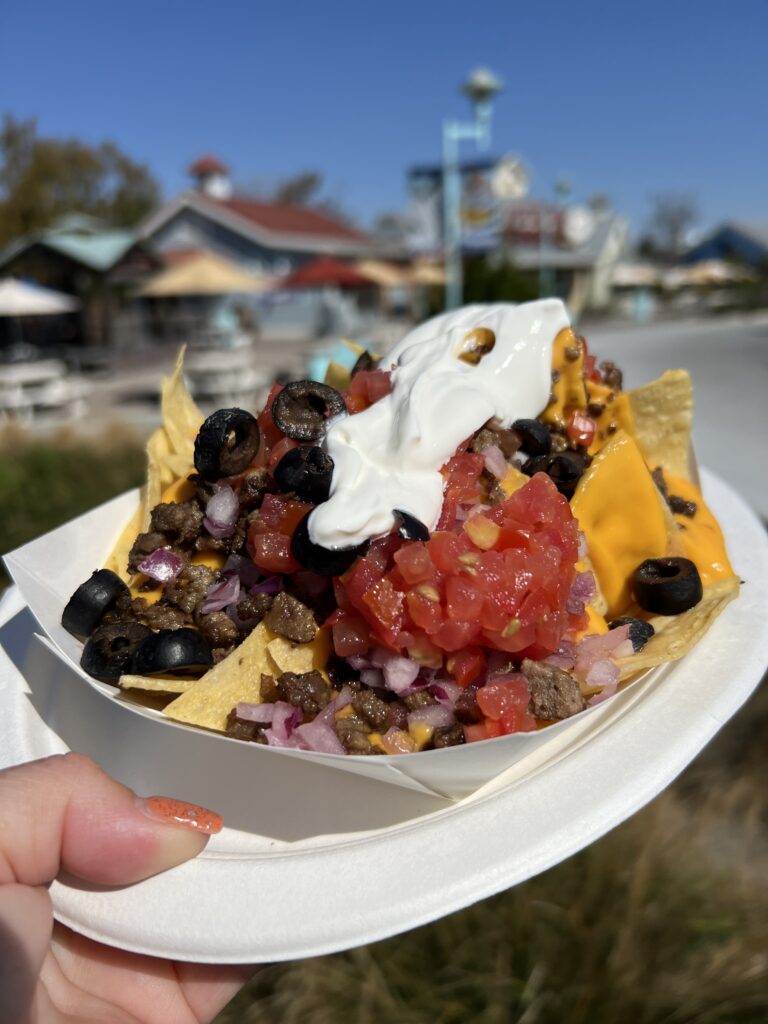 My daughter loved "The Bride of Frank's" ice cream that we purchased at the Churro Factory. It's vanilla ice cream with a twist! Be warned though, it will stain your tongue black for the night.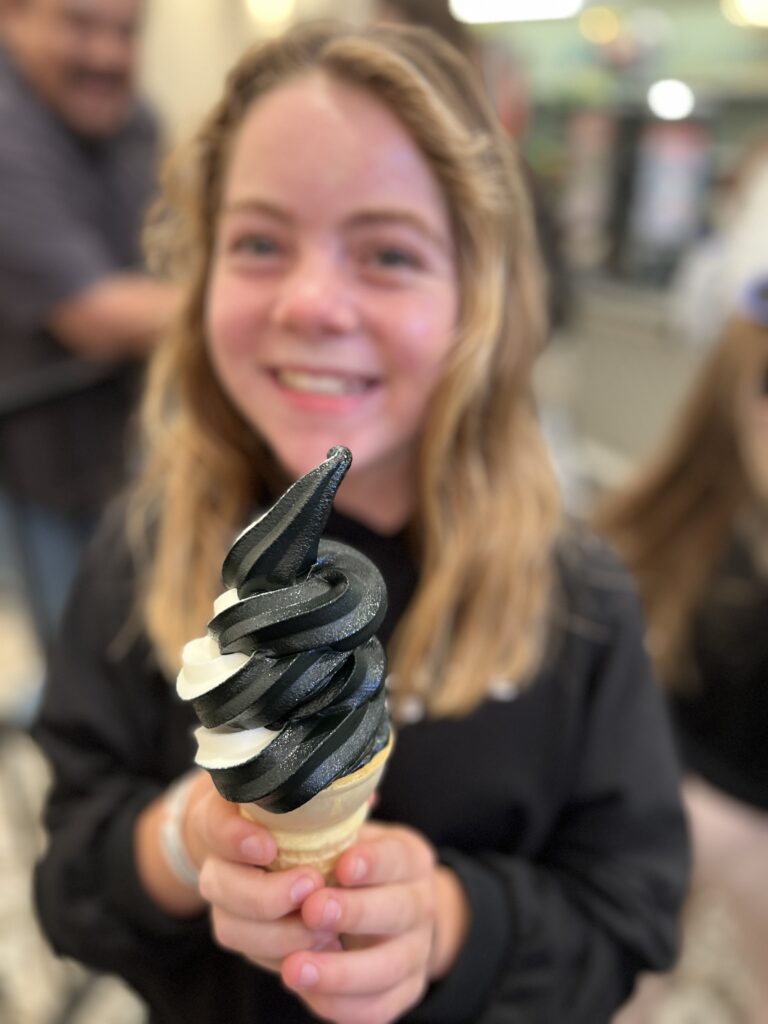 Their pizza was also very good and an easy choice for kids. However, the kiosk system is kind of tricky. It didn't seem to be streamlined and a lot of people had issues that caused a backup at the windows. Just bring your patience.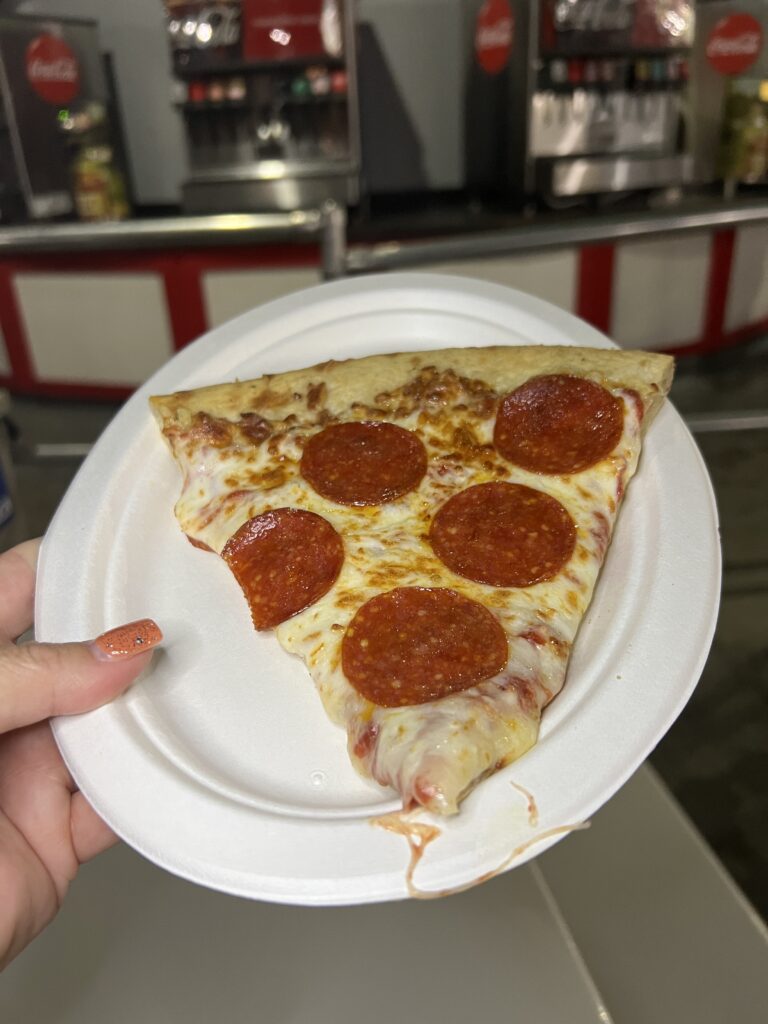 Make Slime
Tricks and Treats sells THE BEST slime we have ever made! It was so stretchy and plyable. The slime shop is located in kids stuff outfitters right next to booger Flicker. All you do is purchase a box for $16 or get the package for $18 which comes with 1 mix-in. There is even a plastic container in the box for you to put your slime in once you are finished. It makes it so easy to carry around at the park.
The slime shop is open on:
?Fridays from 4 to 10 PM
?Saturdays and Sundays from 12 PM to 10 PM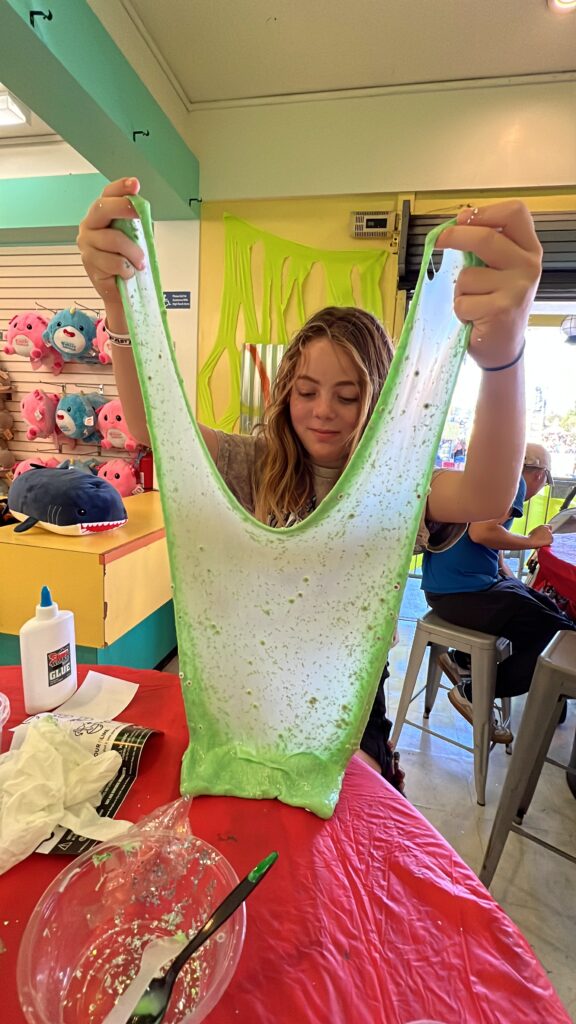 Rides
Again, if you have a Fastlane pass this is a no-brainer. My daughter is on the older side at 11 so we did not ride anything in Camp Snoopy as we rode all of the big ones. White waterfalls was super fun and she didn't mind getting wet a bit as it was very muggy out.
Whitewater Falls
Cooling off on a hot California day is a Great America tradition, and Whitewater Falls provides a scream-filled plunge that does the trick. Located in Hometown Square, Whitewater Falls has been a park favorite since 1990.
Xtreme Airflyer
This particular does have a fee attached to it and my daughter wanted to ride it but as a parent, I had to say no. Listen to this description:
After you get strapped into the harness – face down, mind you – a lift cable elevates you to a peak of 154 feet above the ground. At the top, the rider operator will instruct you to pull the cord. Because you pull the ripcord yourself, you're in control, right? Um, no. Not, really. The second you rip the cord, gravity kicks in and you free fall at speeds up to 50 miles per hour down, down, down toward the earth, skimming it by mere feet. You then swing back and forth until it's all over. Whew! This is a once-in-a-lifetime experience you'll never forget.
Tiki Twirl
Surrounded by the sounds of tribal music and jungle drums, thrill seekers embark on a journey past fiery 40-foot-tall torches, exotic relics and tropical landscaping. The twists and turns on the rolling track make Tiki Twirl a must-ride for guests.
Buy Some Merch
We were obsessed with the merchandise at CA Great America. So many warm sweatshirts, hats and beanies. We live in Southern California where it is always hot so this was a nice change.
View this post on Instagram
Tips For Tricks and Treats
Eat During Off-Times
Bring an extra battery pack for your phone
Ride The Sky Buckets to the other end of the park to give yourself a break
Bring Wipes! You are bound to want to wipe your hands and the bathrooms are spread out a bit.
For more information about Tricks and Treats at California's Great America, visit them on Facebook and on Instagram.