Disclosure
Did you hear the exciting news about The Wiggles? First of all, there is a brand new Wiggle for 2022 and her name is Tsehay Hawkins! She is 16 years old! Tsehay was born in Addis Ababa, Ethiopia, and raised by her Australian parents.  She has replaced former yellow wiggle Emma Watkins. The second piece of big news is that OG blue Wiggle Anthony Field has announced his daughter Lucia as a new Blue Wiggle sidekick! This is so very exciting!
Recently, Anthony, Lachy, Simon and Tsehay have joined forces with the Fruit Salad TV Wiggles — Evie, Kelly, Caterina, and John — to celebrate the everyday heroes in our community, with a new album and video special.
Featuring 22 new and original songs, Super Wiggles showcases the newest members of Wiggle Town through catchy new tunes, including "Hey, Tsehay," "I'm Evie, I Wear Ballet Shoes" and "I'm John, I'm Strong."
The album and video special introduces friends such as the wonderful Super Granny; Super Ballet Man Chengwu, who demonstrates his amazing dance skills; and the multi-talented Paloma the Mermaid.
As founding member and Blue Wiggle Anthony Field said, "The Super Wiggles remind us that not all heroes wear capes and that superheroes are everywhere, from teachers, to the lollipop person, to even the garbage truck driver. Who knows, you may even be a superhero too?"
Super Wiggles Video
Yellow Wiggle Tsehay Hawkins is the newest member of The Wiggles. At age 16, Tsehay is an accomplished Latin dancer and singer who joined the company last fall. Tsehay is thrilled to perform on this new album and video: "The idea behind Super Wiggles is to celebrate everyday heroes, including your parents, grandparents and people in the community who do so much for us all. We had so much fun recording the album and video special. I can't wait for all the little and big superheroes to hear and see it!"
The release follows a super year for The Wiggles, including their first ARIA #1 album ReWiggled, hitting #1 in the triple J Hottest 100 and performing sell-out arena shows with the Fruit Salad TV Big Show and OG Reunion Tours. The Wiggles are currently filling theaters throughout Australia and New Zealand, and they plan a multicity tour of Canada in October. Their 2020 album Choo Choo Trains, Propeller Planes & Toot Toot Chugga Chugga Big Red Car! won critical acclaim and radio play around the United States and the world. Each week, new interactive music videos are posted on The Wiggles' official YouTube channel, so that fans can sing and dance and play along anytime.
The Wiggles continue to thrill their millions of fans of all ages and persuasions with their irresistible music and performance style. In January, the much beloved group won the Triple J's Hottest 100 countdown with their cover version of Tame Impala's "Elephant." Tame Impala's Kevin Parker said, "When I got the invitation I knew it was a once-in-a lifetime opportunity so it was an obvious yes. The Wiggles are the real rockstars in this world. I was pretty nervous!" In April, Parker got up on stage during The Wiggles tour in Perth to perform "Elephant" with them.
In May, The Kid Laroi invited them onstage to perform their mega-hits "Toot Toot Chugga Chugga Big Red Car," "Fruit Salad" and more at a recent show in Melbourne. Actor Steve Carrell auditioned (a little too late) to become a Wiggle in a hilarious skit, and the GRAMMY-winning rapper Lil NasX invited The Wiggles to join him on tour. During her June concert in Maine, Phoebe Bridgers thrilled fans by singing "Fruit Salad, yummy yummy" to the roaring approval of fans.
The Super Wiggles album and video special (DVD and digital editions) are available wherever children's media is sold and streamed. Stay tuned for more Wiggles news at www.thewiggles.com.
Listen to samples of their new songs
Super Wiggles Merch Bundle Giveaway
We have partnered up with the Wiggles and are giving away an awesome Wiggles merchandise bundle! This giveaway is taking place on Instagram!  So head on over HERE to enter. One Lucky winner will receive the following:
The Super Wiggles album
 A Big Red Car plush toy
The new board book featuring Tsehay
A Wiggles official t-shirt (you can choose either short sleeve pink or long sleeve blue – size 4)
An autographed mini poster
A Wags the Dog necklace.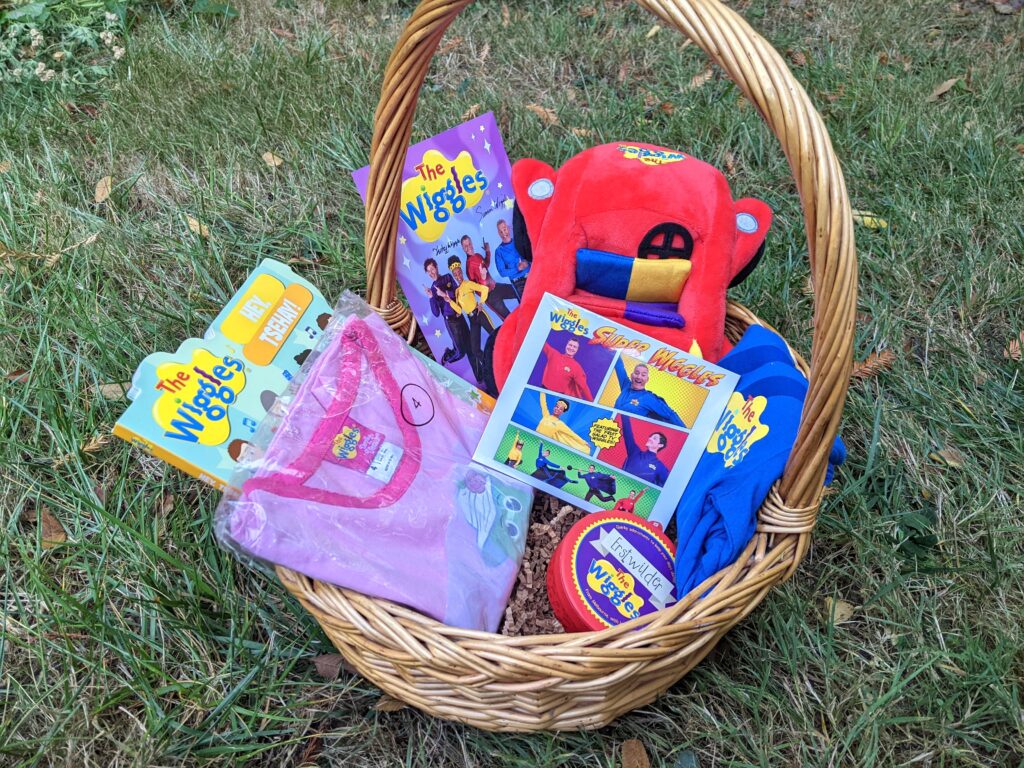 US Residents Only. No purchase necessary to enter. All readers have an equal chance to win, however, you must enter to win. A winner will be randomly selected via Instagram and notified via Insagram. I will attempt to contact the winner for 3 days. If the winner cannot be reached by email, a new winner will be selected the same way. There are several different ways to earn entries. One prize per household. The winner will receive, free of charge, the prize mentioned above. This prize has no cash value and is not available for exchanges. Prizes are not transferable or refundable and must be accepted as awarded. The winner is responsible for any and all other costs and expenses not listed above. Not liable for unclaimed prizes or fulfillment.
** Not sponsored by Instagram. No purchase necessary. Open to legal residents of the US aged 18 and older. Ends 10/21/2022