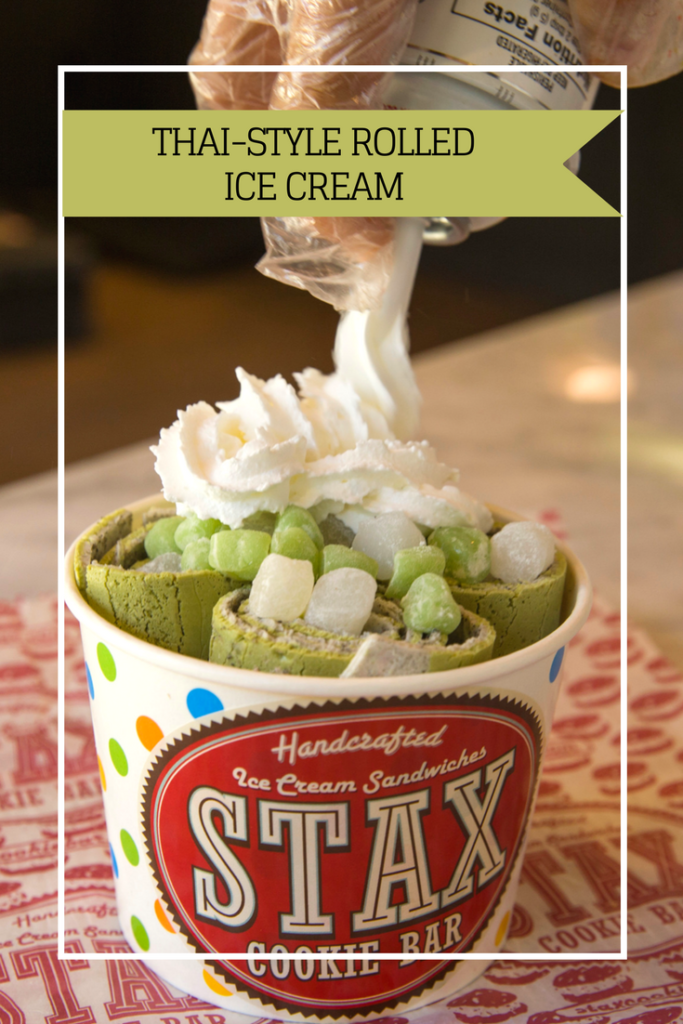 STAX Cookie Bar Introduces Thai-Style Rolled Ice Cream
There is a new trend of ice cream that recently landed in Orange County called Thai style rolled ice cream.  If you are wondering what that is, it's little rolls of ice cream, about the size of a roll of quarters, that are packed into a cup, then topped with all manner of extras, such as toasted marshmallow, gummy bears, coconut and of course, hot fudge.
Video Of Rolled Ice Cream in Thailand
 Stax Cookie Bar is now one of the first in Southern California to offer thinly rolled Thai-style ice cream that has been all the rage on social media. Stax has also put its own spin on the Thai treat, creating new signature CreamRitos and Duo Layer Rolls, which are the first rolled ice cream desserts to feature two flavors.
Stax new desserts are hand-crafted with a fresh cream mixture poured and spread onto a negative 31-degree stainless steel wheel. As the thin layer of ice cream freezes, it is expertly shaved into rolls with a metal spatula and artistically served with toppings.
The Cream Rolls, available with yogurt or ice cream, are served in traditional Thai style, upright in a cup and topped with fresh fruit, fresh baked cookie pieces or chocolate syrup.
Duo Layer Rolls
Stax has also created Duo Layer Rolls, making the ice cream purveyor the first to offer two flavors of ice cream rolled together. Flavor combinations for the Duo Layer Rolls include Black Sesame and Green Tea, Chocolate and Strawberry, Cookie Cream and Coffee, and Strawberry and Green Tea.
CreamRitos and Flavors
CreamRitos, which are served on a plate and resemble mini ice cream-filled burritos, are crafted by topping the thin layer of ice cream on the frozen wheel with another unique-flavored ice cream before shaving it into rolls. The confection is then drizzled with chocolate syrup, pieces of fresh baked cookie, or other toppings of your choice. Flavors include Canjun Spicy, Sesame Stick, Ube (purple yam) and Bacon Chocolate Chip. The ingredients are added to the sweet cream mixture as it freezes on the wheel.
Visit Stax Cookie Bar On Facebook.