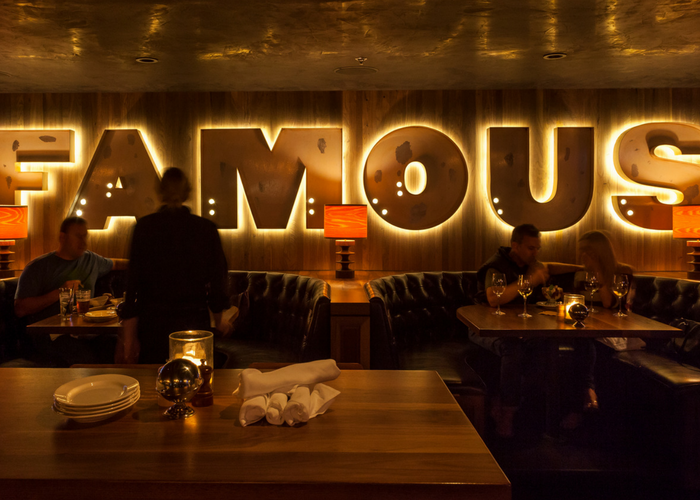 Jimmy's Famous American Tavern
Located in the Dana Marina Plaza just off of Dana Point Harbor Drive and Golden Lantern in Dana Point,  is one of Orange County's most talked about restaurants called Jimmy's Famous American Tavern. I have been hearing great things about this restaurant for over a year now and I finally had the chance to check it out for myself. Did you know there is also a location in Brea as well?
Aside from the prime location this restaurant has some of the coolest decor around. It's a mix of rustic, industrial and trendy and at night it is so relaxing because the inside it lit up with a warm and dim ambiance.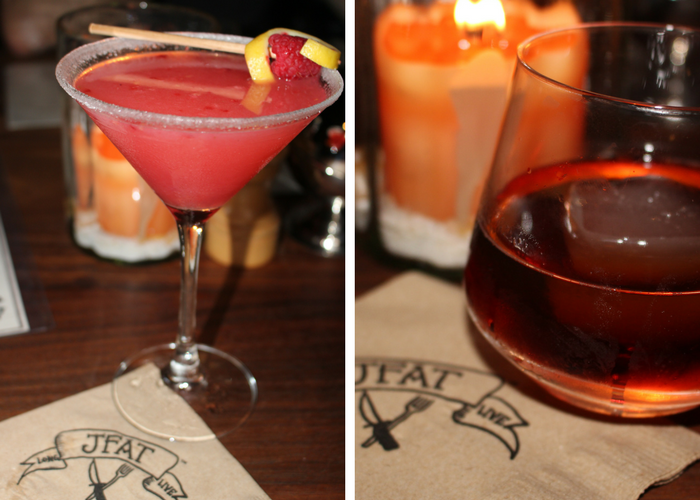 Start your meal off with a Raspberry Rain cocktail. It's fun and flavorful with Ketel Orange Vodka, Fresh Raspberries, Lemon Juice and a Sugar Rim. If you want something less sweet, I suggest the Boulevardier. It has Bulleit Rye, Aperol, Carpano Antica. Smmoth, smokey and delicious.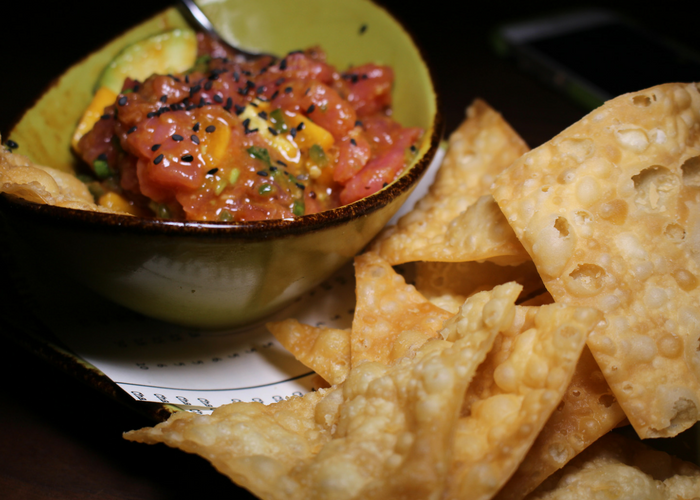 As for appetizers, I highly suggest you try the spicy ahi poke and the Whiskey Shrimp. Both of these dishes nail it when it comes to flavor and if you are hungry  and can't wait for your main entree to arrive, these plates will seriously satisfy you. The Ahi comes with Avocado, Scallions, Yuzu, Serranos, Papaya, Sesame, and Crispy Wontons that scoop so nicely.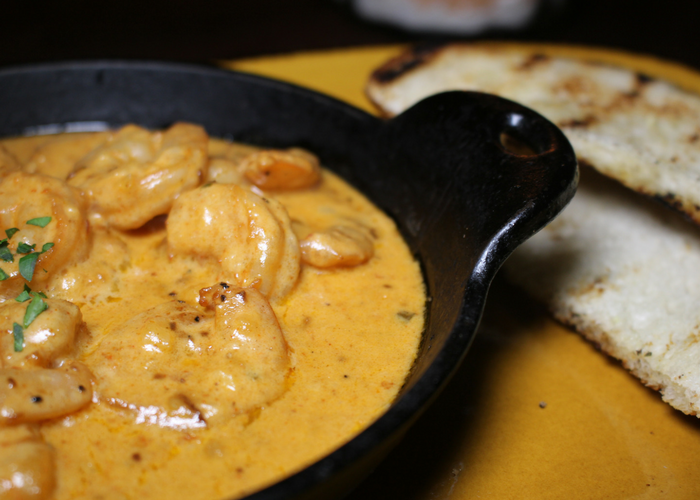 Seafood lovers will go crazy over the whisky shrimp. It is Bourbon flamed with Cajun Spices, Shallots & Dijon Mustard and i think they add a splash of heavy cream to it because it was rich, creamy and divine! Like eyes rolling in the back of my head divine. It is served with crispy bread but I think next time I go back I was ask for soft bread so I can mop up the sauce.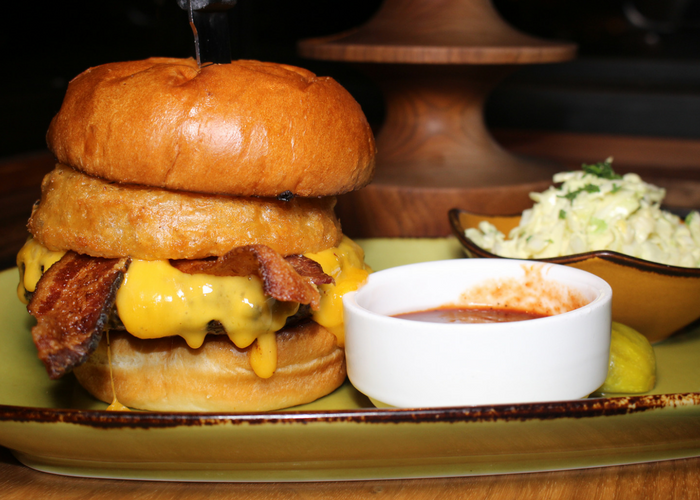 If you have kids with you, they will definitely like the burgers on the menu. My 10-year-old son ordered the cowboy burger which came with =a giant onion ring, BBQ Sauce, Bacon, Cheddar and Fries. This burger is fierce and he couldn't even get his mouth around it. Bacon for the win!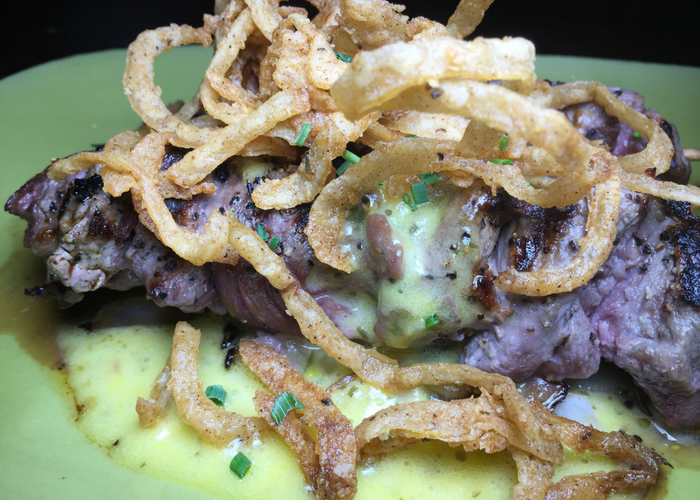 I ordered the filet mignon bites which are not on the regular menu but they were a special that evening. I didn't even need a knife because they were so tender and the onion strings added a nice crunch.

My husband ordered the Grilled 16 oz Double R Ranch Rib Eye which is served with Bearnaise sauce and Garlic-Parmesan Fries. It is a very big piece of meat but you can always take it home for lunch the next day/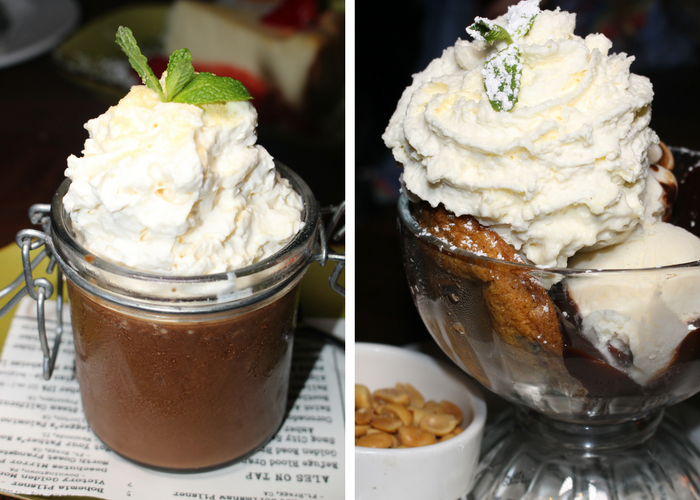 If you still have a tiny bit of room for dessert do yourself a favor and get the Jimmy's old school dessert because you will be a hero! It has Warm Chocolate Chip Cookies, Vanilla Bean Ice Cream, Hot Fudge, Whipped Cream & Roasted Peanuts. Don't feel like sharing? No problem, get the Dark Chocolate Pot de Creme. It has  Grand Marnier Cream in it. Enough said!
There is a brand new Jimmy's Famous American Tavern in Brea, CA located at  the  Village at La Floresta, 3325 E Imperial Hwy, Brea, CA 92823.
For more information visit Jimmy's on Facebook and on Twitter.