credit: IKEA
Did you know that In Sweden, Midsummer's Eve is one of the most important days of the year? It is celebrated with festive spirit and traditions. This year, The popular Swedish store IKEA is inviting you to celebrate with its annual Midsummer Smörgåsbord on Friday, June 16, 2017 at participating stores nationwide.  (*IKEA Carson will not be participating/will not be hosting a Midsummer Smörgåsbord event).
I love the store IKEA because it's like a big adventure when I go and I love spending hours there shopping and eating, so this is a no brainer for me.  I just have to be careful of  the Kitchenware section because it has the most affordable items I have ever found and sometimes my cart fills up in the blink of an eye.
Tickets for IKEA's all-you-can-eat buffet are available for only $16.99 per person / $4.99 for kids 12 and under, or at a discounted rate for IKEA FAMILY members ($12.99 per person / $2.99 for kids 12 and under).
What is included in Ikea's Swedish Midsummer Feast?
The IKEA Swedish Midsummer menu*** includes:
Assorted varieties of herring
Hard boiled eggs with shrimp
Gravad lax with mustard sauce
Smoked salmon with horseradish sauce
Poached salmon
Tossed green salad
Cucumber salad
Midsummer fruit salad
Assorted Swedish cheeses
Boiled dill potatoes or mashed potatoes
Meatballs with lingonberries
Prinskorv sausage
Crispbread, thin bread, dinner rolls
Assorted desserts
Coffee, tea, fountain beverages
Seating is limited, so those who are interested are encouraged to purchase tickets early at their local IKEA store. To locate and contact the nearest IKEA store for more details, including local seating times, visit the "Store Locator" page on www.IKEA-USA.com and enter your city/state or zip code.
Those who are unable to make the event can still celebrate Midsummer at home. Visit the Swedish Food Market in IKEA U.S. stores to purchase select items from the Midsummer Smörgåsbord menu or find and try ingredients for other Swedish recipes, such as Chicken Meatball Skewers.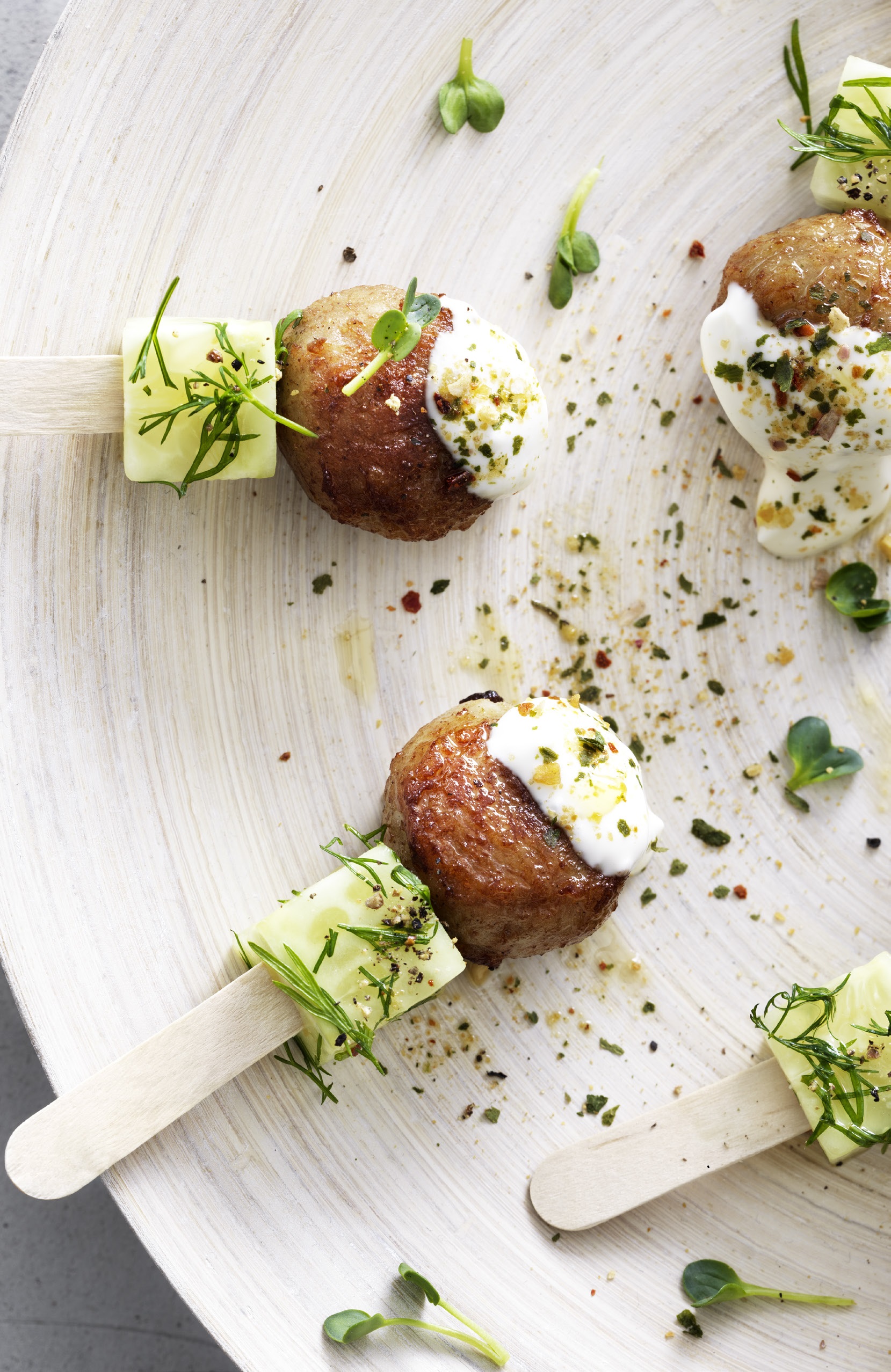 Ikea Chicken Meatball Skewers
Ingredients
15

pcs KYCKLINGKOTTBÜLLAR chicken meatballs

15

wooden skewers

2-4

Tbsp

. oil

, for frying

2

medium size cucumbers

, peeled

3.3

oz

. dill

, chopped

1

large organic lemon

, juiced

2

Tbsp

. sea salt

10

oz

. sour cream

5

oz

. parsley

, thyme and ramsons, mixed

Black pepper and extra virgin oil to taste
Instructions
Cut the cucumber into 15 small cubes, just a bit smaller than the chicken meatballs. Place in a medium size bowl, and add the sea salt and combine.

Heat a bit of oil in a frying pan over medium-high heat, until slightly smoky. Fry the meatballs until golden brown, adding more oil if needed. Set aside and let them cool.

Add the lemon juice and dill (saving 1 Tbsp for garnish) to the cubed cucumber. Mix to combine and set aside for 5-10 minutes.

Thread one cucumber cube onto each skewer, then one meatball. Dip in sour cream and then dip lightly into the herbs. Place the skewers on a tray and sprinkle with dill and black pepper.

Top the remaining sour cream with the rest of the seasoning mix. Drizzle with extra virgin oil and serve immediately.