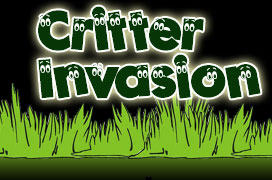 This past weekend was my daughters 3rd birthday and being she is my only girl out of 3 kids and my last baby, I decided to throw an over the top birthday party for her.  A few months ago a friend of mine shared a picture with me of her front yard being invaded by flamingos. I immediately knew that is what I wanted to do for my daughters birthday. But, I had no ides where I would find that many plastic flamingos. After a little searching I found a company called "Critter Invasion". They are a yard greeting provider with tons of unique yard signs and critters. Everything from footballs, to smiling suns, to bees and cows. There is seriously a yard sign for nearly every holiday in the world! See more yard signs and see which one you like!
I contacted a lady named Cheryl Neilson and she arranged to come over early the morning of my party before my daughter woke up. That way my daughter could be surprised when she walked outside. Below is a picture of our yard, before and after the flamingo flocking.
There were probably 40-50 flamingos (there were some on the other side that I didn't show) and it certainly made a conversation piece when our guests arrived. I even saw some of my neighbors put photos of our yard on their instagram.  My daughter was so excited when she came outside that I think she squealed. After our  party Cheryl came and collected all the flamingos and left her personalized sign for me. It was so easy.
I will definitely be using Critter Invasion again. It's such a fun way to surprise someone you love!
Critter Invasion is available is 6 states: Florida, Georgia, South Carolina, North Carolina, Kansas, and Orange County, CA.
If you live in Southern California and would like to get a hold of Cheryl you can contact her at: [email protected]
Critter Invasions are $65 although certain prices vary.