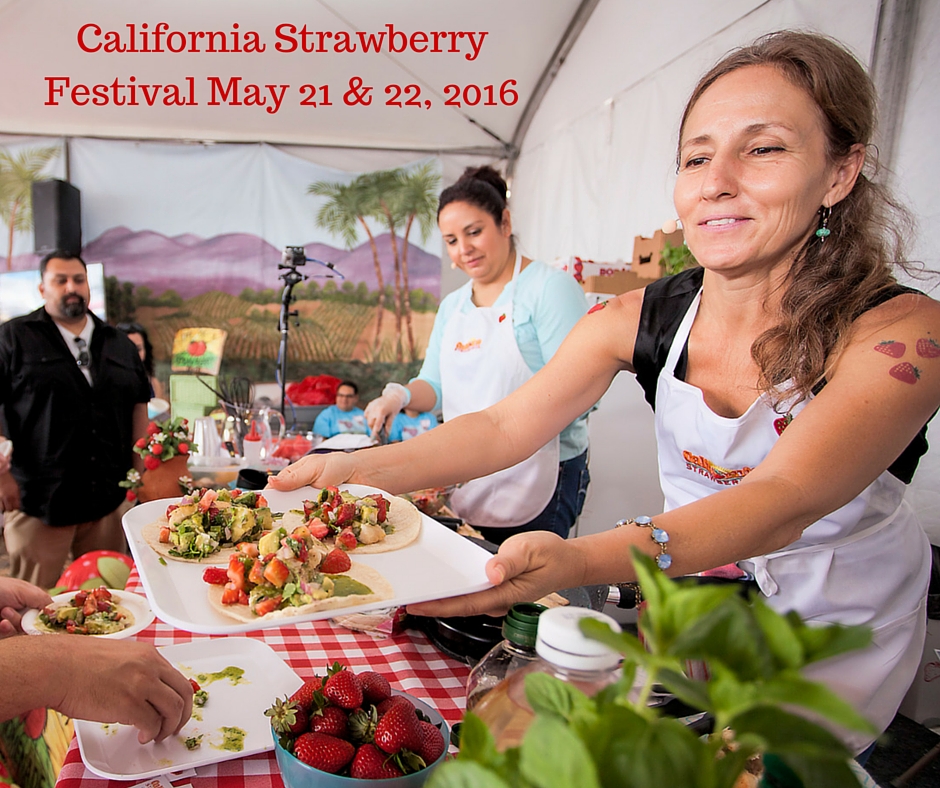 Do you love sweet, juicy red strawberries? Do you incorporate them into your meals, and eat them for a snack? If you can't get enough of these luscious, ripe fruits you should attend the Strawberry Promenade at the 33rd Annual California Strawberry Festival . This social event is a hub of entertaining and engaging activities where strawberries are the main ingredients of goodness. It also has a showcase of chef challenges and cooking demonstrations.
Schedule of events
11:00am
Berry Fun Craft Time
Youths of all ages are invited to enjoy make 'n' take strawberry-themed craft fun, presented by Future Leaders of America. Free activity book giveaways available while supplies last.
11:30am
Kids In The Kitchen with Strawberry Eats & Treats
A pint-sized culinary adventure with YouTube sister sensations, Briena and Britney, aka, "The Bow Girls." Discover how fun and easy cooking can be when these two siblings share their favorite way to start the day with Strawberry Stuffed French Toast.
1:00pm  (Saturday only)
Berry Blast Off Recipe Contest Championship
There's no holding back when two finalists go head-to-head in a timed culinary quest to prepare the ultimate strawberry dish as they vie for top honors and the coveted grand prize.  Presented by the Ventura County Star. Jimmy Reyes from "Old School 95.9" serves as the emcee host.
1:00pm (Sunday only)
Strawberry Smack Down Chef Challenge
Two chefs go head-to-head in a timed contest where they must create a sensational strawberry dish utilizing key ingredients they only discover once the challenge begins. Hosted by Cathie Moreno from "The Kitchen Diner" as seen on Food Network's "Diners Drive Ins & Dives," the bout is between local Chef Magda Weydt from "Fresh and Fabulous" and Tomas Garcia from "Tomas Café." Gold Coast Broadcasting presents the event, and the grand prize is $1,000 in Kitchen Craft Cookware.
3:00pm
Berry Best Hat Contest
Fashionistas showcase the ultimate in wearable berry bling. Cheer on contestants with the most outlandish and extraordinary berry bonnet. Hosted by our 2016 Ms. Regional California America Kristen Routh, the event is presented by Rubbermaid.
3:30pm
From Market to Table: Waste not – Want not
Get inspired by Food Share CEO Bonnie Atmore as she shows us how to introduce alternate dining experiences that break through the monotony of repeating the same dish. With simple techniques, her approach to buying, cooking and enjoying life more with less, reduces food waste without sacrificing taste. Bring joy and variety into your kitchen while saving money and being kind to the planet.
4:30pm
Früli Festival Fun Facts Contest
Fun is brewing when Früli, the Festival's Exclusive Strawberry Beer, hosts an entertaining and interactive contest that everyone can enjoy. Put your berry knowledge to the test. Prizes awarded to participants. Presented by Früli Premium Strawberry Beer.
5:30pm
Berry Dance Lounge
Get your groove on dancing or relaxing to our "berry" funky music from the 70s.
Admission
California Strawberry Festival general admission is $12, seniors 62+ are $8, and children ages 5-12 are $5. Kids 4 and under are free. Active military and dependents with ID are $8. Hours are 10:am to 6:30pm. The event address is 3250 South Rose Avenue in Oxnard. Free park and ride shuttles off the 101 make getting there a breeze and save $10 on parking. Tickets can be purchased at the gate or in advance at www.strawberry-fest.org. The California Strawberry Festival toll free information line is 888 288-9242.
Driving Directions
The Festival is located at Strawberry Meadows of College Park at 3250 South Rose Avenue in Oxnard.
Oxnard is approximately 62 miles northwest of downtown Los Angeles and 35 miles south of Santa Barbara.
Due to weekend street closures, we do not recommend using GPS and Waze navigation. Please refer to the driving directions below. Numerous signs off the freeway alert you of options and also direct you to shuttle stops (the preferred way to get to the celebration).
Parking on site is $10. No overnight parking permitted.