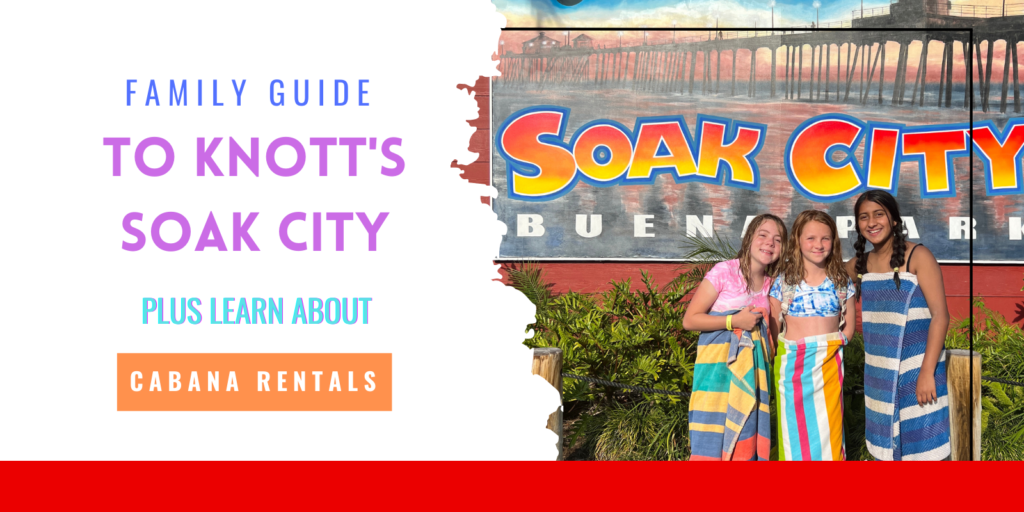 Summer is just around the corner, June 21st to be official. But school is out in less than 2  weeks and we can't help but count down the days! What kind of exciting adventures do you have planned for your family? Water excursions are always exciting and a great way to beat the heat and there is an exciting water park right in our backyards. Soak City in Buena Park recently expanded by adding 2-acres of new attractions, an updated restaurant called Longboards Grill and all new lush landscaping. They open for the season on May 20th-Sept.10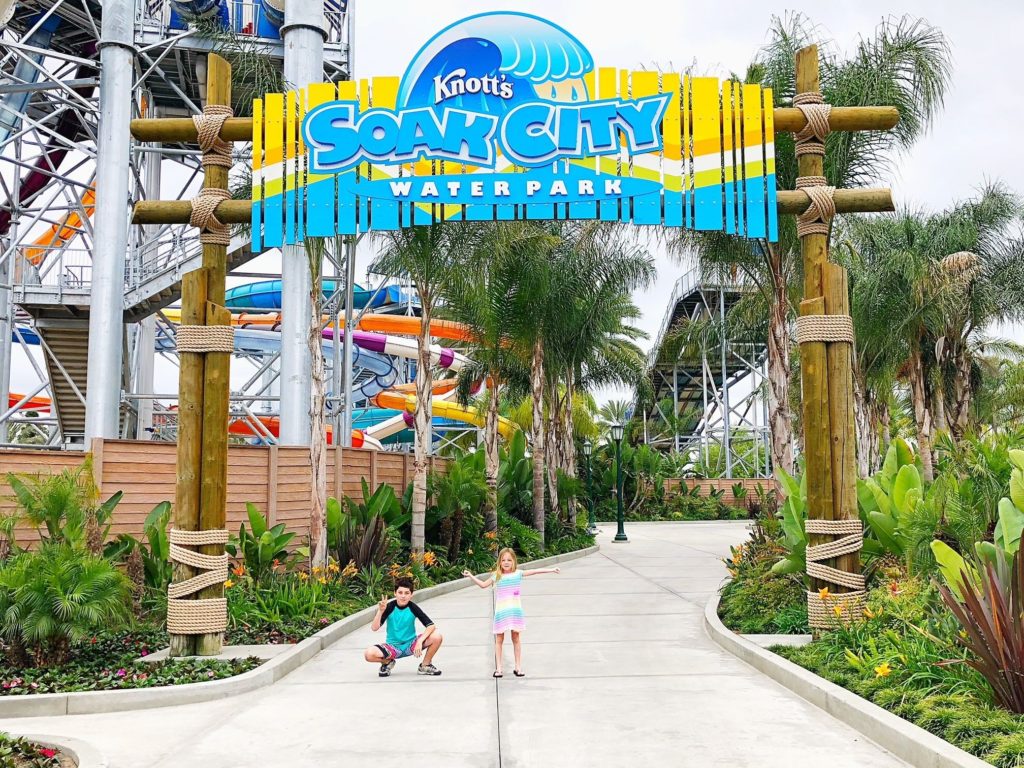 Do you have a season pass?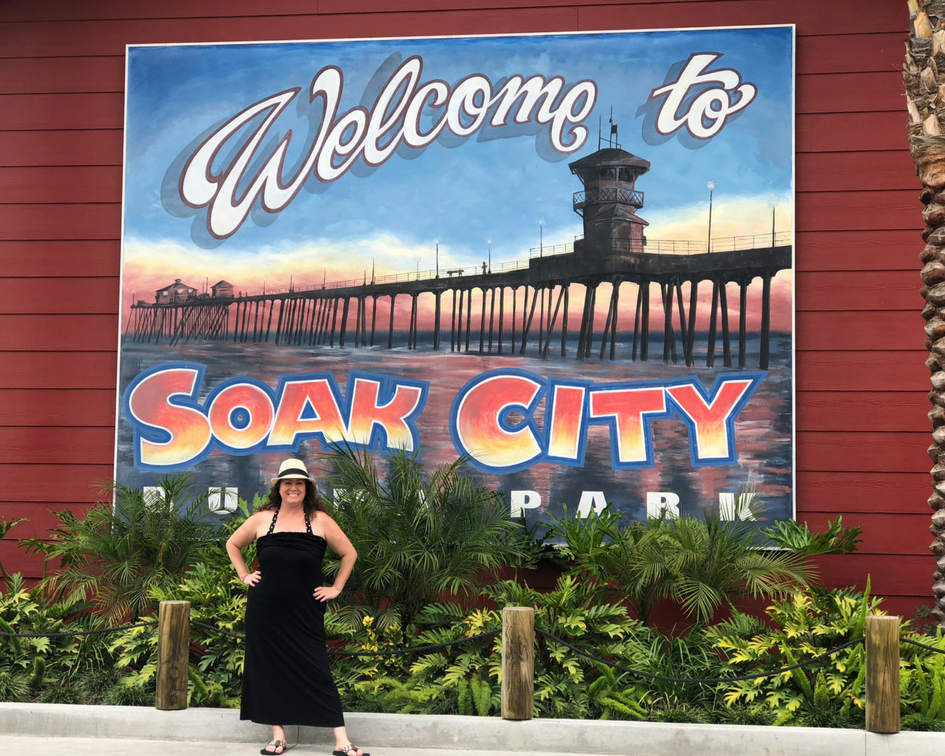 A season pass to Knott's Soak city is so worth it! Not only is it good for the waterpark but it's also good for Knott's Berry Farm. With a Gold level season pass you can enjoy unlimited visits to Knott's Berry Farm and Knott's Soak City Waterpark all season long. Plus, enjoy early entry to Knott's Berry Farm and Knott's Soak City on select days and special discounts on food & merchandise, hotel stays, and Knott's Scary Farm. 
Or you can get the Platinum which gives you free parking with the added benefit of enjoying all of those exclusive privileges on the gold pass at all Cedar Fair Parks across the country, including California's Great America, Cedar Point and more.
Visit here to purchase a season .
Attractions at Soak City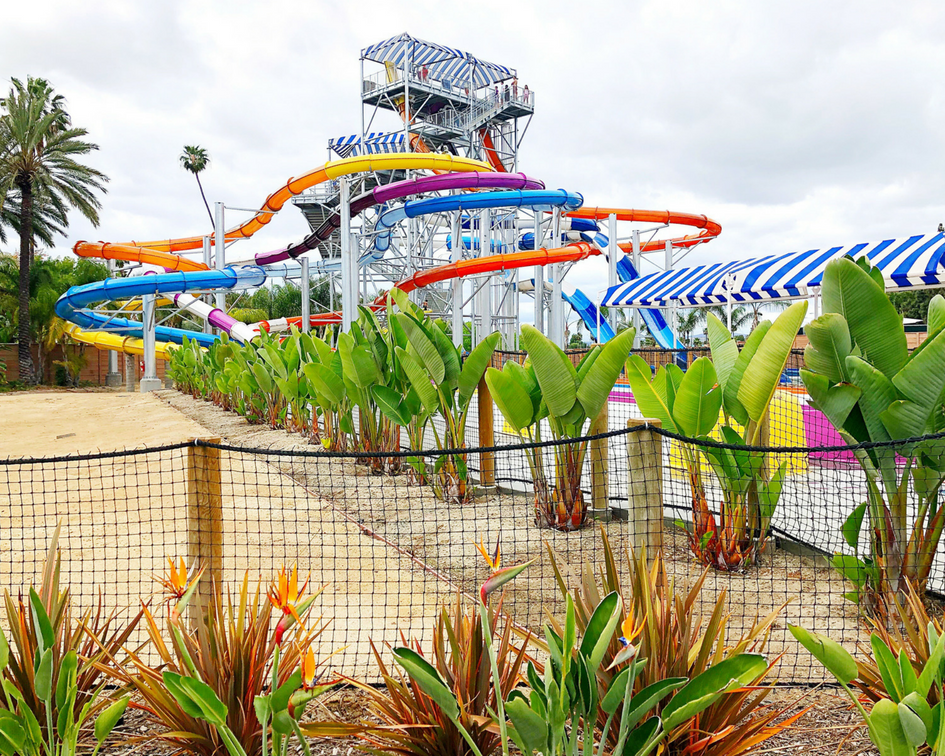 Shore Break – This colorful rainbow of a ride will take single riders on an adrenaline-filled water adventure as thrill-seekers board one of four Aqua Launch chambers to await the chamber's floor dropping from beneath their feet sending them on a high speed free fall down a 60-foot tall slide and through a series of exhilarating drops and daring loops. Additionally, Shore Break offers two dueling tube slides which will have riders zipping through adventurous drops and turns as they soak up the warm summer sun.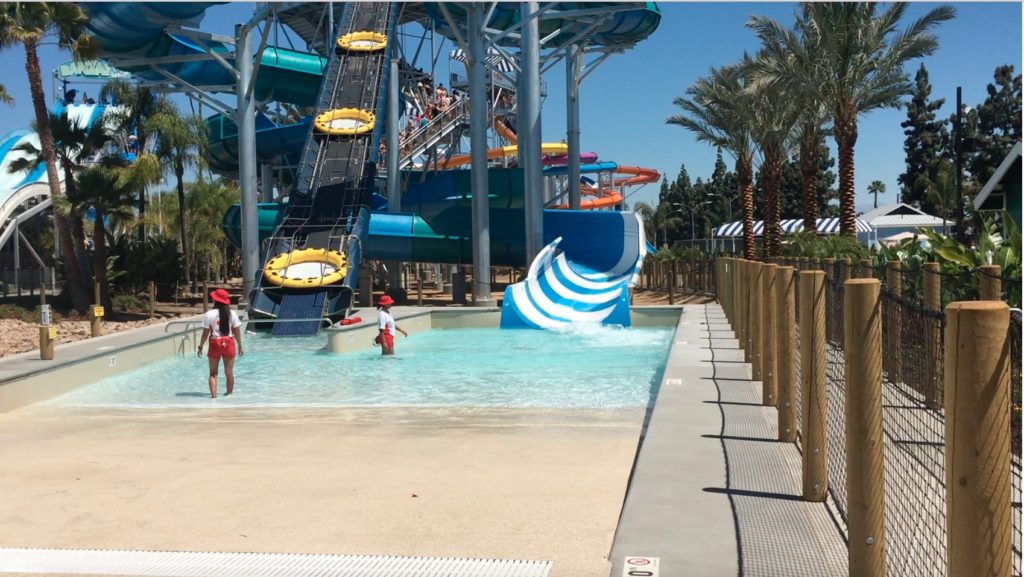 The Wedge – The fun family ride will take families – up to six riders – on an open-raft ride as they descend down navigating hair-raising twists, turns and unexpected dips. There is a lot of giggling to be had on this ride, but the wait can tend to get very long on hot days.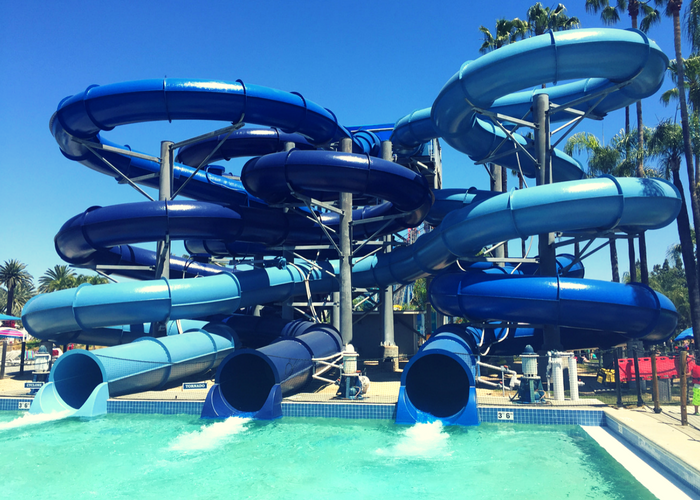 Laguna Storm Watch
Laguna Storm Watch Tower is not a new ride but it has received a fresh coast of paint. Pray the weather clears on the Typhoon, Tornado and Cyclone tube slides. Water depth 3 ft. 6 in. The line moves fairly quick as there are 3 different slides.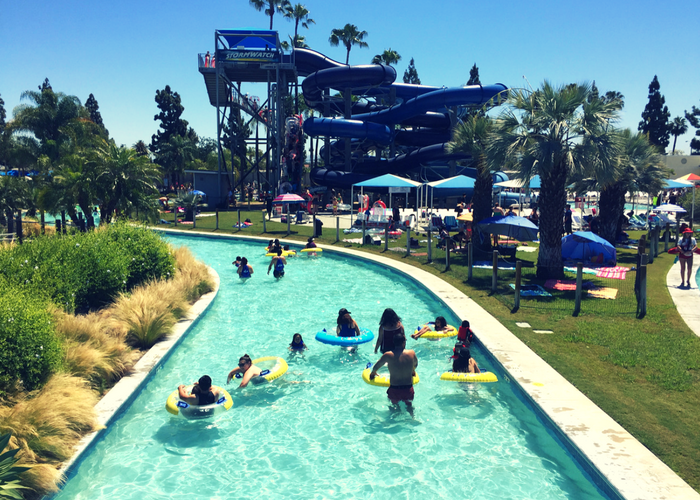 Sunset River
Want to relax and float the day away? Ride the Sunset River. At one-third mile in length, Knott's giant figure-eight waterway is the widest and one of the longest water park lazy rivers in the world! Water depth 2 ft. 6in.  Note: If you want to stay attached to your friend, grab the handle on their inner tube.
Tidal Wave Bay
Locals know to head for the 750,000-gallon Tidal Wave Bay for the City's best surf. Here, you can bask in the sun when the waves are "off" and shoot the curl when the breakers start rolling in! Water depth 6ft at the deepest point.
Things to know—> Height Requirement: Children who are less than 42″ tall must be accompanied by an adult*
Rider Safety: Life jackets are required for children who are less than 48″ tall in bare feet.
Dine At Longboards Grill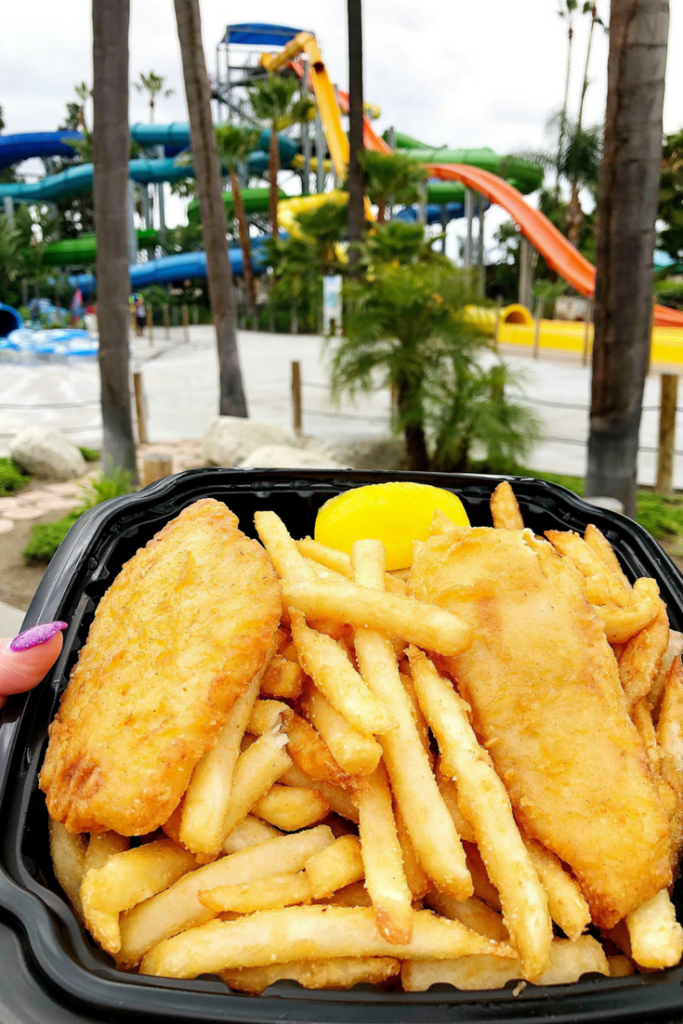 After a few hours in the sun rehydrate and fuel up at Longboard's Grill.  The restaurant also had a complete remodeling and expansion which now offers a newly redesigned sleek restaurant layout. While Longboard's theme remains the same, the menu includes new and delicious items such as hand breaded chicken tenders, fish & chips and assorted wraps. Plus classic favorites like grilled burgers and hot dogs. A new shaded outdoor seating area has been added by the restaurant's entrance, welcoming diners to fuel up with delicious meals as they take a break from the sun.
The Fish and Chips were my favorite item and they come with 2 large packs of delicious tarter sauce.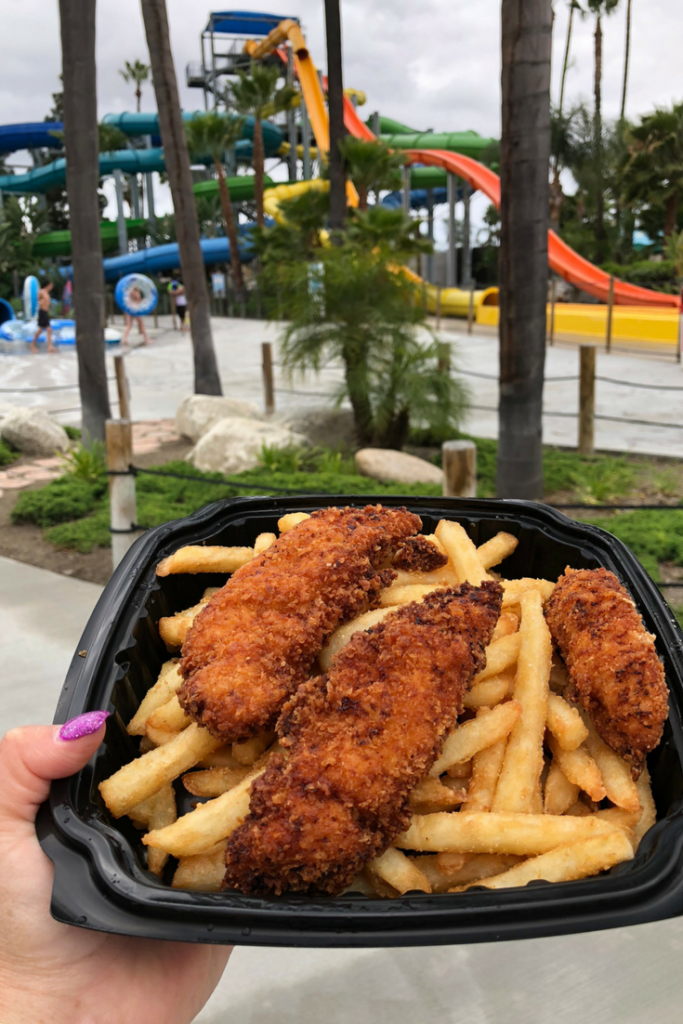 Knott's obviously knows how to do fried chicken and their chicken tenders are super kid friendly and delicious. A nice crispy texture and you can ask for dipping sauces.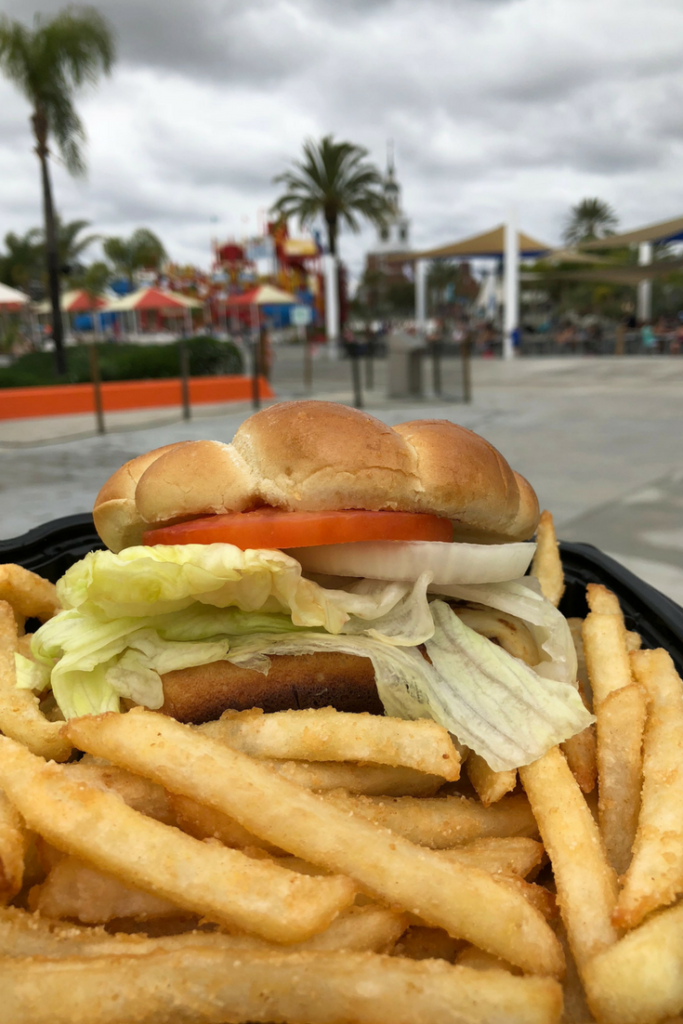 If you are trying to eat on the lighter side they have chicken sandwiches and wraps and salads. Pizza is also available on the menu as well.
Escape The Sun In A Private Cabana
If you can't stay in the heat for extended periods of time, or perhaps you have a young baby or just want the luxury of your own personal space, consider renting a private cabana. Each cabana can accommodate up to 8 guests and includes extra amenities like a table with umbrella, free tube rental, and waiter service. That's right, you very own personal waiter to dote on you!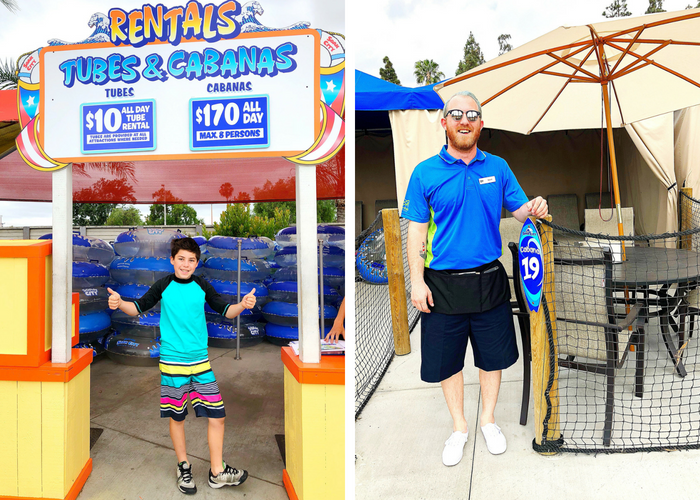 Take A Tour of a Cabana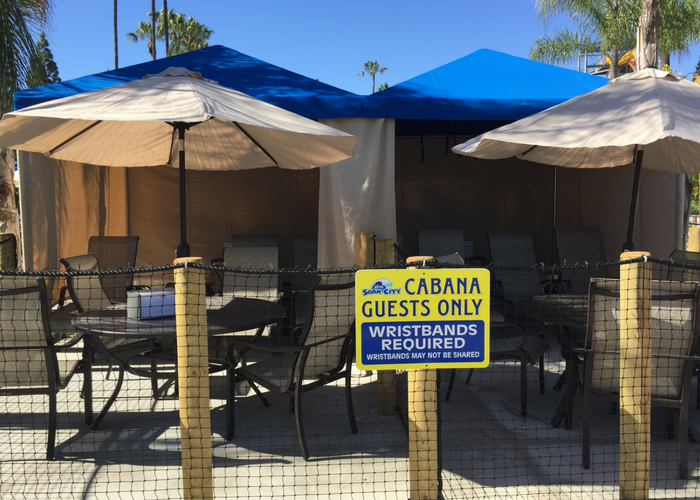 Tips For Playing at Soak City
Bring Extra Sunscreen- On hot days you will go through sunscreen extremely fast.
Rent a locker- It is not advised to leave your valuable in a bag next to your chair, no matter how safe it seems. However, security does roam the property all day.
Pack Waters – bottled water are allowed in the park so pack enough for the whole family.
Get a waterproof Phone pouch – Don't want to leave your phone in the locker because you are using it to take photos? No problem. A waterproof pouch is the way to go. You can even use to it take video while you are on a slide.
If you have allergies, pack your own food. My husband and son eat a gluten-free diet and they would be very hungry at the end of the day since there is a number of battered items on the menus.
Pack extra clothes – Showers are available to rinse off near the changing rooms, but be prepared to share space.
For more information visit Knott's Soak City on Facebook and Twitter.
Watch A Day At Soak City