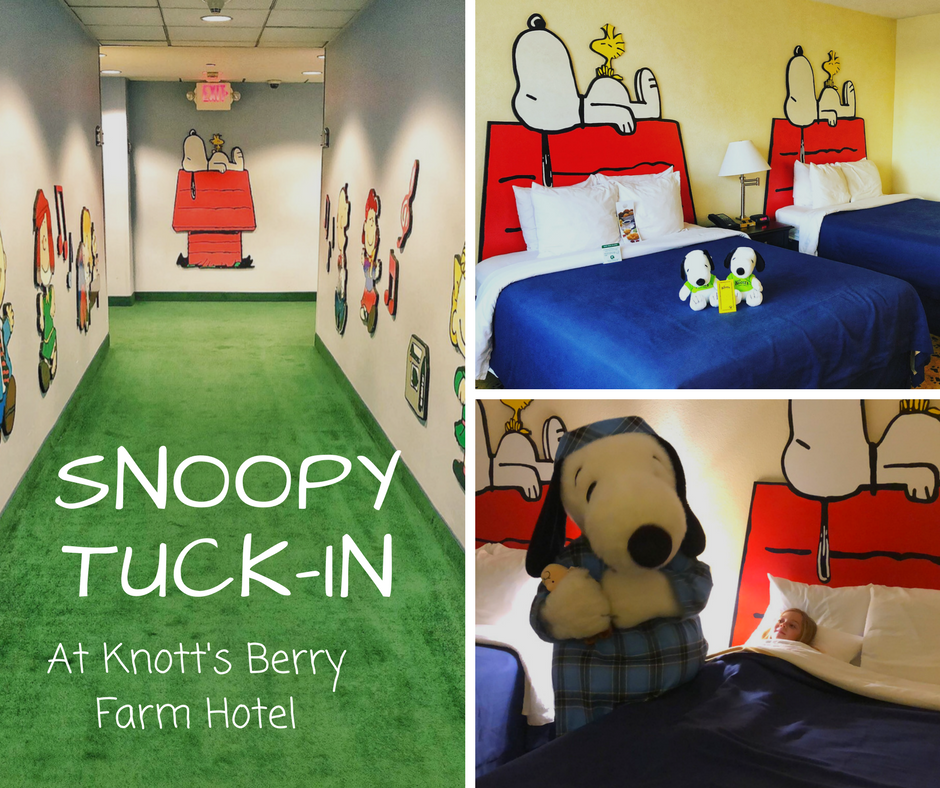 Located just footsteps from Knott's Berry Farm is a magical place filled with all things Snoopy and his favorite PEANUTS gang friends. The full service Knott's Berry Farm Hotel, conveniently situated adjacent to the park combines comfortable accommodations and features a SNOOPY-themed wing. There are 16 rooms that are filled with snoopy headboards, snoopy art and an entire hallway of adorable characters and bright green carpet! It's nearly impossible not to smile while you are there!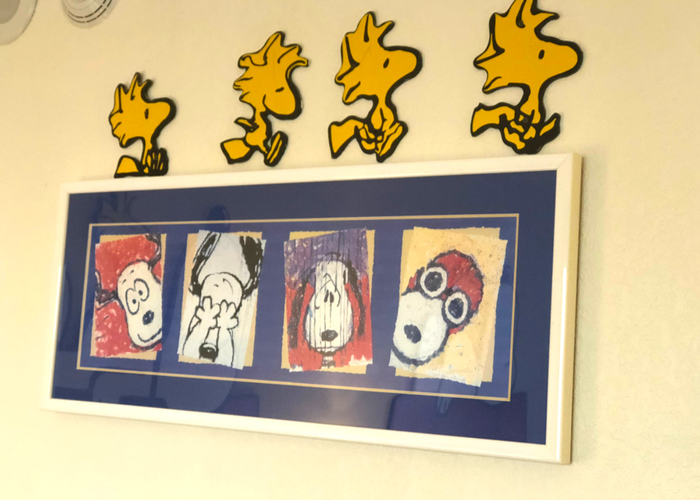 Last month was our first time staying at the hotel (Thank you Knott's) and we had a blast! We did stay in one of the Snoopy Themed rooms and were surprised to find out that at 8:00pm every night Snoopy can come to your room and tuck your kids in!! What??? I couldn't wrap my brain around what that meant until 8:00pm when Snoopy himself,  literally showed up inside of our room! He kisses, he hugs and he does the cutest sheet tuck you will ever see! Just watch below:
Watch a Snoopy Tuck-In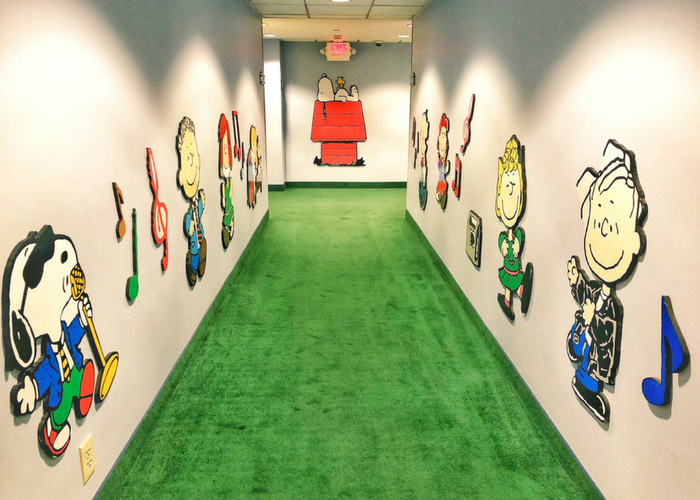 Blogger Tip #1. There are only 16 camp snoopy rooms and they only accommodate a family of 4. Rollaways are not permitted BUT they do have adjoining rooms.
Knott's Berry Farm Hotel Amenities
Aside from being walking distance to the park, The Knott's Berry Farm Hotel also has many amenities that will suit your families needs!
There is a:
Fitness center
Pool with children's activity area
Lighted sports courts
On-site restaurant
Room Service
credit: Knott's Berry Farm
credit: Knott's Berry farm

All you can eat breakfast Buffet
Dining options including Amber Waves, specializing in All-American fare and hotel room service. Guests can also dine at Mrs. Knott's Chicken Dinner Restaurant which is also a very short walk behind the hotel.
***Snoopy makes an appearance every morning at Amber Waves during breakfast at 9:00am so kids will have a chance to see him for a second time!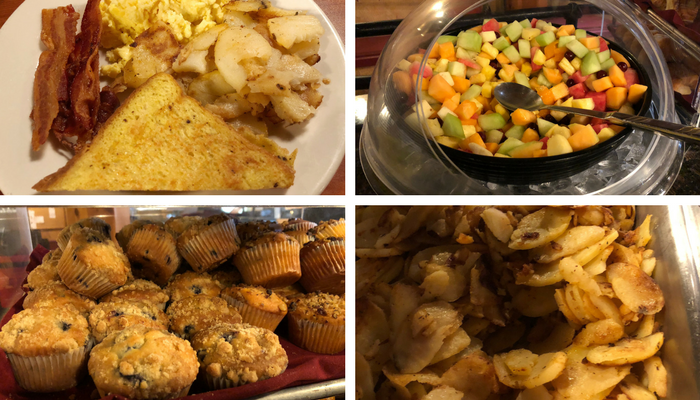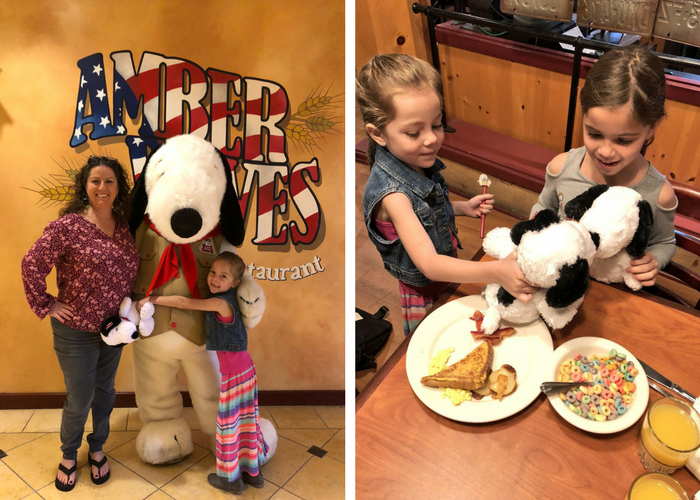 Amber Waves serves a breakfast buffet from 6:30am to 10:00am M-F. You can also choose to order off the regular menu. the buffet offers two different types of eggs, hash browns,sausage, bacon, fresh fruit, cereal, muffins and pastries and coffee and juice.
Mrs. Knott's Chicken Dinner
If you are craving the best fried chicken that ever was, this restaurant is just a hop skip and a jump from the hotel. Every complete chicken dinner includes handmade biscuits, side salad, choice of cabbage or cherry rhubarb, three pieces of fried chicken and mashed potatoes smothered with gravy. For dessert: your choice of boysenberry pie or boysenberry sherbet. Many other dishes are also available including grilled chicken, salads, open-faced sandwiches and a number of appetizers. A full service bar, serving signature boysenberry-infused cocktails, is also available.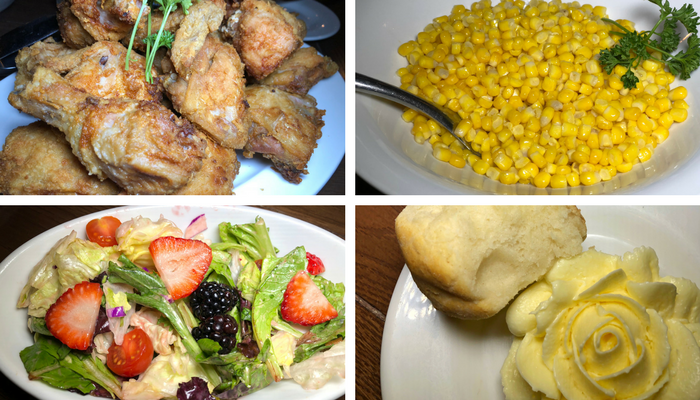 Blogger Tip #2: There is complimentary coffee to-go in the morning at the bar inside the hotel restaurant!
Credit: Knott's Berry Farm
For more information or to book a room please visit their reservation page. You can also Find The Knott's Hotel on Facebook and Twitter.