Credit: Entenmann's
Happy National Donut Day!!! What is your favorite flavor of donut? Try this delicious donut creation using Entenmann's donuts and you might just have found your new favorite flavor. Pick up a few boxes and have a playdate in the park. Or drop a box of donuts off to dad and his colleagues at work! Whtever fun you decide to have remember that Entenmann's has been around since 1974 and In the early '50s, Frank Sinatra used to call the Bay Shore bakery to place weekly orders for Entenmann's crumb coffee cake.
Also, Entenmann's is hosting a sweepstakes for a chance to win free donuts for a year! For each entry, $1 will be donated to Entenmann's' charity partner Feeding America, up to $10,000. More information about the sweepstakes and donation program is available at www.entenmanns.com/nationaldonutday. "The Entenmann's® 2017 National Donut Day and sweepstakes information has been provided by Entenmann's® Bakery." 
 Donut Facts
Boston, MA has the most doughnut shops per person

During WWI, they were fed to American soldiers
They used to be called 'olykoeks'
Both 'donut' and 'doughnut' are acceptable spellings
Over 10 billion donuts are made in the u.s. each year.
The French used to call their donuts "Nun's Farts"
Ship's captain Hanson Gregory claimed to have invented the ring doughnut, with a hole in the middle, on June 22, 1847
Entenmann's has made more than 780 million donuts. If you laid them end-to-end, you could wrap them around the earth 2 ½ times!
More than 190 million pounds of apples have been used in Entenmann's apple pies.
The All Butter Loaf Cake was made in the original Entenmann's bakery in Brooklyn in 1898.
More than 168 million pounds of chocolate have been used for Entenmann's "rich frosted chocolate dipped donuts," enough to fill all of the Great Lakes.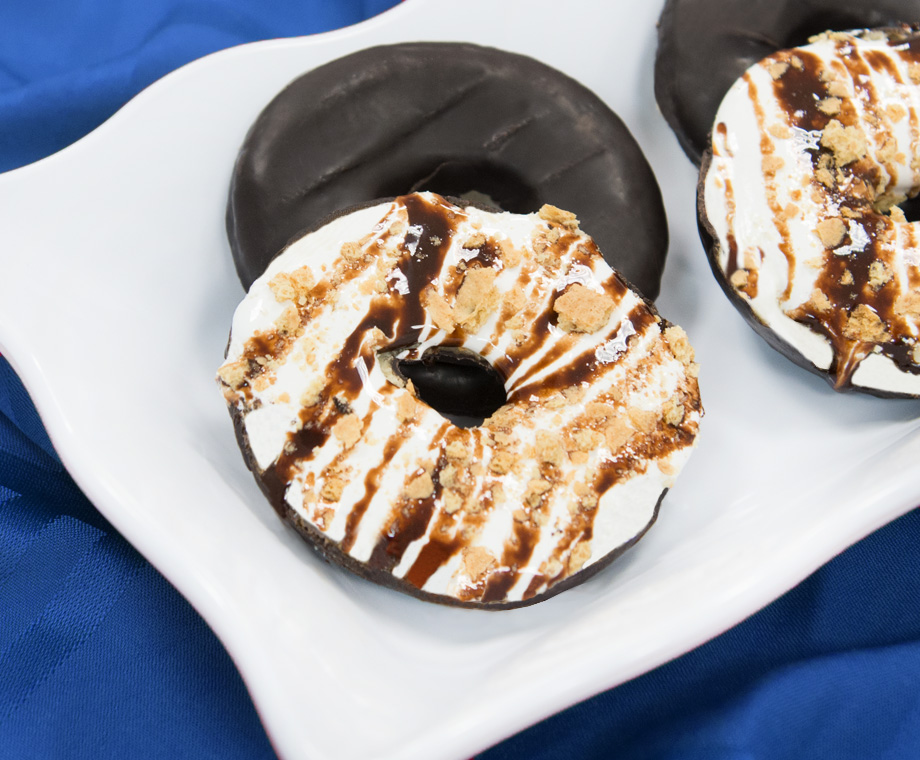 Ingredients
Ingredients
1

box Entenmann's® Rich Frosted Donuts

1

bottle

(24 oz) Chocolate Syrup

1

container

(16 oz) Marshmallow topping

1

package Graham Cracker Squares
Instructions
Directions
Cut Entenmann's® Rich Frosted Donuts in half horizontally

Spread marshmallow topping on the inside of bottom half of donuts

Drizzle chocolate syrup over marshmallow topping moving side to side

Place graham cracker square in plastic sandwich bag

Seal the bag and hit it with the back of a spoon until you have small pieces

Sprinkle graham crackers on top marshmallow topping

Place the second half of the Entenmann's® Rich Frosted Donut on top with chocolate side up