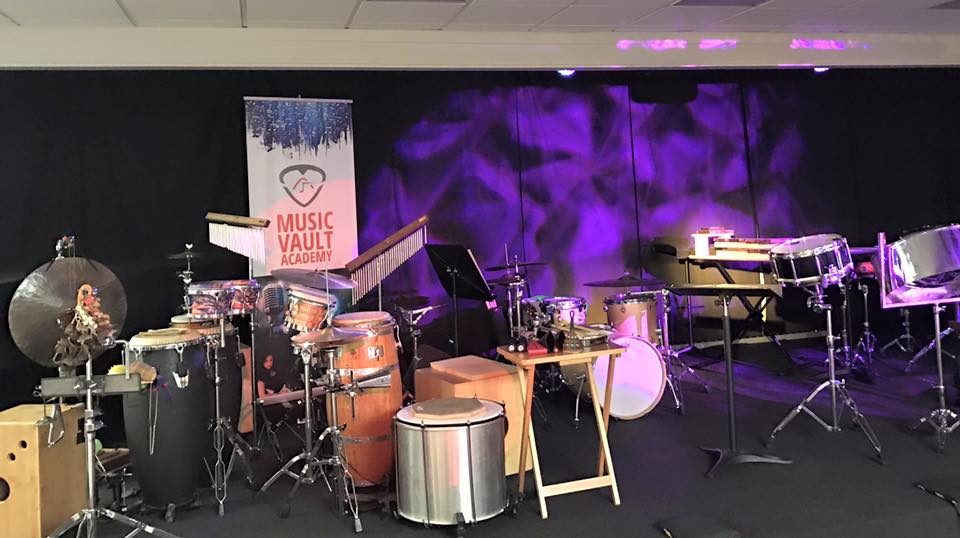 Approximately 2 years ago, my son said to me "Hey mom, I really want to try playing the drums". Startled by this question since we are in no way musically inclined and no one in my family plays or has played an instrument, I started looking around for places where he could take some casual lessons. I wasn't sure how much he was going to like it and didn't want to invest a ton of money into a set of drums.
Fortunately, we found an amazing place in Laguna Hills called The Music Vault Academy and he has been playing drums ever since. Not only are all the teachers kid friendly but all instructors have many years of teaching, playing and performing experience; with most being graduates of, and having master degrees from, some of the best music conservatories and universities in the country: Harvard University, Cleveland Institute of Music, Rice University, Texas Christian University, Southern Methodist University, Boston Conservatory, and University of Southern California.
Here is a clip of my son playing "Lane Boy" by 21 pilots. Recently his teacher asked him if he wanted to learn how to play the marimba so after just a few weeks he was able to transition the marimba into his drum concert. So exciting!
But what do you do if your child isn't quite sure which instrument they want to play? Now it's easy. Bring them to the "Exploring The Instruments" class and let them decide for themselves.
**Cost: Classes are a drop in with $20 per student fee. 10% discount for sibling
EXPLORING THE INSTRUMENTS
Children and musical instruments belong together, and there are so many choices! At the Music Vault Academy we offer private and/or group lessons in voice, piano, percussion, violin, flute, saxophone, and guitar. We also offer instruction in many styles of music.
This is a series of hands-on introductions to our most popular instruments. You will hear an expert performance in various styles and traditions, learn about the instrument and how to care for it, and have an opportunity to try to play a little.
Bring your child to this series of classes to get an idea of which one might work best for your student. This class is intended for children in elementary school and older.
Discover a new instrument each week through this series of 45min. classes held on Saturdays at 1pm.
Upcoming instruments:
Piano – June 3rd
Violin – June 10th
Drums – June 17th
PIANO: SATURDAY, JUNE 3RD, 2017 AT 1PM
Music Vault Academy
25255 Cabot Rd. Suite 100
Laguna Hills, CA 92653
Tel: 949-257-2744