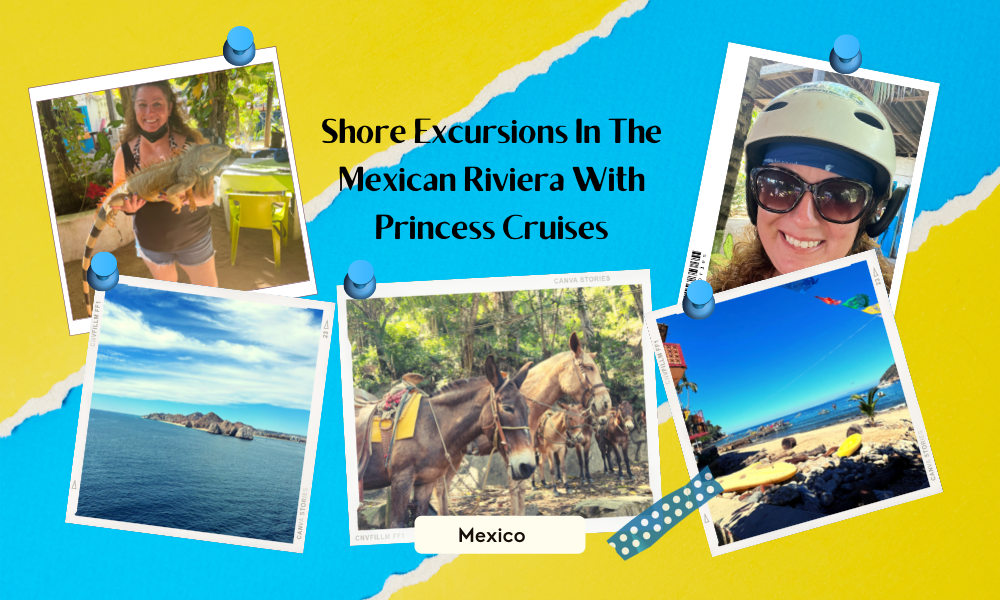 Mexico is an incredibly diverse and unique destination. Seeing Mexico from a cruise ship is beautiful and everyone should experience it by land on a Mexican Riviera shore excursion from Princess. One very important feature of taking an excursion organized by Princess is that they closely monitor the departures and returns of all excursions. Therefore, your ship will not sail until all of the organized excursion transportation has returned, so you can be assured that you won't miss the ship. When you make your own arrangements in port, or if you leave an organized excursion, Princess will no longer be aware of your whereabouts and if you miss your ship you will be responsible for getting yourself to the next port or back home.
So what kind of fun things are there to do in Mexico you ask? A ton! You can sightsee, go on an adventure or just stroll the local area. Or you don't even have to get off the ship! Here is what we did in each port:
Puerto Vallarta
Speedboat, Horseback Ride, Snorkel & Lunch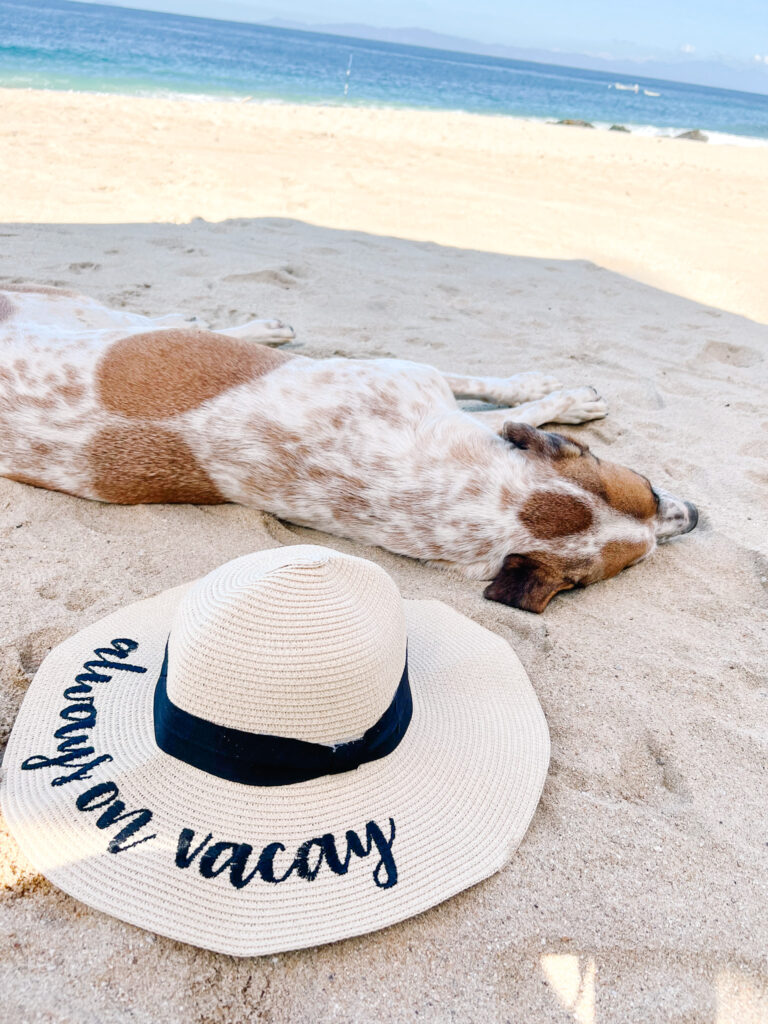 If you have a need for speed this excursion will fuel any adrenaline rush. This is the ultimate way to discover traditional fishing villages and the spectacular beaches of Yelapa on Puerto Vallarta's pristine southern shores. First we boarded an inflatable speedboat. The outstanding scenery mesmerized us as we left civilization behind. Then we headed to the town of Yelapa for a nice relaxing horseback ride through town. We were in small groups and our horses were calm and friendly. I absolutely loved our tour guide and he worked really hard all day to make sure everyone was happy and safe. After our horseback ride and while in the charming village of Yelapa, we hiked up to a waterfall and took some gorgeous photos. Then we stopped at the secluded cove of Majahuitas for snorkeling. Finally, we went to a secluded beach – a tiny settlement well off the radar of most travelers to Vallarta. The pace of life here is distinctly relaxed. A spectacular beach and pristine waters provide the perfect location for swimming and kayaking. I personally enjoyed hanging in a hammock with my papaya margarita. We also had the most incredible lunch here where a woman cooked everything from scratch.
We met so many friendly and amazing dogs here and could have spent another 4-5 hours here if time allowed. It will forever be engrained in my memories.
Mazatlan
Historic Mazatlán By Rhino
Once again I found the perfect excursion to satisfy my need to go fast. Exploring Mazatlan in a Rhino ATV was very comfortable because it was just my husband and I and I liked that we were not stuck on a tour bus all day. A rhino is an automatic and fun 2-person 4×4 mini Jeep. These open-air cruisers are perfectly suited to explore the varied terrain and narrow roads of Mazatlan. The ride can be a little bumpy, so expect to hear laughter!
Your half-day tour begins when you walk from the pier to the Rhino vehicle station, where you'll participate in a short safety briefing. Once inside your open-air vehicle, you travel caravan style to your first attraction – Vigia ("lookout") Hill. Here, your guide will point out the picturesque sights from this sweeping vantage point: the coastline, offshore islands, and El Faro lighthouse – one of the highest natural operating lighthouses in the world. You might even see your sparkling ship in the deep blue Pacific!
Then it's time to see the Cliff divers perform as they dive off the rocky cliffs into the waters below. This is where we had to get our hustle on. Once the diver was finished we booked it back to our Rhino to continue our drive through Old Mazatlan. Here we saw a showcase of colorful, post colonial buildings that hint at the grandeur of a bygone era. A highlight of this visit was a stop at the 19th-century cathedral Basilica of the Immaculate Conception. Renaissance domes, twin spires and Gothic arches soar above you in this beautiful and spiritual space, originally completed in 1899.
We did stop for a quick bite to eat and shop towards the end and then we took our Rhinos back to the pier! A super fun and adventurous day.
Special Notes:
**Sold per vehicle. Rhino's hold up to 2 people.** Minimum age to drive is 18 years old with a valid driver's license
Cabo San Lucas
Dolphin Encounter
Your time in the Port of Cabo San Lucas depends on whether it's your first port or your last port. When we visited we only had about 4-5 hours so we did a quick Dolphin adventure but unfortunately did not purchase the photo package so we don't have pictures to share.  However, it was an experience of a lifetime!  I literally got in the water with a dolphin and it kissed me on the cheek, I was able to rub its belly, feel its fins and so much more. It was so fascinating and both my husband and I were super happy we did it. It was such a convenient location as well!
Just a short walk from the pier, the beautiful Cabo Dolphin Center, designed by the award-winning Mexican architect Enrique Norten, is an impressive architectural sight that has been designed with a minimalist theme to properly showcase the star attraction, a wonderful family of Pacific bottlenose dolphins. A team of experienced photographers and videographers are available to capture your day, since the use of personal cameras is restricted for the safety and welfare of the animals. No swimming is required for the Dolphin Encounter. Photo Packages start at $300 and include video.
Blogger Tip: Do not put on sunscreen before this excursion. They will make you shower before you get in the water with the dolphins as sunscreen is not safe for them.
Shopping
There is a ton of shopping in Cabo San Lucas. Plan to bring extra cash with you as some places do not accept credit cards or the medallion app. You will find a lot of coffee and salsa, pottery and jewelry. There are endless things to buy in Mexico cruise ports. Local merchants recognize that these visitors from cruise ships are very important to their livelihoods, and go out of their way to help tourists by answering questions and providing guided tours of their places of business.
We made so many incredible memories on this cruise and now we are already planning another one! Cruises are literally the perfect vacation as they can be family-friendly or 100% adults only. It's the best of both worlds. Thank you Princess Cruises for the trip of a lifetime.
Sunsets On The Majestic Princess
Few things are more magical than seeing the sun slip below the horizon while you watch the world go by. If you love colors of orange, pink, yellow and golden hues, we've got just the cure for you! Check out our photos and videos of some gorgeous sunsets you may see onboard the Majestic Princess. Click here or on the photo below.