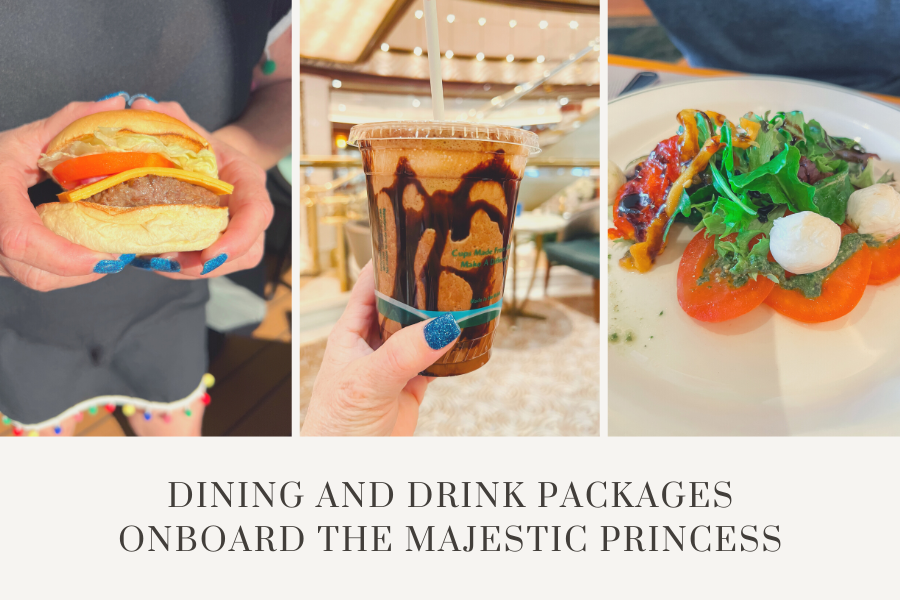 Did you bring your stretchy pants with you? Because you are going to need them. There are so many things to eat and drink on a cruise and the Majestic Princess will make sure you do not go hungry.  But before we dive into dining, let's talk briefly about drinks. We enjoy drinking so we knew right off the bat we were going to need a premier drink package because we like to try a variety of cocktails and liquor. We spent a lot of evenings at the Good Spirits bar and also at the Hollywood Pool bar in the evenings. Whether you like to drink or you just prefer soda, coffee or tea there is a package that is right for you. Below are the packages you can choose from: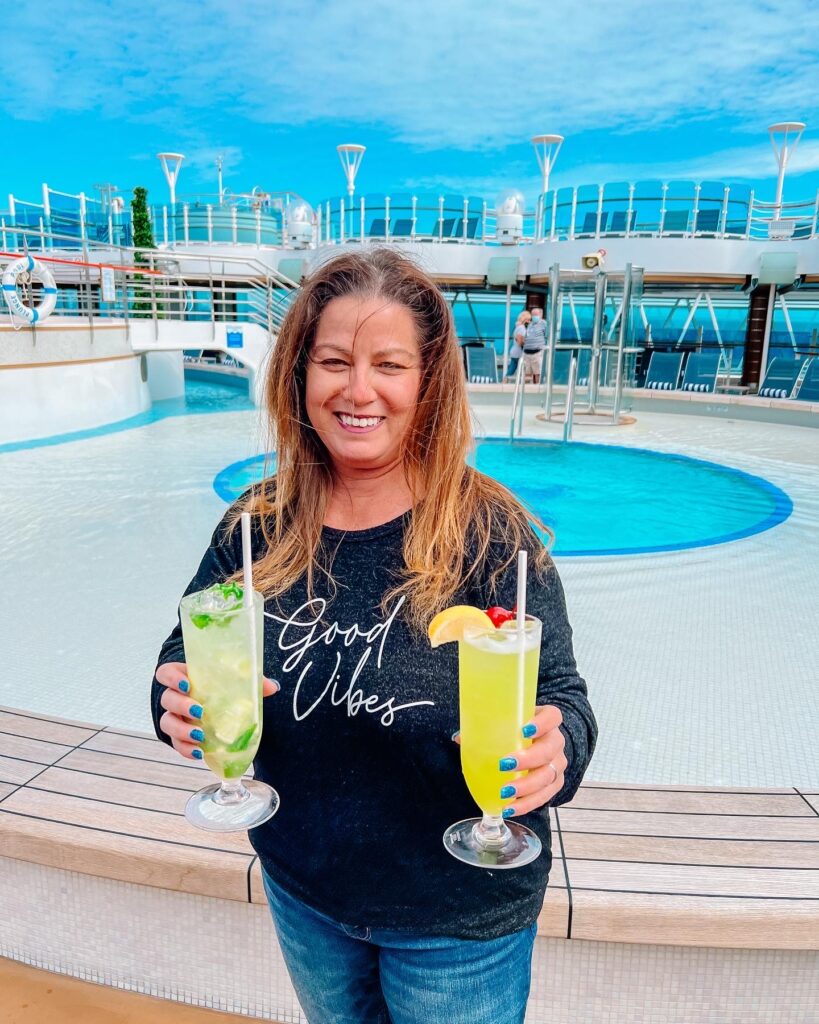 The Premier Beverage Package
The Premier Beverage Package is USD $59.99 per day plus 18% service charge (totaling $70.79 per day) for all itineraries except Australia. The package includes all beer, spirits, wine by the glass and cocktails $12.00 USD and under as listed on our menu(s), or $16.00 AUD and under for voyages departing from and returning to Australia and New Zealand.
The Premier Coffee & Soda Package
The Premier Coffee & Soda Package is USD $19.99 per day plus 18% service charge (totaling $23.59 per day) for all itineraries except Australia. The package includes bottled water (500ml only), fountain sodas, fresh juices (if available), specialty coffees and teas, Frappés at Coffee & Cones, milkshakes (if available) and Red Bull energy drinks.
The Classic Soda Package
The Classic Soda Package is USD $9.99 per day plus 18% service charge (totaling $11.79 per day) for all itineraries except Australia. The package is AUD $15.33 per day which includes a service charge for all Australian-based vessels. The package includes all, fountain sodas, fresh juices (if available), mocktails, and smoothies as per the menu. The package includes one souvenir tumbler based on availability and while supplies last.
The New Grounds Package
The new grounds package retails at USD $31.00, plus service charges of 18%, and allows passengers to redeem 15 specialty coffees throughout their voyage, in any location, where espresso/cappuccino service is offered.
Specialty Dining Onboard
Although food in the main dining room is covered in your cruise fare, sometimes it is nice to splurge a little. There are currently 3 specialty dining restaurants on board the Majestic and 2 fine dining experiences. We dined at all of them and were thoroughly impressed with each one as individually they had something unique to offer. Let's start with the Crown Grill.
Crown Grill
This restaurant was hands down our favorite. We loved it so much we dined there twice just so we could try different menu items. With a rich wood décor and a theater-style kitchen, it's no wonder Crown Grill was named among the "Best Cruise Ship Steakhouses" by USA TODAY. Featuring premium aged beef and fresh seafood items, this specialty restaurant offers an intimate dining experience in a classically elegant setting and an open kitchen where chefs prepare and cook to order top-quality cuts of beef, chops and seafood. Here is a video of what our food looked like the first night. Although Crown Grill is not formal I do recommend wearing business casual attire.
Bistro Sur La Mer
We loved the feel of this restaurant. It felt like we were dining al fresco. Savor casual French bistro-style dining with a modern twist at Bistro Sur La Mer, created with Chef Emmanuel Renaut, who holds the prestigious title of "Meilleur Ouvrier de France" (Best Craftsmen of France) and Chef of the Year by Le Chef, and whose Flocons de Sel restaurant has received three Michelin stars. Chef Renaut has created a tantalizing menu, showcasing authentic French dishes crafted with the Chef's signature flair. Enjoy the video of our dinner.
Chinese food is always at the top of my list and Harmony really hit the spot for us. I will be honest and let you know that I did peek at this menu before we boarded the ship and it kind of scared me. There was jellyfish and all kinds of unique dishes I wouldn't eat. However, one day on the cruise I went to look at the menu and they totally americanized it. The thing is, the Majestic princess was built to cater to the Asian market but I was really happy they simplified the menu as we had a wonderful meal. Have a peek at all the delicious items we tried.
Harmony
Chef's Table Lumiere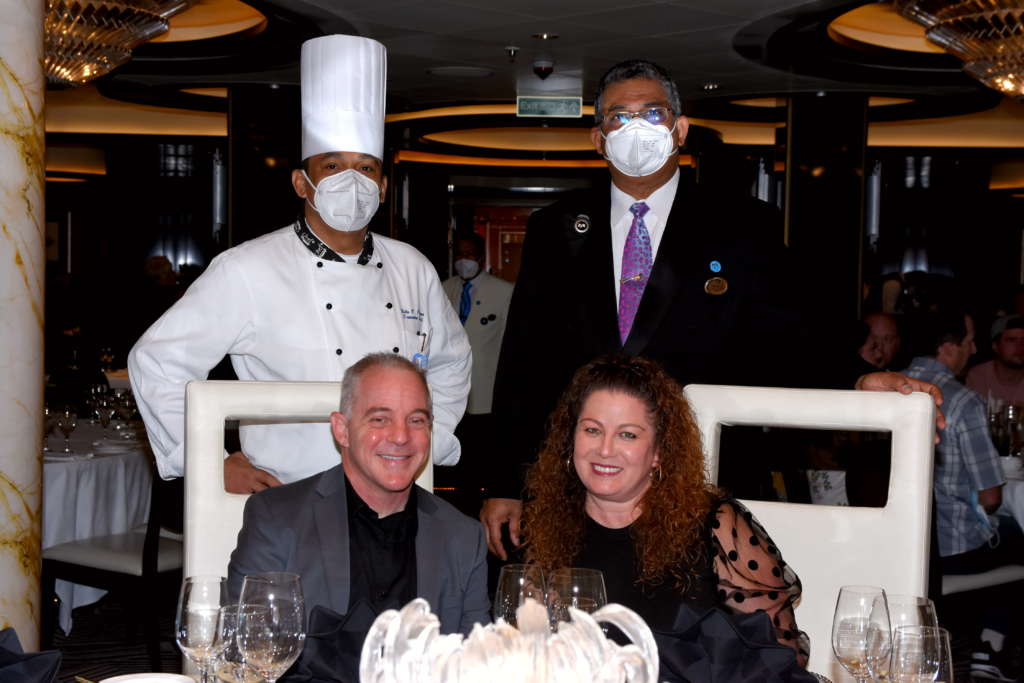 Chef's Table Lumiere is an experience like no other. It's definitely a formal event so do dress up. The experience is a perfect culinary journey for any special occasion. Indulge in champagne and hors d'oeuvres, followed by an extravagant multi-course dinner created and hosted by the ship's executive chef. It's perfect for celebrating an anniversary or milestone or just making your cruise vacation even more amazing. There are servers for each guest and the maître d' gives all of them a cue on when to set your plate down. Ladies are served first and you will be delighted by the curtain of light that descends behind you which gives diners a feeling of privacy.
Wine Makers Dinner
Princess works in partnership with various winemakers and vineyards to create a menu of wines and food pairings. On the Majestic Princess, they work in partnership with Yao family wines. Tickets are $40 per person including wine. To request a seat at a Wine Maker's dinner aboard Majestic Princess, you need to express your interest to guest services or introduce yourself to the maître d when you see them in the various restaurants or dining rooms early during your cruise (they make the rounds each evening).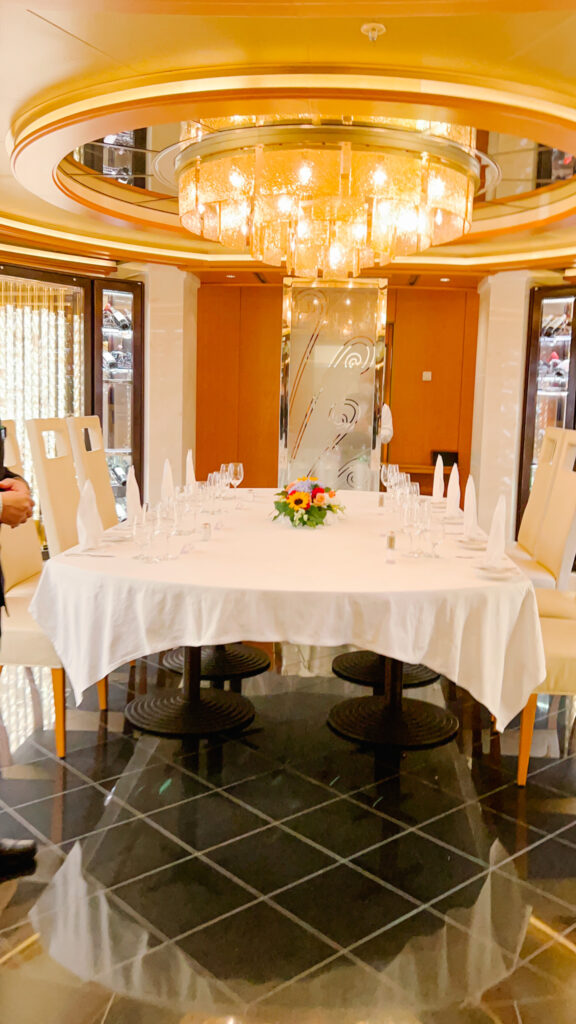 Main Dining Rooms
There are three main dining rooms onboard the Majestic Princess:
Allegro
Allegro is one of the main dining rooms aboard Majestic Princess. It's located on deck 6 and is open for breakfast, lunch and dinner, with waiters providing table service. Dishes can include meat, seafood, pasta and vegetarian options, regional cuisine, and low-fat, sugar-free and gluten-free items. While we didn't dine in Allegro, we did enjoy the Chef's Table in this dining room.
Concerto
We really loved the location of this dining room. It was such a short walk from our cabin. Concerto is lovely and large with big, beautiful sweeping windows. Our meals were enjoyable and we had the choice to sit alone or with other couples. There are two formal nights on a seven-day cruise and you can indulge in lobster tail on the second formal night.
Symphony
During our Mexican Riviera cruise in January 2022, the Symphony dining room actually wasn't open. I believe this was due to Covid and the result of low occupancy on the ship. Since we didn't visit this dining room I can't comment but I've heard that it is a very similar setup and style to the other dining rooms.
World Fresh Marketplace
Sometimes a sit-down meal is not quite what you are looking for and that is where World Fresh Marketplace can help! The dining space here is massive and the lines move quickly and efficiently. There are windows for days and the best part of the buffet is that the workers will serve you. That means no more touching utensils that hundreds of other people have touched.
We found breakfast and lunch to be great here, especially on port days. We were in and out and left with our bellies full. Some of the areas were paired down as our sailing was only at 25% capacity but we were never disappointed with the choices.
Chopsticks Noodle Bar
Some days call for second lunches and fortunately, Chopsticks Noodle Bar isn't keeping track! This was seriously my favorite fast-casual restaurant onboard the ship. Located poolside with plenty of seats in the shade, you will find freshly prepared noodle soups and classic wok-fried noodle dishes for the perfect light lunch or snack. Enjoy favorites such as Sichuan Dan-Dan Noodles and Wonton Noodle Soup in a casual setting on deck, plus special menu items rotated daily. Hours are limited and they close at 3pm daily.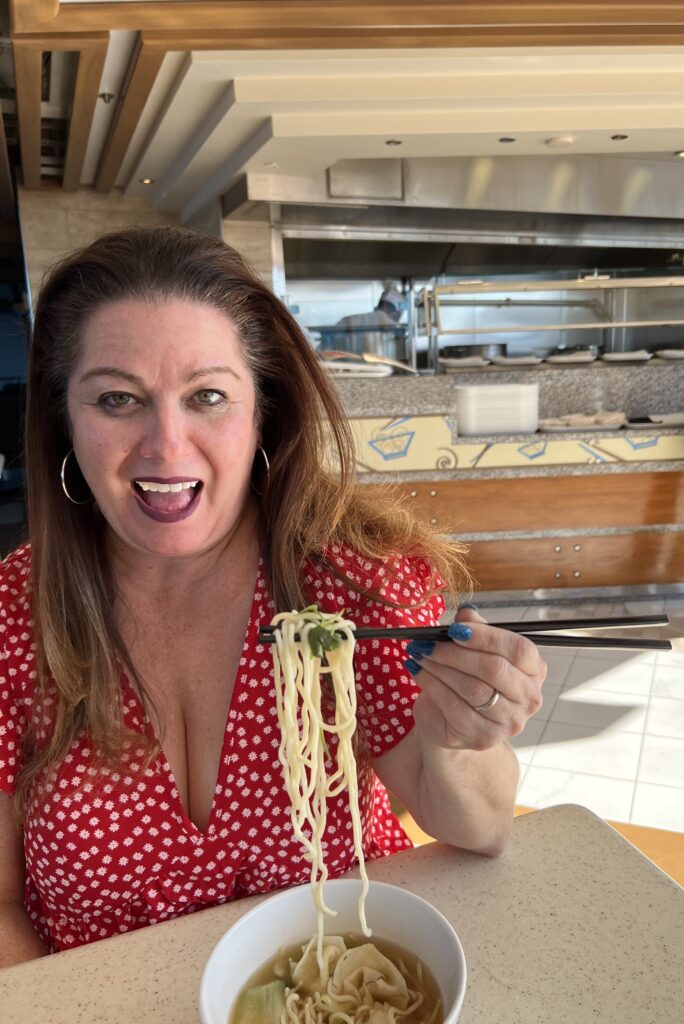 Burger and Lobster Grill
Follow your nose to the Burger & Lobster Grill where the burgers are flipping and the hotdogs are roasting. Items are served with a variety of garnishes and hot crisp fries. Lobster rolls, veggie burgers and grilled chicken sandwiches are also served and are all sure to hit the spot when you are relaxing out on deck. There is a $15 extra charge for the lobster roll and it is worth every penny. The mayo to lobster ratio was perfect and the bun was toasted and buttered.
TIP: Order the chili cheese fries – YUM!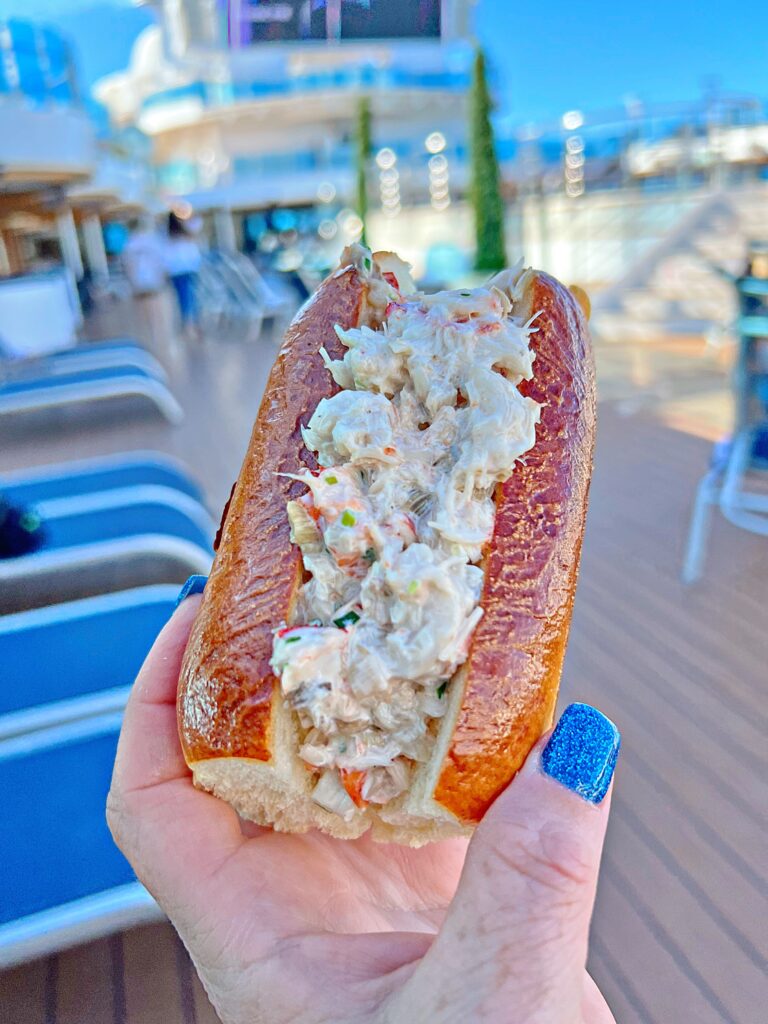 Alfredo's Pizzeria
Best place to come to for a late-night snack! We made a few friends on board and came here on several occasions for some hot fresh pizza after a few drinks. Named for their former Master Chef, Alfredo Marzi and voted "Best Pizza at Sea" by USA TODAY, this charming sit-down venue offers an enticing menu of freshly prepared individual-size pizzas along with beer and wines by the glass. The open kitchen design allows you to watch as the chefs create pizza by hand and serve them straight out of the oven. Everything was fresh and cooked to order.
Part 4: Shore Excursions
Shore excursions make it easy to immerse yourself in each vibrant port you visit. We did one at every port in the Mexican Riviera and we can't wait to come back and try some more. Click here or on the photo below to see which excursions we did.