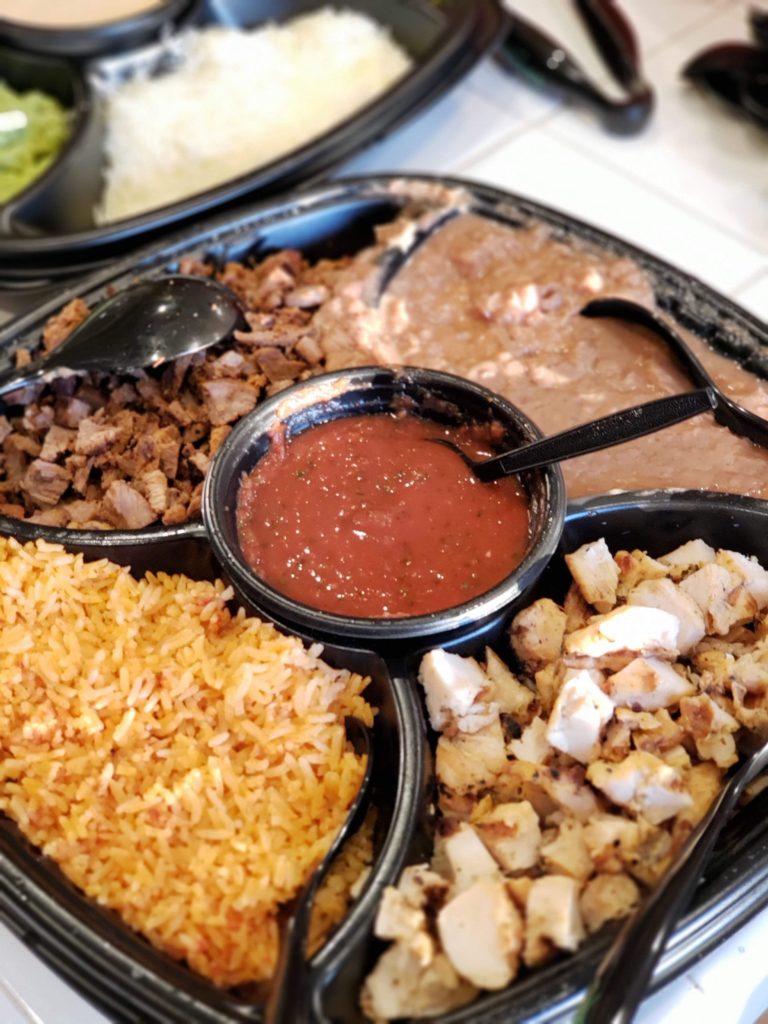 Recently, my husband turned 50 and I wanted to throw him a surprise party to celebrate such a huge milestone. Our 20 year anniversary was also the week after giving us another reason to celebrate. This guy has been my rock for nearly 25 years and I cannot imagine life without him. But planning a surprise party is no easy feat. Especially because I had it at my house and my husband works from home. It wasn't like I could prep in advance.  Fortunately he had the day off and I was able to take him on a super long date for several hours while my friends and neighbors prepped the house with decorations.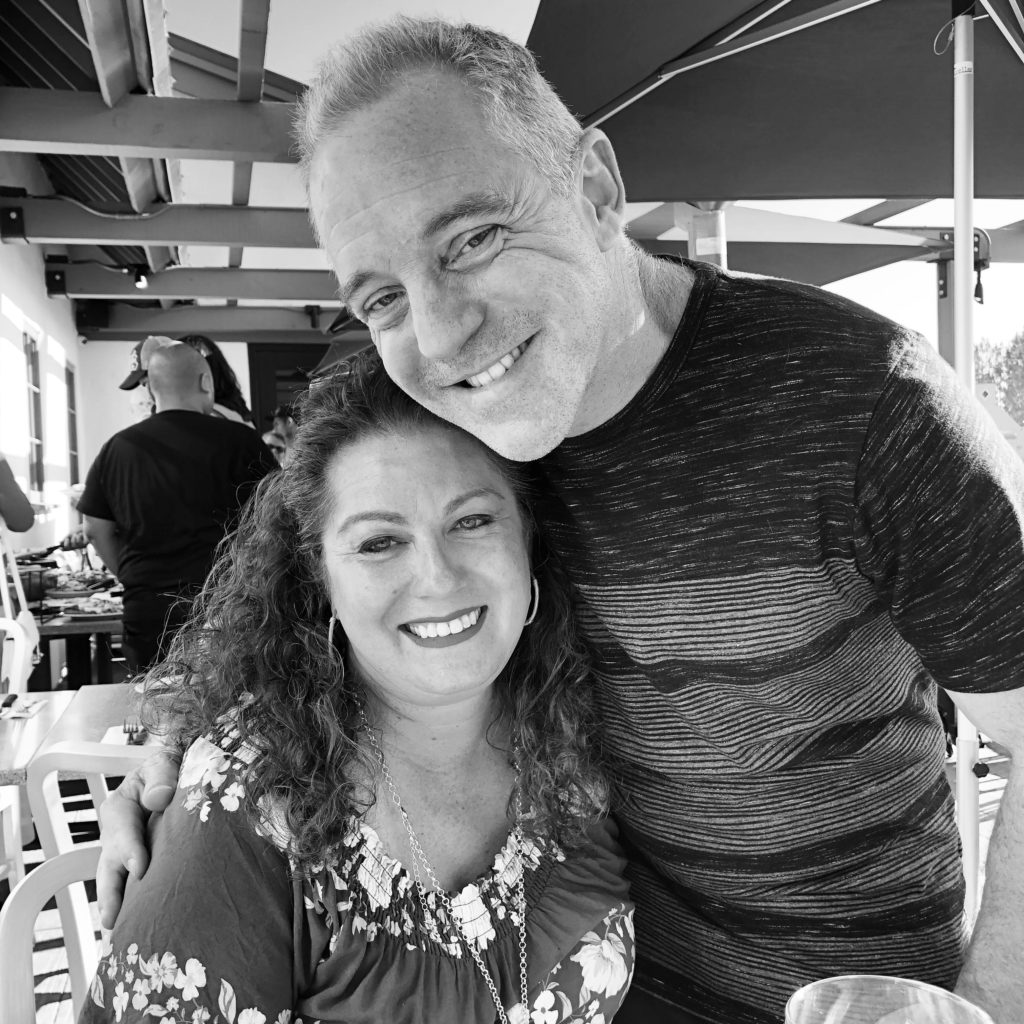 My biggest concern was the plans for food. I am a huge believer that any party you throw, no matter what time of day, you should always have food. And not just snacks. People love to eat especially if there are cocktails involved. After a little bit of research I decided to cater from Rubio's Coastal Grill! It was the perfect solution to feeding a large group of people because there was something for everyone!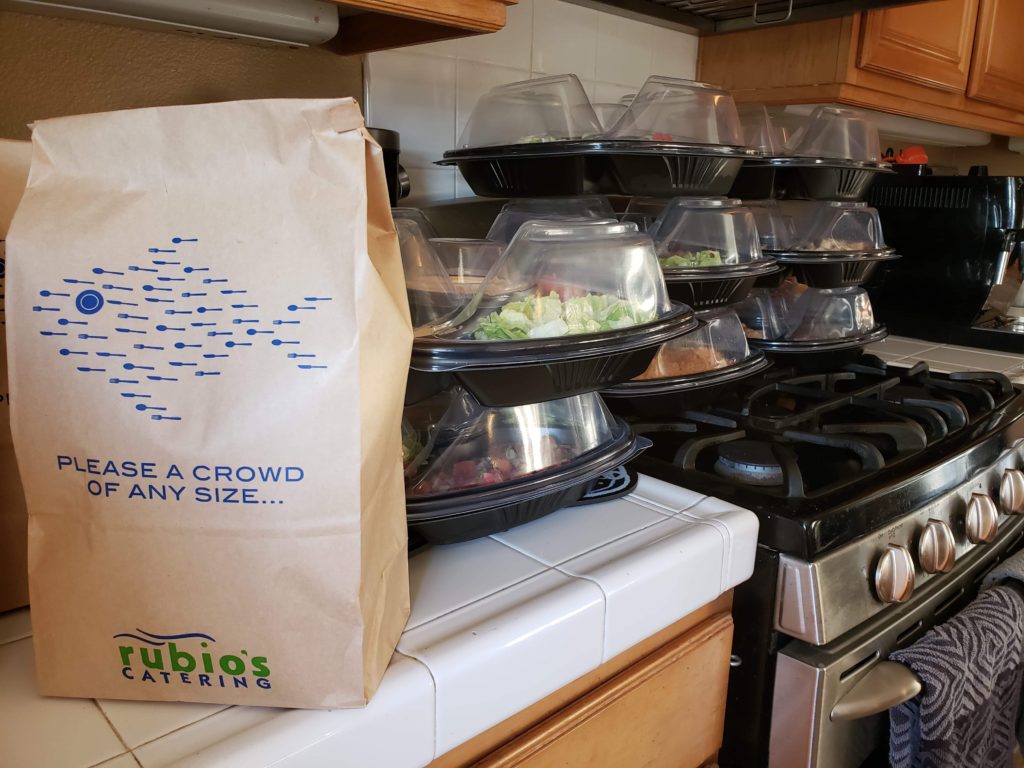 Rubio's catering offers easy to serve items such as Taco Bars, Burrito Platters & Boxes, Enchilada Platters, Salads, Sampler Platter and Appetizers, Drinks Deserts and Sides.  The platters are easy to set up and easy to clean up which makes it a perfect choice if you are  catering for  office meetings, graduation parties, or family get-togethers.
Taco Bar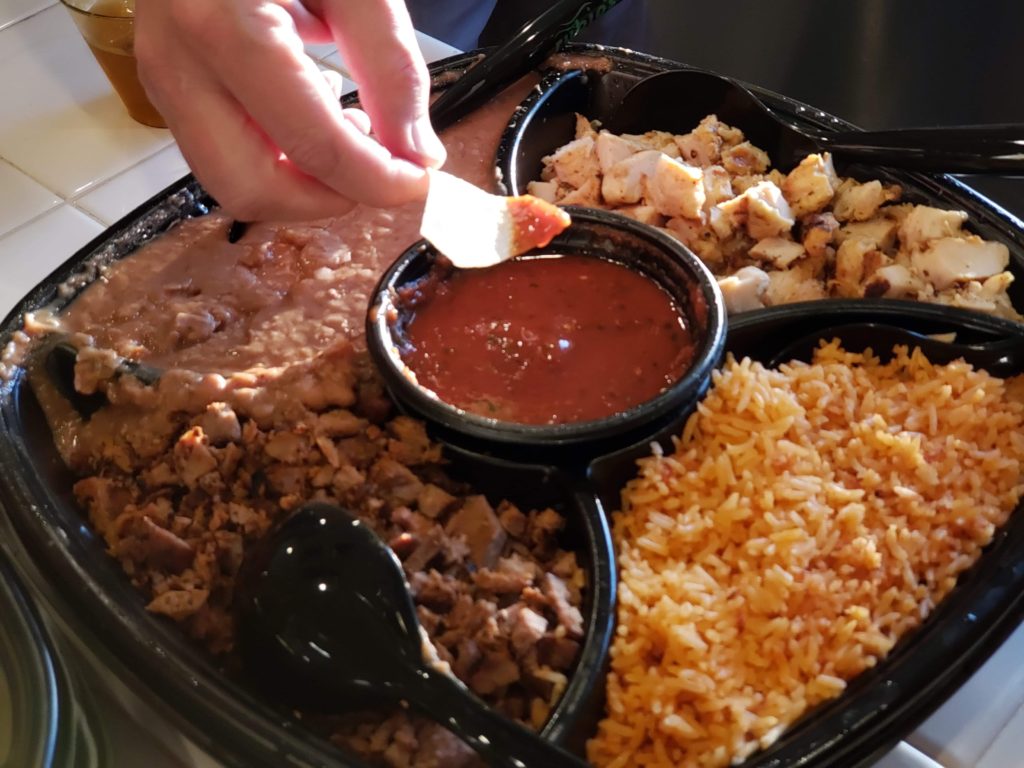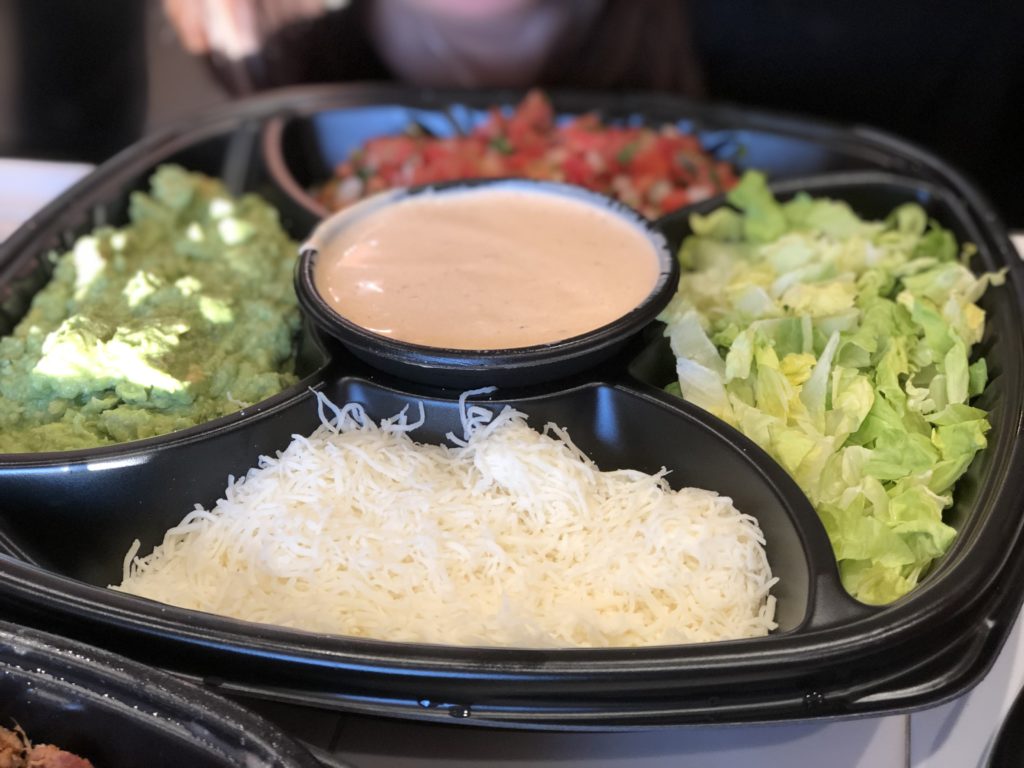 I chose to go with the build your own chicken & steak taco bar so my guests could make their own plates the way they like. The bar consisted of grilled all natural chicken and all natural USDA choice Steak, mexican or citrus rice, "no-fried" pinto beans™ or black beans, cheese, lettuce, guacamole, signature salsa, creamy chipotle sauce, soft tortillas and tortilla chips.
The meat (steak and chicken ) was sectioned off from the rice and beans and each item had it's own serving utensil. I really liked how nothing was touching, yet everything was together making it really easy to make a quick plate.  There was so much to choose from and everything was super fresh!
Seafood Taco Bar
Choose from beer-battered Wild Alaska Pollock, grilled shrimp, or grilled or blackened wild salmon or wild mahi mahi. Served with fresh limes, cabbage, and white sauce or creamy chipotle sauce. You can also pair one of their seafood options with all natural chicken or steak.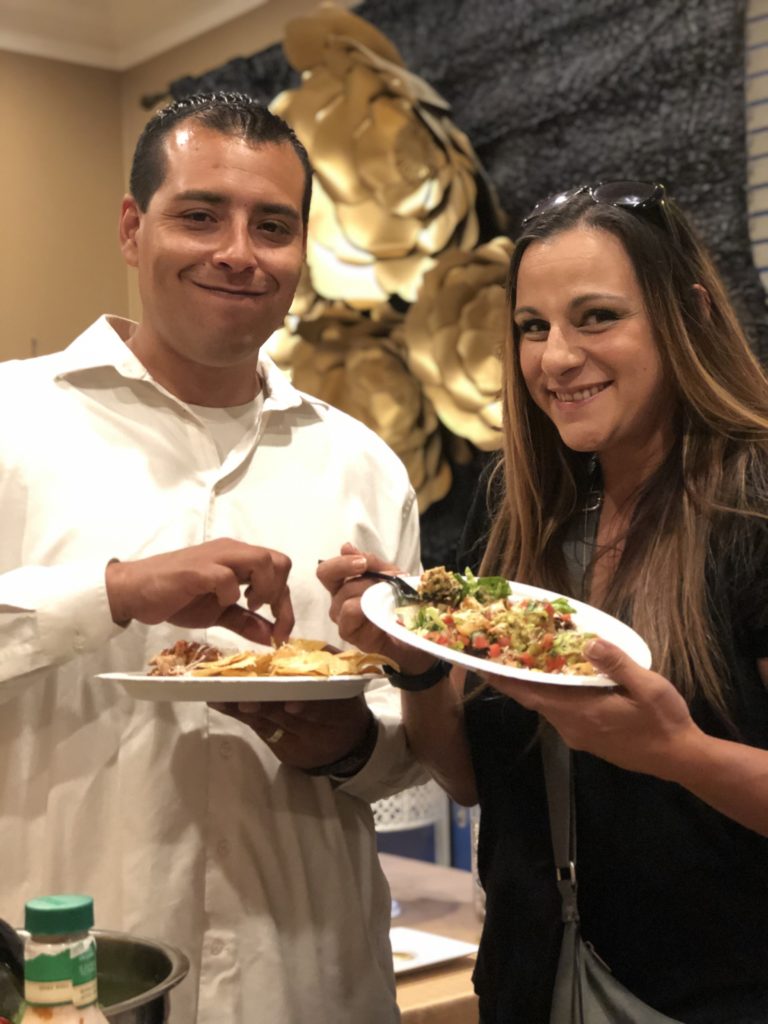 Rubios Guacamole & Chips
Who doesn't love freshly prepared guacamole? Rubio's by far has some of the best guacamole I Have ever tasted. It's prepared fresh daily with mashed Hass avocados, then mixed with chopped cilantro, and a sprinkle of natural sea salt, garlic and lime juice. The chips are perfectly crispy, thin and lightly salted. There were so many chips we didn't even need the tortillas because people were making their own nachos! My girl Penny and her husband loved all the options.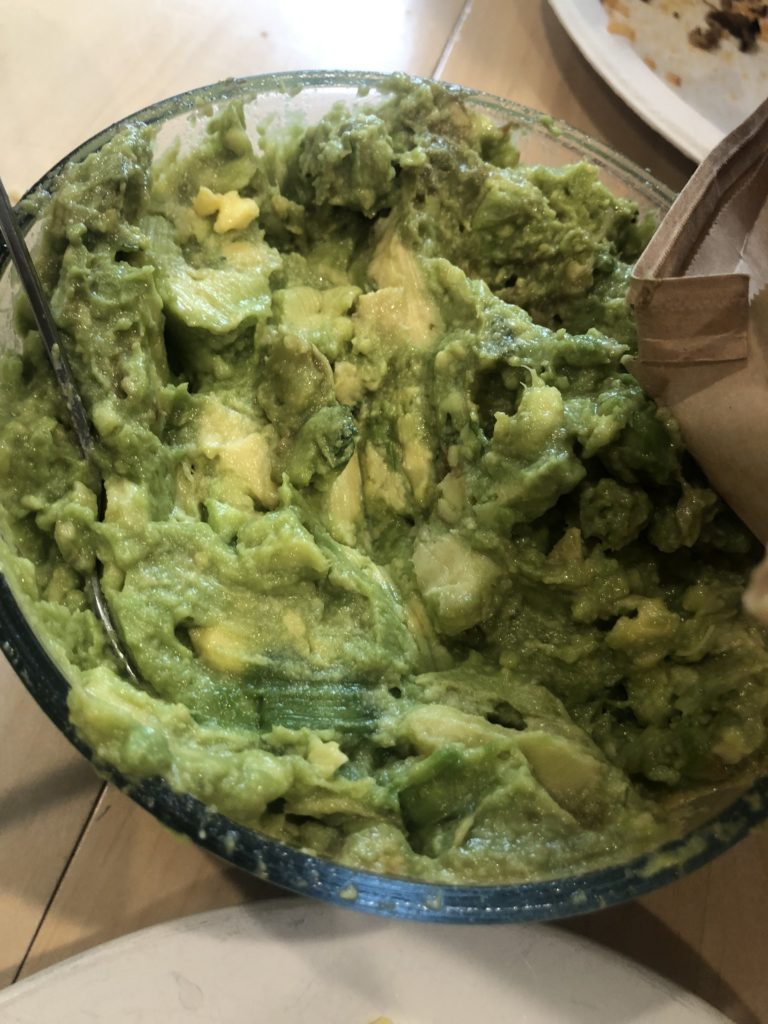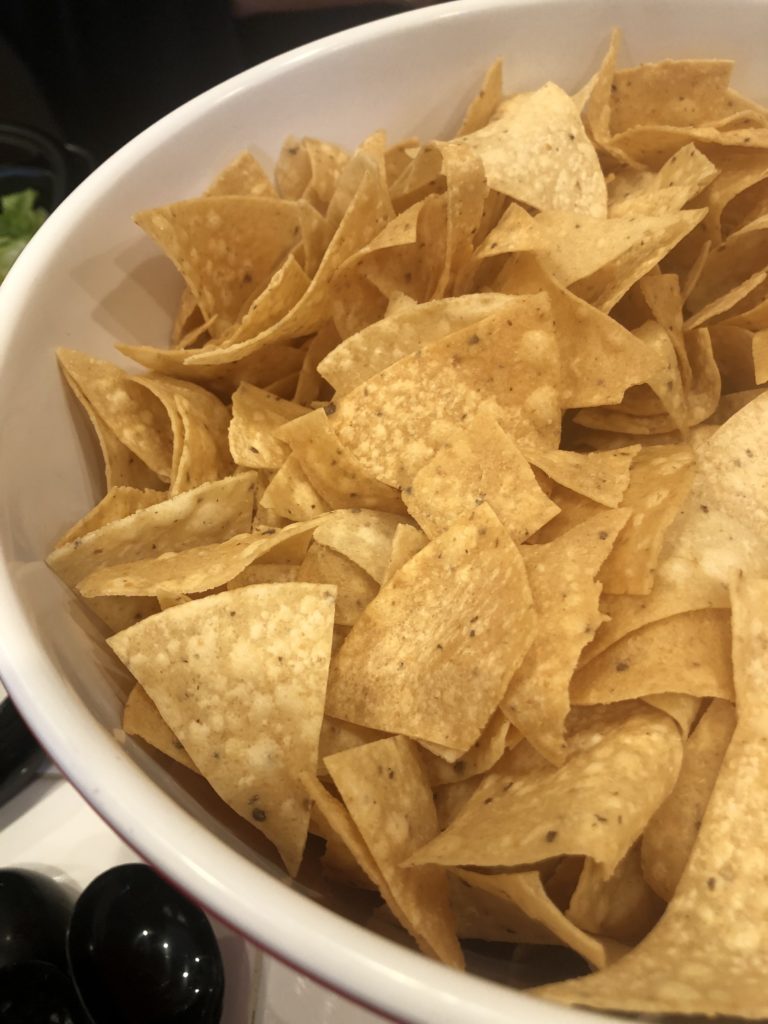 Rubio's Creamy Chipotle Sauce
Rubio's has two signature sauces that compliment their food. The white sauce, which was inspired by the fish tacos in Baja. Its light and creamy flavor offers a cooling contrast to the heat of the chiles and salsas. Then there is the The Creamy Chipotle Sauce (my favorite) that adds a spicy kick to their signature White Sauce with an extra touch of heat from chipotles in adobo. Check out one of my guests making himself a plate with the creamy chipotle sauce!
Rubio's Desserts
Need a dessert but tired of cake or cupcakes? Rubio's offers Cookie Boxes ( 8 chocolate chip cookies and 8 snickerdoodle cookies) or Sweat Treats Boxes (8 small churros, 8 small brownies and 4 chocolate chip cookies)
Breakfast The Next Morning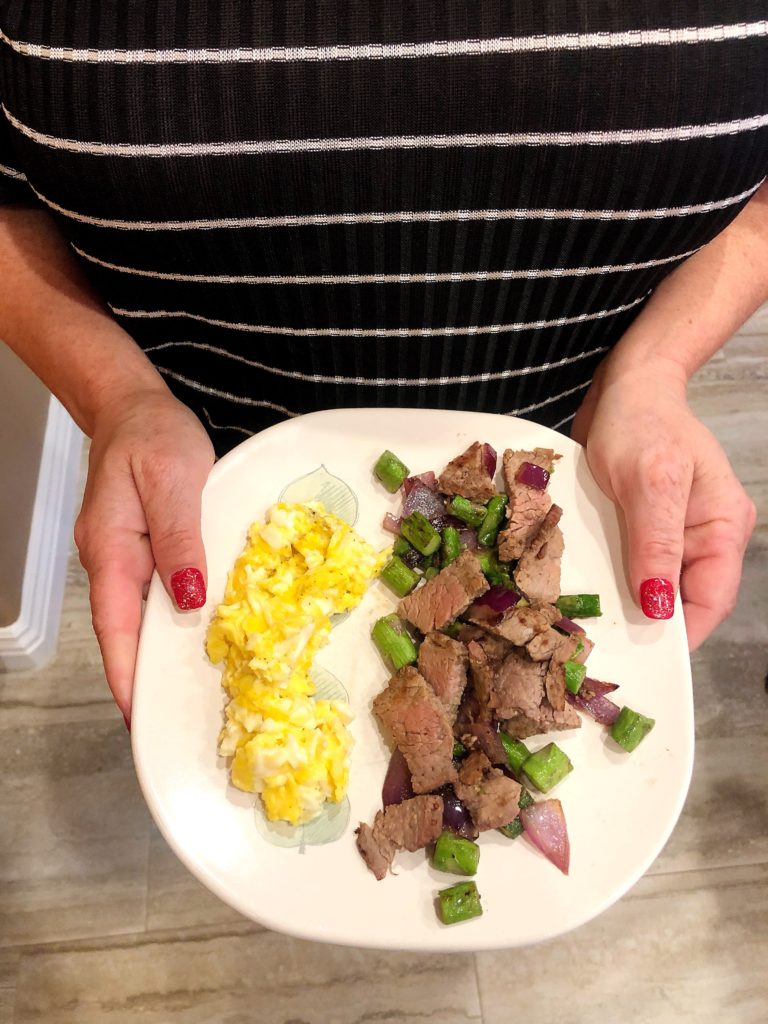 With so much food leftover from the party we had a ton of extras to make an awesome breakfast the next morning. Our neighbors came over in their pajamas and we cooked up the best brunch ever! Scrambled eggs, chicken, steak, chips and guac plus I added in some fruit and pancakes.  I haven't eat that well in a really long time and my friends were so grateful for the full bellies two days in a row.
I can't recommend Rubio's catering enough and we will absolutely be using them again in the near future. I am already starting to think of other parties I can start planning.
How Do I order Catering From Rubio's?
For my particular party I called our order in and had a friend pick it up at our local store, however, anyone can order catering online for pick-up or have it delivered through one of their trusted partners. Contact your local Rubio's if your party is larger than 30 so they can help create a custom menu. Orders $100-$300 require 4 hours advance notice. Orders over $300 require 24 hour advance notice.
National Seafood Day
Gather your tastebuds (and your fellow shrimp lovers) to celebrate National Shrimp Day at Rubio's when every shrimp entrée is just $6, with the purchase of a beverage, on Friday, May 10, 2019. Kids can enjoy our Kids Dippers (Chicken Bites or Hand Battered Fish). Rubio's shrimp is responsibly sourced and marinated in a blend of ancho chilies, garlic, cilantro, olive oil and lime. Next, it is pan-seared on an authentic Mexican comal. Simply bring the coupon (https://www.rubios.com/coupons/national-shrimp-day) to any of Rubio's participating locations.
Rubio's Coastal Grill is encouraging eating seafood twice a week to lower the risk of heart attack and stroke, based on the American Heart Association's recommendation. Rubio's uses responsibly sourced shrimp, and features bold, unique flavors in dishes ranging from the Salsa Verde Shrimp Tacos to the California Bowl with pan-seared shrimp and the Classic Shrimp Burrito. For more information about Rubio's Coastal Grill and to view the menu, visit https://www.rubios.com/
For more information about Rubio's Catering visit them on Facebook and Instagram.