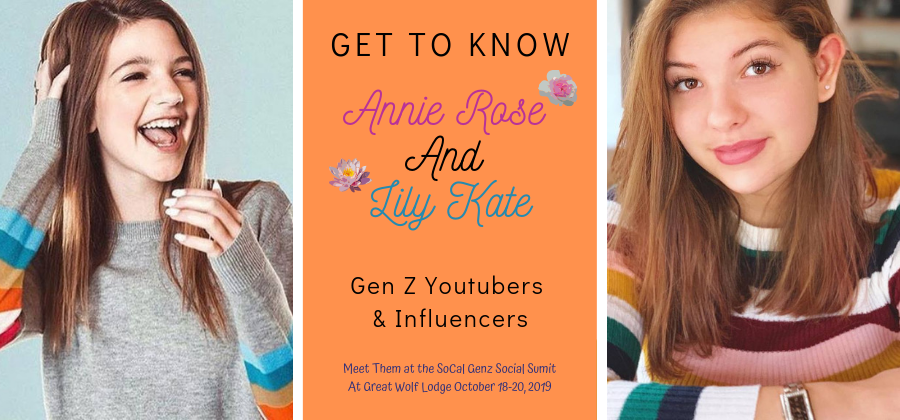 YouTube is such a dynamic and multi-functional platform. It can be used for entertainment, social good, activism, free expression and so much more. My daughter loves watching influencers that she can relate to and she has even expressed some interest in starting her own YouTube channel. It's really sparked her creativity and even made her more outgoing. Recently we discovered two new YouTube Sensations, Annie Rose and Lily Kate. Two sisters with big personalities and a zest for life. They will be the opening keynotes for the Gen Z Social Summit in So Cal and Atlanta.
We had a chance to interview these awesome ladies and you can read it below.
Interview
---
Family Review Guide: Tell us a little about yourselves and how you got started vlogging?
Annie – I'm a 13 year old entrepreneur, youtuber, author, actor, singer, and fashion LOVER!! I started my first youtube channel 4 years ago simply to have fun (considering I was 9). Now I work everyday editing, filming, communicating with my followers, creating new ideas, and let me just say .. I LOVE IT!! Before age 9 I never had a 'thing' while my 3 older siblings Matthew, Lily, and Laura were enjoying their own activities and I felt left out. I've always been a chatterbox and a storyteller so finding youtube was such a perfect way for me to express myself. I also have discovered my love for writing and fashion along the way and have created my own poetry book and merch line! I'm so grateful for my almost 800k fans and hope I can inspire girls to live their life to the absolute fullest!
Lily – I am a 17-year-old Texas girl. I'm a junior in high school. I have been homeschooled my whole life, and I absolutely love having the freedom homeschooling gives me. I have many passions that include public speaking, art, video editing, dance, and writing. My favorite foods are Lucky Charms and whipped cream. I started vlogging in 2017 because I was inspired by Annie Rose, my little sister. I watched her have fun, get wonderful feedback and work hard so I decided that I wanted to try!
Family Review Guide: Have you ever met your YouTube idol in person?
Annie – YESS!! I have met some really inspiring people such as Alisha Marie, Liza Koshy, Emma chamberlain, Jojo Siwa, Mia stammer and lots more! #girlboss
Lily – Well… I kinda live with her… my little sister Annie Rose!
Family Review Guide: What is the best comment you've ever received?
Annie – One girl said "I've started writing a book because of you. You inspire me so much in all that you do. You make me the best version of myself." Sometimes I can't wrap my head around the fact that I can help so many girls out there and that I can contribute to THEIR LIFE!! How cool is that??? Needless to say, I want everyone to remember you can do anything if you believe in yourself.
Lily – I distinctly remember a comment that went something along the lines of "your content is a reflection of your soul: good, passionate and lovely!" I cried.
Another one of my favorite comments was on a comedy skit video. It said 'this is Liza (Koshy) level funny!' Needless to say, that is enough validation to get me through the year!
Family Review Guide: What is your favorite video you have made so far?
Annie – tbh .. all of them hehe!! I only make videos if I am proud of them. I love looking back at my old vlogs and remembering that time in my life even if it's cringy haha. Each video represents growth. Everytime I make one it's one that I will look back on one day and smile :')
But if I am pressed to choose, I am happy with my Interior Designer Series https://www.youtube.com/playlist?list=PLgpM69P4kj5c5F10JQh7V0avFgkjWPMl- well really any of my room decorating videos. I love room decorating! And of course this one https://www.youtube.com/watch?v=-K3_2-vOwQk&t=1s
Lily – That is a hard one. I have a range of videos from serious to informative to funny. They video I enjoyed filming most was hands down "Third Wheeling with my Sister and her Boyfriend" (https://www.youtube.com/watch?v=dyk-nKBPt0c&t=1s) I definitely got the best response from that video. The one I enjoyed editing most has to be "prom dress shopping lessons – it's just like getting married" (https://www.youtube.com/watch?v=7kE-J3319Qc&t=1s) because the joke of shopping is like getting married was a fun motif to develop throughout the video.
Family Review Guide: When you first started out what were the reactions from your friends?
Annie – At the time my only friend was my (to this day) BFF, Hope Marie, who I was already doing youtube with. We supported each other and also my family was sooo supportive. As my channel started growing and I started getting older I had a few people that teased me, but overall it was a positive thing.
Lily – Well, all my close friends knew that Annie had been doing YouTube for a long time so when I started, they were excited for me! A few were confused and asked about it, but mostly at the beginning they would watch my videos and comment their support.
Family Review Guide : Were they Positive or Negative?
Annie – Positive!!! From the people that really know me, but there are those who misunderstand my intentions of course. Honestly, I've been on youtube for 4 years and I've seen and heard it all. I have had countless people gossip about me saying "She's only in it for the fame" "she's a clout chaser", or people make rumors about me, I've also gotten comments like "you're going to hell" "kill yourself" but through all the gossip and online cyberbullies I stay focused because I have amazing friends and family that support me. I will endlessly prove the haters wrong by living in happiness not sadness and staying strong.
Lily – As time went on in my vlogging career, a lot of people laughed at me. I have heard many, many demeaning comments about my efforts and my content from behind my back. One of the worst instances was I had a horrible wikipedia article written about me by my ex and his friends, making fun of my image and channel (it has been deleted, no worries there). A lot of people have laughed at my videos and poke around saying 'you'll never be as good or famous as your sister' since I have less subscribers than Annie, but I just keep going. I keep reminding myself that they don't know me, they don't know what I'm trying to accomplish and they don't know how I want to live my life, and most of all, they have no power over me! Despite some moments of shock and disappointment, over all, people have been fascinated, engaged and directly supportive! I am eternally thankful for the ones who build me up.
Family Review Guide: Who is your style inspiration?
Annie – My older sister lily inspired me a lot from ages 8-10 and also Alisha Marie but overtime I have really developed my own style. I love fashion SO much!!
Lily – First of all, Annie. Like, no doubts. She always knows what looks best on her and the outfits are modern and very cutting-edge.
Second, I know she is a highly debated person, but regardless of what people believe about politics and the White House, Melania Trump has been a huge style inspiration for me.
As well as Audrey Hepburn and Coco Chanel – I love the classic, timeless looks that are empowering, professional and stylish.
Family Review Guide: How do you decide what to tape on a given day?
Annie – for my sit-down/fashion videos I usually write a very vague outline of my video then simply start recording. I make sure to not plan ANYTHING out too much because I like the freedom of going with the flow and what feels right. For my vlogs, I literally turn on the camera and talk mindlessly. Whatever I do or say that I don't like I can take out with editing anyway!
Lily –  I usually plan what videos I want to film then I set aside time during the week to film it all. I usually film when it best fits into my schedule since I have classes and other commitments!
Family Review Guide: Have you always been super outgoing and confident on camera or did it evolve as your channel got more popular?
Annie – I have pretty much since birth been very confident and love being around people. I love being social with my besties and with other youtubers at conventions like Playlist live or Vidcon!! Actually my favorite hobby is either meeting new adults or making friends with waiters.
Lily – Interesting question! When I was a kid, I was SUPER introverted. I hardly talked, I was very internal – not in a timid, scared way, I was not insecure at all  – I just didn't feel the need to talk! I have always been confident and self-contained. Then, when I was 12, I started going to a co-op (the homeschool version of a school, one day a week plus mountains of homework for the rest of the week – and yes there were actual people there) plus, I got serious about competitive gymnastics. Both lead me to make awesome friends and I found myself becoming more outgoing and expressive. So by the time I began YouTube, I had this bubbly, extroverted and naturally talkative personality which had developed throughout my tween years.
Family Review Guide: Is there anyone you would like to partner with on a special episode?
Annie – I have collabed with lots of amazing people!! It's so fun making new friends. I would love to collab with Jojo Siwa! She's the sweetest girl ever and I really admire her message.
Lily – I mean… I can walk to Annie's bedroom and be like 'hey I need you to film, I'll buy you Starbucks if you do.' (it's almost always a yes when the Starbucks is included)
Another collab I would die to have is with Casey Neistat. He is a legend! But recently I have been captivated by Matt D'Avella's content. Although his style is starkly different than mine, I would love to be on his podcast some day.
Family Review Guide: What one band or musician influences you the most?
Annie – I LOVE TATE MCRAE!! She's a young teenage singer and her voice is so beautiful. She writes her own music on her piano and I love covering her songs. I'm inspired by her because she's so herself. She has a very unique indie style and isn't afraid to show it! Sometimes I feel like her music was written about me. Each line is so relatable.
Lily – Panic! At the Disco! Brendon Urie (the lead singer) is an absolute icon. He is so completely, utterly and unapologetically himself in each song: it is truly inspiring. But since a young age, Justin Bieber has been a staple in on my Spotify playlists. I have been to three of his concerts, followed his career and defended him to all my friends who are major haters! He is a natural artistic genius and I let his creativity flow over into my work! #belieber
Family Review Guide: What was the best vacation you ever took?
Annie – I travel a lot for award shows, business or sponsored trips, and don't get me wrong I love traveling for work but this spring break my family and my boyfriend all went to the beach and stayed in an adorable beach house for 3 days. It was so relaxing to just put pause on everything and spend time with people i love. I could hear myself actually think. There's something about the beach i feel so drawn to. The noise of the ocean is so beautiful to me. Make sure to take time to relax and have fun every once in a while.
Lily – In 2018 about 30 people (including my best friends EVER, Kate, Haley and Eden) took a week-long cruise to three exotic destinations. All the girls got to stay in the same room, it was an absolute blast. All my older brother's friends (who were Kate, Haley and Eden's older brothers), my whole family and a friend for every young member were there. I smile every time I think back to those 4am ice cream trips, sunburns and ocean waves.
Family Review Guide: If you could be someone else for one day, who would it be and why?
Annie – my cat Milo. lol he's not a person but i've always wondered what it would be like to walk on four legs.
Lily – I would hands down be the First Lady of the United States. I often dream of being the First Lady; living in the White House, being an influence on policy and a fashion icon. The idea is just so attractive: hard-work, professionalism and importance.
Family Review Guide: What is the best piece of advice you could give a newbie Vlogger?
Annie – Don't stop. If you love it, do it. Don't stop if you get picked on or because someone tells you to stop. If I stopped because someone hated on me I wouldn't be where i am today! If you enjoy doing youtube, that's all that matters! Not the money, fame, or haters.
Lily – DO NOT GET DISHEARTENED! Growth is slow… so very, painstakingly slow. For example, I 'inherited' my current channel from Annie (it was an old one she didn't use anymore) When I began posting on it and claiming it as my own, I lost 55,000 subscribers (maybe more!) while gaining the same amount! So it looks like my channel is static, it is simply changing subscribers. Although it is, in my case, growth seems painfully slow – I still continue to be patient.
Family Review Guide: What is your favorite thing about doing this?
Annie – I would have to say meeting my supporters. It warms my heart after seeing you guys because i wouldn't be me or be where i am today without them! I am so grateful for the people who have continually supported me throughout the years
Lily – Going to bed at night knowing I made at least 1 person's day brighter. My prayer is that I make a change in the world one heart at a time. My three major beliefs are self-love, productivity and big dreams. So if someone finds a little bit of beauty in themself, or decides to do an extra hour of homework instead of watching an episode or they begin to expand their vision of life, I am content and blessed!
Family Review Guide: What is your least favorite thing about doing this?
Annie – In general, not much as I love filming and editing so much. I believe everything happens for a reason. Every 'bad' moment in your life is being used to create a future that is wonderful. You learn from everything. BUT like any human I have my issues. I would have to say feeling pressured to exploit everything online. Sometimes i forget to find a balance between my private and online life. I feel the need to have to make a video when I stop being friends with someone or when meeting my boyfriend for the first few months. Sometimes it can be hard to decide whether to vlog or not.
Lily – The slow growth pace. I have been a particularly impatient person my whole life – I consider it my fatal flaw and I work every day to fight it. So when there is a day, week or month where I only gain like 3 subscribers I tend to get frustrated and want to give up. Because "I put in so much work, why does the Internet hate me???!!!" But I am constantly reminded to have patience in the perfect plan that is unfolding above.
Family Review Guide: Why do you think it's worth it to go into online videos with all of the people already doing it?
Annie – Because doing youtube isn't about the competition and who else is on youtube (though some may think it is) it's about having fun! If you love it, DO IT!! It doesn't matter if you don't have a million subscribers and someone else does. If you're only doing it because you want to grow .. well, unless you have a channel idea that just hits the sweet spot with the algorithm or what people are hungry for, like Emma Chamberlain did, you are not going to 'just' grow. It takes work, dedication and some knowledge of the rules of good posting. Besides, it took me 6 months to get 1,000 subscribers. I think it's worth it because it's fun and you can learn a lot along the way.
Lily – Because you never know what might happen! Michael Scott from The Office said, "Sometimes I begin a sentence and don't even know where it is going – I just hope I find it alone the way." (lol) The same idea applies here, you sometimes start something and have no idea how it'll end, but why not try? What is stopping you? Even if you fail, you'll learn which is immeasurably valuable.
Family Review Guide: Have you ever had any setbacks and if so, what were some of them?
Annie – Yes. I remember once when I was 11 a few of my instagram posts got flooded with hate comments. I had never experienced real hate before. Teenage girls telling me to literally "die" was so shocking. I didn't want to continue youtube. I thought the worst. I had no motivation. But then I went to sleep and something switched in my brain. I remembered who I was and how much I love filming. Because of that experience I deal with hate so much better. By simply feeling sorry for the haters. They must be sad to hate on anyone.
Lily – A major setback has been, people being horrible to my face. I have never missed a posting day (even when I was sick in bed with a broken foot!). So people hating on me does not hinder my actual posting progress, but it hinders my mental state. I get discouraged, frustrated and begin to doubt myself. So I give myself a limited amount of time to sort through the emotions then I get back on track with my vision! Beyonce said she gives herself 24 hours to feel something – to really FEEL it, cry, eat ice cream, scream into a pillow, use a sledge hammer ect. – then she moves past it and recollects herself. I try and live by that too!
Family Review Guide: What do you do about nasty or negative commenters?
Annie – Block, delete, ignore physically and mentally. Don't respond. Logically, what would responding do? It only feeds their anger.
Lily – Delete, ignore. Nothing more, nothing less. Short and sweet. I never respond, because it might flare up a fight. I don't re-read, I just click that 'delete comment' button and carry on living the life I have created for myself!! After all, they're just words… What can they actually do to me?
Family Review Guide: What kind of equipment would you recommend for a newcomer?
Annie – When I started my channel I filmed all my videos with my ipod 5 touch, a selfie stick,  and imovie. You don't NEED expensive cameras to have a good video. Once you establish that you are actually going to work at this then you can invest your money. I always see people buy cameras, tripods, lights and give up on youtube the next day. Set your mind to it first.
Lily – Lighting. Always have good lighting. Face the window in daytime, invest in some studio lights – they're not all that expensive on Amazon – but they are vital for a quality video. For the longest, time I didn't pay attention to lighting and my videos were lower quality. But now I make an effort to make them well lit.
Family Review Guide: On average, how long does it take for you to put out a video?
Annie – it definitely depends but usually no more than 5 hours including filming and editing. I always think about how i'm going to edit it while filming so when I get to my computer i'm like flash hahah!! When I started it was way longer, I have been doing this for 4 years, 4 videos a week, I have some practice, ha :)
Lily – Depends on the content. Shopping vlogs take longer than routine vlogs, routine vlogs are shorter than travel videos and so on. But I'd say, on average 2-3 hours of filming (all at once or spread out over the day or week) and 2-3 hours for editing. Editing includes a rough cut, final cut, music, and thumbnail. So about 4-6 hours of intense working for me to release a video.
Gen Z Social Summit
If your kid is interested in learning how to start their own YouTube channel or online business and how to act responsibly on social media consider purchasing a ticket to GenZ social summit in SoCal. Taking place at Great Wolf Lodge, this conference brings together forward thinking Gen Z influencers with brands and leading organizations from across the nation. The Summit is primarily an invitation-only, interactive, and educational summit for Generation Z Influencers, their families and Social Media Moms. Guests include both rising creators & digital savvy content creators looking to explore new brands, create content about products, and share their experience via social media using the #GenZss19 hashtag.
Purchase tickets here–>http://bit.ly/2DW9aZd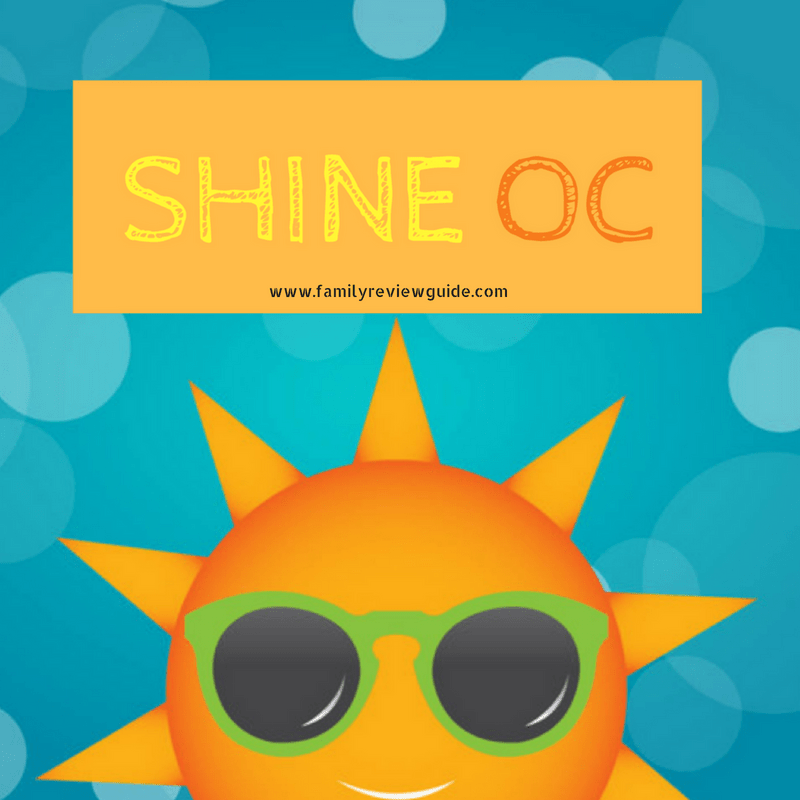 Shine OC is a monthly series about exemplary employees, families, kids and more in the OC community.  It includes interviews, photos, videos and enlightening stories. If you know of a special person who would like to be in the spotlight, send us an email at [email protected].